Wine Wagon Tour & Tasting Experience
Board a 7-passenger wagon for an exciting 2-hour tour and tasting excursion at one of Northern Michigan's premier wineries. Discover the gardens, vistas, lavender fields and exquisite wines of Brys Estate Vineyard & Winery. Sample the season's best pours in the estate's stunning old-world brick and mahogany tasting room.
Michigan's premier boutique winery,
Brys Estate Vineyard & Winery
, is now offering guests the opportunity to explore the best of Brys Estate's 91 acres--from grape to glass--aboard their all new
7- passenger Wine
Wagon
!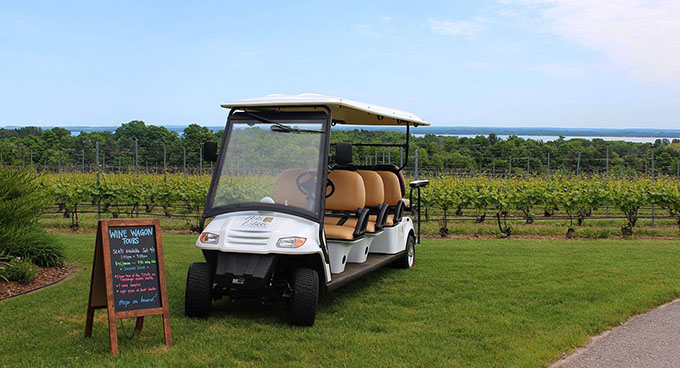 During the approximately 2-hour immersive tour and tasting, guests explore 5 unique locations throughout the 91-acre estate via open sided electric shuttle. Guests tour the Brys Family farmhouse gardens, experience beautiful scenic vistas, drive deep into the vineyard to learn about Brys Estate's growing practices, tour the wine production facilities and enjoy a picnic snack at the 12-acre Secret Garden--where lavender, strawberries, blueberries, and flowers flourish. Wine tastings are served at each stop along the way.
Brys' new Estate Tour & Tasting experience is unique to Northern Michigan wineries. "We are thrilled that guests can now experience the beauty of our Estate in a completely unique way" says Operations Manager, Patrick Brys. "Guests can now get a behind the scenes look at what goes into every bottle of wine we make, from our vineyards and growing practices, to the family history which resulted in the winery we know today."
Tours are being held Saturdays through Labor Day weekend, and can be booked online at ​
Estate Tour & Tasting
. Tickets are $45 per person. Discounted tickets are available for Brys Estate Wine Club Members. Private tours aboard the Wine Wagon are also available daily by appointment. Each tour can accommodate up to 7 guests and requires advanced reservation.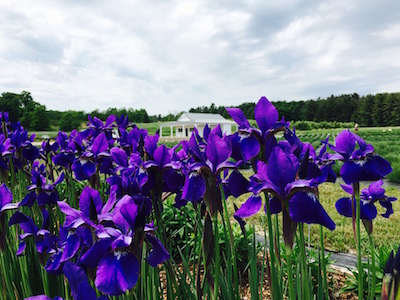 Located on Old Mission Peninsula, Brys Estate Vineyard and Winery offers guests a pure Michigan experience as they visit the old-world brick and mahogany tasting room featuring international barrel and cask rooms, where red wines are aged in traditional French oak barrels. Visitors can also immerse themselves into the vineyard with a walk on the one-of-a-kind
Bridge Above the Vines
, or enjoy a glass of wine and the view from the expansive
Upper Deck
. Elevated six feet, the deck allows guests to see above the vines and take in the spectacular views of the vineyard and East Grand Traverse Bay, an experience unlike any other vineyard and winery. Brys Estate is also home to
The Secret Garden
, a 12-acre garden with more than 6,000 lavender plants, a fresh flower garden, strawberry patch, blueberry patch, herb garden and more! Guests can enjoy strolling the garden, picnic areas and browsing a variety of handmade lavender products in the farmhouse inspired garden shop with a wrap-around porch.