If you're looking for that really rugged, most exhilarating and ultimate winter challenge, we invite you to push the envelope on adventure. Come experience extreme heights on our slopes, traverse down a brisk river or snorkel one of our chilly lakes—in Michigan, there's no limit for extreme winter sports.
Awesome Tubing
You don't even need skis or a snowboard to enjoy the slopes at Silver Mountain Ski Area/Tubing Hill. The popular Upper Peninsula winter fun spot includes three downhill runs for the beginner and intermediate skier and snowboarders. Snow tubing with rope tow and tube rentals. After a run down the slopes, you'll enjoy the warming chalet and snack bar. Families looking for great outdoor winter fun can also gear up for a speedy downhill thrill at Shanty Creek Resort's Schuss Mountain, with its five-lane tubing park.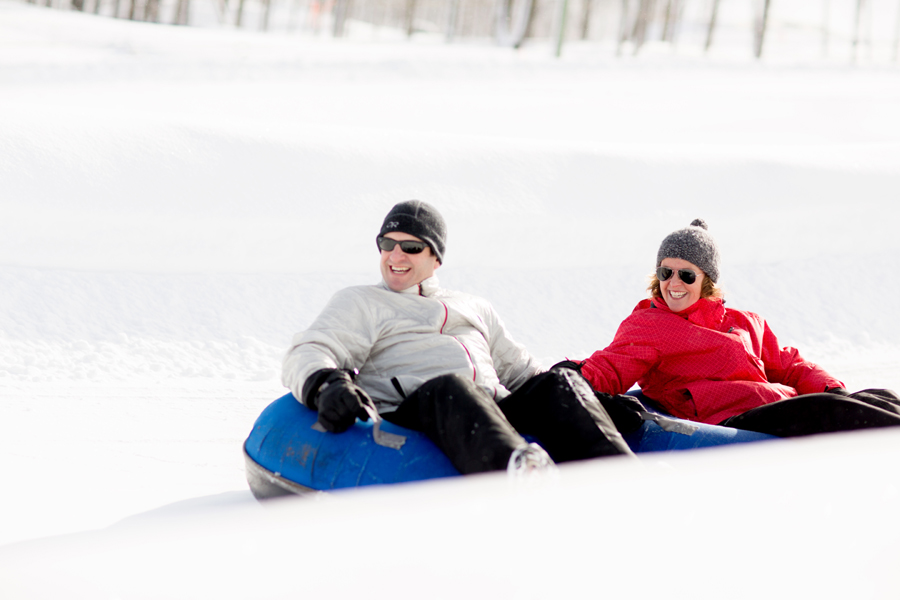 Intense Skiing
Mount Bohemia, located in Michigan's Upper Peninsula has the highest vertical, most snow, and the most expert terrain in the Midwest. What makes Mount Bohemia so special? It has Western Mountain terrain right here in the Midwest – hundreds of acres of tree skiing, chutes, and cliff drops scattered all over the mountain. In fact, Mount Bohemia is rated #1 for powder skiing east of the Rockies by Powder Magazine and called "one of the top ten undiscovered ski resorts in the world" by MSN.com!

Ice Diving
One little-known fact about Michigan is that it offers some of the best shipwreck diving in the world. Thousands of sunken ships rest quietly at the bottom of the Great Lakes, some dating back to the 1600s. And it just so happens that the best time of year to view these wrecks is in winter, when the ice coating Lake Michigan acts as a sealant against wind, boats, and people who stir up the lakebed. In other words, visibility is best in winter and that's when you'll see formidable ice divers chainsaw their way through the surface to sink into the watery world below. An advanced form of scuba diving, ice diving requires a special suit and equipment (and yes, a dive certification is mandatory). But the gear is well worth the experience of drifting through the water to view an elegant schooner or hulking freighter, eerily peaceful and frozen in time. Want to learn more, contact the Huron Scuba, Snorkel & Adventure Travel Inc.
Winter River Rafting
For an appealing chilly-weather outing, sign up for a rafting adventure on the Jordan River in the northwestern Lower Peninsula (50 miles northeast of Traverse City). Jordan Valley Outfitters offers guided winter raft trips that include a choice of a snowshoe hike or a full dinner along the banks of the river. The evening ends with another starlit float on the river.
---