Jackson Candy & Fudge Factory
1522 E. Michigan Ave
,
Jackson
,
MI
49202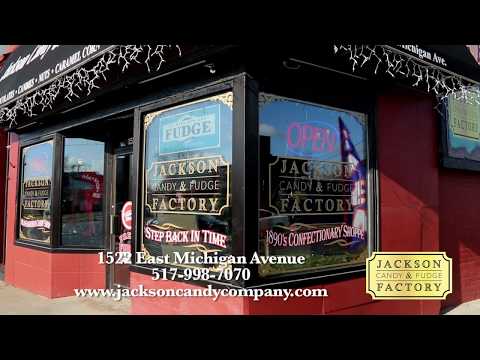 Contact
Body
The Jackson Candy & Fudge Factory is everything you'd expect in a candy store of yesteryear. The tall ceilings are layered in decorative copper. The 1800's walls are clay brick. Havana style fans decorate the interior. The cash register is an early brass National cash register. Circling at the top of the ceiling is a garden size train. The old-fashioned decor is added to by a 12 foot fudge counter, as well as rows of nostalgic candy, decorative chocolates & shelves of specialized gifts. It's an atmosphere that smells of fresh caramel corn, home-made fudge and glazed cinnamon nuts. Come see, share the experience with a child and create memories!
We are named as one of the Top 10 Best Fudge Shops in Michigan! by OnlyinYourState.com We can accommodate bus tours, field trips and family outings.
Reviews
dmgoellner | June 2021
Fabulous Fudge
The store is charming and has a good variety of old fashioned candy. The real standout, though, is the fudge. It is very smooth, and the flavors are wonderful. Chocolate is dense and rich. There is a...
Pamira325 | November 2020
The Worst Ever
These were the worst chocolates I've ever had. Gilberts is far superior if your looking for homemade chocolates.
Larken53 | August 2019
Friendly, Welcoming Staff
We were immediately welcomed as we entered the store. Very cute use of space and decor. A good variety of candies are displayed. Many flavors of taffy and Jelly Bellies were available. We were...
Heather K | July 2018
Tasty Fudge, Unique Flavors
My husband and I are from out of town and stopped by on our way home. I was really impressed with the fudge. The ones we tasted were really tasty, and the variety was great! There were 15 or so...
skywarn6118 | July 2017
Amazing candy shop!
My wife suggested visiting this wonderful "old time" candy shop after stopping last week with her mother! Entered and was immediately greeted by staff with a smile and a warm welcome! They gave our...
TripAdvisor Traveller Rating
Read all TripAdvisor Reviews
Map
Amenities
Amenities

Features

Accessibility
Family-friendly
Open Year-round
Motorcoach Parking

Season(s) of Operation

Spring
Summer
Fall
Winter