Michigan Legacy Art Park
12500 Crystal Mountain Dr.
Crystal Mountain Resort
,
Thompsonville
,
MI
49683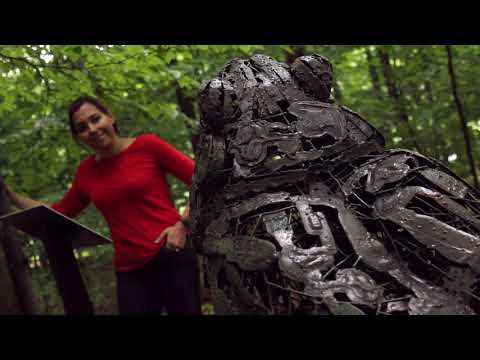 Contact
Body
Michigan Legacy Art Park is a sculpture park dedicated to sharing the stories of the people, events and natural resources that continue to shape the legacy of Michigan. Contemporary artists interpret these stories through outdoor sculpture. Located on the grounds of Crystal Mountain, the Art Park is a cultural and recreational destination. It is a place to be enjoyed with family, friends or in solitude. Hike a nearly 2-mile trail that winds through a 30-acre forest preserve; Discover more than 50 extraordinary works of art; Climb to a lookout atop a Fort & see inspiring vistas; Contemplate the complexities of history, environment & cultural identity; and Listen to a performance at the Amphitheater. Open daily from dawn to dusk year-round. Admission: $5 per person or $10 per family, and children are always free. Length: Taken at a leisurely pace with moments for reflection, a hike through the Park typically lasts between 90 minutes and two hours and covers 1.6 miles. The "All Access Trail" is 1/4-mile, and has been built according to ADA slope and surface standards. Visitors are welcome to pack picnics and eat at the tables near the trailhead or in the Amphitheater area. Dogs are also welcome at the Art Park. Rental opportunities: The Discovery Grove and Amphitheater are available for special events. Michigan Legacy Art Park is a unique setting for students to learn through art about history, nature, math, science and culture.
Reviews
A M | October 2023
Fabulous in Fall
This is such a beautiful place. We enjoyed our short and sweet hike. The fall colors were fabulous and the trail was not boring.
work-to-travelMI | September 2021
Short nature trail with some unique sculptures
This park is in the woods past the ski area and golf course. The trail is fairly steep. Entrance fee is included if you stay at the resort.
debbybrzys | September 2021
An alloy of Michigan history, art and nature
A great hike with great art that certainly felt like gift from Michigan's history. We loved the stories behind the sculptures. A piece of art is not complete without the artist and the context of...
caroljoyj | September 2021
good hike, Art just ok
A very nice hike, lovely woods. The art was ok, but not our taste at all. The markings were poor to navigate, and we ended up backtracking a couple times, unsure of what way to go. For $5.00 still...
MidwestKathM | May 2021
Spice up your trail walks with some Michigan art!
Recently came across this Michigan gem while doing some research about an artist whose work is represented here. Truly worth a visit, especially if you want to spice up your walk! 2 miles of wood...
TripAdvisor Traveller Rating
Read all TripAdvisor Reviews
Map
Amenities
Amenities

Features

Accessibility
Family-friendly
Pet-friendly
Open Year-round

Sustainability Initiatives

Season(s) of Operation

Spring
Summer
Fall
Winter