Explore Winter's Exhilarating Adventures
Conquer frozen fortresses by climbing frozen waterfalls and ice formations in one of Michigan's most unique winter sports. Enjoy a wild winter adventure dog sledding across Michigan. Float over snow covered terrain on a fat bike's voluminous wheels. There're so many thrilling ways to experience winter in Michigan.
ICE CLIMBING
Like a paused video, the UP's many waterfalls freeze in place during winter, but that may make them even more watchable—and certainly more climbable. Even if scaling a frozen waterfall isn't on your (ice) bucket list, take a hike through the snow to watch the action at one of the frozen cascades. Abundant sandstone cliffs draw ice climbers to Pictured Rocks National Lakeshore near Munising, where columns 20–50 feet tall drape a steep slope between Munising Falls and Sand Point. Farther inland, Miners Falls challenges climbers with a 40-foot column. On the Keweenaw Peninsula, Hungarian Falls Nature Area near Hubbell offers climbs on a series of falls fed by Dover Creek.
​

Munising's Michigan Ice Fest welcomes new climbers. Guides take beginners to the falls before and after the festival, too.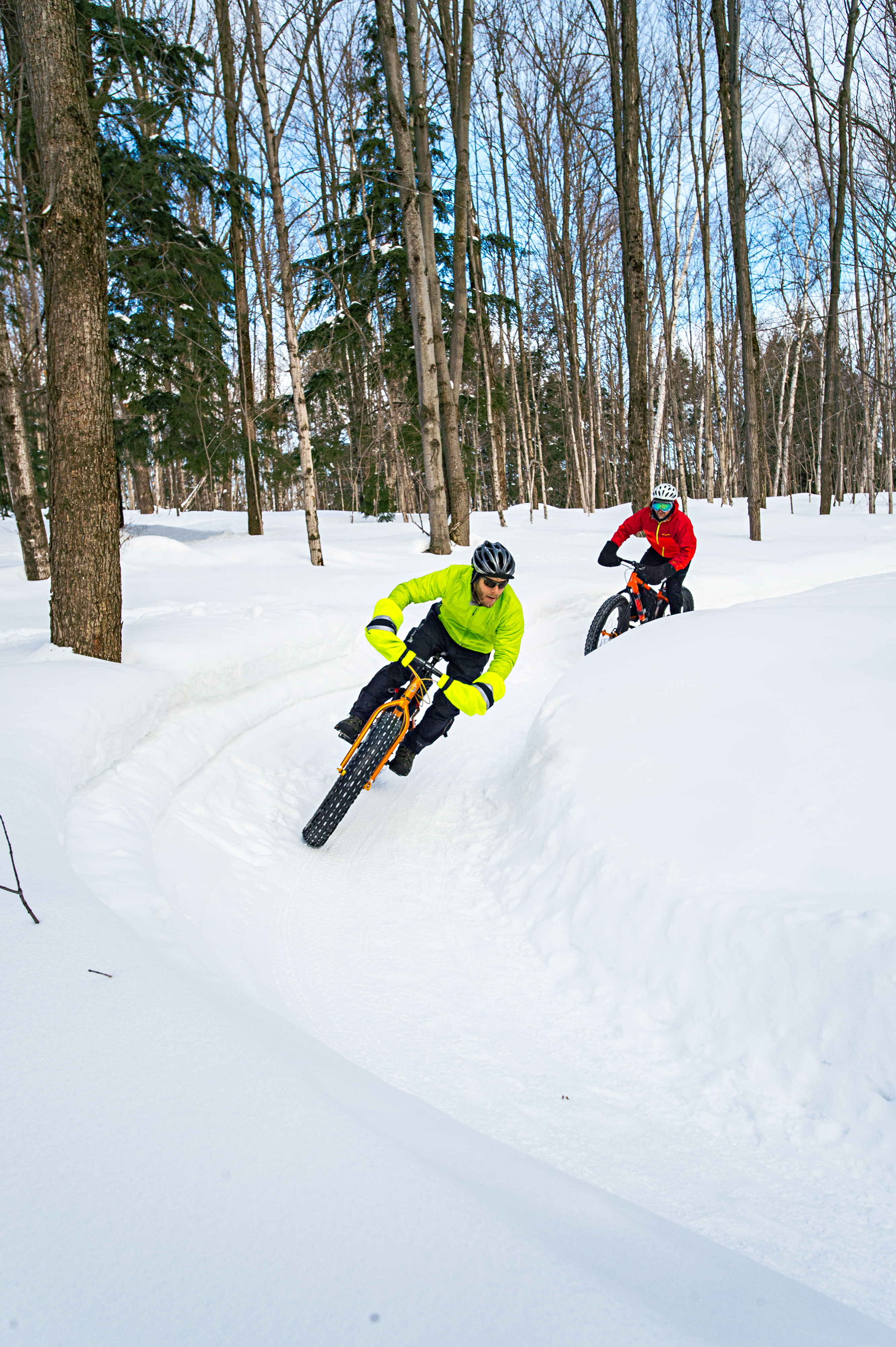 FAT TIRE BIKING
As bikes with super wide, winter-friendly tires (they glide over snow) grew into a very big deal, Marquette County grew a big reputation as a fat-biking mecca. The region offers dependable snow and 60 miles of groomed trails, including Marquette's Noquemanon Trail Network and Ishpeming's Snow Bike Trail. Trails run through Marquette, where at least four outfitters rent fat bikes. Outside of town, the Iron Ore Heritage Trail offers a 47-mile route from Chocolay Township in eastern Marquette County to Republic Township in the west. On the Keweenaw Peninsula, the Churning Rapids Snow Bike Trails northwest of Hancock include 10 miles of groomed routes. Across Portage Lake, in Houghton, the Michigan Tech trail system offers more than 20 miles of challenging routes, some lighted.
Marquette County's 906 Polar Roll attracts fat-tire bikers with races and a big after-party.
DOG SLEDDING
the legends of dog sledding feel nearby when you're dashing through the snow at Nature's Kennel in McMillan, where Iditarod veteran Ed Stielstra and his wife, Tasha, host mushing adventures for people of all ages and abilities. Choose a 10-mile or 20-mile day trip (drive a sled or ride on one), or go for an overnight trip that includes dinner and story-swapping around a fire and comfy camping in a heated yurt or cabin. If you drive the sled, you get a tutorial, practice time and your own sled—passengers ride in a sled driven by an experienced guide. Drivers can help hook up the dogs and stop along the trail for photo ops
Thousands of spectators gather along the route of the UP200, one of the nation's top sled dog races
.
---