Let the party begin! Celebrate our oldest city's 350
th
birthday with events all summer long. Join us in The Soo, as the city commemorates this historic milestone with festivities like parades, an authentic Native American Pow Wow, a fishing tournament, river excursions, boat tours, maritime engineering demonstrations, music, food—and more.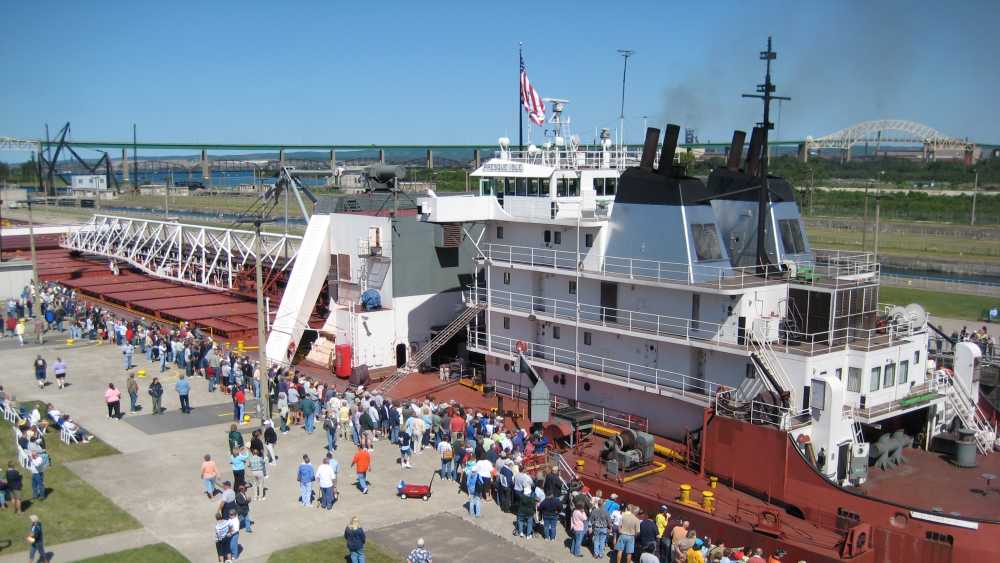 Sault Ste. Marie, often called The Soo, celebrates its status as Michigan's oldest city with historic attractions, river excursions and the maritime engineering marvel of the Soo Locks. With
Soo Locks Boat Tours
, the public can "lock through," too, on a two-hour river cruise.
Vital as ever, Sault Ste. Marie fronts one of the world's busiest waterways, attracting legions of vessels and visitors. Freighters up to three football fields long churn past the city (pronounced "soo saint marie") on the St. Marys River and into the Soo Locks. At the viewing platform in Locks Park, visitors watch ships maneuver into the chamber that lets them pass between lakes Superior and Huron. The adjacent visitors center explains the workings of the locks, and loudspeakers announce approaching ships. Aboard the
Museum Ship Valley Camp
,
visitors wander through the 550-foot freighter, exploring its engine room, pilothouse, crew quarters and cargo hold, which is filled with aquariums and nautical exhibits, including lifeboats from the ill-fated
Edmund Fitzgerald
.
Let the party begin! Celebrate the town's 350th birthday at events all summer long. Below is just a short list of some of the festivities planned for this summer:
International Bridge Walk, June 23
Trek 2.8 miles across the International Bridge to Canada for an awesome aerial view. Cyclists get their own Bike Parade an hour earlier. Passports are required.
Engineer's Day, June 29
Take a rare chance to walk across Soo Locks walls. Tour the U.S. Coast Guard station and see a rescue demo.
Independence Day, July 4
Watch a parade and waterfront fireworks.
37th Annual Sault Tribe Pow Wow and Summer Gathering
,
July 13-15
Exciting dance and drum competitions, handmade crafts, authentic food and more
350th festival, July 20–27
Enjoy big helpings of food (including a fish fry) and hands-on history.
Rendezvous In The Sault, July 28–29
Historic reenactors, storytellers, musicians and artisans transport visitors to the 17th and 18th centuries.
Saginaw Bay Walleye Cup, August 10- 11
Anglers gather from all over the state of Michigan to take part in the amazing Walleye fishing tournament on St. Marys River.
Soo Ultimate Paddle Day, August 18
family-friendly event featuring outdoor recreation and paddling races and other activities
For a complete list of things to see and do this summer in Michigan's oldest city, visit the
Saulte Ste. Marie Convetion & Visitors Bureau.