Mackinac Island's Newest Hotel Gets a Major Makeover
Known for its beautiful vistas, shopping, dining, nightlife and carriage rides, Mackinac Island offers the perfect getaway. When you step off the Island ferry dock, you'll step into a living Victorian village. Limited to transportation of horse and buggy, bicycle or foot and surrounded by water-- this island resort destination has escaped the vast changes of time. Explore the historic Fort Mackinac, enjoy the hustle and bustle of downtown and try the different varieties of homemade fudge. Come for the
69th Annual Mackinac Island Lilac Festival
or one of the many other colorful festivities. Plan a stay at the island's newest hotel--
Bicycle Street Inn & Suites--
and experience all of its trendy new upgrades and amenities.

2017 marks the five year anniversary for
Bicycle Street Inn & Suites
on Main Street in downtown Mackinac Island. By all measures, the hotel has been a great success, fueled in part by excellent word of mouth and an increasing number of visitors to the island over the past few seasons. Most business proprietors would be content to let the money roll in during a strong economy, but the owners of Bicycle Street Inn & Suites--and its three year old Waterfront Collection hotel across the street---refuse to sit on their laurels.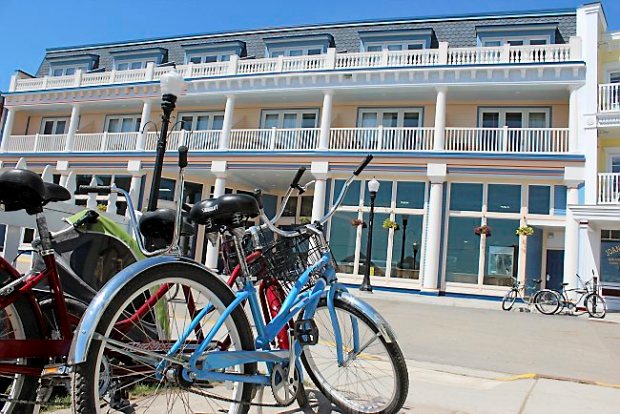 Led by partners Ira Green and Melanie Libby, the property underwent a major renovation project after the 2016 summer season. The original first floor retail marketplace was repositioned into a new lobby and mezzanine level with seven beautiful, new guest rooms. All the previous retailers are gone except two remaining store front anchors--Winchester's Restaurant and Sanders Candy Shop--who still have their own separate entrances on Main Street.
The new mezzanine level guest rooms feature single king and double queen accommodations, and bathrooms with walk-in glass showers and granite surround, granite vanities with premium fixtures and LED integrated mirrors. The property now boasts 56 rooms and suites in all with premium amenities and complimentary WI-FI.
In addition to the new lobby and guest rooms, the main restaurant and bar was re-imagined as Winchester's Craft Food & Drink. An all new menu was created along with esthetic, lighting and comfort enhancements. Sanders Candy maintains its enticing storefront location across from Winchester's at the main entrance to the hotel.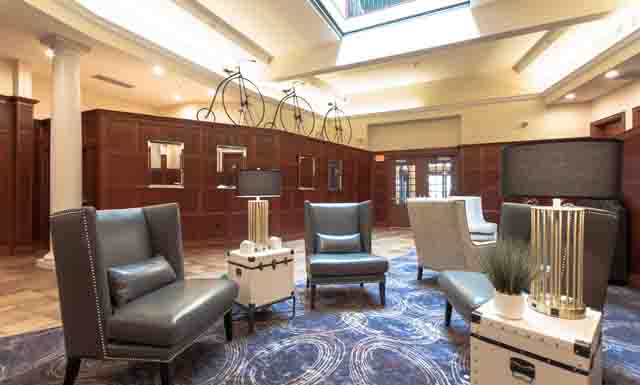 Amping up hotel amenities, they also added a fitness room with the latest equipment and HDTVs, a business workstation and guest laundry room. Whether you visit for an overnight or an extended stay, the owners are confident you'll have all the amenities you need. Indeed, Bicycle Street Inn & Suites and Waterfront Collection puts you in the heart of all the action in downtown Mackinac Island. Their superb location right on Main Street and the water's edge promises you the best access to all of Mackinac Island's wonderful attractions, shopping, dining, and nightlife. You won't miss out on a thing---including the property's walk out balconies with fabulous sunrises over the harbor, and calm, peaceful evenings.
Visitors can still book in time for the 69th annual Mackinac Island Lilac Festival held June 9-18, and receive 20% off any style accommodation between June 11 and 15, and enjoy ferry ride discounts, a complimentary continental breakfast in Winchester's, and free luggage handling to and from the docks. On all other available dates in June, guests can enjoy the same package with a 10% discount when using the hotel's sharing coupon. For reservations and more information, visit the
Bicycle Street Inn and Suites
.