Michigan Legacy Art Park Showcases Art, Culture, Nature and History
Discover large-scale sculptures that spring from Michigan's landscape to tell stories of the state's nature and history. This Northern Michigan art park--dedicated to sharing the stories of the people, events and natural resources that continue to shape the legacy of Michigan—offers a fun and educational adventure for the entire family.
What if the most important ingredient of a sculpture park wasn't the art itself but instead the journey of discovering each piece? That's the magic of
Michigan Legacy Art Park
on the grounds of
Crystal Mountain
in Thompsonville. Winding, interconnected trails reveal sculptures around every bend, with Michigan hardwoods helping to conceal the surprises ahead.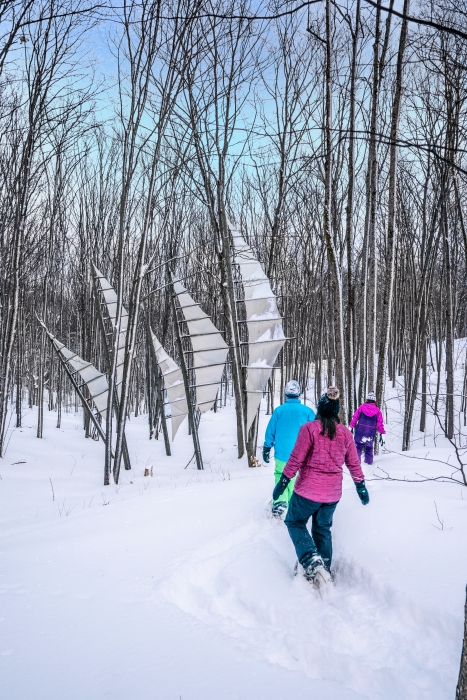 Founded in 1995 by artist David Barr, the park is as much a history museum as it is an outdoor gallery. Many of the 50 sculptures—by 25 contemporary artists—reflect Michigan's story in fresh, natural ways. For example, John DeHoog and Brian Nelson's Beacon is inspired by elements found in Michigan's rural and urban landscape, such as lighthouses, marker buoys and smokestacks. Discover more than 40 extraordinary works of art. Climb to a lookout atop a fort and see inspiring vistas. Explore the history, natural surroundings and cultural identity showcased throughout the park. Listen to a performance at the amphitheater.
Winter explorers don skis and snowshoes and pass the trailhead's wooden gateway structure on their way to an art adventure. On warm and sunny days, visitors are welcome to pack picnics and eat at the tables near the trailhead or in the amphitheater area. Dogs are also welcomed to tag along.
Wood Winds
Pipes jutting from Fritz Horstman's Singing Tree allow the wind to blow ever-changing melodies through the diamond-shaped sculpture.
Framing Nature
Reflecting the art park's goal of providing a place where art, nature and history meet, artist Gary Kulak utilized 19th-century building techniques to create the hilltop Barn Chair. As hikers approach, the distant woods and sky appear within the chair's rustic frame.
Forest Spirits
Keep an eye out for human silhouettes on tree trunks. Artist Patricia Innis selected images from family photos for her Logging Camp series, which uses natural walnut dye to preserve the silhouettes on the woody canvases. Innis was inspired by her grandfather, who worked in Michigan's "timber rush" in the late 19th and early 20th centuries.
Kids' Scavenger Hunt
See if you can uncover these gems:
Lake Superior tipped 90-degrees clockwise
A frog made of galvanized steel and copper
Three rocks painted to resemble robin eggs
The number "5" imprinted on a tower of bricks
By the Numbers
Four interconnected trails make a 1.7-mile loop.
Stockade Trail 0.8 Miles
Ridge Trail 0.5 Miles
Amphitheater Trail 0.15 Miles
Accessible Trail 0.25 Miles
6 Artist-Created Benches
The works allow for moments of rest and reflection in the woods. It's worth brushing off the snow to admire each design's craftsmanship.
Pay the Pipe
The park is open every day from dawn to dusk. It costs $5 per adult; drop your money into the green donation pipe at the trailhead, where you can also pick up a map.
---