An Extensive List of Beautiful Michigan State Parks
What's your idea of a Pure Michigan outdoors getaway? Rustic camping under a brilliant night sky? Sunbathing and people-watching on one of the Great Lakes? Hiking through dense forest or strolling beneath the soaring office towers of downtown Detroit? Whatever your favorite recreation, you can be certain there is a Michigan state park just for you.
Before you go, you'll need a state park pass. Michigan residents can purchase the Recreation Passport through the Secretary of State when renewing license tabs for just $12, or $6 for motorcycles. When purchasing at the park residents will pay a $5 convenience fee. At state parks vehicles will pay $17, motorcycles will pay $11. Non-residents can pay $9 for a day pass or $34 for the year. The Recreation Passport does so much more than just get you into state parks. It helps fund state forest campgrounds and pathways, preserves historic and cultural resources (like lighthouses) and a grant program for community recreation agencies throughout Michigan.
Upper Peninsula – Western Region
Swimming, kayaking, boating and fishing are natural highlights of Baraga State Park, set at the southernmost tip of Lake Superior's Keweenaw Bay. The park overlooks the water and offers opportunities for camping and ORVing.
 
Lovely hardwood forests, sparkling little Fortune Lake and several historic Civilian Conservation Corps buildings from the 1930s characterize Bewabic State Park in the western U.P. Located just two miles from Crystal Falls and a short drive from the Wisconsin state border, this remote state park nevertheless ranks as the only Michigan state park with its own tennis courts.
 
Costumed interpreters bring to life the history of restored Fort Wilkins, a military outpost constructed in 1844 on the shores of Lake Superior in Copper Harbor. The park also includes two Lake Superior lighthouses, camping, hiking and biking trails and a boat launch.
 
The Upper Peninsula's largest inland lake forms the centerpiece of Lake Gogebic State Park. The scenic wooded park offers one mile of lake front for boating, swimming and fishing. Most of the park's 127 campsites are on or within easy walking distance of the lake, which sits just 30 miles south of Lake Superior and Porcupine Mountains Wilderness State Park.
 
Located 10 miles north of Hancock, McLain State Park sits on Lake Superior on the northern shore of the Keweenaw Peninsula. A sandy beach attracts photographers, paddlers and hikers to this state park, but few swimmers owing to the lake's cold temperatures. There are also about 100 campsites within easy access of the water. McLain State Park is especially popular in winter, when ice formations along the water's edge draw snowshoers and cross-country skiers to the cold-weather beauty.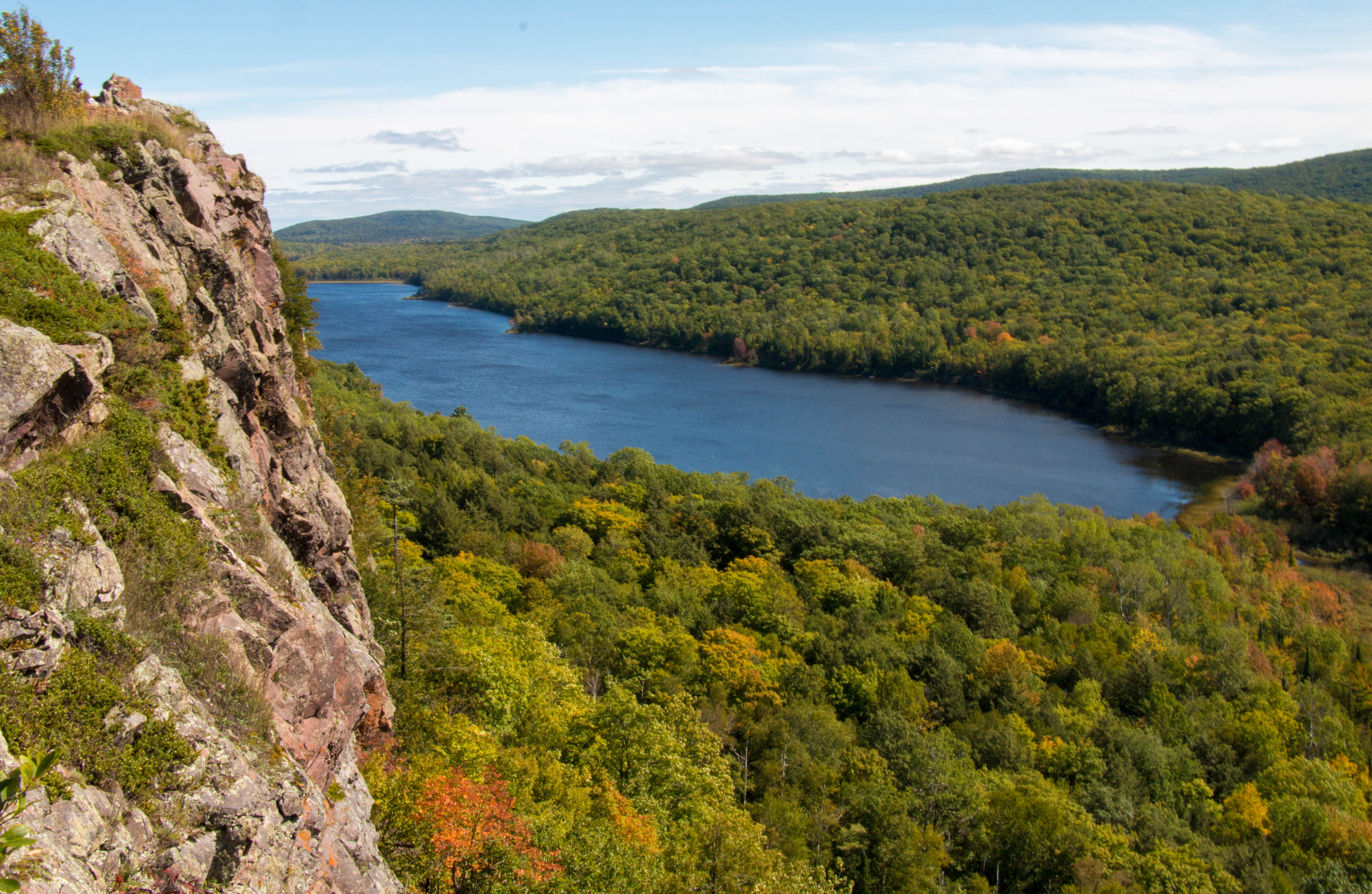 Covering an area of 60,000 acres in the western Upper Peninsula, Porcupine Mountains Wilderness State Park ranks as Michigan's largest. With 35,000 acres of old growth forest and a vast Lake Superior shoreline, the park may also be thought of as Michigan's wildest. Hike nearly 100 miles of hiking trails (ski or snowshoe them in winter). Go fishing, camping or mountain biking in summer, and in winter enjoy downhill skiing and snowmobiling. Don't miss a scenic drive or hike to Porcupine Mountains' most famous and photogenic high-elevation lake, Lake of the Clouds. 
Twin Lakes State Park sits in the heart of the Keweenaw Peninsula, Michigan's Copper Country. The park features 62 campsites and two overlooks with views all the way to Lake Superior. But the park's real appeal is its location on Lake Roland, one of the warmest inland lakes in the Upper Peninsula, with swimming, fishing, ORV trails and, in winter, cross-country skiing and snowmobiling.
 
Upper Peninsula – Central Region 
Set deep within the U.P. wilderness, Craig Lake is considered the most remote of Michigan's state parks, limited to vehicles with high ground clearance to access its difficult entrance. Those who navigate the terrain west of Ishpeming discover 7,000 heavily wooded acres, home to beaver, black bear, deer and moose. Craig Lake's six inland lakes are especially popular with anglers for their large populations of muskellunge, bass and walleye. Other pastimes include hunting, paddling, cross-country skiing and snowmobiling.
 
In the late 19th century the community of Fayette boomed with the production of pig iron. Today, Fayette Historic State Park quietly preserves the original manufacturing buildings and company town near the tip of the Garden Peninsula, surrounded by the waters of northern Lake Michigan. Walk through the historic buildings, then enjoy the park's fishing, swimming beach, boat launch, playground and camping opportunities.
 
Set near Manistique on the shores of a large inland lake, six miles long and three miles across, Indian Lake State Park is divided into two units, one on the southern end of the lake and another to the west. Naturally, the park's most popular pastimes revolve around the water: fishing, hunting, swimming and boating. There are more than 200 campsites between Indian Lake's two park units. 
 
11. Laughing Whitefish Falls State Park – Sundell
This small Upper Peninsula state park surrounds one of Michigan's most beautiful waterfalls. Located some 25 miles southeast of Marquette, the Laughing Whitefish Falls can be seen by means of three observation decks. Crisscrossing the wooded park are 2½ miles of trails, popular with hikers in summer and snowshoers in winter.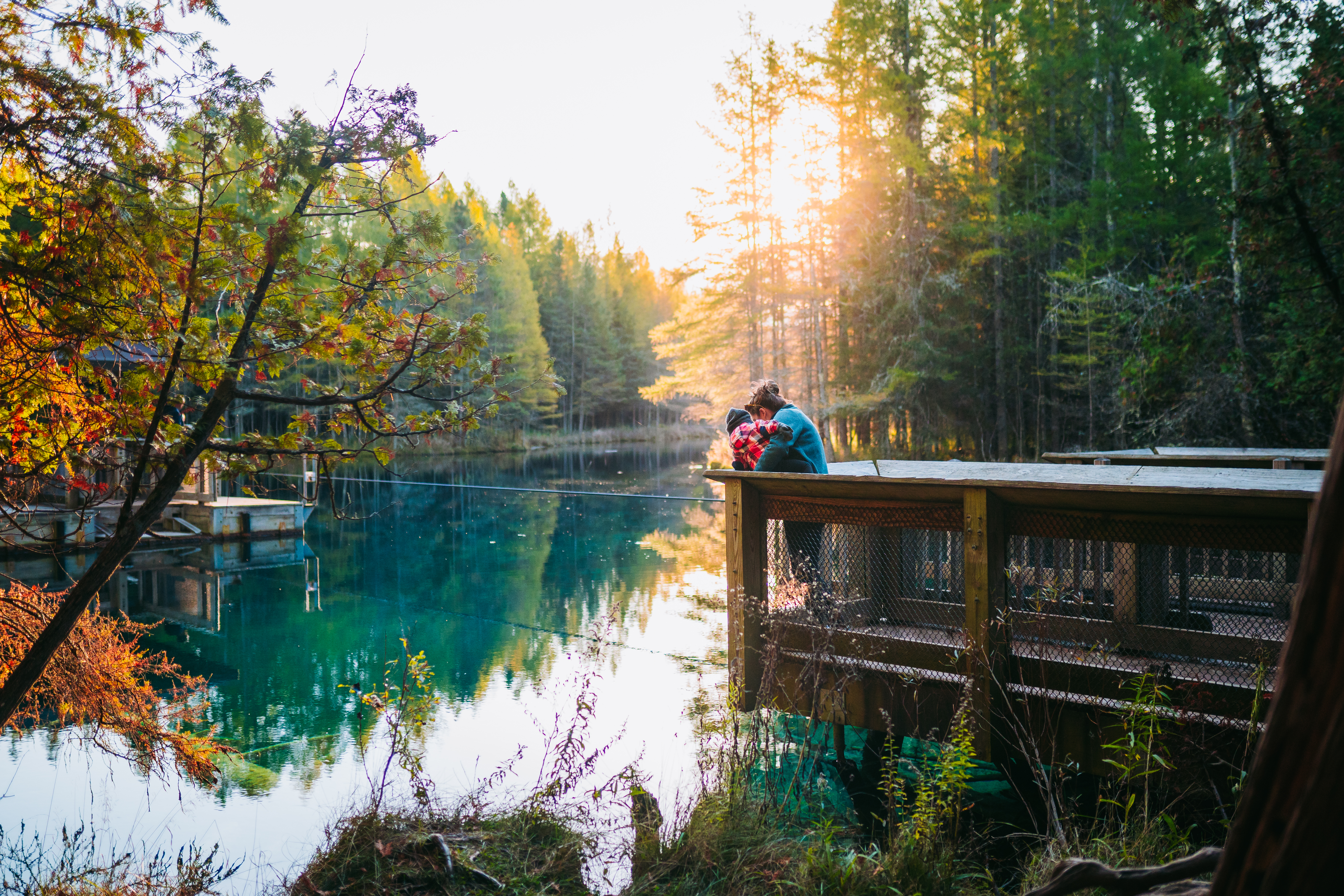 Just a few miles from Manistique, Palms Book State Park offers beautiful wooded hiking trails and access for snowmobilers in winter. The star attraction at this Upper Peninsula state park is Kitch-iti-kipi, the Big Spring, Michigan's largest freshwater spring. Measuring 200 feet across and 40 feet deep, the spring's water glows a mesmerizing aquamarine in the sunshine, and the water so clear you can see massive brook trout and ancient fallen trees submerged beneath the surface. A self-operated, hand-cranked wooden raft includes interpretive signs and allows visitors to glide across Kitch-iti-kipi at their own speed to look deep into the water's depths.
 
The relatively warm waters and sandy beach of Lake Michigamme have made Van Riper State Park a popular getaway in the Upper Peninsula. Located just 15 miles west of Ishpeming, the lake draws visitors with its swimming beach, fishing and boating. The recent addition of a water park, complete with inflatable floating slides, climbing walls, trampolines and obstacle courses, makes the park a hit with families.
 
Upper Peninsula – Eastern Region
Hunting, fishing, boating, camping and hiking occupy visitors to Brimley State Park, just west of Sault Ste. Marie and located on the Lake Superior shore. Brimley ranks as one of the U.P.'s oldest state parks and sits just a short drive from the Great Lakes Shipwreck Museum and Whitefish Point Light Station.  
 
Sandwiched between Muskallonge Lake and Lake Superior, this U.P. state park offers the best of Great Lakes beauty with the warmer, calmer waters of an inland lake. Swimming, boating, paddling and fishing are popular pastimes in this park, as are camping, rock hunting and wild berry picking. Muskallonge Lake State Park lies midway between Pictured Rocks National Lakeshore and Tahquamenon Falls State Park.
 
Set just north of the Mackinac Straits in St. Ignace, Straits State Park provides observation platforms with picture-perfect views of the Mackinac Bridge, worth a stop if only for shooting photographs. The park also offers lakeside camping and a memorial to Father Marquette. The memorial and an interpretive trail recount the meeting and intermingling of 17th-century French and Native American cultures in the Great Lakes.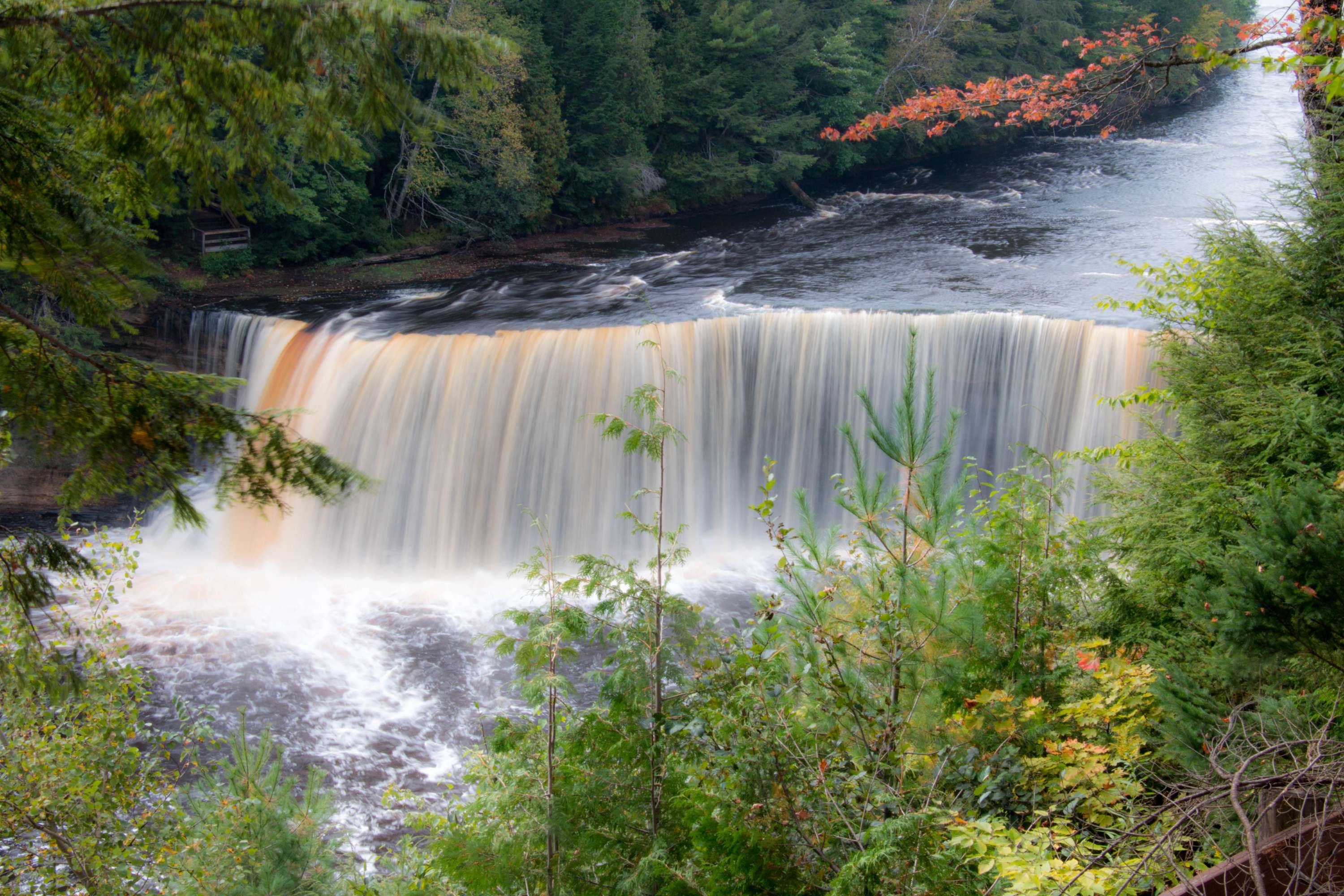 One of Michigan's most popular state parks, Tahquamenon Falls encompasses much of the Upper Peninsula's most spectacular natural beauty. Two large waterfalls, among the largest east of the Mississippi, the Upper and Lower Falls give the park its name. Richly brown and foamy thanks to the Tahquamenon River's high levels of tannin, the falls are often compared to root beer. After viewing the falls from the park's observation decks, explore some of the 40 miles of beautiful hiking trails traversing a dense forest with rippling streams, wildflowers and stairways of gnarled tree roots and rock ledges. Tahquamenon Falls State Park also offers some 300 campsites and opportunities for cross-country skiing, snowshoeing and snowmobiling.
Located midway between Escanaba and the Wisconsin border, Wells State Park borders Green Bay in northern Lake Michigan. The Great Lake proves the big draw in this state park, with opportunities for swimming, fishing and boating off the sandy beach, cross-country skiing, snowshoeing and ice fishing in winter. Wells State Park offers 150 modern campsites as well.
 
Southeast Michigan 
With 1,500 acres of lake plain prairies and oak savannas near St. Clair, Algonac State Park is home to a variety of Michigan prairie plants, songbirds and butterflies. But the park's location on a half-mile of St. Clair Riverfront makes this park especially popular for close-range viewing of Great Lakes freighters traveling between Lake Huron, Lake St. Clair and Lake Erie. Archery, trap-shooting, camping and picnicking facilities are also available.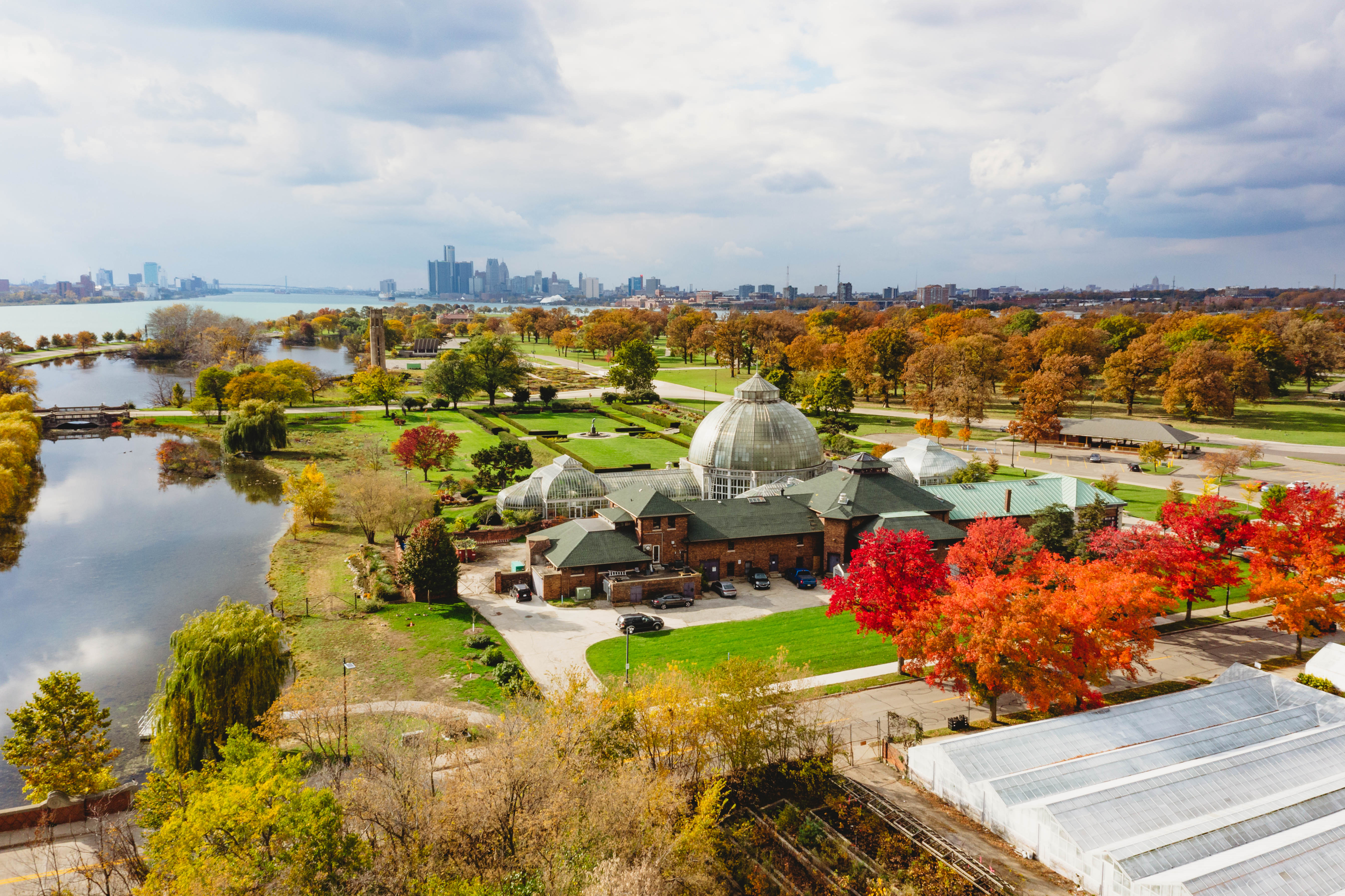 One of two urban Detroit state parks, Belle Isle is surrounded by the Detroit River and has long served as a green oasis in the heart of Michigan's largest city. Enjoy the park's natural beauty by means of its bicycle and pedestrian trails, kayak and SUP launches and swimming beach. Or check out the island's Livingstone Memorial Lighthouse, the only marble lighthouse in the nation, as well as the Belle Isle Aquarium, the Anna Scripps Whitcomb Conservatory, a petting zoo and the Dossin Great Lakes Museum.
This small state park in the township of Waterford offers enjoyable outdoor recreation in suburban Detroit. A one-mile shoreline on the banks of Cass Lake provides opportunities for fishing, picnicking, swimming, boating and cross-country skiing.
 
In the beautiful rolling Irish Hills of southeast Michigan, Hayes State Park offers a respite from the busyness of nearby Detroit, Ann Arbor and Jackson. The park sits surrounded by tiny inland lakes and offers access to Wamplers and Round Lakes, where visitors can paddle, boat, fish, swim and camp. 
 
Gently rolling hills, hardwood forest and trails for hiking, mountain biking and, in winter, cross-country skiing and snowshoeing comprise Maybury State Park in Northville. A working farm also occupies the state park property, and interpreters recreate rural life from 1900-1930 with demonstrations of sheep shearing, harvesting and honey gathering.
 
Michigan's only state park on Lake Erie, Monroe's Sterling State Park offers outdoor recreation an easy drive from metro Detroit, Toledo and Cleveland. Visitors may camp in one of 256 lakefront sites and fish in Lake Erie or one of the park's several fishing lagoons. A swimming beach and boating are also available. 
 
Birdwatchers head to Watkins Lake during spring and autumn migration, when large numbers of migratory waterfowl make their way through this region each year. The lake is naturally the primary draw at Watkins Lake State Park, located 15 miles southwest of Jackson. But besides birding the state park offers a 5-mile walking trail through its rolling, lightly forested landscape, popular with hikers in summer and Nordic skiers in winter.
 
The glittering glass and steel towers of downtown Detroit surround a surprisingly quiet oasis of green at William G. Milliken State Park, one of Michigan's newest state parks. The park sits along the Detroit River and is connected to the city via the RiverWalk. Stroll the paved pathways through a small wetlands area, past overflowing flower beds, a fishing pier, a replica lighthouse (patterned after the attractive Tawas Point Lighthouse in eastern Michigan) and a 52-slip harbor with rental space for larger boats.
 
East Central Michigan
One of the Great Lakes' largest remaining freshwater wetlands, the Tobico Marsh, forms the centerpiece of Bay City State Park, set in the crook of Michigan's thumb. Visit the park's Saginaw Bay Visitors Center to learn more about the marsh. Then venture out to explore the sandy Lake Huron beach, 2,000 acres of wetland woods and meadows and the vast array of wetlands, wildflowers and migratory songbirds that call Bay City State Park home.
 
Located just 10 miles up the Lake Huron shore from Port Huron, Lakeport State Park provides a popular Great Lakes picnicking and camping getaway for visitors to eastern Michigan. The park's two distinct units offer a combined 250 modern campsites and access to Lake Huron for swimming, boating and fishing.
 
Port Crescent State Park sits at the tip of Michigan's thumb. Three miles of sandy Lake Huron beach makes this a popular getaway in eastern Michigan, offering ample opportunities for waterfront camping, paddling, fishing, swimming and boating. Port Crescent is also home to a dark sky preserve, one of only seven in the state.  
 
This historic state park located deep within Michigan's thumb is small in size, but worth a visit to see Michigan's only known prehistoric Native American rock carvings in the Lower Peninsula. The petroglyphs are open for viewing from Memorial Day to Labor Day each year. Look for the Bow Man, believed to represent an archer, the most famous of the carvings. The remainder of the park includes a short hiking trail open year-round.
 
Located 20 miles south of Flint, Seven Lakes State Park offers a quiet retreat known for its water activities: fishing, swimming, boating and paddling. In spite of its name, the park comprises only one lake, a body of water created by joining seven smaller lakes by means of a dam. The park also features 70 campsites.
 
723 acres of Lake Huron beach, wetlands, forest and dunes make up Sleeper State Park, located in Michigan's thumb. Venture out to Saginaw Bay to enjoy both sunrises and sunsets on the water. Sleeper State Park sits within easy access to seven state boating access sites, one state dock and several public fishing piers.
 
Northeast Michigan   
 You'll find no waving palm trees or black sand at Aloha State Park, in spite of its Hawaiian-sounding name. But the swimming is lovely at this natural area on Mullett Lake, one of several bodies of water that make up northern Michigan's Inland Waterway. Located just south of Cheboygan, the park also offers nearly 300 campsites and a boat launch.
 
Expansive Lake Huron views, shoreline hiking trails and a landscape dotted with colorful wildflowers greet visitors to Cheboygan State Park, just a short drive from the Straits of Mackinac. A system of well-marked trails make it easy to explore the park's flora and fauna, and overnight lodging ranges from rustic camping to a fully-furnished lodge, just in case you decide to linger.
 
Clear Lake, the namesake of this northern Michigan state park, forms the centerpiece of outdoor recreation near Atlanta. Take the family swimming at the lake's 300-foot sandy beach, use the park's launch to go boating or fishing or explore the surrounding landscape via a network of hiking trails. Clear Lake sits surrounded by Michigan's elk country, where the area's grazing herds are easy to spot.
 
Once among the Great Lakes' most important trading centers, Fort Michilimackinac in Mackinaw City ranks among Michigan's most popular visitor attractions. Reconstructed buildings and costumed interpreters recount life as it was for 18th-century colonial and Native American fur traders during America's earliest days. Colonial Michilimackinac State Park also includes broad Lake Michigan and Lake Huron beaches and an 1892 lighthouse.
 
Mackinac Island ranks as one of Michigan's most popular vacation getaways. Surrounded by the waters of Lake Huron, accessible by ferry, within easy view of the Mackinac Bridge and entirely free of gasoline-powered vehicles—you'll have to get around on foot, via bicycle or horse-drawn carriage—the island feels like a step back in time. Some 80% of Mackinac Island is state park land, which includes an authentic Revolutionary War-era fort, many miles of hiking trails and M-185, a paved 8-mile road that encircles the island and is the nation's only state highway where motorized vehicles are banned.
 
Established in 1921, Harrisville State Park ranks as one of Michigan's oldest. A sandy Lake Huron beach with opportunities for fishing, boating and swimming is the park's biggest draw. But you'll also find trails for bicycling, hiking and cross-country skiing and a variety of campsites, cabins and lodges for rent.
 
In the 19th century, much of northern Michigan was covered with centuries-old virgin white pine. Visitors to the Grayling area can see traces of that old forest at Hartwick Pines State Park, home to some of the last few acres of remaining virgin forest. A Logging Museum recounts Michigan's timber era with a recreated logging camp and period logging equipment. Besides the 49 acres of old growth forest, the state park includes 9,000 acres for mountain biking, hiking, cross-country skiing, snowshoeing and camping.
 
Mackinaw City's restored Mill Creek recreates the 18th-century lumber era in the Great Lakes with a recreated saw mill. Learn about how millwrights transformed Michigan trees into lumber in the 1700s. And have a little modern-day fun on a 50-foot climbing tower, a zipline and a forest canopy bridge.
 
Heavily wooded and set on the quiet shores of Lake Huron, Hoeft State Park offers swimming, camping and remarkable views of mighty freighters transporting their goods throughout the Great Lakes. The state park is located just up the lake from Rogers City, where visitors can see the remains of a grounded shipwreck half-buried on the shore.
 
Set on a quiet stretch of Lake Huron shore near Harrisville, Negwegon State Park is largely undeveloped, making this an ideal park for hunting, fishing and hiking. Sandy roads lead through the rolling, forested terrain and near just four walk-in campsites. Negwegon's primitiveness has made this park a popular site for stargazing. 
 
Cobblestone beaches, rocky outcroppings, diverse forest and beautiful Black Lake are all part of the attraction at Onaway State Park. Campsites are set within virgin white pine forest, and the park is within an easy drive of the Ocqueoc Falls, the largest waterfall in Michigan's Lower Peninsula.
 
Established in 1920, Otsego Lake State Park ranks as one of Michigan's oldest state parks. The recreational area is located near Gaylord, a gateway to some of the Lower Peninsula's most diverse outdoor recreation. Visitors have access to the Otsego Lakeshore, with swimming, paddling and boat rentals, as well as 155 campsites set beneath a canopy of mature oak, pine and maple trees.
 
Located at the tip of a small peninsula just east of Tawas City, Tawas Point curls into Lake Huron. The park includes nearly 200 campsites and fronts a shallow area of Lake Huron, where the water warms fairly early in the season compared to other Great Lakes and swimming is especially popular. But Tawas Point State Park is especially popular for its lighthouse, a red and white beauty and the only true Victorian-era light station on the Great Lakes.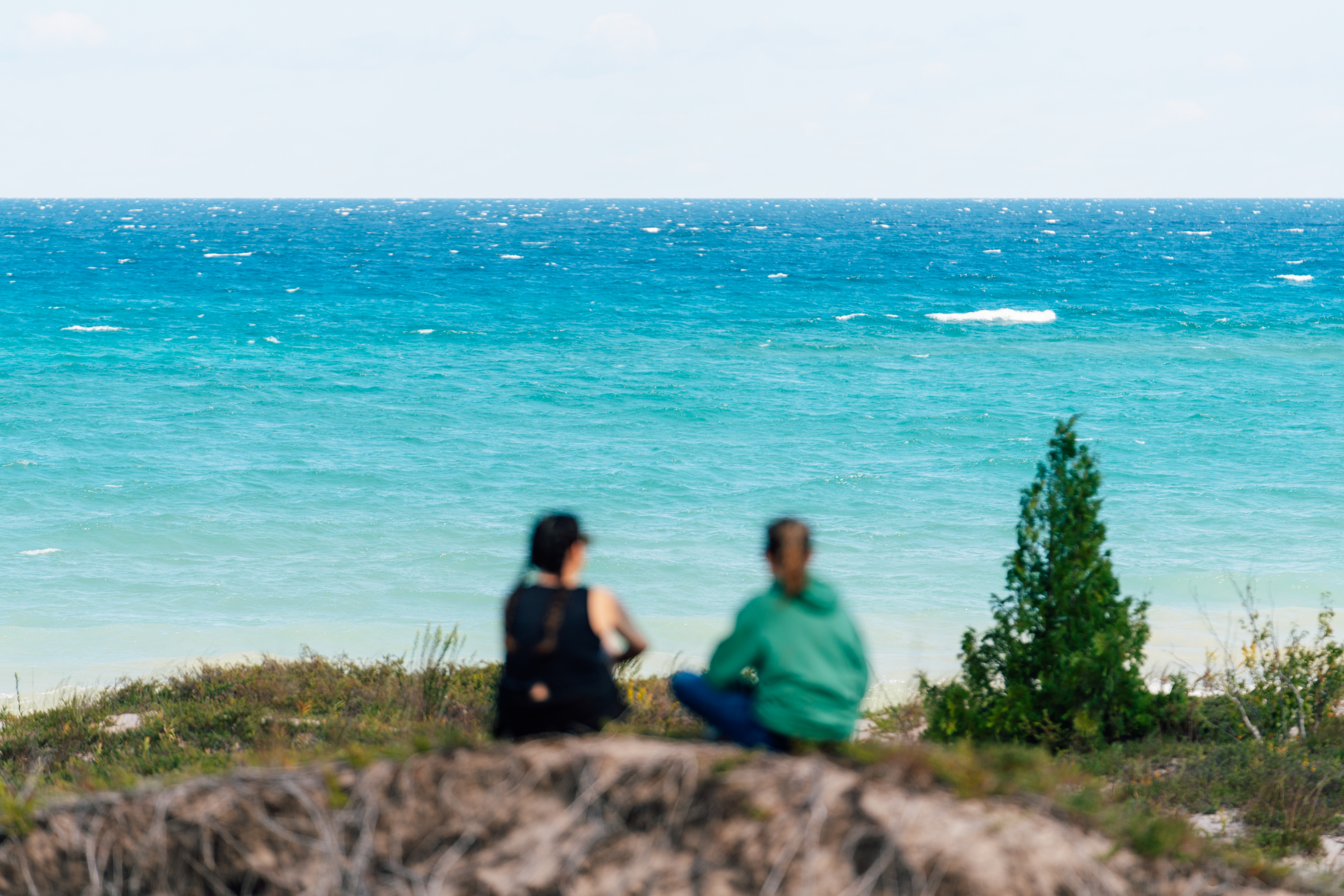 Seven miles of undeveloped Lake Huron shoreline greet visitors to this northern Michigan retreat midway between Cheboygan and Alpena. Except for two rustic cabins available for rent, the park's natural beauty is its attraction: six miles of footpaths for exploring the wild coast, towering white pines, and the powerful Lake Huron surf.
 
Tiny Budd Lake in Harrison is the home of Wilson State Park, a 36-acre wooded recreation area in northeast Michigan. The park's sandy beach is popular with boaters, anglers and swimmers, and 158 modern campsites lie shaded by hardwood trees. Wilson State Park's sandy beach and its rental cottage were built by the Civilian Conservation Corps from 1939-41.
 
Southwest Michigan   
Located just south of St. Joseph, Grand Mere State Park offers 1,000 acres of undeveloped Lake Michigan forest and sand dunes as well as a one-mile stretch of sugar-sand beach. The shoreline is popular with swimmers, paddlers and beachcombers. But the park's wild spaces also make it a good choice for hunters, hikers and cross-country skiers.
 
More than one mile of unspoiled Lake Michigan lakeshore and high sand dunes make up Van Buren State Park, drawing beach lovers on the hottest of summer days. But the park's 220 modern campsites, 13 miles of hiking trails and nearly 400 acres of woodlands make Van Buren State Park worth visiting all year long. The park is located just south of the popular resort town of South Haven.
 
Especially popular with visitors from Chicago and northern Indiana, Warren Dunes State Park in Sawyer is very often out-of-state travelers' first introduction to Michigan's spectacular beaches. The park's three miles of golden sand and a dune formation that rises 260 feet above Lake Michigan draw shutterbugs and hang gliders. Six miles of wooded hiking trails and 200 campsites are also available.
 
Just south of Sawyer and Warren Dunes State Park, the Warren Woods introduce rural southwest Michigan's forestland to visitors of the state park. The serene first-growth forest of beech and maple trees is dotted with wildflowers and crisscrossed by a meandering hiking trail and the gentle Galien River. The park offers an undisturbed natural haven just off noisy I-94.
 
West Central Michigan   
Occupying a stretch of dune land between inland Duck Lake and Lake Michigan, Duck Lake State Park ranks as one of North Muskegon's most popular green spaces. Enjoy the lake views from atop a towering sand dune and enjoy a day spent on the park's hiking trails, swimming beach and picnic areas.
 
Life revolves around the beach in Grand Haven, and nowhere more than at Grand Haven State Park. The park's broad, golden strand is busy with beachcombers, sunbathers, swimmers and surfers all summer long, all of it guarded by a beautiful red lighthouse. Park your camper right on the sand to enjoy the beach from sunup to sundown. It's an easy walk by boardwalk from the state park to downtown Grand Haven shopping, dining and the Musical Fountain.
 
Visit Muskegon's P.J. Hoffmaster State Park for pristine golden beaches, soaring sand dunes, and glorious Lake Michigan sunsets. But don't miss the opportunity to explore the park's trails. Miles of hard-packed trails lead visitors through hardwood forests and beneath white-barked birches equally as beautifully at the height of summer or autumn as in winter, when covered in a blanket of snow. In spring, the park is known for its vibrant wildflowers.
 
Beach-loving campers book sites at Holland State Park year after year, making a habit of setting up camp for a week or two on Holland's golden strand, within an easy walk of the Lake Michigan shore. You'll discover Instagram-worthy shots of Big Red, Holland's iconic lighthouse, and after dark you'll enjoy the beauty of a million twinkling stars.
 
Located on the shores of Lake Michigan, Mears State Park is a popular destination for sunbathers, swimmers, boaters and others who enjoy a sugar sand beach. 175 paved campsites make it easy for visitors to linger in the park for days. Take advantage of the park's wooded hiking trails and a climb up Mount Baldy, a wooded and sand-blown dune that offers terrific views of Lake Michigan and the surrounding countryside. Lake Michigan and Pentwater Lake are popular fishing destinations, the latter being especially good for ice fishing. 
 
Spanning more than 1,100 acres between Lake Michigan's dunes and inland Muskegon Lake, Muskegon State Park offers all of the amenities that Great Lakes beach lovers seek: camping, fishing, sunbathing, swimming, boating and 12 miles of marked hiking trails, 5 miles of which are lighted in winter for cross-country skiers. The park is also home to the Muskegon Winter Sports Complex, with lit skiing and ice skating trails through the woods and one of the nation's rare luge tracks.
 
Set midway between Newaygo and Big Rapids and in the southeastern corner of the Huron-Manistee National Forest, Newaygo State Park offers quiet, wooded beauty. The park sits atop the embankments of the Hardy Dam Pond, a flood plain of the Muskegon River, making this a popular spot for fishing, boating and swimming. 99 rustic campsites are available to visitors as are hiking trails and picnicking facilities.
 
There are easier ways to approach Lake Michigan's golden beach than via the Saugatuck Dunes. But there are few routes more beautiful than this one. A network of hiking trails crisscrosses this undeveloped duneland near Saugatuck, through towering white pines, past patches of pink lady's slippers, and over ancient dunes en route to the shore. The park is especially popular with cross-country skiers in winter.
 
Comprising some 3,000 acres of Lake Michigan dunes between the Big Lake and inland Silver Lake, this park is famous for a broad expanse of bare dunes that appear to go on forever. Boating, fishing and camping are common pastimes in this West Michigan state park, but its unique access to ORVs makes the park especially popular with off-road enthusiasts. Silver Lake is the only state park that allows four-wheeling directly on the dunes.
 
Located northeast of Lansing, Sleepy Hollow promises a wealth of year-round outdoor recreation. Follow the meandering Little Maple River through the park and to Lake Ovid, where visitors enjoy swimming, fishing and boating. The park's 181 campsites are open to summer and winter camping, and its trails include 16 miles of hiking and biking paths as well as 13 miles open to horses and dogsledders. 
 
Northwest Michigan
This northern Michigan state park sits in the heart of the Inland Waterway, which leads from Cheboygan nearly to Petoskey. A large campground and easy access to Burt Lake makes this park a good choice for those looking to explore the Waterway by kayak or boat, or for those simply in search of good inland lake swimming and shoreline fishing.
 
Over time, lower water levels turned Fisherman's Island into a peninsula, but this state park in Charlevoix still attracts water sports enthusiasts. Visitors enjoy Lake Michigan fishing, beachcombing and swimming. And a small campground includes a dozen sites nestled cozily in among the sand dunes.
 
Located just south of Traverse City and true to its name—Interlochen means "between the lakes"—this northern Michigan state park lies between Duck and Green Lakes. Interlochen State Park was established in 1917 to protect one of the last virgin stands of Michigan pine forest, but most people visit the park for its water-oriented recreation. Nearly 500 campsites rustic to fully modern occupy the wooded park, which allows access to both lakes for fishing, boating and swimming.
 
One of the Traverse City region's most spectacular state parks, Leelanau sits at the northernmost tip of the Leelanau Peninsula, the pinky finger of the Michigan mitten. Visit the park for expansive views of Lake Michigan, quiet walks beneath hardwood trees, the Grand Traverse Lighthouse and Museum and camping. Beachcombing on the Lake Michigan shore is a popular pastime as well. If you're lucky, you may find Petoskey stones washed up by the surf.
 
Miles of unspoiled Lake Michigan beach lead to the entrance of Ludington State Park, located just outside of Ludington. Wind-swept sand dunes and billowing dune grasses lead the way to the iconic black-and-white-striped Big Sable Point Lighthouse, standing sentinel over the water. Inland, the park offers access to Hamlin Lake, with quieter and warmer waters appealing even when Lake Michigan's surf is too cold for swimming. Also within the park are nearly 350 wooded campsites, hiking and fishing.
 
Camping, fishing and boating are the big attractions at Mitchell State Park just outside the city of Cadillac. The park lies between Lake Mitchell and Lake Cadillac, and a historic canal linking the two bodies of water runs through the park. Trails meander through the wooded and gently rolling landscape, and are groomed for cross-country skiing in winter, when covered by thick snow.
 
The quiet, wooded beauty of northern Michigan's Higgins Lake forms the centerpiece for this state park near Roscommon. Picnicking, swimming, fishing, boating and 174 modern campsites are available to visitors. You can also hike 8 miles of forested hiking trails and check out the historic Civilian Conservation Corps Museum onsite. 
 
Stand atop the bluff within Orchard Beach State Park and you'll understand why the state of Michigan decided to preserve this piece of land. Views from above the water take in a broad expanse of Lake Michigan beach, its golden sands perfect for sunbathing, swimming and building sandcastles. 166 campsites access the beach below via a wooden staircase, and the park sits adjacent to a network of self-guided lakeshore hiking trails.
 
The beautiful waters of Lake Michigan's Little Traverse Bay stand just off the shore of Petoskey State Park, located just east of the resort community of Petoskey. Some 170 campsites lie beneath a canopy of pines and hardwood trees, but the park's sandy beach marks the chief attraction of the park. Petoskey State Park is a prime spot to search for Michigan's state stone, the Petoskey stone.   
 
Like its counterpart, North Higgins Lake State Park, Higgins Lake's serene, wooded beauty forms the chief draw for South Higgins Lake State Park, located near Roscommon. Picnicking, swimming, fishing, boating and 400 shady modern campsites are available to visitors. There are also opportunities for cross-country skiing, hiking, boat rentals and ice fishing.
 
Sitting at the crook of the East Arm of Grand Traverse Bay, Traverse City State Park provides 47 acres of glittering Lake Michigan lakefront in the heart of the busy resort town of Traverse City. The park features nearly 350 campsites as well as a quarter mile of magnificent sandy beach. Available activities range from swimming, beachcombing and sunbathing to SUP, paddling and boating.
 
Directly west of Mackinaw City, Wilderness State Park offers more than 10,000 acres of unspoiled landscape surrounded by 26 miles of northern Lake Michigan shoreline. Swimming, boating and fishing are naturally popular activities in the park, and this far away from civilization you're sure to enjoy spectacular stargazing. Away from the shore you'll find mature hardwoods, pine forests, patches of open wetlands and numerous small ponds. Visitors may camp in one of 250 campsites or 9 rustic cabins.
 
Spanning some 560 acres, this Michigan state park includes gently rolling hills, hardwood forest and wetlands. But it is sparkling Lake Charlevoix that attracts most visitors to Young State Park. Visitors can swim, fish and boat in the lake or camp in one of 240 modern campsites. And nearby Boyne City is a gateway to the region's award-winning golf courses and ski resorts.