5 Stops for a One Tank Road Trip in Northwest Michigan
This trip hugs the shoreline of Lake Michigan and some of its most scenic bays in a route up the mitten state's ring finger through regions that have drawn visitors since the Victorian era and have retained tons of vacation charm. Recommended detours lead to patchwork views of orchards and bays—and some of the state's best wine.
Traverse City's location at the base of two crystal-clear bays, sandy beach-lined bays have earned it designations like USA Today's "Best Great Coastal Drives." Bon Appetit has called it one of the country's top 5 foodie towns, in part for the way creative chefs capitalize on a microclimate that lets farmers grow orchard fruits, European varietals of wine grapes and more. Fodors has called this one of America's 10 best small towns, and though small town charm is a hallmark, many things aren't so small. There are so many microbreweries that Draft Magazine has named it one of the country's top three emerging beer towns. Explore the beer scene, creatively, through Kayak, Bike and Brew and include a trail ride and paddle on the Boardman with your sipping at spots like The Filling Station Microbrewery, where wood-fired pizza and live music are other highlights.
Find foodie variety at The Little Fleet, a food truck collaborative, or elevated Italian fare at Trattoria Stella within the Village at Grand Traverse Commons popular tours explain how this former mental hospital was built around the concept "beauty is therapy" and came to involve into an Italian-style community of eateries, galleries and shops. There are some 35 wineries in town or on the nearby Leelanau and Old Mission Peninsulas. Or sample on Front Street, where wine bars join shops selling other fruits of the region—like the Grand Traverse Pie Company cherry pie.
2. Old Mission Peninsula
Detour up M-37 onto the Scenic Heritage drive out the Old Mission Peninsula. The elevation begins to climb about seven miles from town, houses morph into farm fields, and the scenic turnoffs draw you to panoramas of orchards ripe with cherries, lush vineyards that support 10 peninsula wineries and deep blue bays. The landscape has been preserved through a millage that pays farmers to keep land in production rather than sell to developers—and agriculture bounty of farm stands and views are both the result.
 
Stop at Peninsula Cellars, a winery that sells fruity whites inside a former one-room schoolhouse, or soak in the view and Tuscan vibe of Mari Vineyards, owned by brothers who star in the History Channel show, "Curse of Oak Island."  Chateau Grand Traverse and Chateau Chantal offer winery inn stays as well as wine dinners and memorable views. At peninsula's end, the Mission Point Lighthouse (open for tours) stands behind a sign pointing out its location on the 45th Parallel, roughly halfway between the North Pole and the Equator.
Then head north toward the village of Elk Rapids. It is such a charming beach town that even the town library boasts a stunning view. Tour the production facility of Short's Brewing Company, and dine at Pearl's New Orleans Kitchen for Cajun flair or Siren Hall, for buzz-worthy seafood dishes and a breezy patio.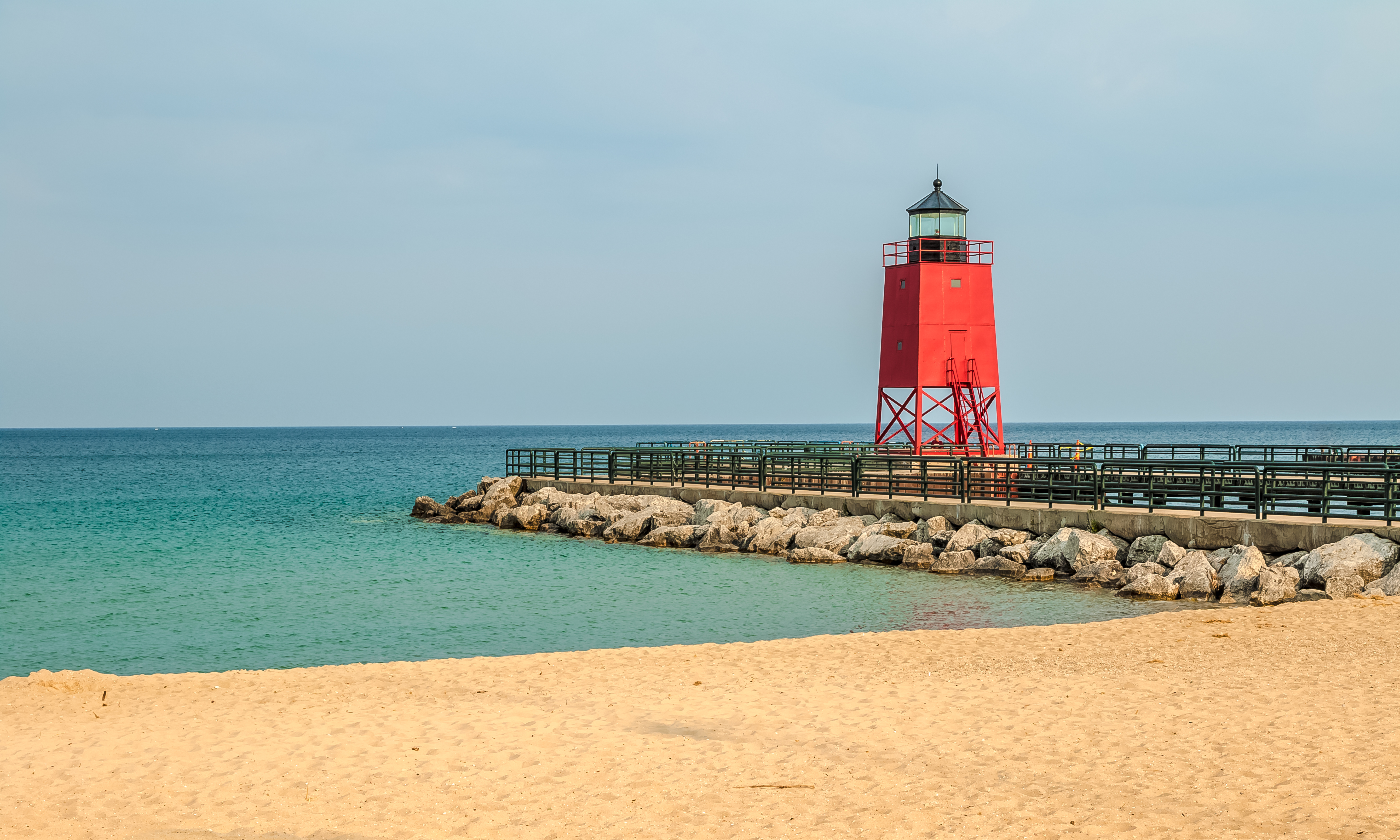 Charlevoix is the ultimate harbor town. Surrounded by four bodies of water, the beaches, boating and scenery remains unmatched. Tour Earl Young's one-of-a-kind stone houses affectionately called Hobbit or Mushroom Houses. Check out the castle-style architecture of Castle Farms, where you can watch one of state's largest working model railroads.
 
Enjoy dinner and drinks overlooking the Pine River Channel at Stafford's Weathervane Restaurant, accented by an Earl Young-created boulder fireplace, and watch the downtown drawbridge open for large pleasure craft. One of those boats is likely heading to Beaver Island, 32 minutes off the coast.
The Victorian resort town of Petoskey is best known for its location on Little Traverse Bay and shopping in Petoskey's Historic Gaslight District. Dozens of galleries, shops and restaurants line this collection of downtown streets, where old-fashioned trolleys still run. Pick up a novel by Ernest Hemingway from McLean and Eakin Booksellers. Then take a tour that follows the path of a young Hemingway who spent summers in the area; even find one of his typewriters at the Little Traverse History Museum. Stick around until dusk; the town is said to have million dollar sunsets, and that's such a focus that hotels even post s sunset times at their front desks. Just north of town, the Bay View Association offers a step back in time with 500 elegant Victorian homes and public buildings on the National Historic Register.
 
Along M-119, stop at Petoskey State Park to hunt for Petoskey stones, notable for their honeycomb shape, then explore the town of Harbor Springs nestled along the Great Lakes' deepest harbor. The postcard-perfect town offers several acclaimed galleries and restaurants. Tour the bay via the classic Pointer Boat from the dock at Stafford's Pier Restaurant.
Just north of Harbor Springs is the gateway to the "tunnel of trees," so named for the tree canopies that cross this scenic drive that winds along high bluffs and is especially striking when spring trillium is in bloom or fall foliage at its peak. Worthy stops include Pond Hill Farm for its winery, shop and farm-fresh restaurant; funky Legs Inn for funky décor and Polish cuisine and Cross Village, where Three Pines Studio features 40-plus artists and sculptures.