Michigan's Great Grape Harvest
More than 13,000 acres of vines in Michigan yield grapes that are destined to become sweet juices and award-winning wines. Come see what the buzz is all about during Michigan's wine harvest season and beyond.
Five American Viticultural Areas (AVA) and more than 140 commercial wineries have helped usher in Michigan's winemaking era. You can find everything from robust reds to wintery ice wines, not to mention a whole crop of other styles like Michigan-grown blueberry and cherry wines and fortified ports.
In southwest Michigan, the Lake Michigan Shore AVA is part of the larger fruit belt and grows grapes used for wine, juice and jellies. Tucked within it is the Fennville AVA, which is a smaller area that was the state's first AVA and the third in the United States when it was established in 1981! Because this area is on the southern end of Lake Michigan, the unique lake effect creates perfect fruit-growing conditions with moderate temperatures that don't hit extreme highs or lows. A long season allows the grapes to ripen and deepen in flavor, which is especially beneficial for big reds like Cabernet Sauvignon, Cabernet Franc and Merlot.
In northwestern Lower Michigan, the Leelanau Peninsula AVA is the state's second designated region approved back in 1982. Here the moderate temperatures are a natural effect of Lake Michigan, Grand Traverse Bay and Lake Leelanau, leading to well-balanced white wines such as Pinot Blanc, Pinot Grigio and Riesling.
The Old Mission Peninsula AVA was established in 1987, influenced by the effects from Lake Michigan's surrounding bays. The newest of all is the Tip of the Mitt AVA, which includes areas like Charlevoix, Cheboygan and Presque Isle. 
Visit these vineyards to taste the unique flavors of Michigan's winemaking regions:
St. Julian Winery & Distillery in Paw Paw is Michigan's oldest, largest and most-awarded winery, run by four generations of the Meconi-Braganini family. Using more than 50 grape varietals, St. Julian has over 180 products – including a handmade, small-batch Braganini Reserve an orange-hued Ramato wine that uses a skin-fermenting process that originated in Italy. You'll also find distilled spirits, ciders and other wines that are exclusively made from Michigan fruits. After the harvest festival in early September, you'll find an array of activities in its flagship location and various tasting room locations. Stop by for a wine and canvas night, guided tastings and other special events.
Set over 300 acres of clay hills, Lemon Creek Winery in Grand Haven is a historic vineyard and orchard. During harvest season you can purchase quarts of pre-crushed juice or uncrushed grapes by the pound to make your own wine at home. Or simply visit the tasting room where you can order a flight of five, 2-ounce pours featuring everything from semi-dry Vignoles to sweet red wines.
Chateau Chantal in Traverse City has been making wine for more than 30 years. It's set on a ridge overlooking 75 acres of vineyards and Grand Traverse Bays. Spend a night at the bed and breakfast, enjoy an exclusive fall wine dinner, join a yoga weekend retreat or come for the annual Harvest Day Celebration where there's everything from grape stomping to a wine aroma challenge.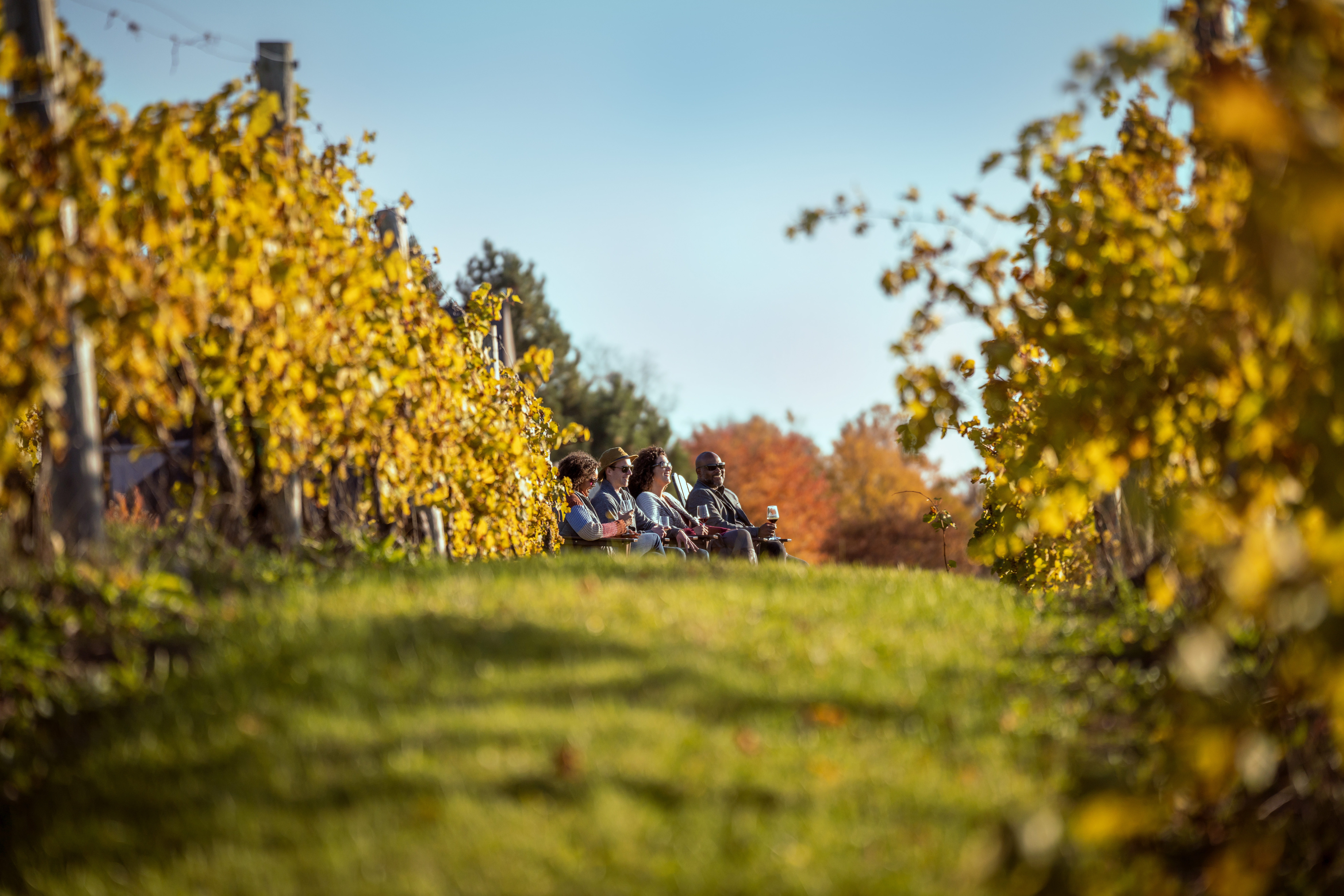 In a rural area of the Leelanau Peninsula, just 15 minutes from Traverse City, Black Star Farms in Suttons Bay is a 160-acre winery estate. Reserve a room in the inn, explore miles of nature trails and walk the vineyards that are right outside your door. Learn how these local grapes go from wine to bottle to glass at special wine dinners paired with seasonal farm-to-table meals. At the tasting room, you can enjoy wine, spirits and specialty cocktails as well as a top-tier wine flight from sparkling white to limited reds to a grand ice wine finale.  
What about ice wine? Michigan is one of the few U.S. states with the right conditions for ice wine, which involves leaving the grapes on the vine until they freeze and hand-picking them at just the right temperature. The grapes are frozen when they're pressed, which makes them extra sweet to create a lovely dessert wine. Since this process is so dependent on nature, harvest season can be anywhere from late December to early March. Learn more about Michigan's ice wines here!