The Best Ways to Explore Michigan Trails
If you ask anyone who calls Pure Michigan home, they'll tell you there aren't enough days in a lifetime to explore all of the amazing things the state has to offer. From beaches, lakes, cities, farms and trails, the Great Lakes state offers an escape unlike any other. Check out the list below for activities you can do while exploring Michigan's expansive trail system.
Hiking offers the opportunity to get up-close-and-personal with nature and makes for a wonderful family experience. Many of Michigan's state parks and recreation areas offer designated hiking trails for group and family hiking experiences.  Hike across the state while exploring more than 200 miles on the Shore-to-Shore Trail that connects Lake Huron and Lake Michigan. Strap up your hiking boots and go!
Pedal through Michigan's lush forests and gentle hills on more than 1,300 miles of bike trails across the state. Ride among vibrant wildflowers and swaying trees or enjoy the relaxing breezes as you pedal along scenic lakes and streams. Many trails offer amenities such as restrooms, picnic areas and informational signage. Whether it be recreational or mountain biking, Michigan has a tour for every cyclist's interest and comfort level.
Rev up your engines and venture out on more than 3,100 miles of ORV trails. Michigan ORV trails run the gamut from twisty, single-tracks to rocky hill climbs to soggy mud bogs. Ride dirt bikes, quads and dune buggies to stir up the dirt. If you're an ORV enthusiast, Silver Lakes Sand Dunes are a can't-miss!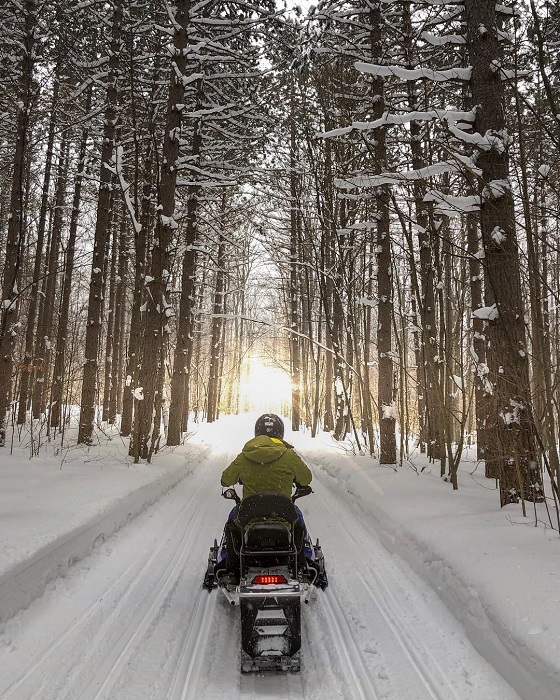 Can you hear the engines roaring? Whoosh in and out of 6,000 miles of maintained, interconnected trail systems while experiencing the beauty of a Michigan winter. With an expansive trail system that includes many hidden gems in the Upper Peninsula, Michigan is a snowmobiler's paradise.
What better way to enjoy the beauty of Pure Michigan than sitting high atop your favorite horse? Saddle up and ride across towering bridges, wander through converted railroad trails and stride along hundreds of rivers and streams. No matter what level of rider you are or whether you're looking for a short loop or an extended adventure, Michigan has the perfect trail with riding stables and horses to rent.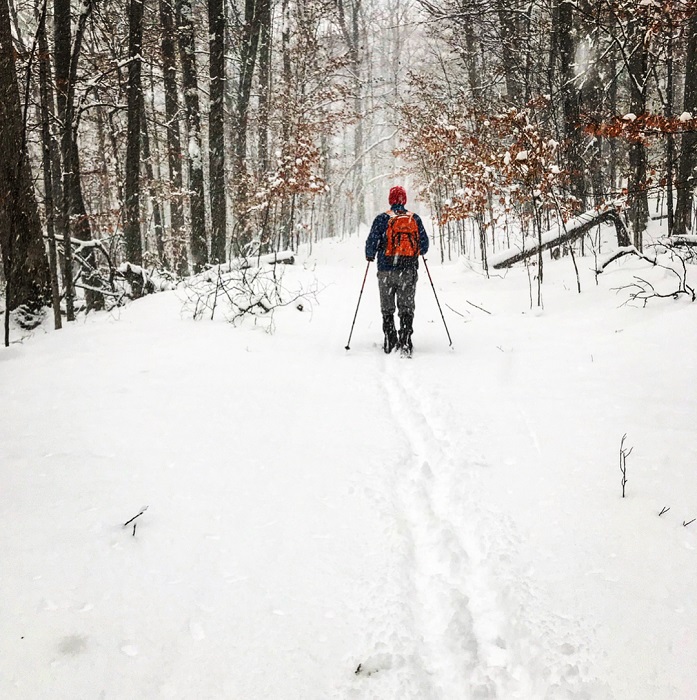 Snowshoe through the woods, breathing air filled with smells of the forest, hearing nothing but the sound of your footsteps. Snowshoeing in Michigan offers outdoor enthusiasts and nature lovers a respite among picturesque trails and terrains. While a silent sport, snowshoeing offers a unique opportunity to meld into your surroundings and feel what ancient cultures must have experienced as snowshoeing is one of the oldest forms of transportation.
Enjoy the peace and tranquility of Michigan's more than 3,000 miles of cross country ski trails. Distance yourself from the world's fast pace as the hush of snow-covered landscapes sets the tone for a contemplative, yet invigorating, winter pastime. Cross-Country skiing, along with snowmobiling and snowshoeing, is a great way to get out of the house to avoid the winter blues.