The Detroit Sports Fan's Ultimate Game Day Trip Guide
Four major sports teams call downtown Detroit home—the Detroit Tigers baseball team, the Lions football team, the Detroit Red Wings hockey team and the Pistons basketball team.
Each are located within just four blocks of one another. The sports fun isn't restricted to Detroit's big four. You'll also find amateur teams, stadium tours, sports-themed shopping venues and sports bars in Detroit. Grab your jersey and head to Detroit for some sports-themed fun.
 
1. Catch a Game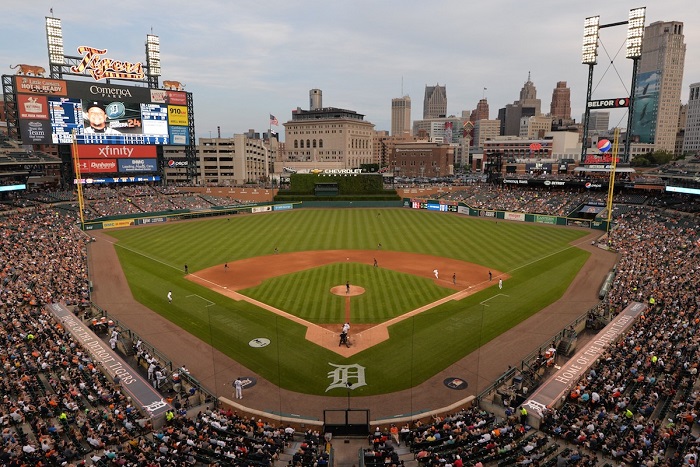 Watch the Red Wings drop the puck. Cheer for the Pistons as they dunk the ball. Or do both! Detroit's winter sports teams share space at Little Caesars Arena. A new addition to downtown Detroit in 2017, the arena sits just blocks from Comerica Park, where the Detroit Tigers play America's favorite pastime each summer, and Ford Field, where the Lions take the field in the fall. Taken together, these three arenas keep Detroit fans busy all year long. Celebrate Opening Day in Detroit, considered by many as an unofficial holiday in Michigan, for a wide variety of delectable food items, drinks and maybe even help break the Opening Day attendance record of 45,068, set in 2014. 
 
2. Tour a Stadium
Guided arena tours show sports lovers the inner workings of Detroit's stadiums and offer a close-up look at life as a professional athlete. All three of Detroit's professional sports venues offer public and private facility tours. Take a trip through Detroit Tigers' history by visiting the Tiger Hall of Fame, which consists of six stainless steel casts of Tigers legends that stand 11-13 feet tall. Check it out the next time you're at Comerica Park! 
 
3. Buy Some Fan Gear
Show your spirit with a jersey, ball cap, autographed memorabilia or sports-themed toys. You'll find a variety of choices at each of Detroit's stadiums as well as at stores like the Detroit Athletic Co., Pure Detroit and the Detroit Shoppe.
 
4. Enjoy Detroit's Semi-Pro Sports Teams
The Tigers, Lions, Pistons and Red Wings aren't the only athletics in town. Catch a semi-pro soccer game at the Detroit City Football Club in Hamtramck or watch the amateur teams of the Detroit Cricket League battle it out on fields across the metro area. Vintage baseball is played according to 1867 rules at Greenfield Village. You can watch the home team Lah-De-Dahs play vintage clubs from around the Midwest wearing 19th century uniforms and gear.
 
5. Grab a Bite at a Sports-Themed Spot 
Whatever your favorite sport, Hockeytown Café is sure to please, serving burgers, pizzas, salads and drinks an easy walk from all three of downtown Detroit's major sports arenas. Other walkable favorites include the Elwood Bar & Grill, The Corner Tap Room and Kid Rock's Made in Detroit restaurant. 
 
6. Pre or Post-Game Fun   
Enjoy a drink at one of downtown Detroit's favorite bars before or after the game. The Detroit Beer Company and Foran's Grand Trunk Pub are fan favorites, as well as Pappy's in Greektown.  
 
7. Overnight in Style
Why drive on game night? Instead, book at room at one of downtown Detroit's favorite hotels. The Aloft and Greektown Casino Hotel are among several within an easy walk of Detroit's sports district. 
 
8. Take the QLine and People Mover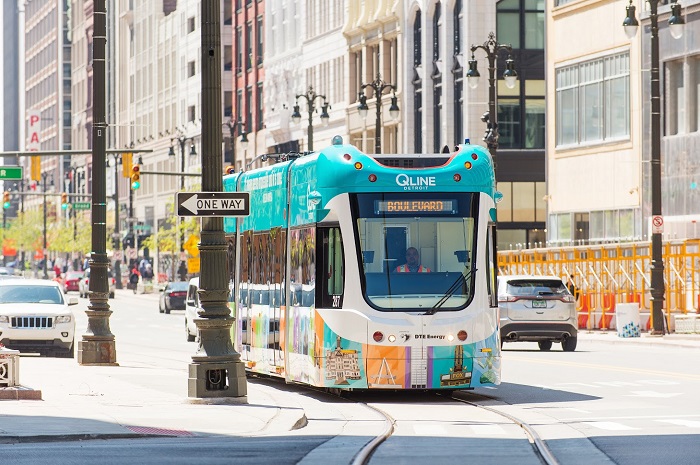 Enjoy the game and leave the driving to someone else. Detroit's new streetcar, the QLine, travels up Woodward Avenue and the People Mover makes a circle around the downtown. Together, the two make stops at Little Caesars Arena, Comerica Park, Ford Field and the city's hottest hotels, restaurants and bars.