Fox Hills Golf Club & Banquet Center: A Metro Detroit Beacon
Guest writer Tom Lang, publisher and managing editor of MI Golf Journal, highlights three incredible courses at Fox Hills Golf and Banquet Center.
When it comes to choices and lots of options for both new golfers and ones with experience, Fox Hills Golf and Banquet Center in Metro Detroit is as good as it comes. Playing golf at Fox Hills, which won the 2023 Best Public Golf Course award from HOUR Magazine, starts with three courses totaling 63 holes: 
The Strategic has always been a fun course that is great for beginners and intermediate players, but if experienced players join them there is plenty of challenge from the back tees. It's a great course to practice your short game or introduce others to golf – in other words, a perfect family venue. What is distinctive is almost every short course I see developed is just 9 holes – this one is a full 18 with yardages ranging from 195 yards (holes 13 and 18) down to 50 yards from the front tees on hole 8.
An extra bonus is that Strategic Fox was one of the first courses in Michigan to offer FootGolf – a mix of soccer and golf – and it remains strong today. The two forms of play are well intertwined in this course.
Fox Classic is rooted in the original course going back to 1927 when it was the Fox Hills Country Club and before the final 9 holes were added in 1983. The Classic offers 27 holes of solid golf across rolling hills, between trees lining some fairways, and with ponds and lakes upon the property.
The three courses are the Lakes, the Woods and the Hills. All three have what are called 'friendly' tees designed for beginners and those looking for a relaxing round, that start play in the fairway.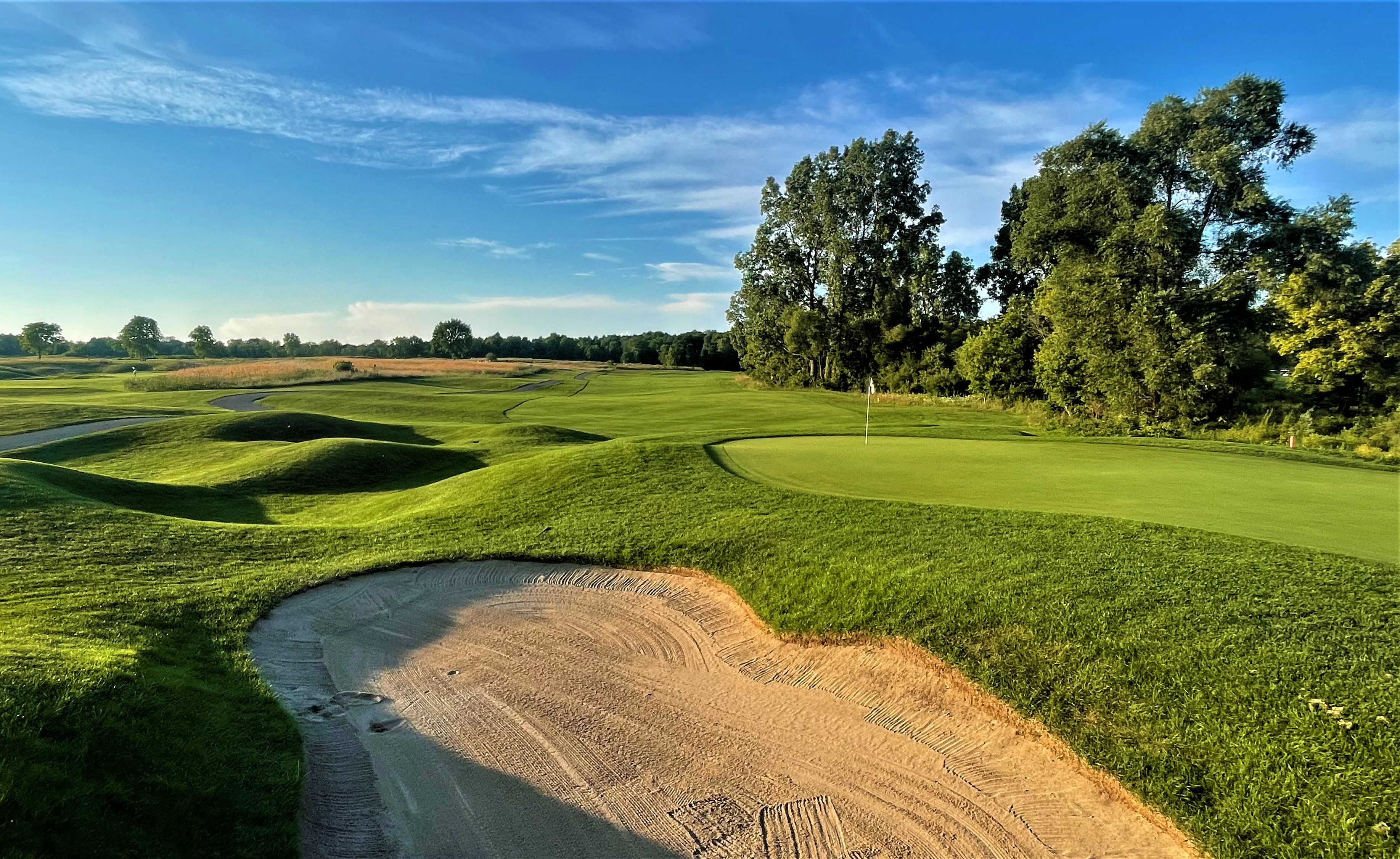 The Golden Fox is the bedrock course that most people want to play and it handles many of the charity outings that want to give the guests a top-notch experience. Designed by Arthur Hills across three pieces of land that used to be farms filled with rolling hills, a few water features and a line of trees are woven into a wonderful links format. In 2002, the Golden Fox was voted National Golf Course of the Year by the National Golf Course Owners Association.
The famous Fox Hills Performance Learning Center offers top PGA and LPGA-certified teachers for kids' programs, adults and even wounded military Veterans through a program they host called PGA HOPE. The Performance Center building, at 6,900 square feet, offers six indoor bays for teaching that are equipped with state-of-the-art technology. Programs include V1 Analysis software, TrackMan, FlightScope, SAM Putting Studio and BodiTrak Performance Pad. It's open year-round. There is a huge double-ended outdoor range and chipping greens as well.
The 2021 U.S. Amateur champion James Piot was raised at the Learning Center, and every year many local and regional high school players going after their college dreams can be found on site.
Make your own memories at this expansive and wonderful facility located between Plymouth and Ann Arbor. Learn more at foxhills.com
About the Author: Tom Lang is a 30-year veteran sports contributor to the Detroit Free Press, during which he has covered the golf scene and more in Michigan. Since 2018, Lang has produced the monthly MI Golf Journal, Michigan's No. 1 voted golf media outlet and is free online at migolfjournal.com.