How to Tap Maple Trees in Michigan
Maple syrup is only made in North America, and Michigan ranks fifth in the country for producing about 82,000 gallons of syrup in any given year. Learn more about this seasonal, time-honored tradition and where to try this delicious sweet treat. 
The natural range of the sugar maple tree, the preferred maple for sap collection, is the northeast portion of the United States and the southern sections of Ontario and Quebec. As spring approaches, daytime temperatures begin to rise, yet it is usually cold at night. This see-saw effect of warm days and cold nights causes pressure changes within the trees.
If the tree's internal pressure is greater than the external barometric pressure, sap will be pushed out of a hole drilled into the tree, much like a pressurized garden hose will leak if a nail is punched into it. The best daily temperature range for this process is 20 to 41 degrees Fahrenheit, and these conditions are only found during a few short weeks, typically during March in Michigan.
Maple Sugaring days are held at various places around the state - keep an eye on our events page to find a location near you. Craig Kasmer from Hartwick Pines State Park answers some questions on how to participate in this fun family activity.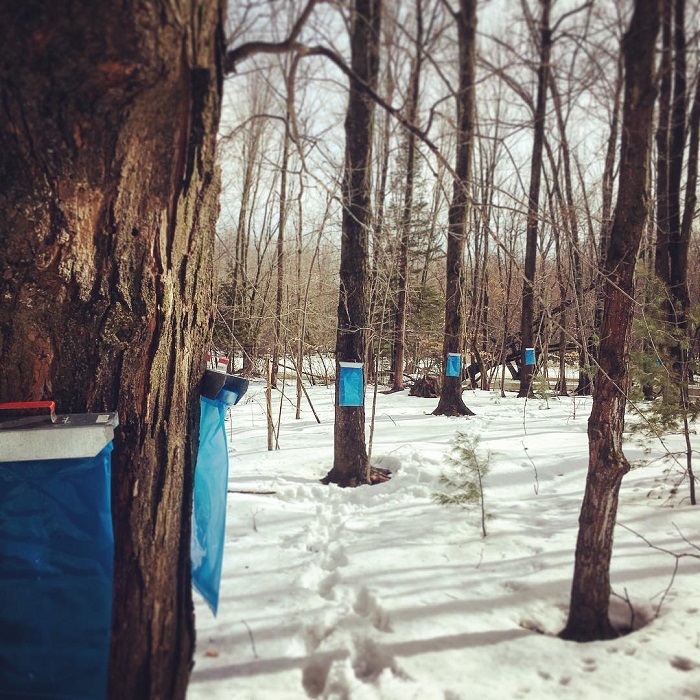 What is Maple Sugaring?
Maple Sugaring is another term used to describe the process of making maple syrup. That is, boiling maple sap, which evaporates the water molecules leaving one with a more concentrated sugar-rich liquid: syrup.
How do you get maple syrup from a tree?
Maple sap is obtained from a maple tree. All species of maple trees produce sap, it's just that sugar maples have the most sugar content in the sap. A hole is drilled into the tree, and a tap or spile (pronounced spy-el) is pounded into the hole. The spile is a hollow metal tube that directs the sap towards a bucket that is hung on a hook fitted onto the spile. It sounds strange but this hook is important. If you pound the spile into the hole before fitting the metal hook over the end of the spile, there is no way to hang the bucket.
Do Michigan trees produce a lot of maple syrup?
Just like any other agricultural product "Made in Michigan", maple syrup production is weather dependent. Ideally, sap will flow best on days that are warm (45 degrees) and nights that are below freezing. If the daytime temperature stays cool, but above freezing (33-39 degrees), the sap will flow but not as readily. Sunny days are better than cloudy days for increased sap production because the sunlight will hit the trunk of the tree, warming the tree and encouraging the sap that is stored in the tree's root system during the winter to be drawn up the trunk towards the top or crown of the tree.
What can people expect on  Maple Sugaring Days?
Depending on the event, most offer several tree tapping demonstrations throughout the day and the sap that has been collected will be boiled down. There are usually several activity pages for kids to enjoy (crossword puzzles, word searches, coloring pages) and they will be able to make their own paper "mokuk", which is a sap collecting vessel used by the Native Americans. The original mokuks were made of birch bark, and tied with tree roots (versus using string) and coated with stick pine sap to seal the container.
Where can you see a Maple Sugaring Demonstrations?
Kensington Metropark
Stop in for a hot breakfast then take a guided tour to the sugar bush to see the maple sugaring process, including tapping trees and boiling down the sap. Stop by the French and Native camp to hear and see how these techniques have evolved and visit the sugar shack to see and smell the sap being boiled down into maple sugar. Taste a sample of maple syrup at the end of the tour. Real maple sugar products and pancakes will be available for purchase.
Explore the science behind syrup, watch a viscosity race, test your sweet tooth on different kinds of sugar, then take a journey out to the woods to see the tapped maples and the sugar making in progress.
Learn how to identify and tap a maple tree, make some crafts and discover how to make syrup. There will be syrup taste-testing and sweet treats then take home the experience with a kit.
The center hosts an annual Maple Sugar Festival with a pancake breakfast, tours, a petting zoo and of course demonstrations on maple sugaring.
Where can people go to learn more about maple sugaring?
Contact your local MSU Extension Office. There are several different bulletins on how to get started and what kinds of tools and equipment are needed. Many experienced maple sugaring veterans have learned most of what they know simply by doing it!