The Perfect Detroit Travel Guide for a First Time Visitor
Detroit is one of those unique places that everyone needs to visit. Detroit, commonly known and referred to as THE Motor City, is busting at the seams with culture and life.
The city is perfectly vibrant, progressive and charming. This Detroit travel guide rounds up the very best of the city (in my opinion) and is bound to make your travel heart skip a beat. From where to sleep, to where and what to eat, to what to do, this honest guide has everything lined up for you. Now that we've laid the groundwork, let's talk about this gem of a city, Detroit.
Where to Stay
When visiting Detroit, it's important to visit the very heartbeat of the city and that's downtown. There are many hotels available downtown but I highly recommend staying at the Detroit Foundation Hotel. This boutique hotel is perfectly charming and full of history, as it used to be the Detroit Fire Department Headquarters. You'll find darling touches of this history throughout the entire space. From the check into the checkout, you can prepare yourself for a wonderful stay. The décor in this trendy hotel is seriously beyond. Think New York City vibes times TEN.  Also, let's take a moment and talk about the concierges at DFH. They are seriously amazing and incredibly knowledgeable about the city. If you make a visit to DFH, be certain to meet Brad. He's truly great and will make your time in the city, and at DFH, all the more wonderful.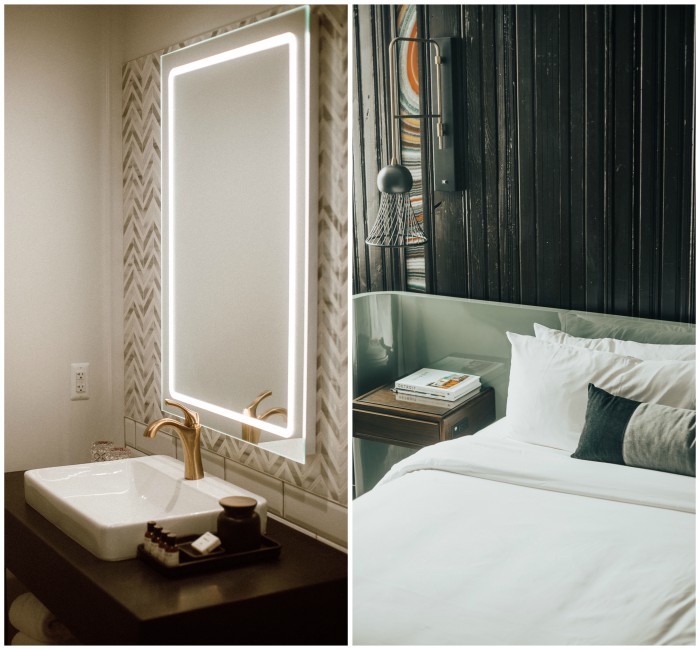 Where and What to Eat
When it comes to where and what to eat, as well as what to do in Detroit, there is definitely no shortage of either. Considering that you will likely be downtown for the majority of your trip to Detroit, here's a roundup of good eats and coffee dranks:
1. Astro Coffee 
This darling little coffee shop is located in the heart of Corktown, which is a great area to explore while in Detroit. In fact, it's the oldest neighborhood in the city and located just west of Downtown (maybe a 7-minute drive from the Detroit Foundation Hotel). From homemade pastries to classic lattes and mochas, this is a coffee shop made for true coffee lovers.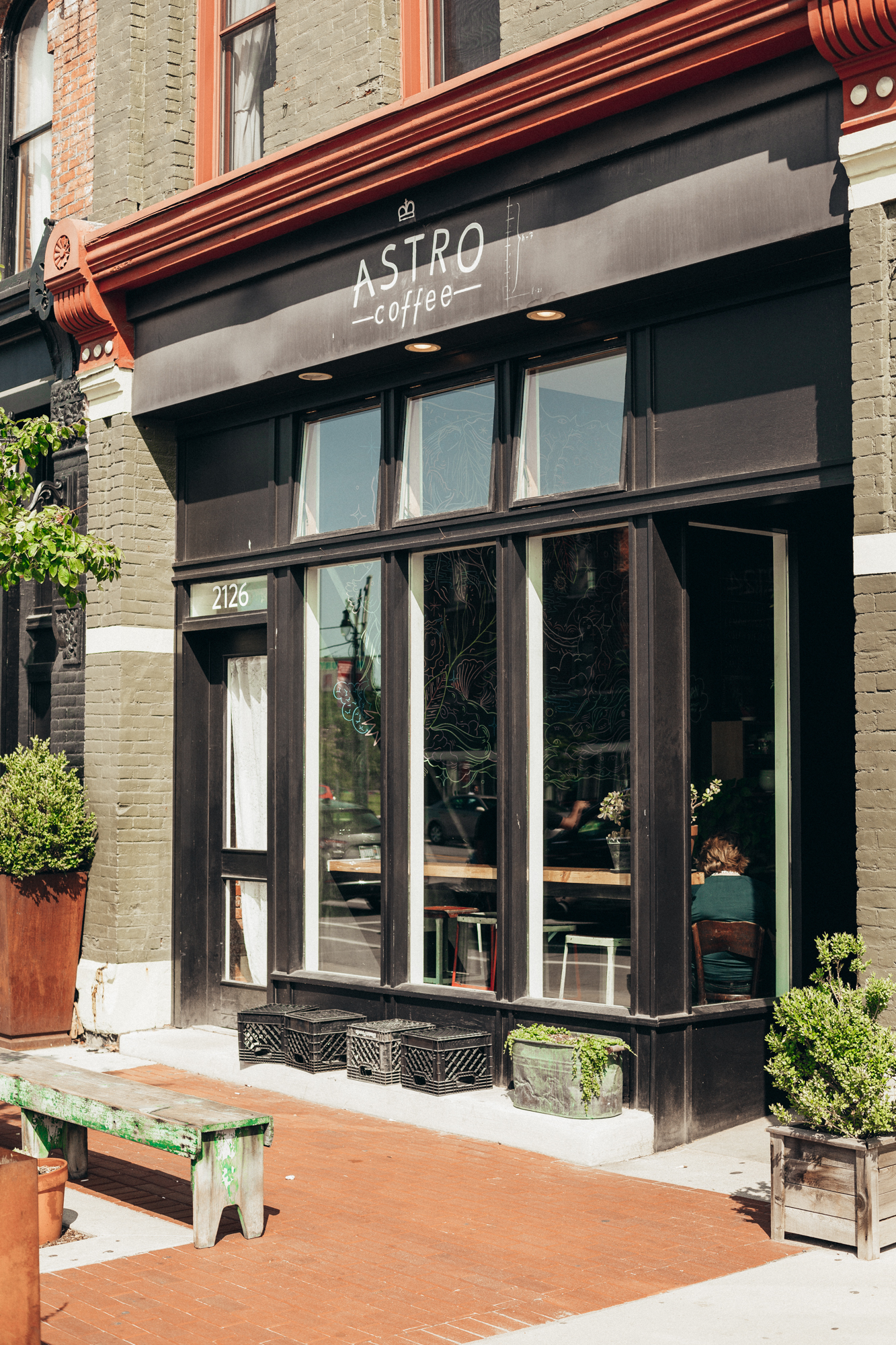 2. Avalon International Breads 
While checking out some Downtown gems (i.e. The Guardian Building and One Campus Martius), head over to Avalon Café and Bakery for a little caffeine pick me up. Whatever seasonal beverage they are offering, try it. You won't regret it.
3. Central Kitchen + Bar 
Located in the First National Building, Central Kitchen + Bar is a great spot for lunch or dinner. With an Americana infused menu, you can't go wrong here at all. From the calamari to the jambalaya, your taste buds will be perfectly satisfied.
4. Dessert Oasis Coffee Roasters 
Yet another coffee gem. Dessert Oasis Coffee Roasters has true coffee shop atmosphere! One of those spots where you desire to linger, rather than just grab your coffee and go. If you are willing to live on the wild side just a little, order a Vanilla Lavender Latte. 
5. Dime Store 
If you live for brunch, the Dime Store will not disappoint. Located in the Chrysler Building right Downtown, the Dime Store has southern charm. The wait tends to be pretty long, but it's definitely worth it. From omelets to Korean inspired french fries, they have a little bit of everything.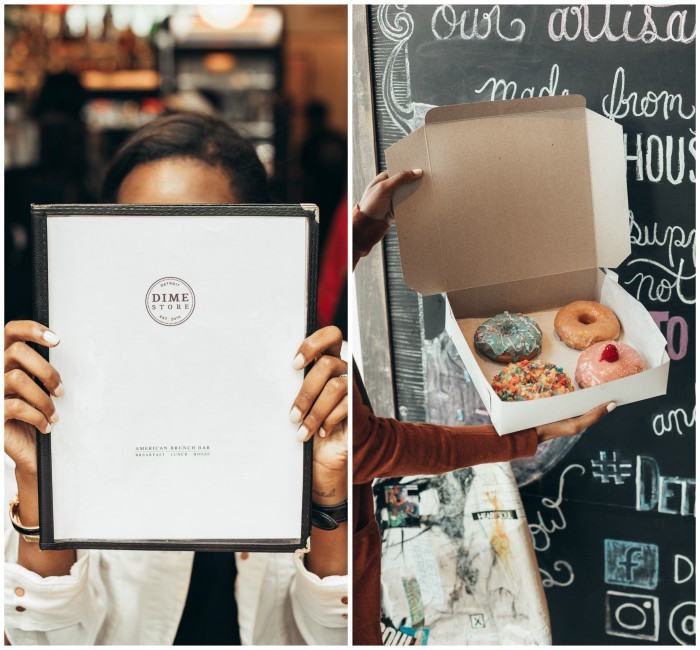 6. Donut Bar & Coffee 
Looking to venture outside of the city a bit? If so, Donut Bar & Coffee makes for the perfect trip. Roughly fifteen minutes outside of the city, this place is full of Instagrammable donuts. Lots of delicious and unique flavors too! Note to self, GO EARLY if you want to select from the entire menu for the day, as they sell out quickly (that's a good sign!). Oh yes, for the coffee lovers, they serve Illy coffee. Seriously some of the best Italian coffee you will ever taste! 
 
7. The Apparatus Room 
Located downstairs at DFH, The Apparatus Room is quite possibly one of the coolest dining spots in all of downtown Detroit. Coming and going, you will notice that this place is always happening. What makes this spot cool is that the dining room is split by casual dining/meet up and traditional dining. Simply put, they have two separate dining experiences happening in one space.  Serving breakfast, lunch and dinner, there's no question about it...you will love this place.
 
8. Roasting Plant
Another unique coffee spot. The concept of this coffee shop is from farm to table, or rather your cup. Honestly, there are no words to explain how cool this spot is. It's just one of those things you need to see if you visit Detroit. Just think coffee shop meets science lab.
 
Must See Downtown Sights
Much like the food situation, there's no shortage of cool things to do in Detroit! In addition to all the history of the city, there's a lot of other things to see and experience. Here's a quick rundown of a few things to put on your Detroit bucket-list.
 
1. One Campus Martius
Home of the largest indoor waterfall… Need I say more? With seventeen floors, One Campus Martius is an office building that has also become an attraction for the water feature in the lobby. The waterfall climbs about fourteen floors and is completed by the most colorful assortment of suspended glass kites.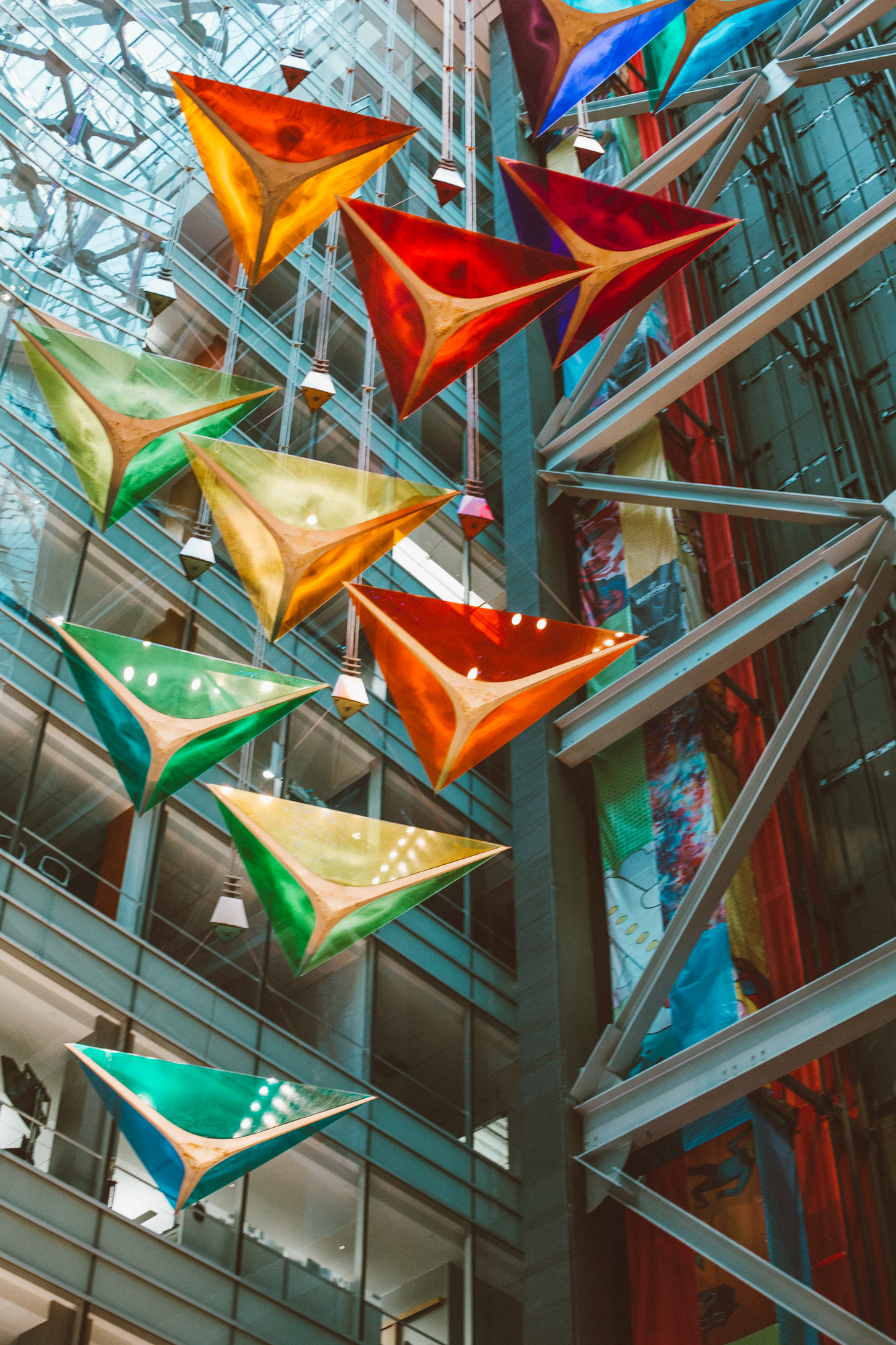 2. Guardian Building
If you love architecture and history, then the Guardian Building is a must stop. Built in the 1920s, this building was known and still is known as the Cathedral of Finance. The Guardian Building is one of the foremost Art Deco style skyscrapers in the world. Insanely cool.
3. Z Parking Structure
Detroit has way more of an emerging arts community and culture than I realized. The Z Parking Structure combines functionality with an opportunity to also experience art. The ten-story parking garage, which undoubtedly has one of the best views of the city, features artwork from mural artists across the globe. Each level showcases something different. And yes, FOMO is a real thing, so visit each level to see what wanderlust is there.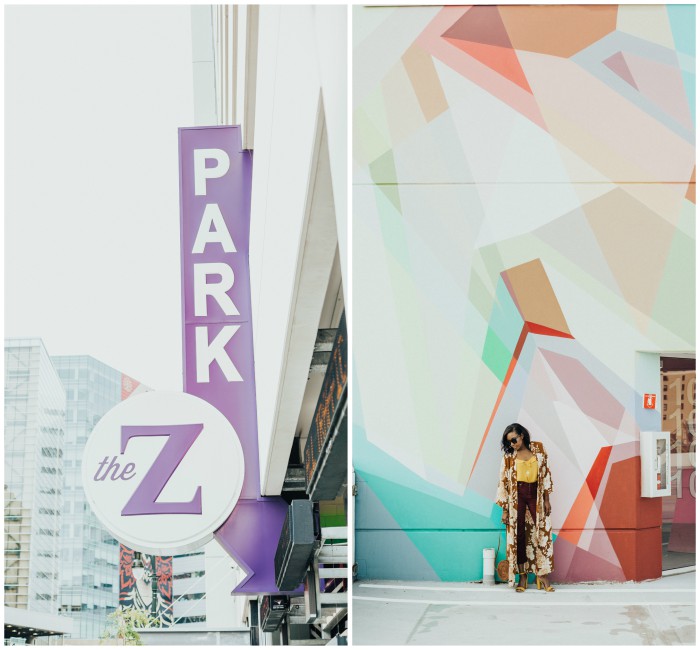 Pro Tip: Rather than stopping separately, I would encourage you to combine a tour of all of the following spots on the same day: start at the Z Parking Structure and make your way to One Campus Martius and then to the Guardian Building.
 
4. Belle Isle 
A short drive from Downtown, Belle Isle is one of those places you just need to see. There's a lot to see there including the James Scott Memorial Fountain and Anna Scripps Whitcomb Conservatory. Honestly, you can plan an entire afternoon there and would have plenty to do. Also, this is yet another great view of the city, especially at sunset.
 
5. Detroit Jazz Festival
Each year the Detroit Jazz Festival fills the city with amazing music and it just so happened to fall on the weekend that we were in town. This year's festival was just a few blocks over from the Detroit Foundation Hotel. Also, while you can purchase VIP tickets, this is a FREE event with some great music. If you truly want to experience the energy of the city, then you need to visit during the Jazz Festival.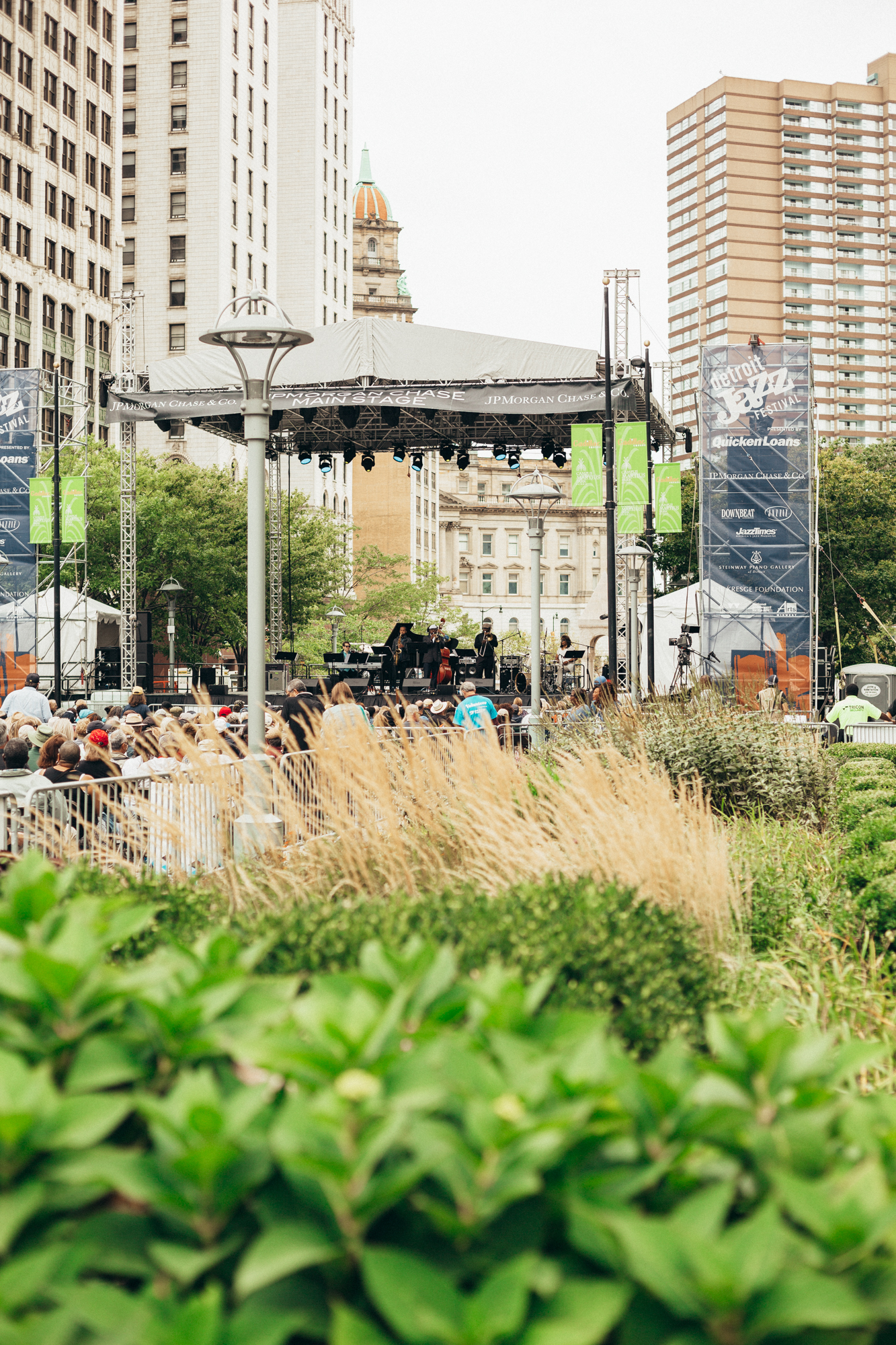 6. Detroit Tigers Baseball Game 
Detroit has FOUR major sports in their city: hockey, football, basketball and baseball.  Comerica Park is by far one of the coolest sports venues. They have a carousel and ferris wheel inside of the stadium…ahhh yes. Oh, and they have actual baseball too.
7. Explore Corktown 
Corktown is the oldest neighborhood in the city. There's a lot of charming little shops and great places to eat. Be sure to swing by Astro Coffee!
8. Punch Bowl Social
Looking to eat and have a little fun at the same time? Punch Bowl Social is the perfect place for both. From a round of bowling to playing arcade games and enjoying some delicious eats, Punch Bowl Social is a cool hangout for adults.  Make your visit day or night, either way it's cool.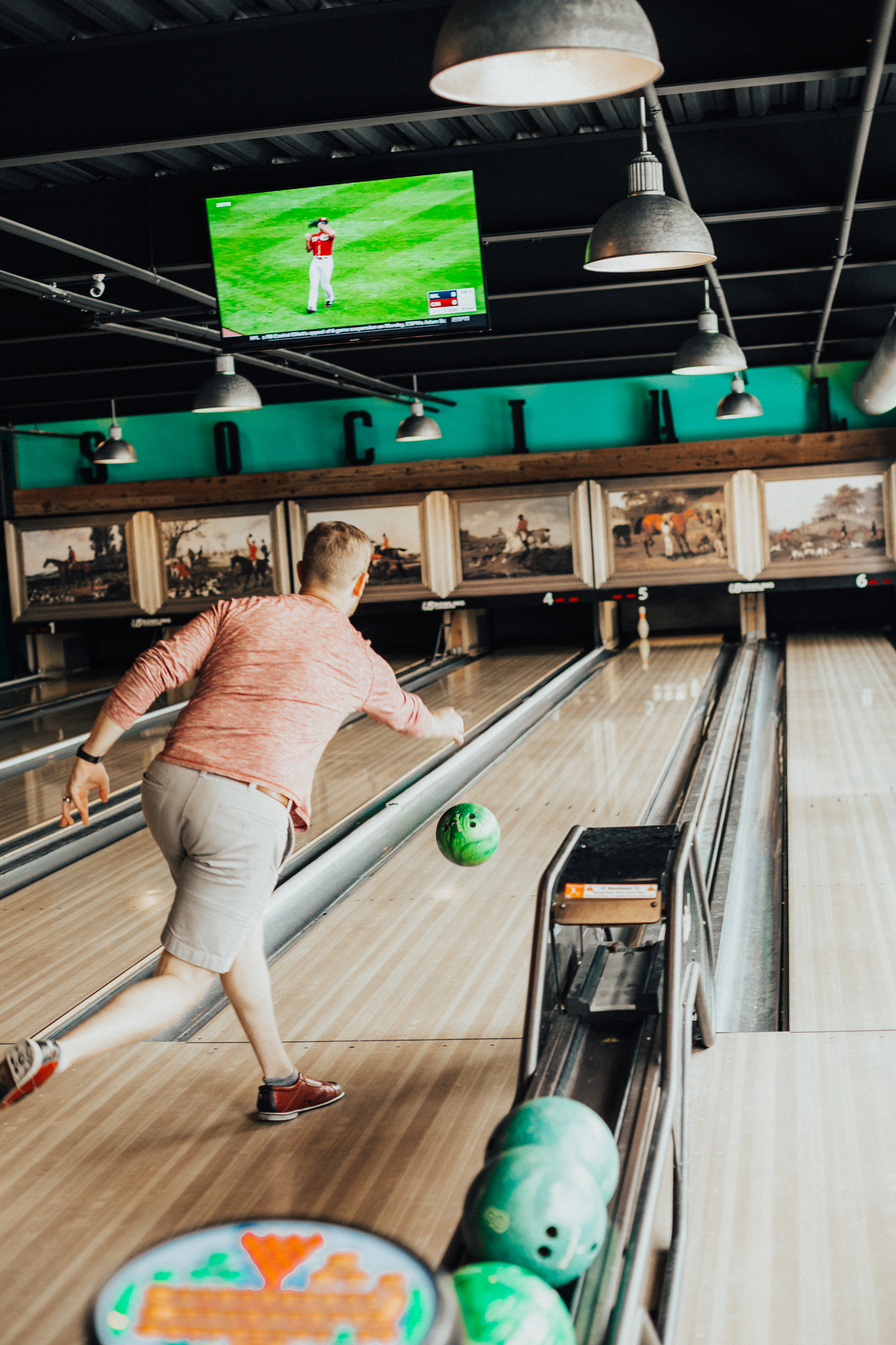 9. Eastern Market
You CANNOT visit Detroit without a visit to Eastern Market. This spot is comprised of market vendors, restaurants, retail shops and much more. All around a neat piece of Detroit that's a definite must-see.
 
Museums and Art You Mustn't Miss
There's so much art in Detroit it's insane. This city has truly welcomed the arts community with arms wide-open and made it a part of the city's culture.  There are several museums in Detroit and we were able to make it to two: 
 
1. Motown Museum 
Detroit is also the home of MOTOWN. There's no way you can reasonably visit Detroit without swinging by the Motown Museum. Loaded with history, it's amazingly cool to see where some of the greatest legends in R&B recorded their tunes. It truly is Hitsville, U.S.A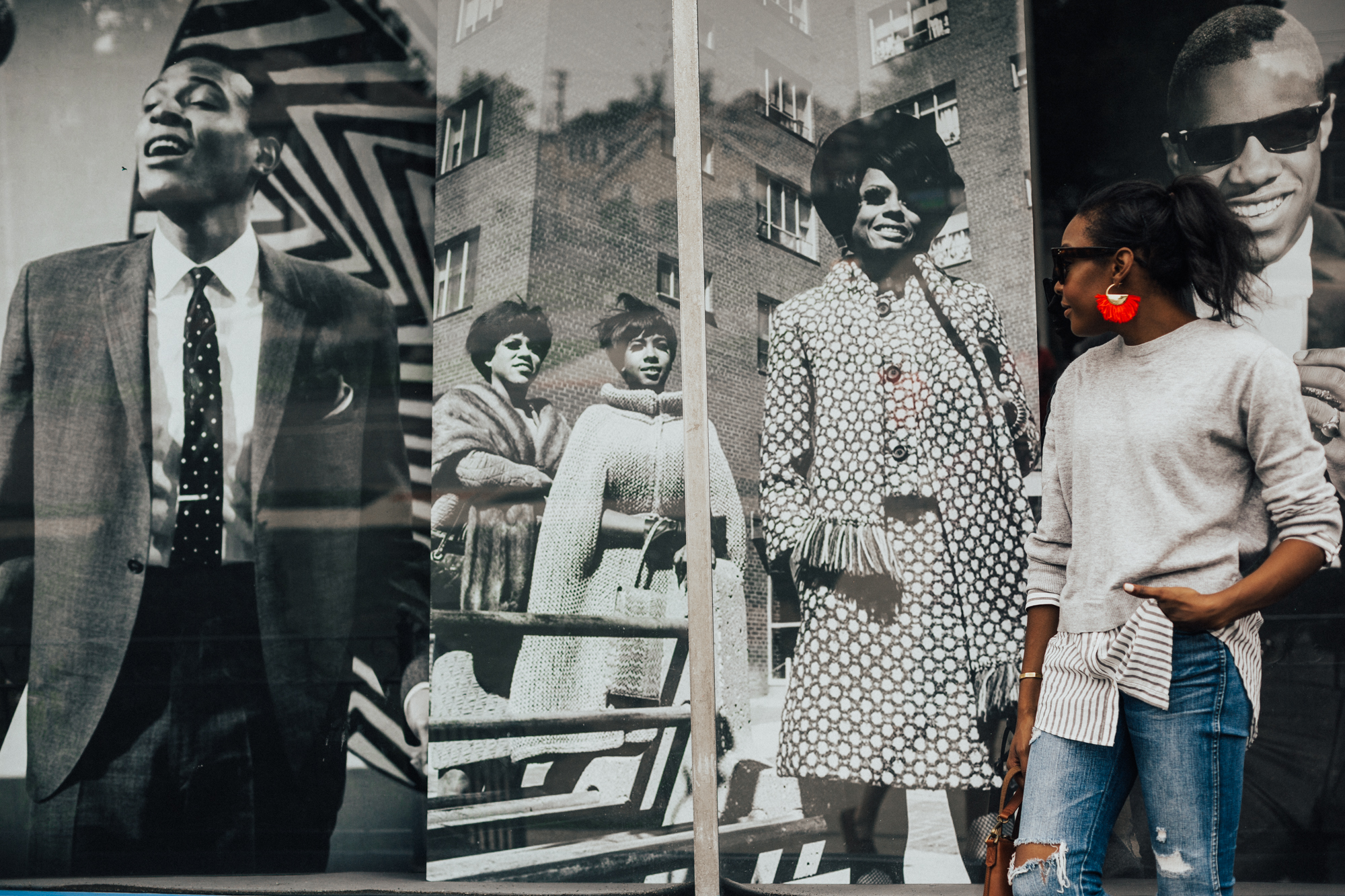 2. Museum of Contemporary Art Detroit 
MOCAD is one of Detroit's more contemporary arts museums, hence the name.  Sonic Rebellion: Music as Resistance, there most recent exhibition, just went live. In addition to having a great space, MOCAD has a killer little gift shop featuring works and books by Detroit artist and they have a great little café, Café 78. 
There you have it, a full roundup of adventure. At this point, you just need to make a quick call to Detroit Foundation Hotel and pack up your suitcase, because The Motor City, and all its charm and culture, awaits!
 
About the Author: Candace Read, a Midwest transplant by way of South Georgia, is a devout wanderlust. When not found traveling from city to city, Candace is shopping and styling personal clients, as well as blogging her moments of travel and sharing endless style inspiration at www.liveloveandread.com.