​Travel With Pride: LGBTQ+ Getaways in Pure Michigan
Michigan's coastal villages, urban centers and remote regions notable for sea kayaking and mountain biking are not just attractive travel destinations. They also take pride in being welcoming to all, with some known nationally as top LGBTQ+-friendly getaway spots or cities.
Plan now to attend dozens of Pride events across the state this June and all year long. You can also explore the LGBTQ+-friendly inns, beaches, entertainment venues, galleries and more that welcome all to come and play in Pure Michigan. Here are a few spots notable for inclusivity—and visit-worthy travel fun—at which to plan your getaway for all seasons.
Saugatuck and Southwest Michigan
Edge Media Network named this classy, West Michigan beach town one of the nation's top six most LGBTQ-friendly beach getaways, and there's little wonder why. This stretch of the state's "art coast" boasts some of the country's prettiest beaches and sand dunes. There also are more than 100 LGBTQ+-owned and friendly businesses from inns to beverage tours to coffee shops.
The Dunes Resort is a draw in itself. One of the largest LGBTQ+ resorts and entertainment complexes in the Midwest, it's where to book a room for your stay, or to just take in a cabaret performance or drag show. For something more private and romantic, gay-owned Hidden Garden Cottages is located within walking distance to the water and downtown.
Beaches also are a major draw to this stretch of Lake Michigan and fun is centered around pretty Oval Beach, nestled amid the dunes and regularly topping lists of the country's best beaches. Before or after a day at the beach, there are options aplenty for a perfect brew. Uncommon Coffee Roasters serves up a Love Wins and a Pride blend, and Guardian Brewing Company features 22 craft beers and also holds a monthly Beer School. If going with a group, you can combine a visit to the area's breweries, wineries and cideries on a private tour with LGBTQ+-owned Coastal Tours.
The area's nearest urban center Grand Rapids draws for its arts focus—it holds the nation's largest public art competition ArtPrize—and beer. The city's been voted Beer City USA, and the Beer City Ale Trail includes 80+ microbreweries. Michigan's original gay bar, the Apartment Lounge, features a welcoming, pub-style vibe and patio dining. Hamburger Mary's is a fun stop for its Drag Bingo and Dining with Divas.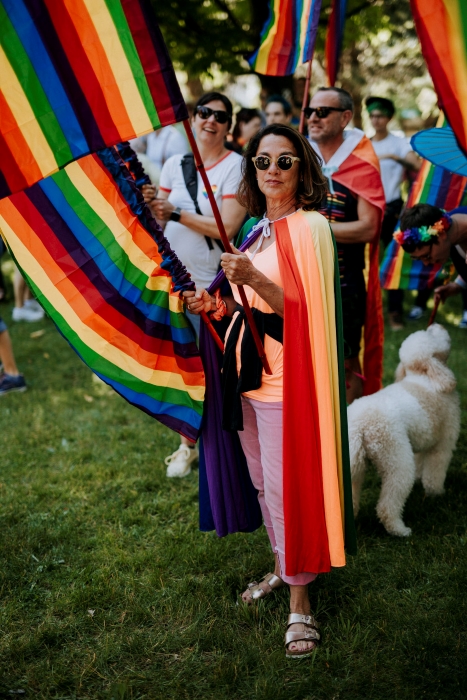 Up North Pride calls Traverse City one of the "most beautiful, progressive and unique LGBTQ+ vacation destinations in the United States," and the city is included in Pride Source's round-up of  Michigan's top gay-friendly road trip destinations.
Attending Up North Pride's signature events is a great way to find out why. Events are centered in a fun and thriving neighborhood that combines the city's beach town and industrial past. The trendy warehouse district of upcycled architectural antiques, vegetarian dining, a distillery and microbrewery also houses Hotel Indigo—the host of Northern Michigan's first Gay Prom. The sawmill-inspired rooftop bar is a favored hangout spot for its local craft beer and wine, as well as panoramic bay views.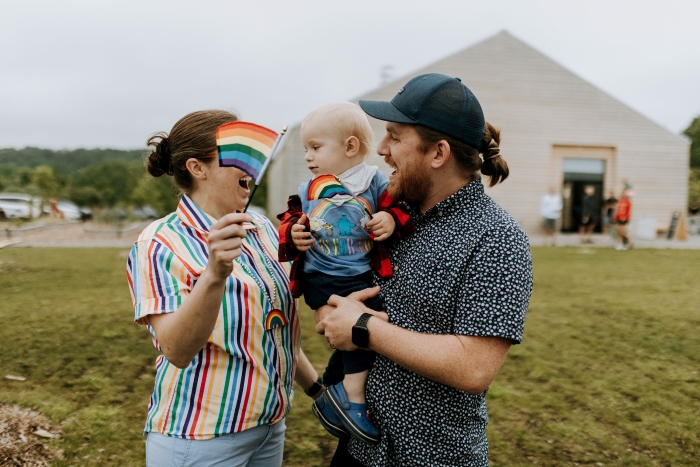 Farm Club, another community gathering space, takes the region's agricultural bounty to a new level. This restaurant on a farm showcases one of several Pride art exhibits and chefs go from harvest to table every day in just a few steps.
There are several performance and gallery venues across the Traverse City area, including Higher Art Gallery and its many featured LGBTQ+ artists. A trip to Sleeping Bear Dunes National Lakeshore and its Empire headquarters might notably be paired with a fudgsicle or truffle from Grocer's Daughter Chocolate. The company sources its cacao directly from Ecuadorian farmers, includes locally made twists and flies the Pride flag year-round.
Mackinac Island is home base for most of the year's Straits Pride events, and a trip any time showcases an island that's always created its own norms. When horseless carriages were still mostly in the invention phase, the island banned them in favor of horse-drawn models and bikes—and never wavered. There's a romantic vibe and resorts like the Grand Hotel and Mission Point Resort host weddings no matter orientation. There's also fun to be had completely unique to the island with a combination of horses, history, fudge and trails throughout the 3.8-mile island that's mostly state park land waiting to be hiked and biked. There's both an active and party vibe too with sunrise and sunset kayak tours.
Marquette offers some of the Upper Peninsula's best chances to support LGBTQ-owned businesses and even check out the area's burgeoning drag scene. The woman-owned, LGBTQ+ business Bodega is a go-to for interesting local and international cuisines made from scratch with fresh ingredients; try the enchiladas potosina with the house-made mole or bolognese made with local beef. Upper Peninsula Rainbow Pride, based out of Marquette, is also a great resource for LGBTQ+ individuals and allies in the area looking for events, information and resources.
When it's time to unplug, the Keweenaw Adventure Company at Michigan's northernmost tip invites the LGBTQ+ community to enjoy a holiday in one of the "last places without cell phone reception." The one-time copper-mining-boom town now features some of the nation's best sea kayaking and mountain biking.
There's a creative energy to the Motor City perhaps akin to those early auto industry days of inventors and innovators, and the Motown era that followed. Architecture is still a driving force in what draws travelers to neighborhoods in which LGTBQ+ professionals are restoring designs of well-known early architects in neighborhoods. This includes West Village and Indian Village with fun and unique shops, houses accented with Detroit-made Pewabic Pottery and fun dining stops like the LGBTQ+ owned Detroit Vegan Soul.
Many publications have called Detroit one of the Midwest's best-kept secrets and gay-friendly destinations, starting with thriving Midtown and its many performing arts venues and moving into several renaissance neighborhoods that are notable for their artsy vibe and great dining. Trumbell & Porter, a boutique hotel in trendy Corktown, not only features local artists throughout, but also celebrates Pride Night weekly with Wednesday drink specials and outdoor dancing. LGBTQ+ nightlife is hard to beat throughout the city. Menjo's is one bar popular among gay men and was a notable favorite haunt of singer and Michigan native, Madonna.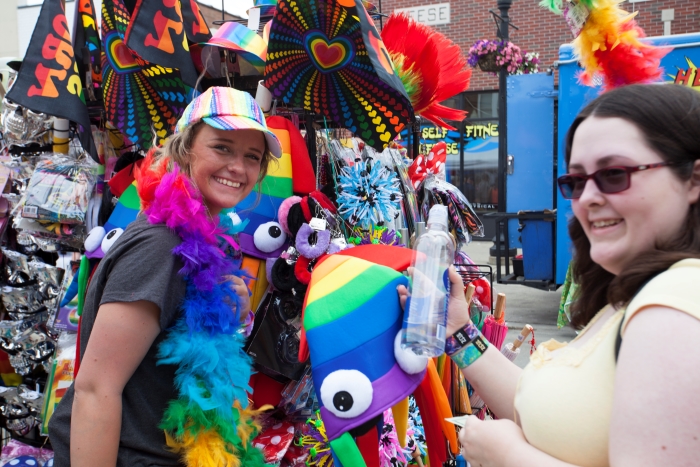 Detroit also hosts Michigan's largest Pride celebration by far with Motor City Pride at Hart Plaza in the heart of downtown. The second largest is found in Metro Detroit as well. Many nearby cities are also full of attractions, including Ferndale which is filled with LGBTQ+ owned and friendly restaurants, bars and theaters.
Ferndale's Ringwald Theatre on Woodward is the Detroit area's LGBTQ-identified theater troop, and Zeke's BBQ hosts fundraisers and events for LGBTQ+ groups. Soho Ferndale is the area's premier gay bar, catering to the LGBTQ+ community with its stylish, casual vibe, signature cocktails and weekly lineup of dance parties, trivia, karaoke and drink specials. You can also find an LGBTQ+ community center that hosts many events and offers live entertainment, a patio and bar.
A side trip to nearby Ann Arbor adds a college town vibe and foodie paradise to the itinerary. Human Rights Campaign Municipal Equality Index ranked it the most LGBTQ+ friendly city in Michigan, and the Braun Court "gayborhood" is base to the popular Ann Arbor Farmer's Market and Kerrytown. If you miss the annual Pride activities, know that Necto Nightclub has celebrated PRIDE night every Friday since 1984.
Inclusivity is strong and growing in regions across Michigan. Macomb Pride, for example, is the county's first-ever grassroots Pride Festival with a street fair, live performances, music and more. June brings a Branch (County) pride, and Holland is expanding its event, adding a new run, a poetry festival, and more.
Check local city websites or social media pages to find events across Pure Michigan to celebrate pride all year long!