5 Things to do in Metro Detroit this Winter
 
Hey there, it's Kendall! I am so excited to be back sharing "5 Things to do with Kids in Metro Detroit" with you today! As you might know from my previous article Shop Small: 6 Can't-Miss Metro Detroit Gift Ideas, I've got a busy family with two young boys, so we're always looking for ways to get outside and have some fun. We recently also added a new puppy to our family, so we wanted to highlight a few things that are pet-friendly as well!
Check out the five ideas we're sharing and be sure to let us know what your favorite things to do are this time of year as a family, too! And remember to support local!
 
Sledding at Waterford Oaks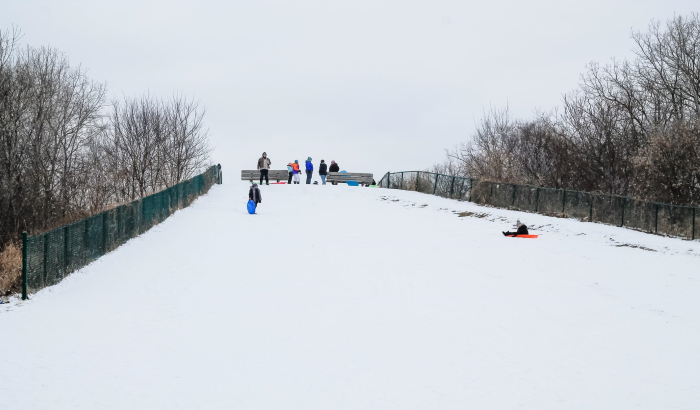 The first stop is sledding outdoors at Waterford Oaks! Waterford Oaks was named the best sledding hill in Southeast Michigan by MetroParent in 2017 and let me tell you, it does not disappoint!
One thing that I absolutely love about this sledding spot is that the parking is very close to the hills, so there isn't a huge trek to get there. Another highlight for us is that dogs are allowed when on a leash, so we were able to bring our new puppy along for the family fun!
 
There were two sides to the hill, the one pictured is the slowest hill meant for little ones. On the other side, there is a much steeper hill for more experienced sledders. I love that families can bring kiddos of different ages and find the perfect activity for everyone in the family. My littlest one isn't a big sledder so he played in the snow at the bottom of the hill while he watched his brother sled!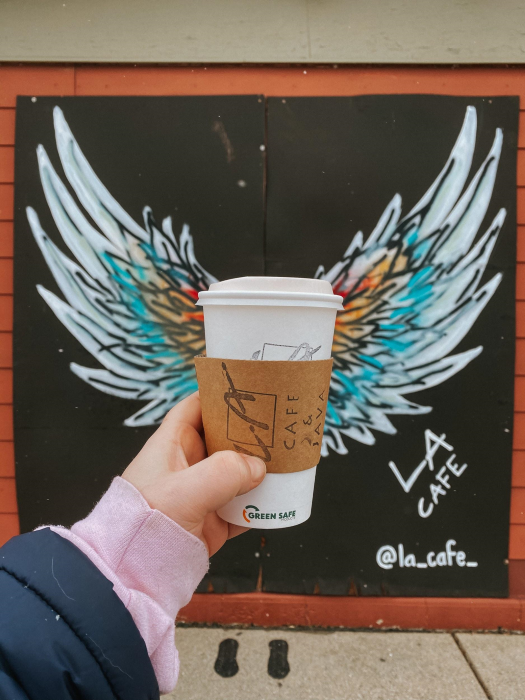 The perfect spot to visit after a day sledding is L.A. Cafe & Java in Waterford. Their menu has everything from delicious burgers, nachos, salads, specialty coffees, breakfast (served all day), and lots of vegan options as well. They even have a heated outdoor igloo that you can reserve to enjoy your meal - how cool is that?! And before you leave be sure to stop by the side of the building to get a photo with the beautiful wings mural!
 
The environment is cozy, inclusive (an LGBTQ+ flag is hung proudly in the window), and the food is delicious. This little gem is a must-visit! We even picked up an adorable little dog treat for our pup while we were there - the perfect spot for families to visit!
 
Livonia Greenmead Outdoor Ice Rink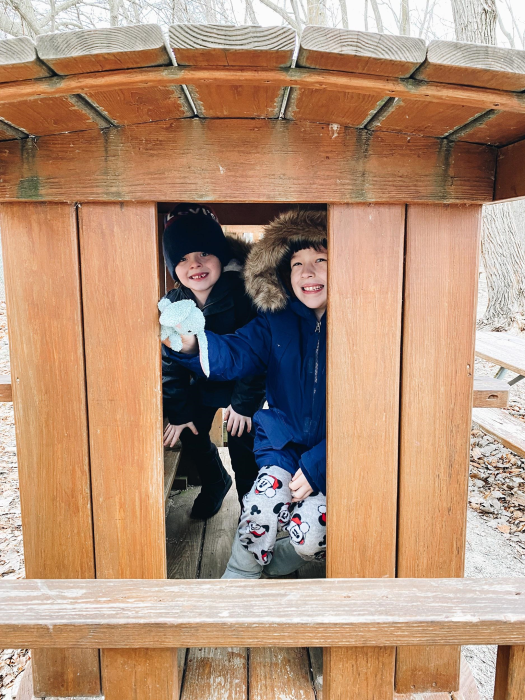 Looking for the perfect spot to skate as a family? The Greenmead Outdoor Ice Rink is a great spot to visit, and it's free! The rink isn't watched or regulated so make sure you always have a skating buddy. The rink is located near the Farm Complex and is available during the park's regular hours of operation (6 am-10 pm). Tip: For inexpensive skates, check out your local sports reseller!
 
There are is 95-acres to explore, including a historical village and recreational areas. Dress warm, maybe even pack a lunch and spend a day exploring and skating at Greenmead!
 
Where to Eat Nearby
David's New York Deli – Family-owned and operated for over 30 years! Great spot for lunch and a deli-style sandwich.
Cebella's Pizza – An independently owned pizzeria famous for their Chicago-style pizza and juicy broasted chicken.
 
Shopping Small in Rochester
Want to visit a nearby town that has it all? Why not spend a day in Rochester, Michigan. There are so many great shops, restaurants, and activities perfect for a full family day on the town!
The Big, Bright Light Show
Have you been to The Big, Bright Light Show in Rochester? It runs through the holiday season and into winter. Most of the local shops participating are also open until 9 p.m. as well, so be sure to stop in for some local shopping!
 
You can pull off to the side and walk to view the lights or simply drive through to see the illuminating and mesmerizing magic of over one million lights. It was so beautiful and colorful and the kids really enjoyed it! Plus, there is also holiday music playing through the speakers outside so you can fully immerse in the holiday environment.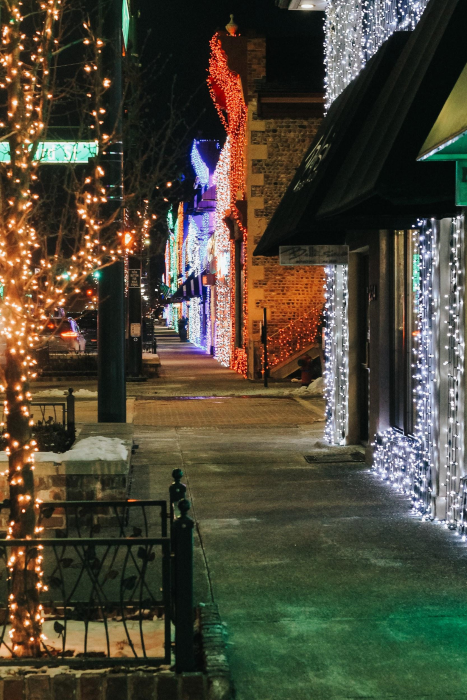 Shop
Here are just a few of the small businesses you can support in the area:
Antiques & Fine Jewelry by Pamela – Perfect for finding fine jewelry and antiques.
Plain & Fancy Gift Shop – Visit this small shop for whimsical home decor, serving dishes, Polish pottery, and items for little ones.
MI State of Mind – Featuring Michigan-made and themed items.
Dine
Downtown Cafe – Visit for a delicious breakfast, salad, sandwiches, and kids meals under $6!
Lipuma's Coney Island – Since 1969 Lipuma's has been serving up delicious coney dogs, fries, salad, and more! It's a must-try if you're in the Rochester area!
Activities
The Painted Pot – Must reserve space ahead of time, but fun for coming in and creating something one-of-a-kind.
Paint Creek Trail – Bring your boots and dress warm to explore the beautiful paint creek trail. It stretches 8.9 miles and is perfect for getting some fresh air and taking in the gorgeous scenery.
 
Drive-in Movie on Monroe Street
Haven't been to the theatre since COVID hit? Us either! That's why I was so excited to find out about the new drive-in movie theatre in Detroit! Tickets are on sale each week for a variety of movies and showtimes, and it cost $20 per vehicle, so fill up the car with the whole family for a night out! You can bring your own snacks and beverages to enjoy while you're there or you can order food directly to your car! There are also restroom trailers onsite to use while socially distancing. One thing to note is that animals are not allowed unless they are a guide dog or assistance animal.
Where to Eat / Snack Nearby
Before you hit the drive-in be sure to stop by DeVries & Co. to pick up some movie snacks! They've even got a Made in Michigan Gift Crate that's full of snacks perfect for the occasion. If you're a bit hungrier there are some amazing black-owned restaurants that you can support! Dime Store has the dreamiest French toast and breakfast made from scratch served all day, every day! If you're in the mood for something a little more on the savory side, Vicki's Bar-B-Q has melt-in-your-mouth (very highly-rated) rib tips and bbq sandwiches to try! Nothing better than a full belly and a good film, am I right?
So tell me, which of these activities will you try first! So many fun options available for you and your family to do something fun, support local businesses, and make memories! Be sure to share any of your top-picks for families!
About the Author
Kendall Rayburn is a wife, mother, and blogger who resides in the greater Detroit area with her husband and two sons. Kendall established her Lifestyle and Family blog (self-titled as Kendall Rayburn) back in 2010 and works from home full-time with her husband William creating content that uplifts and inspires.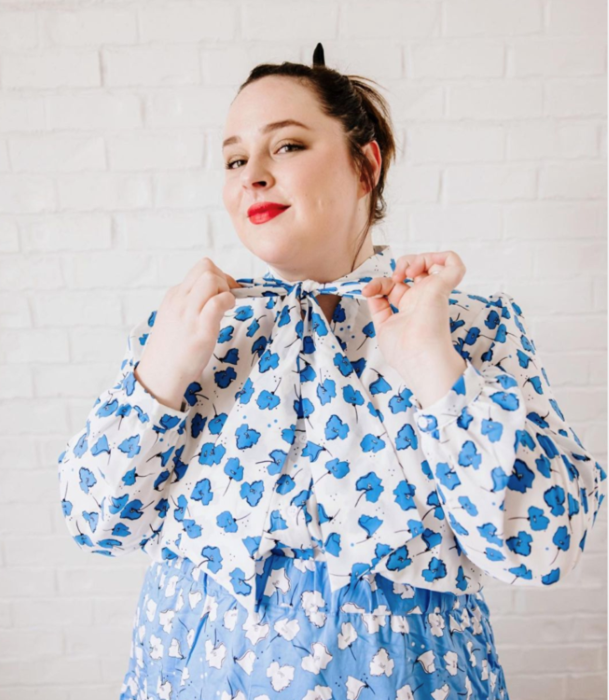 ---