7 Incredible Winter Activities in the Brighton - Howell Area
Whether you're a family looking for fun in the snow or a ski enthusiast looking for a real challenge, head to Livingston County this winter.
1. Sledding & Tobogganing
What says winter fun more than sledding? At Kensington Metropark, kids will love the "bunny hill" and parents will love the padded trees for safety. They also offer beginner to advanced hills for everyone to enjoy. Additionally, the Orchard picnic area offers shelter with tables and grills. So, grab your gear, and check the hill conditions by contacting the Park Office at (810) 227-8910, and get ready for some fun.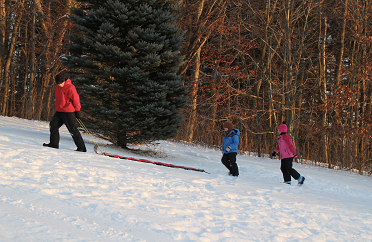 Photo Courtesy: Livingston County Convention & Visitor Bureau
2. Ice Skating
It may be cold when the water freezes over, but it's the perfect time for skating at the natural ice rinks on Kent Lake in Kensington Metropark. There's room for everyone with separate rinks for families/free-skate and hockey players. Also, they're lit in the evenings, and if you're feeling too cold, the nearby boat rental building can warm you up. Be sure to bring your own equipment, and feel free to call the Park Office at (810) 227-8910 for the most up-to-date conditions.
3. Skiing and Snowboarding
You'll have an absolute blast going down Mt. Brighton! They have chairlifts, base facilities, and enhanced learning terrain with a powerful state-of-the-art snowmaking system. Your kids will enjoy children's ski and ride school center, and if you're new to the experience, they offer skiing & snowboarding lessons. For those into cross-country skiing, the Brighton-Howell area also boast trails Kensington Metropark, Huron Meadows Metropark, Island Lake State Recreation Area, and Howell Nature Center.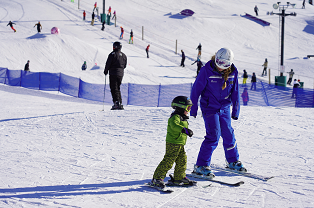 Photo Courtesy Livingston County Convention & Visitor Bureau
4. Sleigh Rides
Discover a winter wonderland during a festive horse-drawn sleigh ride in Kensington Metropark. The park also offers a holiday tradition for the whole family: Snacks with Santa. Enjoy a sleigh ride with cozy blankets, a holiday sing-along with song sheets & jingle bells, and a visit with Santa by the Christmas tree. Call (248) 625-7280 to pre-register.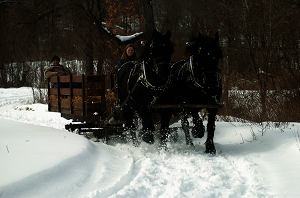 Photo Courtesy Livingston County Convention & Visitor Bureau
5. Snowmobiling       
Looking to get your snowmobile out and have some fun? Brighton-Howell's got you covered. With over 14 miles of trails for snowmobiles in Island Lake Recreation Area, explorers will have plenty of ground to cover and thrill-seekers will enjoy plenty of hills. Scout your adventure with their trails online! 
6. Ice Fishing 
You can continue your favorite hobby, or discover a new one, in the winter months by ice fishing for Bluegill, Lake Crappies, Yellow Perch and the occasional Northern Pike at Kensington Metropark!  You can also check out Island Lake State Recreation Area, which is stocked with Trout!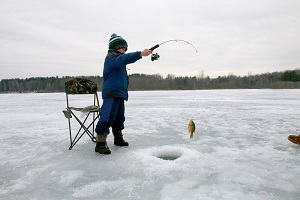 Photo Courtesy Livingston County Convention & Visitor Bureau
7. Winter Walks  
Explore nature in all its winter beauty along miles of trails in Island Lake State Recreation Area in Brighton. Additionally, every year, enjoy facts about the moon and folklore on the Winter Solstice Full Moon Walk in Kensington Metropark. You can pre-register for the event by calling (810) 227-8917.
The Brighton-Howell area is full of ways to create magical memories in the snow. Be sure to sign up for our news letter to stay updated on winter events and opportunities.  Story by Nick Danowski