Comprehensive Guide to Ski Resorts in Michigan
Little known fact: Michigan comes in second for the most ski areas in the United States. Between the Upper Peninsula and Lower Peninsula, there are more than 40 ski areas that call the Great Lakes state home. Whether you're a skier or snowboarder looking for a challenge, or a family of 4 looking for a nice weekend getaway, nearly every region in Michigan has something to offer.
Get the inside scoop on where to go and tips that help you enjoy a day, or weekend, on the slopes with this exhaustive list of ski resorts around Pure Michigan.
Skiing & Snowboarding in Northwest Michigan
When most people think of "heading up north," they usually are looking toward Michigan's northwest lower peninsula, and for good reason. This region is home to one of the best snowbelts in the state, thanks largely in part to classic lake effect snows we see rolling in off the big lake. If you're lucky to catch a storm cycle, be prepared because when it's good, it's really good.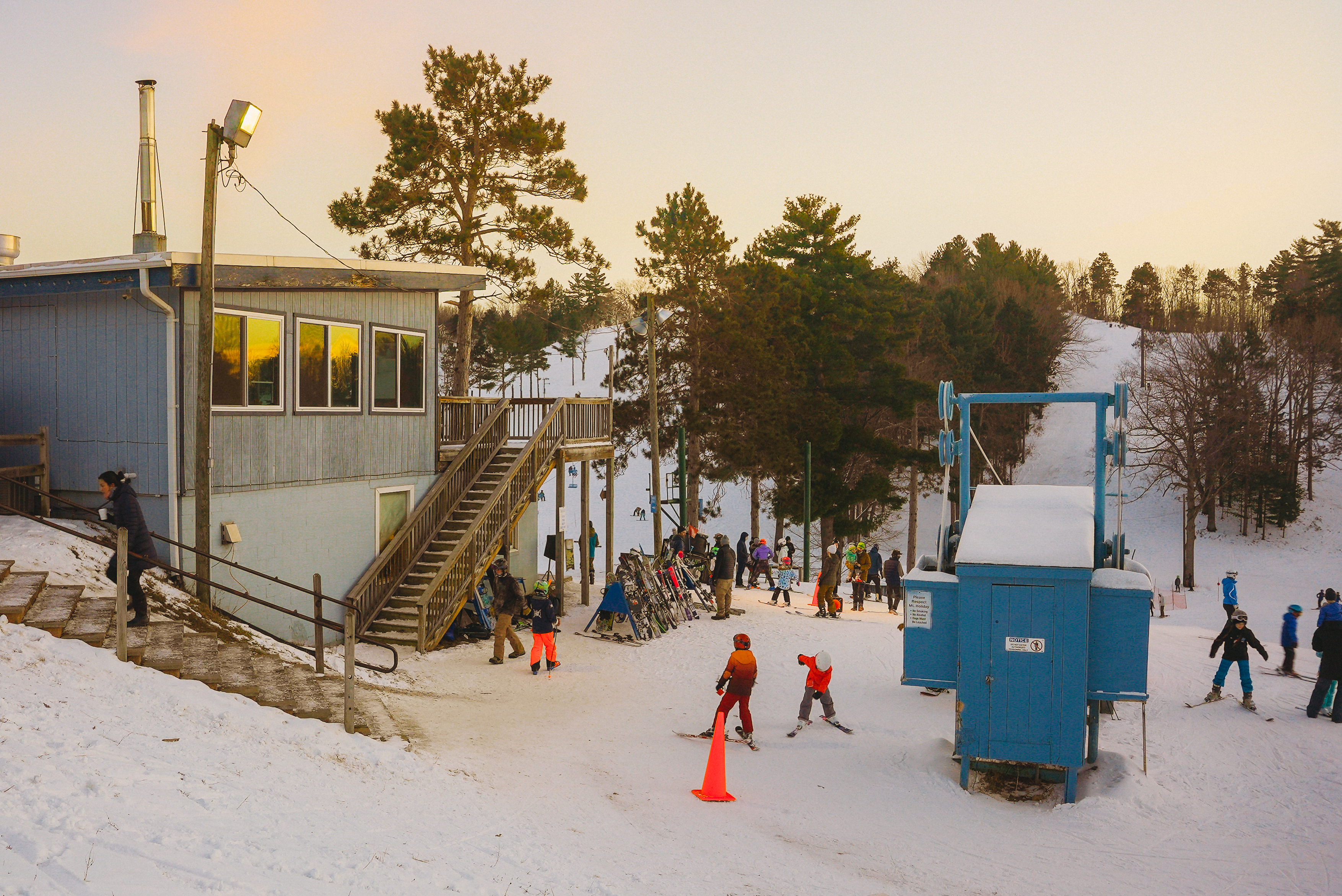 With 16 runs ranging from beginner to advanced, there is a ski trail for everyone at Mt. Holiday. In addition to skiing, travelers can enjoy ziplining and tubing.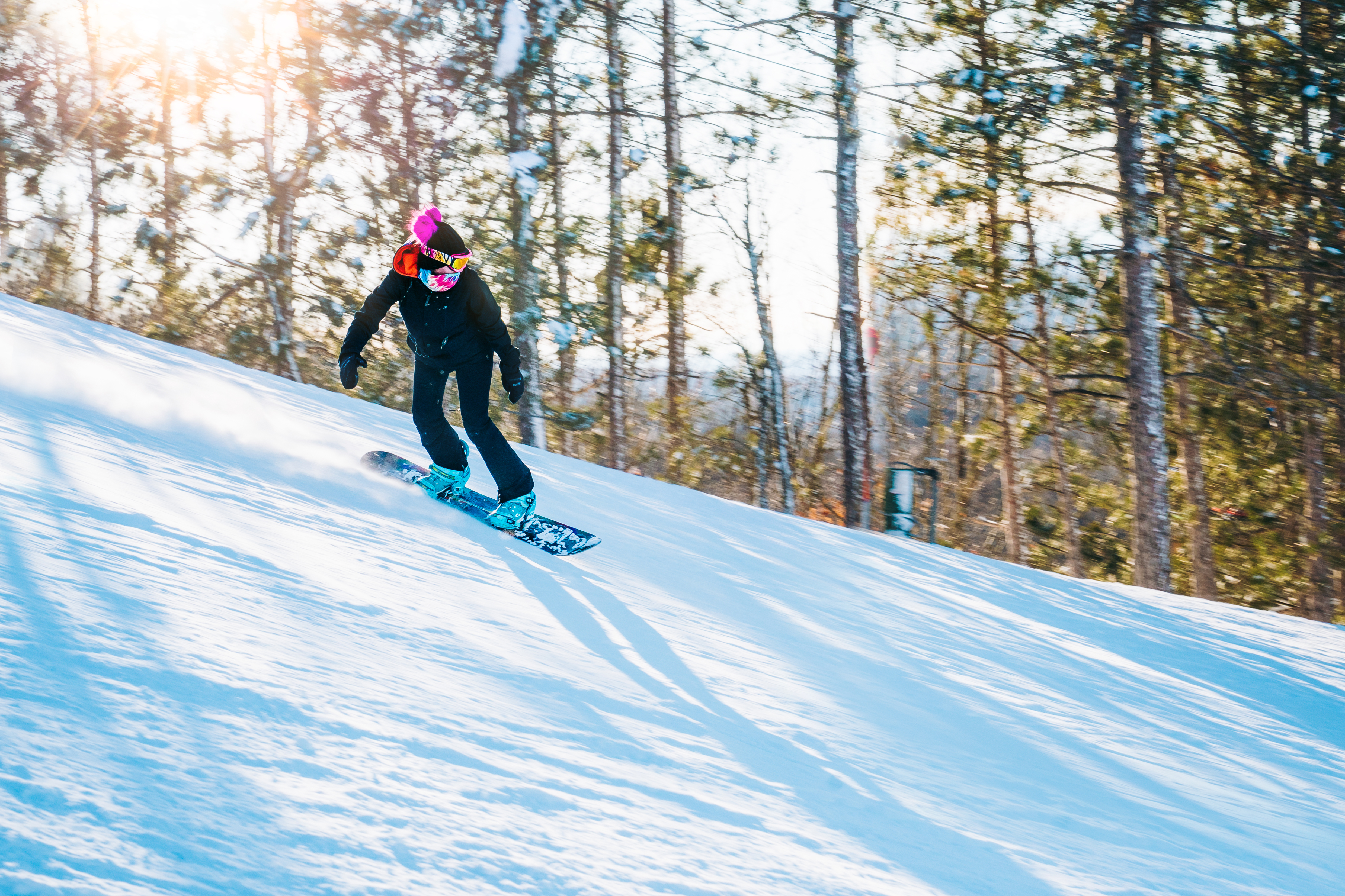 Michigan 115 (M-115) is the start of ski areas in the northern lower. Just 90 minutes north of Grand Rapids and a quick jaunt west on M55 in Cadillac will bring you to Caberfae Peaks. Boasting a family-friendly atmosphere, what Caberfae might lack in frills and over-the-top resort amenities, they more than make up for it by getting back to the core of skiing and snowboarding. With 34 runs, Caberfae brings 485 vertical feet and a wide-open backcountry area that's lift accessible, they possibly are one of the most affordable ski areas in Michigan as well. Day and night skiing is available at Caberfae, and for the best deals get your tickets online before you even leave home.
A full-service demo and rental shop is on-site for those who need equipment. The recently refreshed Mackenzie Lodge offers up ski in, ski out accommodations. 
Head 31 miles northwest of Cadillac and you'll reach Crystal Mountain. A favorite amongst many looking for a weekend getaway with ample on-site lodging. If there is one theme that stands out the most at Crystal it's family. With 58 runs of varied terrain and 375 vertical feet, this is a spot where everyone in your group will find a run they like.
Crystal Mountain has a full-service demo and rental fleet on hand if you don't have your own equipment. Ski and snowboard lessons are available for all ages and abilities starting at 3 years old so there's no excuse your entire family cannot get out and enjoy the slopes. For those looking for great off-hill experiences, rent a fat bike and go for a ride in the snow, or relax after a day on the slopes at Crystal's award-winning spa.
On-site lodging is available for nearly every budget, and even the simple, no-frills hotel rooms found in the Hamlet still offer a near ski in, ski out experience. If you forgot something or need some snacks for your stay, check out the new Mountain Market for grocery items.
Lake Michigan's Sleeping Bear Bay and the impressive Sleeping Bear Dunes dominate the views from atop Bay Mountain to provide a ski experience unlike any other in Michigan.
Each year thousands of recreational enthusiasts enjoy the Hickory Hills Ski Area for snowboarding, alpine skiing, cross-country skiing and recreational snowshoeing in beautiful Traverse City.
A go-to spot that has it all: sledding, ice skating, hockey, skiing and snowboarding. The park also features a warming house complete with a fireplace, concession stand and board games available to checkout.
Established in 1984 as a non-profit organization, Challenge Mountain was the first independent adaptive skiing program in northern Michigan. Today, Challenge Mountain offers a wide variety of opportunities that continue to enrich lives and empower individuals living with disabilities through year-round adaptive recreation.      
Skiing & Snowboarding in Northern Michigan
Situated midway between Sleeping Bear Dunes and the Mackinac Bridge is Antrim County, which is by far one of the snowiest counties in the lower peninsula and perfect for skiing and snowboarding.
Boyne Mountain Resort has a variety of activities. Come winter, guests can take advantage of more than 60 downhill trails, enjoy cross country skiing, fat tire biking, horseback riding, ice skating, ziplining, snowshoeing and tubing.
With over 432 acres, 53 runs, three terrain parks and eight lifts, The Highlands at Harbor Springs has trails for all levels of ski enthusiasts. The resort also offers a range of lodging from deluxe rooms and condos to cottages. The resort is also home to a tubing park, zip line adventures, horseback riding and more.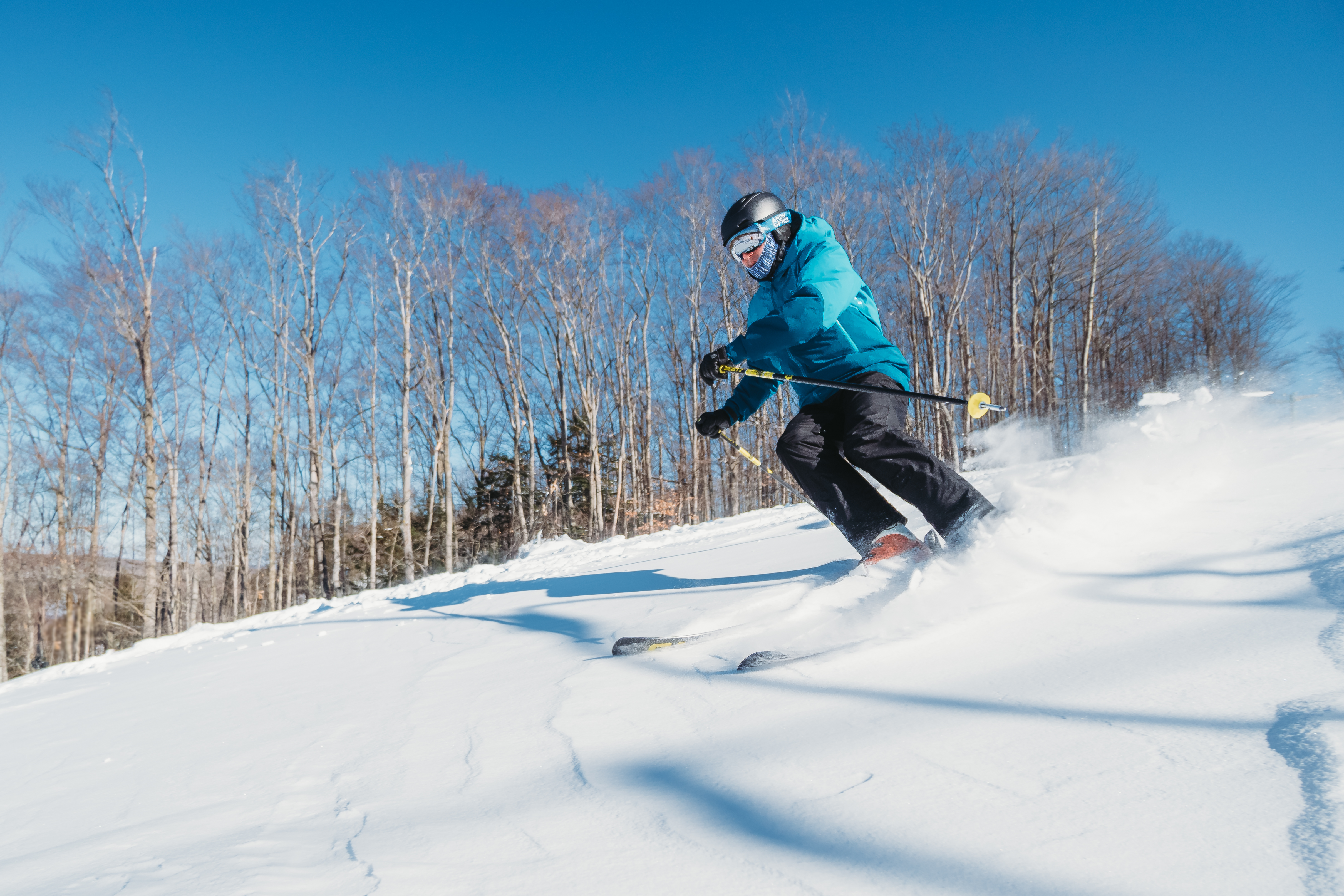 With snowmobiling, snowshoeing, horseback riding, tubing and more, Treetops has the perfect mix of family activities. As an added bonus, kids six and under can ski for free with a paying adult.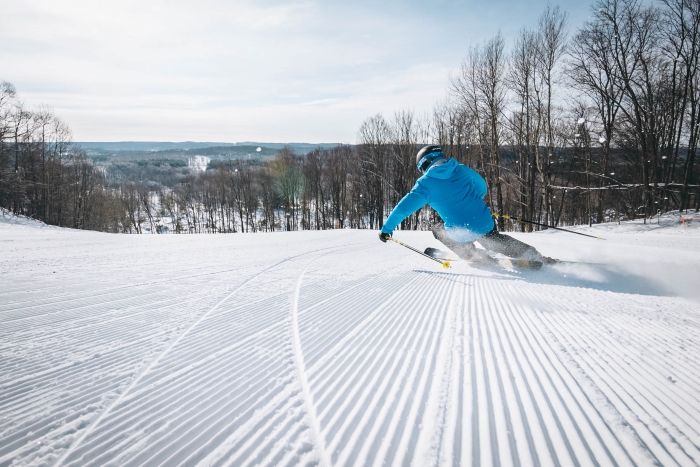 Fifty-three runs can be found at Shanty Creek between Schuss Mountain and Summit Mountain. While both Schuss and Summit offer up a great variety of terrain, for a more family-focused resort feel and beginner to intermediate runs, check out Summit Mountain. If you're after steeps, terrain parks and long runs, get over to Schuss for some runs.  
A true destination resort, accommodations on-site at Shanty Creek are abundant. Whether you're a couple looking for a quiet northern Michigan getaway, or an entire family looking for a great weekend up north, Shanty has you covered. Do yourself a favor and book a room at the Lakeview Hotel on the Summit side of Shanty Creek.
Even if skiing or snowboarding isn't your thing, you can still enjoy a great winter getaway. Shanty Creek has one of the best tubing parks at Alpine Tubing, on Summit Mountain, that's sure to bring smiles to everyone. Be sure to visit the quaint village of Bellaire, a downtown area that captures the essence of Pure Michigan in the winter.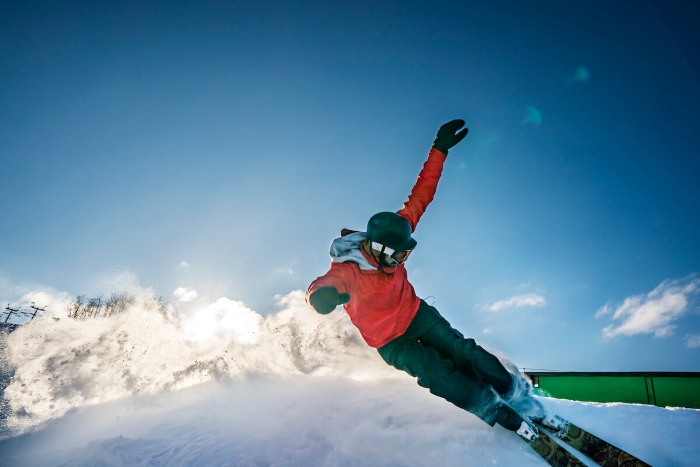 Head to Nub's Nob for nearly 250 acres of ski slopes and trails. The resort also features a race arena slope for race training, modeled after the Olympic race paths.
A quick hop off of I-75 east of Gaylord brings you to Otsego Club, a ski and golf resort that remained private for nearly 80 years but is now open for all to enjoy. Otsego Club is a gem of a resort in northern Michigan and is a must-see for even the most seasons skier or snowboarder. In 2010 Otsego Club played host to winter Olympians training for the Vancouver Winter Olympic Games.
With around 400 vertical feet and 136 skiable acres, and 5 lifts spinning, Otsego Club has a great variety of terrain for all ages and skill levels. A full rental fleet is available for both skiers and snowboarders too. You owe it to yourself to stay overnight or for an entire weekend. Amenities are top-notch including plenty of on-site accommodations from hotel rooms to condos. Prices are on-par with other resorts in northern Michigan and it's recommended you book early but keep an eye on last-minute deals for a spur-of-the-moment getaway.
Hanson Hills, one of Northern Michigan's hidden gems, offers downhill skiing, snowboarding, tubing, snowshoe trails and over 35 kilometers of groomed Nordic ski trails.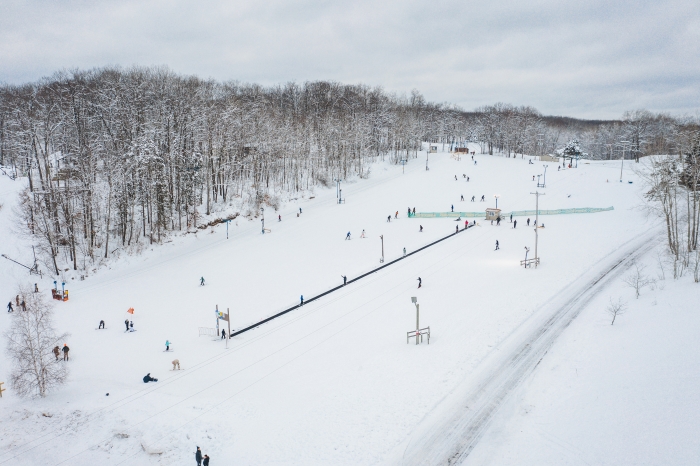 Serving Michigan since 1949, Snow Snake is a popular family destination for skiing & snow tubing.
Skiing & Snowboarding in Southwest Michigan
Whether you're a local of Grand Rapids, Kalamazoo, Holland or Grand Haven looking to sneak in some mid-week turns, or you're heading up from Chicago or South Bend, you don't have to travel far to enjoy some great snow. When the weather is right, the southwest Lower Peninsula benefits from famous lake effect snow coming in off Lake Michigan.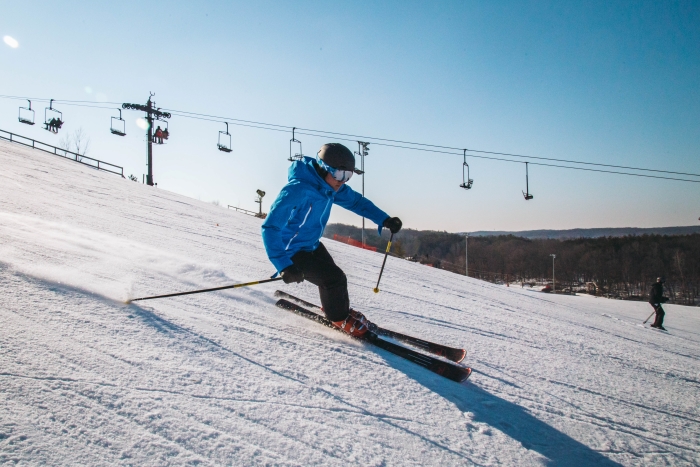 Enjoy 18 runs, one at 1,800 feet, two terrain parks and racing programs when you ski at Cannonsburg. Guests can also enjoy tubing and a special program for girls age 3-5 called Mountain Minnies, which encourages young girls to try snow sports.
Nestled in the hills just steps from the beaches in Grand Haven resides a great community secret known as Mulligan's Hollow. The ski bowl is the former site of a WWII boot camp training United States Coast Guard members, now is a full-fledged community ski area right on the lakeshore. Open Thursday through Sunday, and select school holidays, Mulligan's Hollow is home to 6 trails all served by a network of 5 rope tows. It's a great value, especially for those with children as parents ski for free with their kids! Ditch your poles, grab an older pair of gloves and head out to Grand Haven to take some turns under the lights at the ski bowl of Mulligan's Hollow.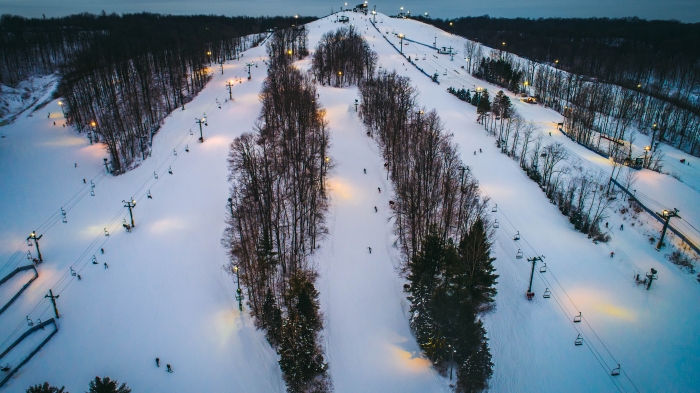 Just northwest of Kalamazoo in Otsego, you will find Bittersweet Resort. Just off U.S. 131 and just 1 hour, 40 minutes from South Bend makes Bittersweet an easy choice for many. With 20 runs and 350 vertical feet, the terrain at Bittersweet is far from flat. A great mix of terrain welcomes skiers and snowboarders of all skill levels. In fact, Bittersweet has one of the more competitive ski race leagues in the state.
If you do not have your own gear, no need to worry, Bittersweet has a full rental fleet with skis, snowboards and helmets. Ski families in the area take note of Bittersweet's family season ski passes. Whether you're a family of two or four, Bittersweet has some great season packages to make sure you get out and enjoy the slopes in an affordable manner.
When the temperature drops, head to the historic Timber Ridge Ski Area, Southwest Michigan's oldest ski hill. Here, you'll find skiing, snowboarding, snow tubing and other snow sports in Gobles.
Skiing & Snowboarding in Southeast Michigan
Often overlooked by many in the state, you don't have to go very far to enjoy some great skiing and snowboarding in the southeast portion of Michigan. Whether you're a weekend warrior looking to get some mileage on your skis mid-week before heading north, or you're in town looking for some winter adventure, a few ski areas are sure to deliver.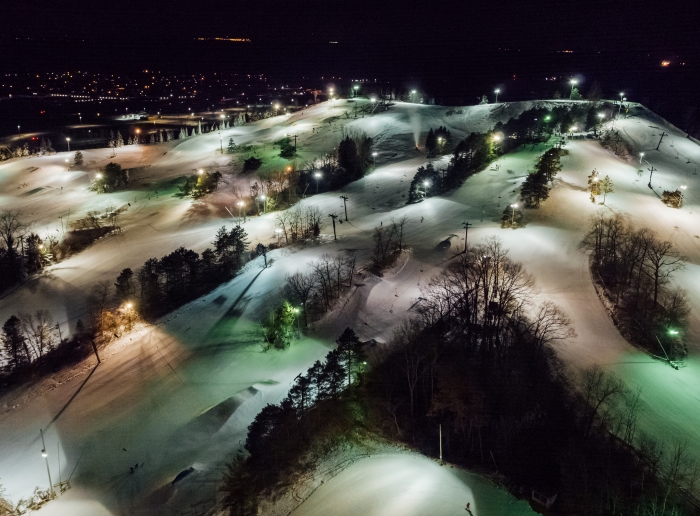 Located off of M-59 just west of Waterford Township is Alpine Valley. Home hill of 2018 Team U.S.A. Snowboarder, Kyle Mack, Alpine Valley has some of the most scenic views in the area. With 25 runs and 4 terrain parks, Alpine Valley is one of the largest ski areas in southern Michigan. Rentals are available for skiers and snowboarders, making Alpine a perfect spot for those in the area not looking to own a bunch of equipment. Lift ticket options range from full-day passes to evening only, making this a perfect spot for after work.
The closest resort to Detroit, Pine Knob offers various slopes and trails as well as three terrain parks and ski lessons for beginners.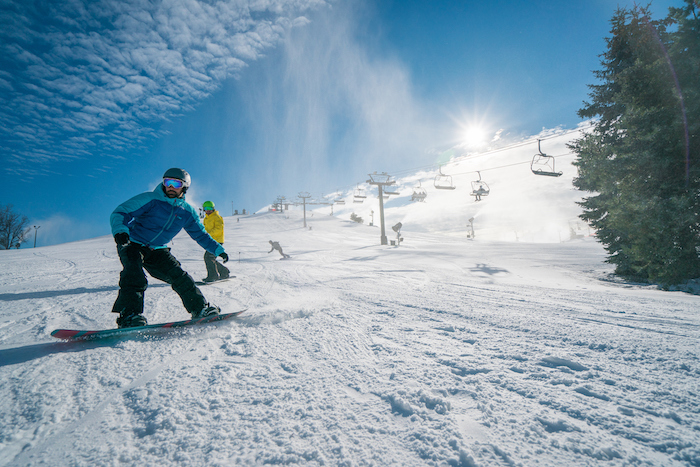 Renovated by Vail Resorts for the 2013/2014 season, Mt. Brighton is a great choice for skiers and snowboarders in southeast Michigan. Vail Resorts are known for their skier services and positive experiences both on and off the slopes, and Mt. Brighton follows suit.
Twenty-four runs can be found of varied terrain at Mt. Brighton and with a great split of beginner, intermediate and advanced options, there's sure to be something for everyone.
Swiss Valley is conveniently located in Jones, Michigan, enticing folks to visit from all over southern Michigan, Indiana and Illinois. Here, you'll find 11 runs, a 225 vertical foot peak (the highest in Southwest Michigan) and seven lifts, including two quads and one triple.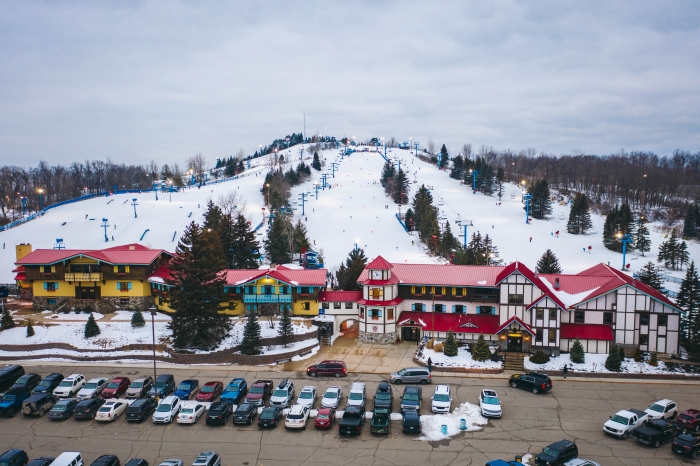 Nestled in Groveland Township near Holly there's no other ski area quite like Mt. Holly. The ski area's seven chairlifts include Southeastern Michigan's only high-speed detachable quad, three rope tows, and two SunKid Wonder Carpets.
Skiing & Snowboarding in the Upper Peninsula
At some point, you owe it to yourself to plan a trip to Michigan's Upper Peninsula. The U.P. is home to some of the biggest snowfalls in the country!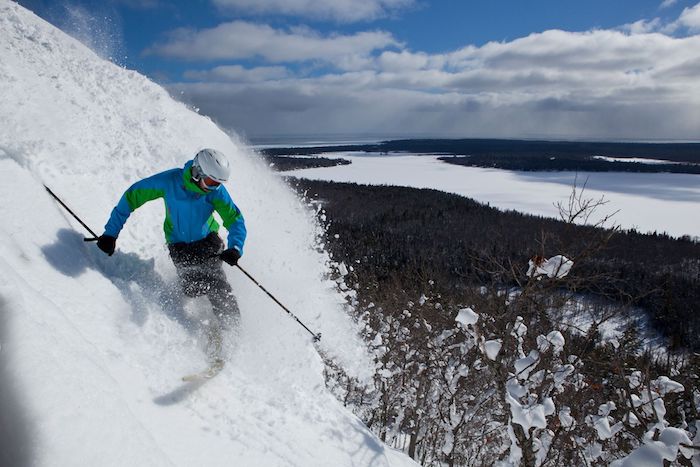 The Keweenaw Peninsula is home to the famed Mount Bohemia where the average snowfall is in the 270" range and 900 vertical feet. Located just 45 minutes north of Houghton in the Keweenaw, Bohemia is not for the faint of heart. 585 acres of skiable terrain is all backcountry-style, meaning no groomers here. 2 main lifts service the ski area, with a fleet of shuttle buses that get you back to either should you get too far away.
A destination of itself, if you're looking to plan a trip, book your accommodations early as many weekends will sell out in advance. Yurts are prime options for staying on-site at Bohemia, but you're looking for more creature comforts of a hotel plan to stay down in Houghton. If you are really feeling adventurous, book a cat skiing trip at Voodoo Mountain. Mt. Bohemia's sister ski area, Voodoo offers up a unique experience not found east of the Mississippi.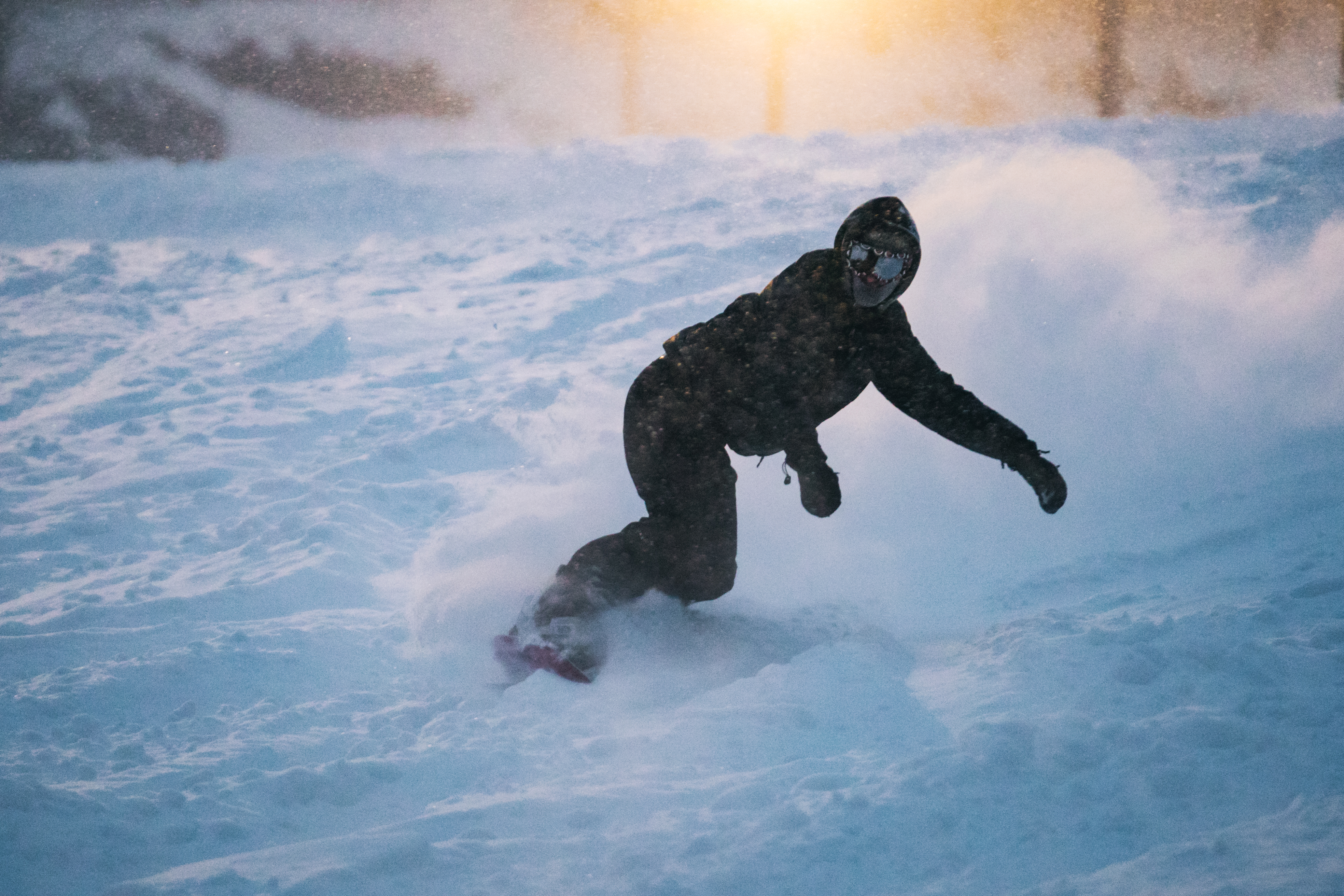 Marquette is best known as the home of Northern Michigan University, but the local ski hill, Marquette Mountain delivers great views of Lake Superior. Smaller in scale with only 18 runs, Marquette Mountain brings the feeling of a community ski area vs. a destination resort.  While no lodging is available on-site, check out the nearby lodging options noted on the Marquette Mountain website.
If you're planning a U.P. ski trip, make sure you take the time and go west to Bessemer. Just East of the Michigan/Wisconsin border you will find three great ski areas in the area: Blackjack Mountain, Indianhead Mountain and Big Powderhorn are all within a 20-minute drive of one another.
Blackjack Mountain - Big Snow Resort, and Indianhead Mountain are under the same management group which means one lift ticket gets you access to 56 runs between the two. If you're looking for more mellow terrain for the beginner and intermediate, stick to Blackjack. For those looking for steeper and longer runs, the frontside of Indianhead delivers. There is plenty of affordable on-site lodging options from hotel rooms to condos and chalets to choose from.
Ranked one of the top 5 Midwest ski resorts, a stop off at Big Powderhorn should be in order while visiting Bessemer. With 45 runs, multiple terrain parks and an average of 17 feet of snow each year, Powderhorn is a destination on its own in the western U.P. All ages and skill levels can appreciate the terrain at Powderhorn, with an even mix of beginner, intermediate and advanced. Bessemer is Big Snow Country and it is certainly worth the trek through the western U.P. to explore all there is.
Located on the campus of Gogebic Community College, Mt. Zion is the oldest winter recreation complex in "Big Snow Country." With equipment rentals, Learn to Ski programs and GCC's nationally recognized Ski Area Management Program, this location is a great place for learners and seasoned snow sports enthusiasts.
Skiing, snowboarding, and tubing for Michigan Technological University and the public. As the oldest ski area in Michigan in the snowiest city in the Midwest, Mont Ripley is a true alpine town experience: twenty-two trails, a terrain park, tubing park and a scenic overlook of the Keweenaw Waterway.
Set among scenic mountain views and sprawling pine forests, Pine Mountain is consistently ranked one of the best lift ticket values in the Midwest.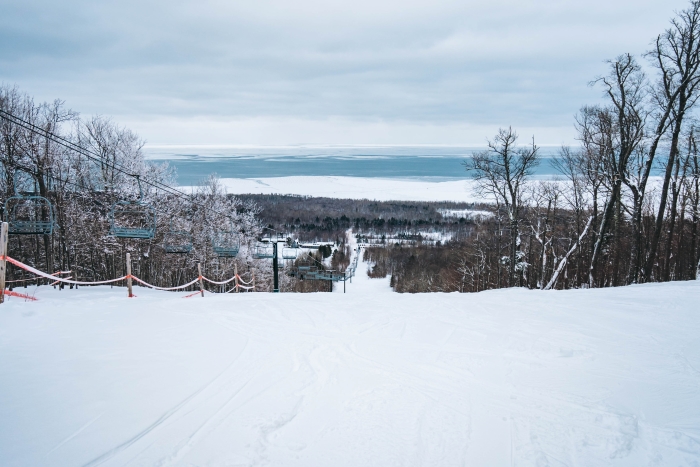 The Porkies is truly a family resort that provides a winter sports experience fitting every family member: first-timers, aspiring intermediates, thrill-seeking advanced athletes and park rats that want a taste of natural features. Snowboarders, alpine and telemark skiers can experience an unparalleled variety of terrain from well-groomed runs to powder stashes. From green comfortable runs to thrilling black diamonds and open runs to nicely shaped glades.    
Ski Brule is a premier ski resort in Upper Peninsula, located near the Wisconsin Michigan border.  Ski Brule is perfect for a day trip or a weekend get-away and offers winter activities for everyone:  skiing, snowboarding, terrain parks, snow tubing and trails for fat-tire biking, cross country skiing and snowshoeing. Families will love the resort's sleigh rides and kids' programs, and anyone can work on perfecting trick jumps with the Acrobag, a giant inflatable bag at the bottom of a five-foot jump!
Wherever you decide to go, keep in mind that planning ahead and booking early will save you money and the hassle once on-site. From the beginner to advanced skier or snowboarder seeking adventure, to a full-on family getaway, Michigan's ski areas offer up something for everyone. Get outside and enjoy all that Michigan has to offer in the winter months.
 
About the Author: Jason Dodge resides in Grand Rapids, Michigan and is the founder of BlackTruck Media + Marketing and editor-at-large of Michigan Ski Report, a website dedicated to highlighting the culture of skiing and snowboarding in Michigan.