All winter long, fishing continues to lure hearty anglers to Michigan's four Great Lakes and more than 11,000 inland lakes. Hard-water fishermen cover the state in winter and on any given day, you'll find one of these enthusiasts pulling up trophy catches of walleye, whitefish, perch and northern pike at prize spots across the state. Tournaments and the popular free fishing weekend draw crowds and beginner competitors.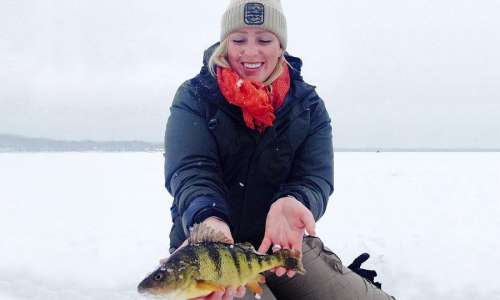 The sides of our portable ice-fishing shelter rattle in a steady wind, but inside we're reasonably snug, thanks to a small propane heater—that I've been assured will not melt the nearly 3 feet of ice beneath us.
Similar pop-up shelters dot the frozen surface of Little Bay de Noc just off
Escanaba
in Michigan's Upper Peninsula. Inside, countless fishermen dangle bait through 8- to 12-inch-diameter holes hoping for a bite from walleye, whitefish, perch and northern pike.
Hard-water fishermen cover the state in winter. And there's no better trophy spot than northwestern Lake Michigan (one of America's top 10 walleye fisheries), which consistently produces 10–15 pounders up to 35 inches long.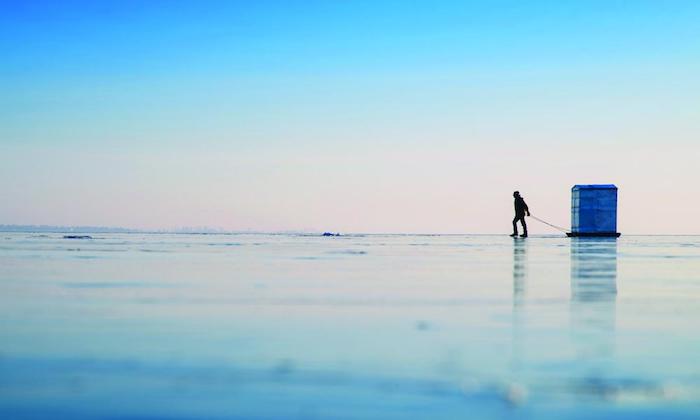 First-time ice fishermen would be tempted to think no fish would be active in such frigid conditions. But
Bay View Bait and Tackle
owner Chris Wahl knows this is prime fishing time. "You have a concentration of big fish staging for the spring spawn," Chris says. "Especially here, chances are good that you'll get the walleye of a lifetime."
A ruckus brings us out to investigate a tip-up, an unattended line with a flag that goes up when something takes the lure. One of the guides deftly barehands a thrashing northern pike through the auger hole. He holds the sleek predator of cold northern waters, glistening and dappled green, in the brilliant sunshine.
In addition to intel on the local waters, guides l can provide all the right equipment, including heaters, lures, rods, fish-finders and portable shelters. Many have permanent shanties to rent, too, some rigged for overnight outings with cooking facilities.
Do-it-yourselfers benefit from driving bayfront US-41 between
Gladstone
and nearby
Escanaba
. Cold-weather villages of permanent ice shanties built by fish-savvy locals mark reliable spots.
In nearby Escanaba,
Rosy's Diner
is as sassy as owner Rosy Cox, who serves food with a salty wit to customers sitting at the original 1932 steel lunch counter. On the walls, newspaper clippings and photos note history. Down the street, diners select and grill their steaks at
Hereford and Hops.
North of Escanaba, accommodations range from old-school, fisherman-plain-but-comfy
Gladstone Motel
to near-the-bay
Lakeside Motor Inn
to the comparatively plush
Terrace Bay Inn and Suites
, where views of the ice tempt guests outside.
I wrap up my trip with local fishing buddies. The sun is just a pale disk ghosting in and out of sight behind low, scudding clouds. Wind-driven snow and sleet peck at our parkas, and the shoreline is a thin tracing in the murky distance, as far off as midsummer.
Thankfully, it's cozy inside the ice shanties. We warm our toes and watch the sonar for fish nibbling our lures 30 feet below. Finally, a voice from a nearby shanty crackles on the walkie-talkie; it suggests we just drop another lure so it seems like there's a fish there. OK, so the teasing is a little hard-edged, but it's nothing compared to the wind.
Getting on the Ice
Fishing licenses
One license (available for a few days up to a full year) covers all fish species and freshwater fishing. Anyone 17 years of age or older must have a license.
Outfitters
Many anglers hire guides who know the water and safety regulations and provide necessary equipment, such as heaters, lures, rods, fish-finders and portable shelters. Some rent shanties rigged for overnight outings with sleeping berths and kitchenettes.
Free fishing weekend--
The Michigan DNR sponsors a free fishing weekend to promote awareness of the state's water resources and fishing opportunities. Communities participate by hosting events like clinics with basic how-tos, fishing derbies, festivals and more.
Ice-fishing tournaments
Most events and tournaments coincide with the free fishing weekend. A few favorites:
Gettin' Jiggy Fishing Tournament
,
Frostbite Winter Festival
, Harrison;
Winterfest
, Beulah and Benzonia.