Double Your Fun With These Fall Activities
 
When autumn lights up the outdoors, pair up a couple of sports for fresh perspectives on fall's beauty. Get the adrenalin flowing with these spectacular, leaf-peeping opportunities and get ready for a memorable and exhilarating fall weekend.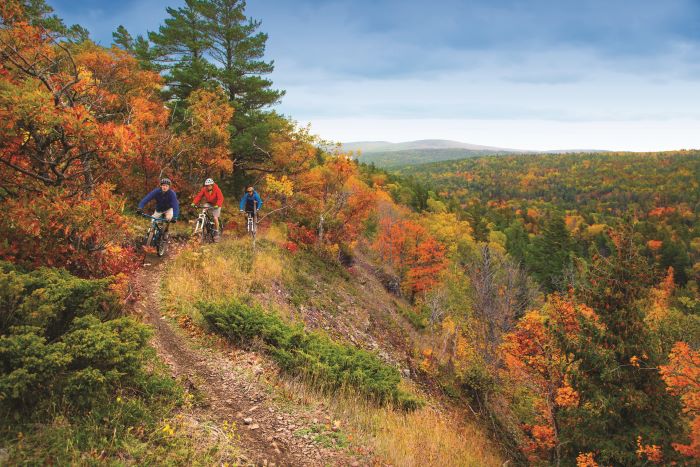 Hiking & Biking
Get Ready—Hike and bike among Marquette's rocky bluffs, deep pine forests and Lake Superior shore.
Get Set—With Lakeshore Bike as your base for trail information and rentals, explore the abundant trails along Big Bay Road (County-550) with a 15-minute hike up Sugarloaf Mountain and an 11-mile mountain bike ride on the North Trails Loop of the Noquemanon Trail Network.
Go—The view atop Sugarloaf—ragged Superior shoreline and rumpled forest—will whet your appetite to cover more terrain with a mountain bike. The weaving singletrack of the North Trails Loop runs along the Dead River.
Take an Extra Lap—The 47-mile Iron Ore Heritage Trail leads past historic mining sites and hooks up with the Noquemanon's south trails.
The Finish Line—The Landmark Inn's historic, six-story brick building comes with a prime downtown lakefront location. Two blocks away, creative American fare stars at The Delft Bistro, housed in a vintage theater.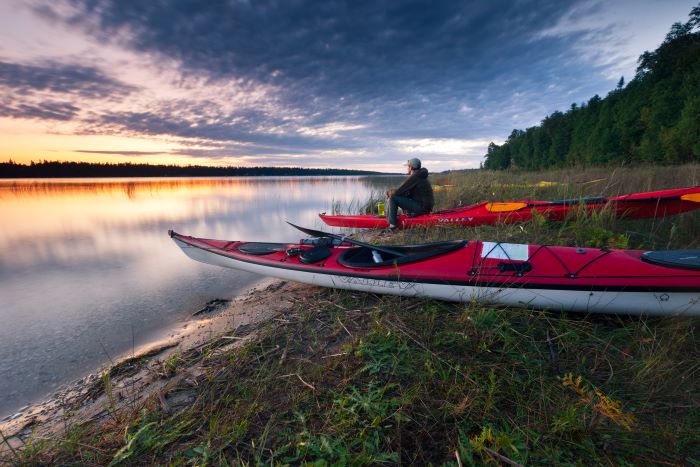 Kayaking & Biking
Get Ready—The spring-fed Sturgeon River, the Lower Peninsula's fastest-flowing river, sets the course for this rafting/cycling adventure.
Get Set—In Wolverine, Sturgeon River Paddlesports sets up adventurers with canoes, kayaks, rafts and bike rentals.
Go—Dig in your paddles for a rollicking, two-hour ride down the Sturgeon River, then pedal north along the riverbank from Wolverine to Indian River (9.6 miles) on the North Central State Trail.
Take an Extra Lap—At Indian River, Burt Lake State Park beckons toes with a broad, golden-sand beach.
The Finish Line—Refuel with house specialty Reuben balls deep-fried and served with Thousand Island dipping sauce at The Thirsty Sturgeon in Wolverine. Spend the night at Treetops Resort in Gaylord, with on-site dining, golf and a spa.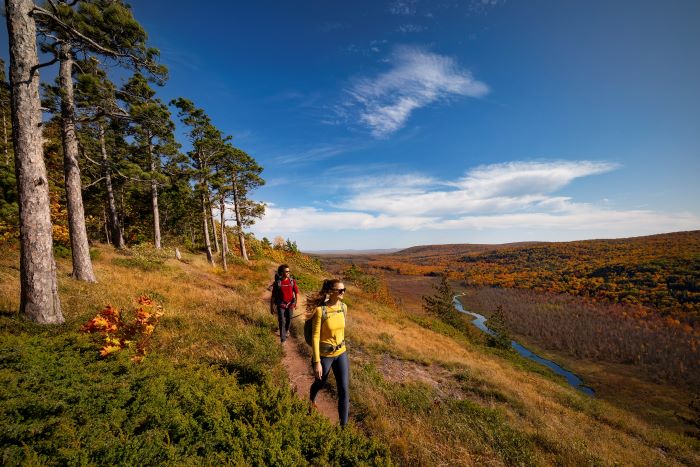 Hiking & Canoeing
Get Ready—With a trail hugging its bank, the Big Manistee River in the Manistee National Forest makes for a perfect canoeing and hiking combo.
Get Set—In Mesick, rent from Wilderness Canoe Trips, which also offers a shuttle service. DIYers stash boats south of the Hodenpyl Dam, then drive south to Red Bridge. Hike north 8 miles (or a portion) on the Manistee River Trail, then let the Big Manistee's current carry you back to your car.
Go—The telltale rings of rising fish and the guttural squawk of herons signal the wildlife that abounds along the Big Manistee. The forested trail follows the east bank through fiery foliage and golden meadows.
Take an Extra Lap—Brown trout grow fat in the Big Manistee. Make it a three-sport day by packing a rod and fishing on your float downstream.
The Finish Line—Head to the town of Manistee for a Brie burger at The Fillmore and lodging at The Ramsdell Inn, an 1890s downtown landmark.
 
Road Biking & Kayaking
Get Ready—At the Thumb's tip, relish serene roads and scenic Lake Huron shoreline by pedal and paddle.
Get Set—Use Port Austin Kayak for equipment needs. Ride 7 miles from Port Crescent State Park to Sleeper State Park on M-25's ample shoulder, then loop back to Port Austin (20 miles round-trip) to paddle the Broken Rocks water trail, 4 miles round-trip.
Go—Pedaling west from Port Crescent State Park puts you on the lakefront, where Huron sparkles just beyond your handlebars. Enjoy an even more intimate water view by kayak, where bus-size boulders rise from the lake's opal waters.
Take an Extra Lap—At Port Crescent State Park, kick back on the silky sand beach and dunes along Saginaw Bay.
The Finish Line—Chill at Pak's Backyard Cafe & Beer Garden next to the kayak shop in Port Austin, just down the street from the lakeside cottages at Lake Vista Resort.
---