Fall Color Tour, Camping and Local Flavor –RV Style
What is the best way to appreciate Michigan's picturesque fall scenery? Just think—scenic drives, local farmers markets, flea markets, hiking and biking trails, harvest festivals, wineries and breweries, local area culture and flavor. Well, taking to the road to explore to the splendor of fall and it's its charms in the comfort of an RV ranks at the top of all possible options!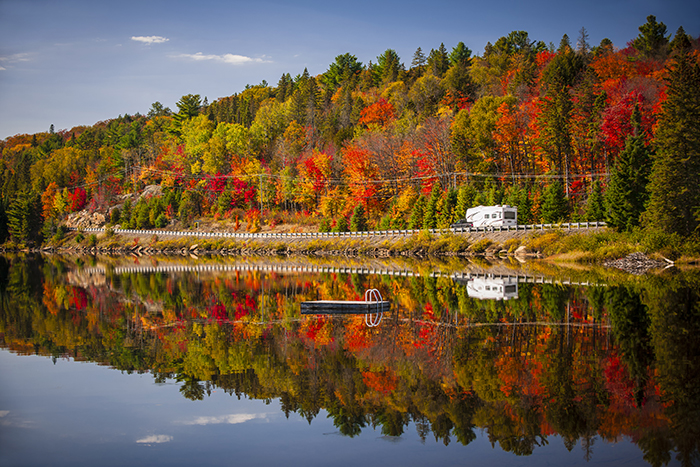 'Tis the season when miles of popular color routes are filled with weekend color seekers. Why not park the car and take your excursion to another level, RVers enjoy an opportunity to venture off the beaten path to find idyllic back county roads with unparalleled views of fall colors and hidden gems featuring local fares and wares. For campers, the experience is heightened when nestled beneath the amazing explosion of color, the smell of roasted marshmallows and crisp, autumn air.  
Once you narrow your search for the perfect fall camping destination, finding the right campsite is as easy as going to Michigan RV & Campgrounds (MARVAC) and doing a quick search of surrounding campgrounds and RV parks.
Fantastic fall foliage is just one reason to not put away camping gear or place your RV in storage as summer fades for another year. Visiting a campground in Michigan in autumn has definite benefits—fewer bugs, fewer people and less hot and humid days. Keep in mind that while campgrounds often have more availability post-summer, they might also have fewer amenities available like pool or lake privileges. This is okay, as it allows families more time for hiking and exploration. Many RV resorts and campgrounds have awesome autumn activities for guests like costume contests and pumpkin decorating.
To learn more about the exciting RVing and camping lifestyle, take a color tour detour and make a stop at the 30th Annual Fall Detroit RV & Camping Show, October 2-6, at Suburban Collection Showplace in Novi (#MARVACRVShows). In addition to dozens of RV products and campground exhibits, nearly 400 units and many RV brands will be on display at the show, including popular travel trailers, folding campers, motorhomes and fifth wheel travel trailers.
Visit MARVAC for additional information & show coupons, destination suggestions, road trip ideas, and RVing and camping tips.  
 
---