Places to Gather with Friends and Family in Michigan
The chance to vacation in an area that's kept its wide-open spaces is resonating with many, and Pure Michigan has the answer to that. Both within the Upper Peninsula and across the state, outdoor attractions and state parks offer camping and rentable cabins and lodges with a variety of amenities to use while safely reconnecting with family and friends.
Michigan's state parks are for more than just camping. There are lodges, camper cabins, yurts and more, and many offered within this 60,000-acre slice of lakes, waterfalls, forests and overlooks that makes up one of the Midwest's largest wilderness areas. Book the lodge that sleeps 12 and take the crew to explore spots like the three waterfalls along the secret Presque Isle River trail. Another must-visit spot is the famous Lake of the Clouds overlook with plenty of room apart from other visitors for a relaxing viewing experience.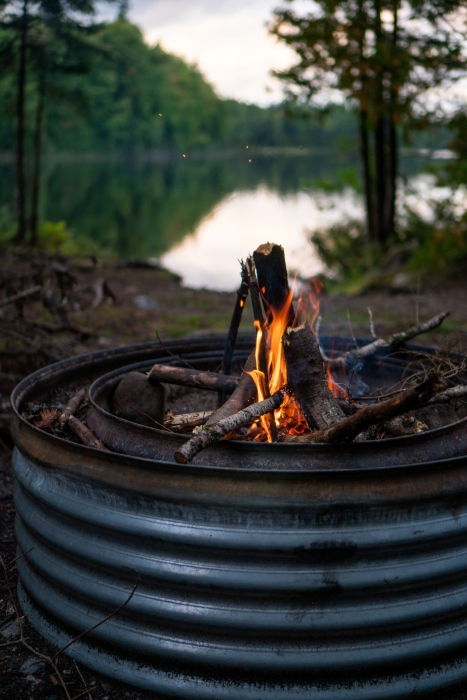 Within Michigan's most remote state park, you'll find pure wilderness, including a portion of the Upper Peninsula's resident moose herd, black bear, loons, beaver and deer. There are six lakes and multiple ponds, islands and granite bluffs within the 8,400 acres. To traverse the park, you'll want to bring along a vehicle with plenty of clearance in order to reach the rustic cabins and yurts. Book "Large Cabin" and you'll stay warm with a stone fireplace and wood stove with a cooktop in a three-bedroom spot that sleeps 14.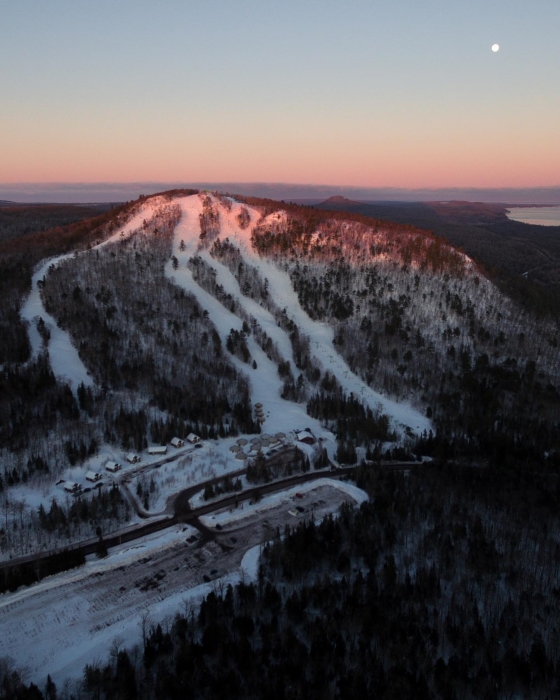 You may not typically equate an all-inclusive resort with some of the best of Michigan's wild outdoors. But perhaps you've not been to the 1,100-acre Mount Bohemia Adventure Resort. In the winter, you'll find a ski resort with triple black diamond runs—in the summer, explore yurts, log cabins, an inn and hostel on-site overlooking those dramatic drops. Craft your own package that includes kayaking, fishing, biking or just exploring near and along the shores of Lake Lac La Belle. Year-round, enjoy the Nordic Spa which features a traditional Finish sauna.
Gather your group among the platform tents on the shores of Lake Superior, outfitted with a bed, sofa and deck. There are also yurts with electricity, skylights, Wi-Fi and refrigerators. The village has a skylight dome for viewing the elusive Northern Lights, and all-inclusive packages can include paddling to Grand Island, dinners, breakfasts and more.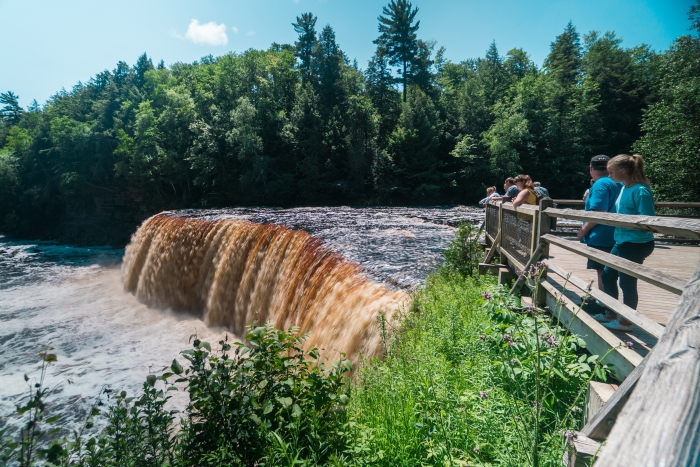 Hiking is great along the state's famed "root beer falls." This popular state park features the largest falls east of the Mississippi with a drop of about 50 feet, and the upper and lower falls offer totally different views. When you stay on-site, you can discover an entirely different experience and explore when the crowds have gone for the day. Book the "lodge," open year-round and located halfway between the upper and lower falls, to bring the gang along and see it all. The two-story cabin comes with a fully-equipped kitchen and deck and includes games, books, linens and towels, a charcoal grill and more.
You can attend what was the first summer camp in America with your very own camp buddies when you rent the Victorian Clubhouse cottage at Camp Tosebo. The late 1800s Victorian made up the original clubhouse and used to double as a dance pavilion. Today, it can sleep up to 23 guests and features fireplaces, covered porches, clawfoot tubs, a game room and a library. Founded in 1912 as a private summer retreat for the Todd Seminary for Boys, the camp sits on the shores of Portage Lake and is now listed on the National Register of Historic Places. Historic pursuits like stone skipping and bonfires are still in vogue, but there are also new options like pickleball and minigolf. 
Rent out this farm best known for its preserves, butters and chutneys and you'll feel like you and your guests are the only visitors. Popular rentals on what has become a glamping preserve include a "treehouse" with a wall of windows and six-person hot tub and the timber frame cabin by a pond. You can also book sunrise tents and yurts—or a campsite if you're bringing your own tent. If you want to travel with every member of your family, check out their dog-friendly lodging options.
All units share exploration of the cherry orchard, woods, dunes, wildflower meadow and multiple ponds, and guests can visit the small farm shop of home-grown preserves.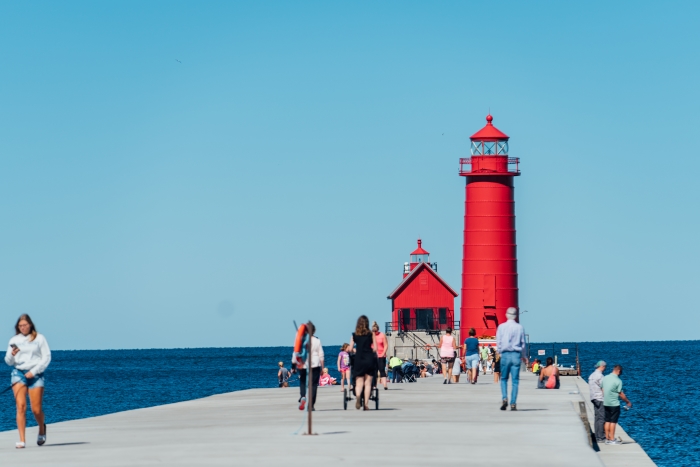 Grand Haven State Park boasts a gorgeous sandy shore on one end of the park, the iconic Grand River on the other, and scenic Lake Michigan views throughout. Book the "modern lodge" and score sleeping room for eight. All linens and towels are provided, along with a washer and dryer, and the modern kitchen includes a refrigerator, stove, microwave, and all cookware and eating utensils. This getaway is bound to be relaxing for the whole group.
Four floors of fun await you and your family in Arcadia near Frankfort when you gather the gang at the Barn Cottage on the banks of all-sports Upper Herring Lake. The roomy rental boasts five bedrooms, two baths and sits on two and a half acres of quiet countryside surrounded by a blend of rolling hills, woodlands, orchards and vineyards. Spend hours on the lake swimming, jumping on the water trampoline, paddling in the kayaks and even lounging on the property's provided pontoon! While you're there, be sure to make a visit to Frankfort's famous Point Betsie Light.
This 10-bedroom lakefront lodge (rented only to groups) is not just stunning; it has a storied past. The 1890-era property was once owned by author James Hendryx, an outdoors lover who wrote more than 50 novels and short stories. The lodge boasts 160 feet of beach along the bay, and the natural setting just south of Suttons Bay makes it a popular spot for yoga retreats.
The original 1920s Sears and Roebuck Lodge sleeps at least eight and comes fully stocked with all you need to cook and sleep. The setting is a popular draw, too: this heavily wooded park comes with a mile of sandy, Lake Huron shoreline for fun in the water and peaceful viewings of sunrises during your stay.
Rent out the Mai Tiki Resort in Oscoda and you and a group of friends can strand yourselves on what feels like your own Caribbean Island with 13 pastel-painted cabins available for couples or singles. Amenities also include use of the self-serve tiki bar on the beach, nightly bonfires on the Lake Huron shoreline, and even outdoor movie nights.
Book all three charming A-frame cabins on the shores of Lake Huron at Tree House Cabins for a resort that feels exclusive. Each cabin features a gas fireplace, two bedrooms and one bath (sleeping for six) and all three share 125 feet of sugar-sand beach. Shop Oscoda's quaint downtown nearby to support local businesses and find a perfect souvenir.
Head to cabins like Arrowroot or Morel at Bald Mountain Recreation Area, where both rustic beauties are heated by wood stoves, feature breathtaking views of the lake and have space to sleep 20. Here, you'll find some of the steepest hills and rugged terrain in southeast Michigan—perfect for hikers and adventure seekers who like a challenge. Camping is limited to the on-site cabins, and you can gear up to explore the extensive trail system, inland lakes and trout streams. There are paddleboard rentals available for your on-site fun, and a beach store too.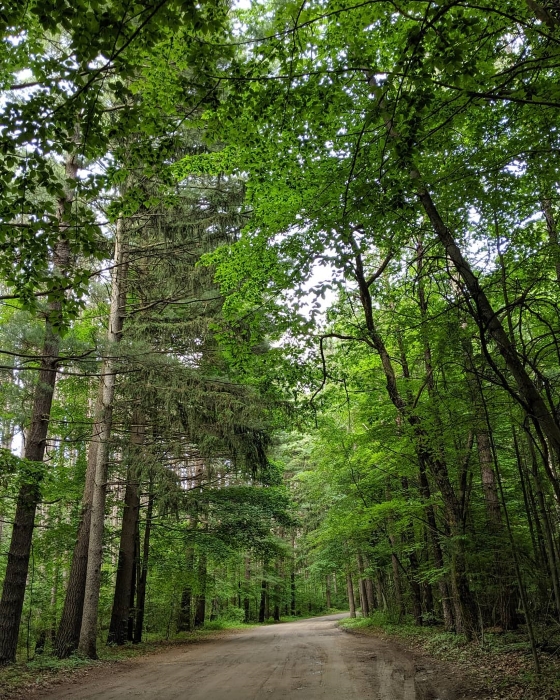 Book the Riverhawk Lodge and Conference Center for your group—up to 24 can sleep comfortably in this location right on the beautiful Huron River. Add paddling to your itinerary for a refreshing day on the water or hike more than 10 miles of trails. The lodge features a wood-burning fireplace between the Lodge's two wings and a community room with a stove and other amenities.  
No matter where you decide to stay in Pure Michigan, stunning views and exciting experiences in every corner of the state are sure to bring your loved ones closer together and offer an exclusive-feeling respite any time you need one.