#GoGreat Like A Local: For The Craft Beer & Wine Connoisseurs
Drink It All In
Cheers to abundant flavors and unique locales of the Great Lakes Bay Region!
Microbrews
, craft cocktails,
wine selections
that wow - the
Great Lakes Bay Region
offers something for all to sip on. But where to go when you're ready for a cold one? Who has the finest of wines, the heartiest of hard ciders, the best and boldest Michigan brews?
When you're looking to live it up and drink it all in, take the insider route. Cozy up in our neighborhoods, from Uptown Bay City to Old Town Saginaw, and get right to the tastes and places that welcome you back warmly each time.
For the Love of Suds
Join the packed house,
Woody's Draught House
in Old Town Saginaw, for good reason-106 good reasons! Woody's serves up 106 brews on tap, from Alaskan Pilot Series Heritage Coffee Brown to Blake's El Chavo Mango Habanero hard cider. Pints average $5; locals say there's nothing average about the
habanero hard cider (a must-try)
!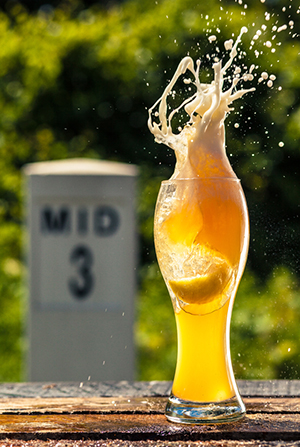 Or, find yourself amongst friends at
WhichCraft Taproom
in Midland, where you're invited to, "Drink local, drink well." When you order from more than 80 varieties of craft brews (40 on tap), you'll sip on artisan skill: all beer, wine, cider and mead served at WhichCraft is made right here in Pure Michigan! (Seriously, these guys have heart: serving up suds from local breweries, too-try a pint of
Midland Brothers IPA
at either WhichCraft Taproom or
Midland Brewing Company
where it's made!)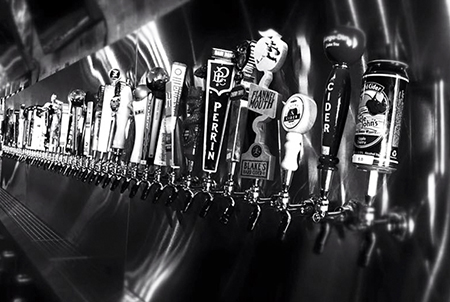 Looking for an even shorter path from tap to glass? Twenty house-made opportunities await at what locals describe as "a cozy brew house":
Tri-City Brewing Company
in Bay City. Of course, tap selections change often, but Hell's Half Mile Munich Style Helles Lager and Giant Slayer Russian Imperial Stout (
ahem, 9.0 ABV
) are always in-house.
And you can't say you're serious about swigs until you experience
Frankenmuth Brewery
. Founded in 1862, it stands as
Michigan's original craft brewery
! Pay your respects to over 150 years of brewing tradition with Sweet Tooth Stout or
Batch 69
American IPA, and consider yourself strongly advised taking a free tour of this historical gem!
Good Times and Fine Wines
If slow sipping is more your style, in a sophisticated, warm atmosphere (complete with overstuffed, leather seating and a roaring fire), make your way to
Whine Bar
in Midland to enjoy remarkable, and remarkably hard-to-find, wines. Locals rave about Whine's "vino to vent by" like Chitty Day Chardonnay, and no one can resist Whine Wednesdays: six wine selections each week; just $15 per bottle. (
Souvenirs?
Yes!)
While locals love
Jake's Old City Grill
in Old Town Saginaw for casual-upscale dining (think mouthwatering, charbroiled steak), the historically-rich, three-story landmark property and perfectly-paired wine selections complete the dynamic dinner presentation. Jake's list of
award-winning wines
, including an Award of Distinction from
Wine Enthusiast
magazine, is extensive-be ready to return.
Speaking of historical charm, find yourself immersed in the ambiance of a 1920s-style speakeasy at
Bancroft Wine & Martini Bar
in Downtown Saginaw. Patterned to reflect the classic wine bars of Europe, the Bancroft is known for: hand-crafted martinis (try the Ginger Infusion; you're welcome); Prohibition-era cocktails (pick the Mary Pickford); and
decadent wines, by glass or bottle.
Perhaps a red Straccali Chianti, from Tuscany, or Diseño Malbec from Mendoza?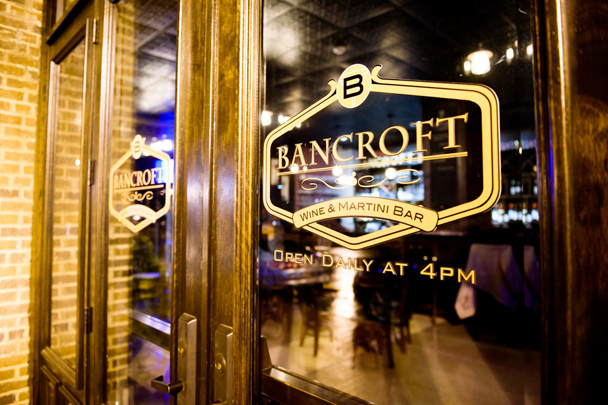 Or, perhaps, experience Michigan's oldest and largest wine company with a wine-tasting at
St. Julian Winery in Frankenmuth
. Home of the infamous Solera Cream Sherry, a guided tasting includes six wine samples for only $5 (and a souvenir wine glass, too). And while in
Frankenmuth
, saunter over to
Prost! Wine Bar & Charcuterie
for a memorable glass of wine-on-tap. (Yes,
wine on tap
!)
Prost is a German word for "cheers", and when it comes to the
charcuterie
, think wooden boards of Prosciutto Di Parma from Italy, Manchego cheese from Spain, and olives for days. Prost! touts an extensive wine list, along with six taps that deliver wine protected from oxidation to the very last pour. Locals love the Liberty School Cabernet Sauvignon, though the daring might dabble in something more like M. Lawrence's sparkling semi-dry rose.
And whether you have "just one" or stay longer to taste "each one", enjoy your time here, drinking it all in like a local. Truly experience what's known and loved about neighborhoods of the Great Lakes Bay, and the tastes and places that make them worthy of returning for another pour.
Meet the Blogger
Author:
Jen W. O'Deay
Jen is a freelance writer in Bridgeport, Mich. She specializes in writing that connects, delivered through feature articles, branded content, and marketing copy. You can find Jen reading, always, camping with her family, or at:
www.feelthesewords.com
---