Great Music: Sounds Like Detroit
   
Music fuels the Motor City, where Motown and techno were born—and still thrive. Don't be fooled by the simple, wood-frame house. Legends were made here, and music history took shape. Count musical megastars like Diana Ross and Stevie Wonder among the young performers who belted out tunes in a photo studio that Berry Gordy Jr. converted into a recording studio now known as the Motown Museum.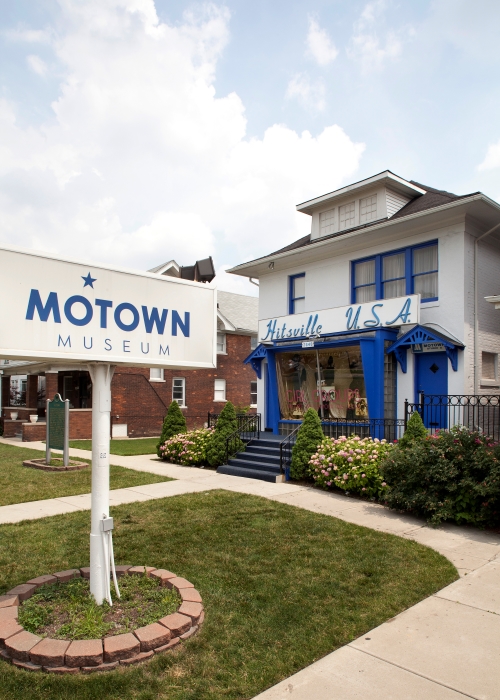 The Hitsville U.S.A. lettering out front indicates its significance as a former recording studio, now preserved as a humble but thought-provoking repository of memorabilia. The recording studio, practically frozen in time, showcases the original Steinway piano, drums and microphones. The glint of dresses worn by The Supremes catches the eye, as do gold records for The Jackson 5, sheet music and framed photographs. Museum docents lead impromptu group sing-alongs of songs like "Stop in the Name of Love."
 
When a tune like Marvin Gaye's "I Heard It Through the Grapevine" plays, you can't not sing along, especially in the car. Your cruise down music history lane leads to Detroit, where Gaye and other performers shaped the sounds of Motown, blaring horns and soulful vocals.
 
Driven by fear of racial violence and a lack of economic opportunities, black families packed their possessions along with their hopes and dreams in search of a better life. One of these families was the Gordys. Patriarch Berry Gordy Sr. and his wife moved from Georgia to Detroit in 1922, where they raised a family of eight children, including the next-to-youngest son, who got his father's name and would grow up to start a game-changing record label.
 
After careers that included boxer and assembly line worker, Berry Gordy Jr. displayed his father's entrepreneurial spirit when he created Motown Record Corporation in 1960. His dive into music didn't come out of the blue, though—he had spent the previous year writing and cowriting songs for soul singer Jackie Wilson. But he aspired to find and develop talent, giving voice to the distinct African American sound—an emotion-packed conjuring of jazz, soul and gospel. After receiving an $800 loan from his family, Gordy set out to build his empire from the first floor of his home and Studio A, a former photo studio that he converted into a recording studio.
 
Nicknamed Hitsville U.S.A., the studio saw artists like The Temptations, The Supremes and The Miracles lay down their first Motown tracks. In 1961, Motown Records logged its first No. 1 hit, "Please Mr. Postman" by The Marvelettes. Motown artists including Smokey Robinson, Stevie Wonder, Marvin Gaye, and Gladys Knight and the Pips all provided the soundtrack to social change that left an indelible mark on American culture.
 
Today, classic recordings and Motown memorabilia are on display at the Motown Museum, which sits at the original Motown Records site. But not only that: The spirit of the time lives on as seen in murals around Detroit and its many live music spots, including the jazz-focused Baker's Keyboard Lounge on 8 Mile Road.
 
Accelerate a few decades to discover a completely different Motor City sound: techno, in which DJs produce pounding, repetitive beats. But are these sounds really so unalike? Listen closely. You'll discover distinct creative similarities, like driving bass lines that build to a climax. Underlying it all, you can feel a vibe as magnetic and layered as the city that invented both genres.
 
One might ask, why Detroit? What inspired the creation of two of the most influential genres of music? The story starts in the early 20th century with the Great Migration—the relocation of more than 6 million African Americans from the rural south to Detroit and other major cities in the North, Midwest and West.
 
While Motown Records relocated to Los Angeles in 1972, techno keeps a beating heart in Detroit. It first emerged in the suburb of Belleville in the mid-1980s, conceived by three high school friends who fashioned a way to fuse Chicago house, funk and electro into a more machine-manufactured sound. These early pioneers—producers Derrick May, Juan Atkins and Kevin Saunderson (known as the Belleville Three)—drove the aesthetic with drum machines and synthesizers, birthing a movement of underground parties attended by middle-class black youths. As Detroit techno increased in popularity, the demographic of the city's late-night culture began to shift.
 
Looking back on how Motown and techno became celebrated pieces of music history, it's clear they're the products of ingenuity and tenacity. Yet the location plays a mighty role: Detroit, a forward-thinking city, has long welcomed innovators and those looking to reinvent themselves.
---