Winter In The Central Upper Peninsula: A Pure Michigan Guide
 
Michigan's central Upper Peninsula is an outdoor enthusiast's playground, a sightseer's getaway and a region rich with history and heritage. With an abundance of warm-weather travel gems, the adventure continues when winter arrives and blankets the region with fresh, Lake Effect snow.
 
Whether you're planning an unforgettable ice fishing trip or want to hike in a winter wonderland, here are travel ideas for what to do this winter in the central U.P.
 
Winter Trail Activities
Snowmobiling, cross-country skiing and snowshoeing are classic winter activities, and the central U.P.'s abundance of snow creates prime opportunities to get out on the winter trails. Both cross-country skis and snowshoes allow hikers to trek over the top of the snow—rather than trudge through it—which saves energy and creates a unique experience unavailable to visitors looking to just hike during warm weather. The U.P. is also home to more than 3,000 miles of groomed winter trails perfect for snowmobiling.
 
There are plenty of places for you to start your journey, including a variety of snowmobiling and non-motorized trails in the Escanaba area, Rapid River National Cross Country Ski Trail in the Hiawatha National Forest and Noquemanon Trail Network near Marquette. For a historic setting on the shores of Big Bay de Noc, visit Fayette Historic State Park located on the picturesque Garden Peninsula. Other trail activity visitors can try during winter is fat tire biking, offering a new biking experience in the central U.P.'s pristine, snow-covered landscape,
 
Iverson Snowshoes: A U.P. Tradition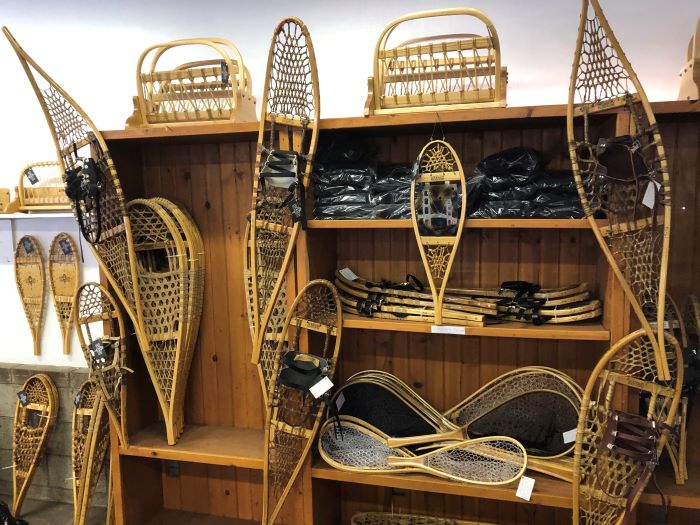 If you want to start snowshoeing, Iverson Snowshoes in Wetmore can help you find the perfect equipment to hike over snow for years to come. For more than 60 years, Iverson's craftsmen and artisans have been creating a variety of traditional-style snowshoes from premium Michigan White Ash.
 
Using their unique tools created to steam bend wood, Iverson crafts both top-notch snowshoes and family heirlooms. Iverson Snowshoes also makes fishing nets if you're looking for the challenge of winter angling, as well as furniture if you would like to bring a handcrafted piece of the central U.P. home with you.
 
Dining and Craft Beverages
There are plenty of restaurants and craft beverage locations throughout the central U.P. to warm up during your winter getaway. Jackson's Pit Gourmet Grill & Bar in Negaunee, a local favorite, is certainly one of those places with a delicious menu and an impressive selection of Michigan craft beer and wine. Try a flight of beer with a fresh-made burger and gourmet-inspired pub food in a fun, laid back atmosphere that pays homage to the area's mining heritage through its décor. 
 
Try traditional U.P. cuisine in Escanaba, with everything from candy to pasties and Swedish pancakes to a Friday fish fry using fish caught from the Great Lakes and regional waters. Or try fine dining Elizabeth's Chop House in Marquette, or a wide variety of restaurants at the Island Resort & Casino.
 
For U.P.-inspired craft beer, try Upper Hand in Escanaba, Cognition in Ishpeming and 51st State in Kingsford. If you prefer wine,  Leigh's Garden Winery in Escanaba, Yooper Winery in Menominee and Northern Sun Winery in Bark River are all must-tries.
 
Ice Fishing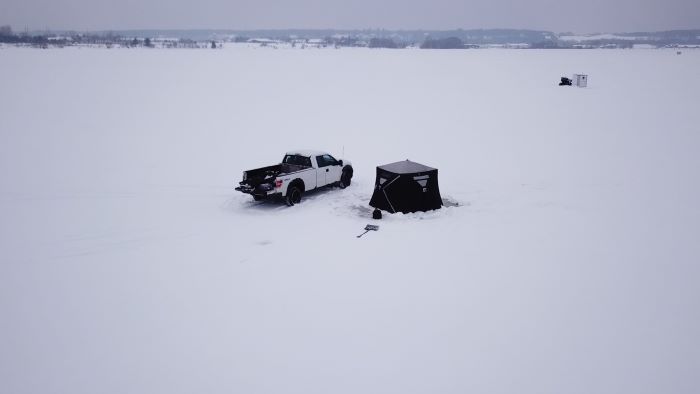 Ice fishing is a quintessential pastime during a Michigan winter, and that's certainly the case in the central U.P. No matter if you're sitting on a bucket or setting up an ice shanty, you'll find spectacular winter fishing in the heart of the Upper Peninsula. On the Big and Little Bays de Noc on Lake Michigan, discover trophy walleye fishing, as well as pike and yellow perch. If you're visiting during the beginning of winter, start at the northern waters of the bays where the ice begins to form, and check out the boat landing in Kipling that is known for walleye or the "back bottom" area further south.
 
More top-notch fishing can be found at Au Train Lake just south of Au Train, Squaw Lake in the heart of the central U.P., and in Munising Bay.
 
Adventurous Winter Sports
If you're into extreme winter sports, the central U.P. is the place for you. In Escanaba you can find incredible ice sports on the Big and Little Bays de Noc—because sailing doesn't end when the water's surfaces ice over. Ice boaters can take their hard-water boats to the frozen bays and use the wind to sail across the frozen landscape. If there's a layer of snow on the ice, it's the perfect time to snow kite ski or snowboard over the frozen waters with winds coming in off the bays.
 
The Upper Peninsula is also a prime region for ice climbing. When ice curtains form throughout the U.P.—especially along the towering sandstone cliffs of Lake Superior—it draws ice climbers and spectators alike to the region year after year.
 
If you love skijoring—a cross between cross-country skiing and dog sledding—you can go to the Noquemanon Trail Network for a pet-friendly adventure.
 
State Parks and National Forests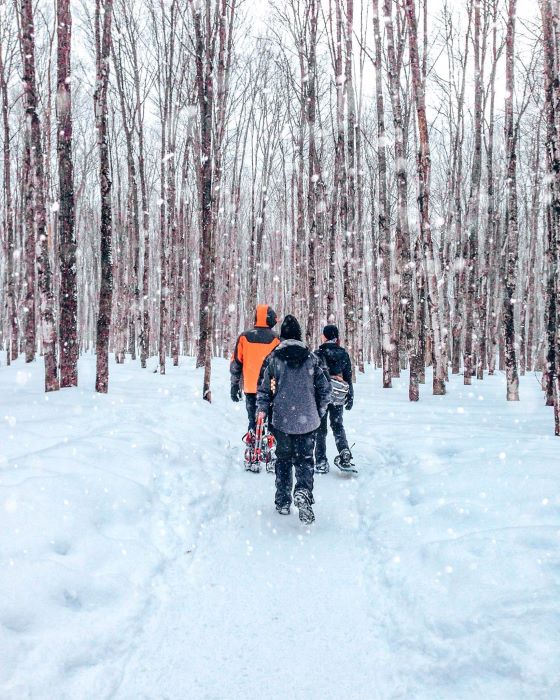 Explore the preserved and ghostly buildings of an iron-smelting town that rose and fell in the late 1800s at Fayette Historic State Park. Visitors are recommended two hours to truly explore the townsite's visitor center and 20 historic buildings. Trails for snowshoeing, cross-country skiing and hiking are available in the winter for a peaceful outdoor adventure with spectacular views. If you're looking to extend your quiet getaway in the park, year-round lodging is available at the furnished, cozy and accessible Furnace Hill Lodge that can fit the whole family—and more.
 
The Hiawatha National Forest spans nearly 1 million acres across the central and eastern U.P. with endless opportunities for outdoor recreation opportunities. Here visitors can find almost 90 miles of cross-country ski trails, hundreds of miles of snowmobile trails that connect with a statewide system, and pristine areas for snowshoeing, ice fishing and even dog sledding. If you're looking for a true getaway in the quiet of the forest, there are two rustic cabins that are available for rent year-round.
 
Other state parks in the central U.P. include Wells State Park in Cedar River, Indian Lake State Park in Manistique, Laughing Whitefish Falls State Park in Sundell, and Wagner Falls Scenic Site in Munising.
 
Learn to Luge
Find a thrilling adventure for the whole family at the Upper Peninsula Luge Club in Negaunee, home to the only full-length natural luge track in the nation. The track was made on Lucy Hill with a drop of over 280 feet and half a mile long. The bottom section of this track is open to visitors of all ages during designated public hours, and sleds, helmets and braking shoes are available to experience a race down the icy luge track.
Visitors can also learn to luge at the Upper Peninsula Luge Club during the Heikki Lunta Festival in January. This family-friendly winter festival is named after the mythical and Finnish snow god character of the same name that was created in the central U.P.
 
Natural Wonders of Winter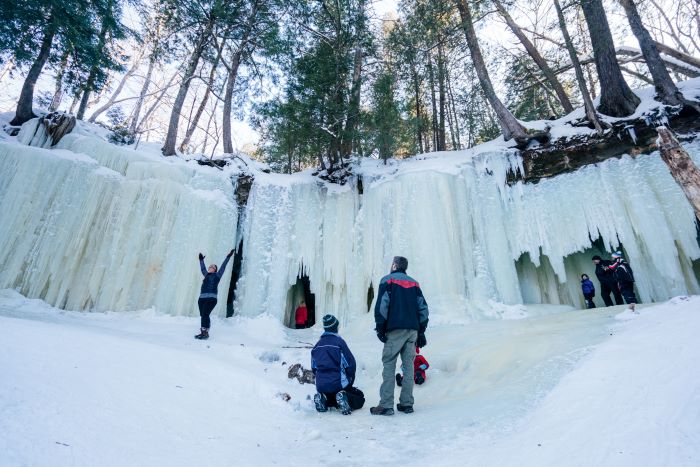 The spectacular views and stunning natural features in the central U.P. get a change of scenery when winter arrives. Thundering waterfalls freeze into pristine ice formations, and ice curtains and caves begin to take shape throughout the region. Journey to the Eben Ice Caves just southwest of Au Train in Eben Junction to discover a central U.P. hidden gem. As melting snow runs over the edge of a cliff and freezes again, ice curtains form that create otherworldly "caves" that only make an appearance during winter. Visitors will have to go on a brief hike to get there, and the area is pet friendly as well. If you're hoping to explore the caves up close or take a look inside, ice cleats will help you have stable footing on the smooth ice.
Located in Palms Book State Park just outside Manistique, Kitch-iti-kipi is something to marvel at during the warm-weather months. But it's also worth another stop in winter when—despite the landscape around the spring being blanketed in ice and snow—the crystal-clear spring waters remain unfrozen at a constant 45 degrees Fahrenheit. Peer 40 feet down into the blue water to the sandy bottom as 10,000 gallons of water a minute gush from the limestone below.
Winter is also one of the best times to view the northern lights, or aurora borealis, in the central U.P. Head to any public area away from city lights like state parks, the Hiawatha National Forest or the shores of Lake Superior for spectacular dark-sky conditions. If the northern lights don't make an appearance, thousands of stars will still give visitors a dazzling nighttime show. 
 
Regional History and Culture
Take a break from the chilly winter weather is visiting many year-round historical sites and museums located throughout the central U.P. The Michigan Iron Industry Museum in Negaunee is home to interactive and exhibits depicting Michigan's rich mining history. If you're an outdoor enthusiast, visit the US Ski and Snowboard Hall of Fame in Ishpeming, which is also the birthplace of organized skiing. Here you can find skiing artifacts collections and one of the finest ski libraries in the nation. To enrich your knowledge of the region's unique cultural heritage, visit the Potawatomi Heritage Center in Wilson that is home to the history of the Hannahville Indian Community.
You can also explore Michigan's maritime history at iconic lighthouses in the central U.P., including the Peninsula Point Lighthouse on the Stonington Peninsula, the Manistique East Breakwater Light, and the Sand Point Lighthouse in Escanaba. During winter, lighthouses can be covered in a stunning layer of ice, creating a whole new sightseeing experience at these historical treasures.
 
Indoor Getaways and Entertainment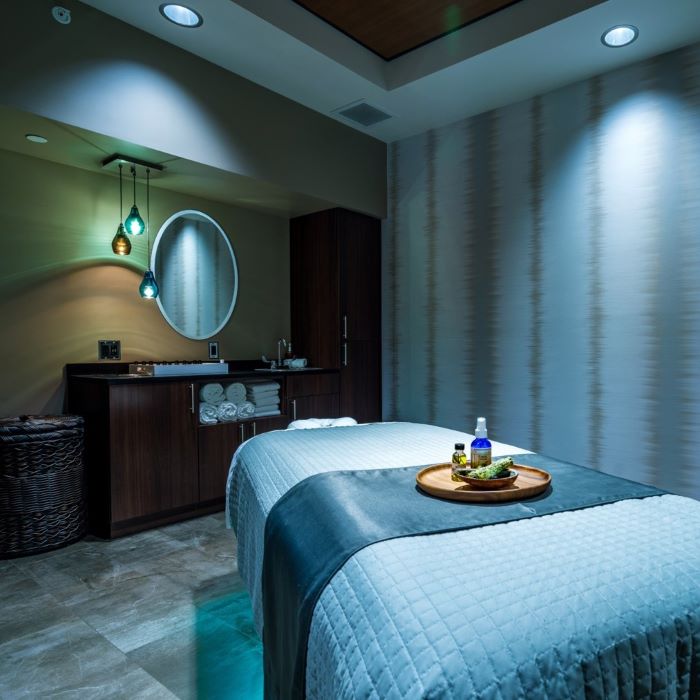 The Island Resort & Casino in Harris offers a total resort experience with their Vegas-style gaming, poker room, headliner shows and lounge entertainment. The world-class Island Showroom features some of the biggest names in entertainment, and the Club Four One offers a casual but chic setting to enjoy entertainment.
 
For a relaxing experience away from the stress of everyday life, take a day (or more) for yourself at the Island Resort & Casino's luxurious Drift Spa. Here visitors can find peace of mind and body in a tranquil environment with nature-based treatments that embrace the traditions of Native American healers. From massages to body treatments and salt baths to saunas, let your stress melt away in the heart of the U.P. 
More top-notch gaming can be found at Kewadin Casinos in Manistique and Christmas, as well as the Ojibwa Casino in Marquette.
For more information on the central Upper Peninsula and to start planning your trip, visit uptravel.com.
---