Planning Your Pet-Friendly Vacation in Southwest Michigan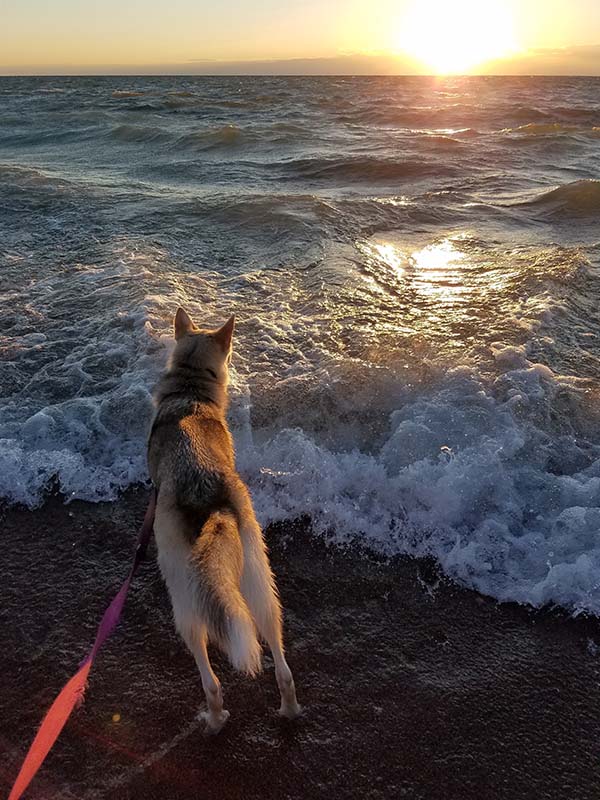 Where to Stay
Hotels/ Motels:
Baymont Inn & Suites- Stevensville
Candlewood Suites- Stevensville
$75.00 non-refundable pet fee per stay.
Holiday Inn Express- Benton Harbor/ St. Joseph
Pets are welcome with a $35 non-refundable fee.
America's Best Value Inn- Benton Harbor
$5/day non-refundable deposit
The American Inn- Benton Harbor
Motel 6- Benton Harbor
Pets allowed (under 15 lbs.)
Red Roof Inn- Benton Harbor
Silver Beach Hotel- St. Joseph
One time $25.00 room cleaning fee. Dogs must be on a leash when outside of the room.
Super 8- Stevensville
Campgrounds:
If your dog is anything like mine it loves to camp! Here are some choices for a more rustic stay.
Cranberry Lake Campground- Marcellus
Coloma/St. Joseph KOA Campground- Benton Harbor
Covert/South Haven KOA- Covert
Oak Shores Campground- Decatur
Shamrock Park- Berrien Springs
Sunny Brook RV Resort- South Haven
Weko Beach Campground- Bridgman
Yogi's Jellystone Park Camp-Resort- South Haven
Where to Eat
These restaurants serve delicious food and allow pets on a leash in their outdoor seating areas.
Mason Jar Café
Clementine's Too
Froehlich's
Jimmy John's
Kilwins Chocolate, Fudge, & Ice Cream Shoppe
Where to Shop
Fuzzy Butz- This is a pet bakery located right in downtown St. Joseph and will be one of your pet's favorite stops! They sell their own homemade dog and cat treats, pet supplies, and gifts. You can even order personalized cupcakes/cakes for your pet's birthday. My dog's favorites are the liver bites and mini hamburgers.
Apparel from the Past/Shawnee Road Antiques- This antique shop in Baroda sells vintage pieces from the mid-1800s to mid-1900s and welcomes you and your pups.
What to Do
Attractions:
St. Joseph Public Art- You'll find 19 fish and shark sculptures located on the downtown sidewalks of St. Joseph as part of this year's theme: Fishing for Fun in St. Joseph. Take your dog for a walk around town and check out each unique piece.
St. Joseph Lighthouse Tours- The Heritage Museum & Cultural Center offers historic walking tours of the North Pier and Inner lighthouses. Pets are welcome if they are kept on a leash but keep in mind that you will have to climb a ladder if you want to see the lantern on the 2nd floor.
Dewey Cannon Trading Company- Located in Three Oaks, the Dewey Cannon Trading Company has tourist and cycling information, bike rentals, t-shirts, and the Three Oaks Bicycle Museum.
Dr. Liberty Hyde Bailey Museum- Visit the childhood home of America's "Father of Modern Horticulture" in South Haven. It is a museum, National Historic Site, garden, park and educational outreach center.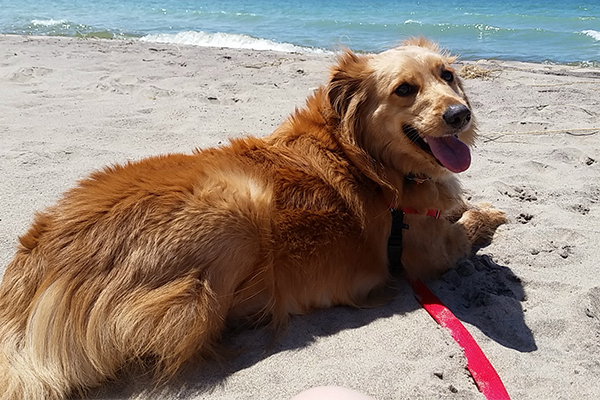 Beaches/Parks: Dogs must be kept on a leash at all times, even in the water.
Warren Dunes State Park- Located in Sawyer, this popular Southwest Michigan park has a designated 2-mile dog beach. It has been named one of the top 10 pet-friendly beaches in the U.S. Open year 'round, this stretch of Lake Michigan shoreline is usually less crowded than the adjacent dunes.
Weko Beach- You can also access the Warren Dunes Dog Beach from Weko Beach in Bridgman. They have a dog trail from the boardwalk that leads down to the lake. This is the perfect beach to take your dog if they love to swim! You can also climb the dunes on the wooden boardwalk for an even better view.
Silver Beach County Park- Dogs are not allowed on this St. Joseph beach. However, you can walk your dog on the paved sidewalks and pier to get a beautiful view of Lake Michigan and the lighthouses.
Lake Bluff Park- Walk along the tree lined bluff in downtown St. Joseph overlooking the Lake Michigan shoreline. You'll pass by monuments and memorials, a band shell, local art and drinking fountains just for your dogs!
Trails:
Grande Mere State Park- Stevensville
Climb the dunes and hike along the lakeshore in this 985-acre park.
Warren Woods State Park- Sawyer
Hike 311 acres of quiet, wooded trails with a bridge overlooking the Galien River.
Wineries/Breweries:
Not only do these destinations welcome pets but some have their own on-site!
Round Barn Winery, Brewery & Distillery- Baroda
Gravity Vineyards & Winery- Baroda
Hickory Creek Winery- Buchanan
Domaine Berrien Cellars- Berrien Springs
North Pier Brewing Company- Benton Harbor
Transient Artisan Ales- Bridgman
Farms & Markets:
Big Dan's U-Pick 'em & Farm Market- Hartford
Pets allowed if they are on a leash.
Fruit Acres Farm Market & U-Pick- Coloma
Pets are welcome in designated picnic areas or for orchard walks. They must be on a leash.
Grandpa's Cider Mill- Coloma
Pets are welcome in the yard or on the front porch, but not in the store.
Jollay Orchards- Coloma
Pets may be allowed, call for details.
Lehman's Orchard- Niles
Pets are welcome as long as you keep them under control and clean up after them.
Nye's Apple Barn- St. Joseph
Please keep your pet on a leash and clean up after them. Not all guests are comfortable around pets, so respect their wishes and keep your distance. Any injury is the pet owner's responsibility.
Tree-Mendus Fruit Farm- Eau Claire
Pets are allowed on a leash outside of the sales buildings and on tours. Dog walk area and water are available.
Dog Parks:
Kiwanis Park- St. Joseph
Whittlesey Park- St. Joseph
Toth Street Park- Bridgman
Harbert Community Park- Harbert
Additional Information
Boarding/ Doggy daycare: If you find something you want to do while you're here that isn't pet-friendly, there are many local places that offer boarding or daycare for your pets so you won't have to miss out on those activities. Just be sure to travel with your pet's up-to-date vaccination records.
• Mutterly Love- St. Joseph
• Stay & Obey- Stevensville
• The Crate Escape- Stevensville
If your dog gets a little dirty from all your adventures you can go to the Dog Wash at Sparkle Car Wash & Quik Lube for a quick rinse. It's open 24/7 and is conveniently located at 2109 Washington Ave in St. Joseph.
For more information about pet-friendly accommodations or about Southwest Michigan, contact the Southwestern Michigan Tourist Council at 269-925-6301.
Written by Erika Peterson