16 Stops for a Coastal Road Trip through Leelanau and Old Mission
When planning a weekend getaway, you can't do much better than the Leelanau and Old Mission scenic routes. These leisurely drives are maximized for incredible coastal escapes and amazing fall colors.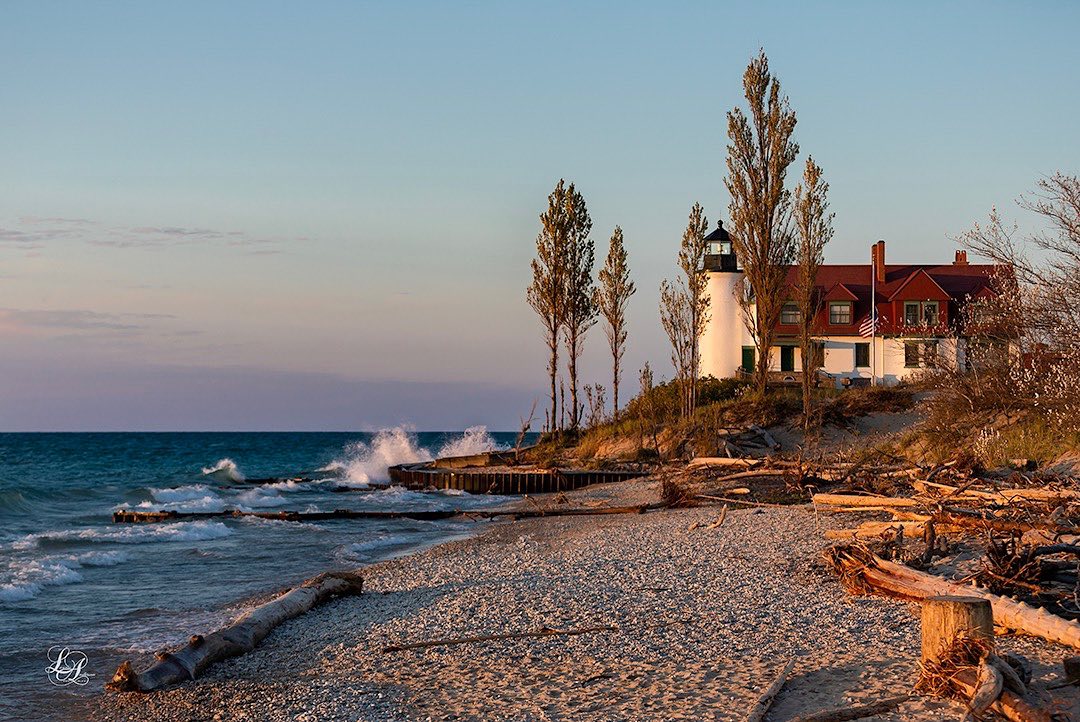 The Point Betsie Lighthouse is about as picturesque as they come. Built in 1858 and recently refurbished, it's a beautiful piece of history that you can visit, and during the summer, even spend the night in: The assistant keeper's cottage is a rental!
One of the most beautiful settings in Michigan is the town of Glen Arbor. With Glen Lake, Sleeping Bear Dunes, scenic drives, fall foliage, festivals, art galleries, restaurants, and more, how can you not agree? Boat on the lake, cozy up in a bed and breakfast, go lighthouse hunting, and just enjoy the scenery!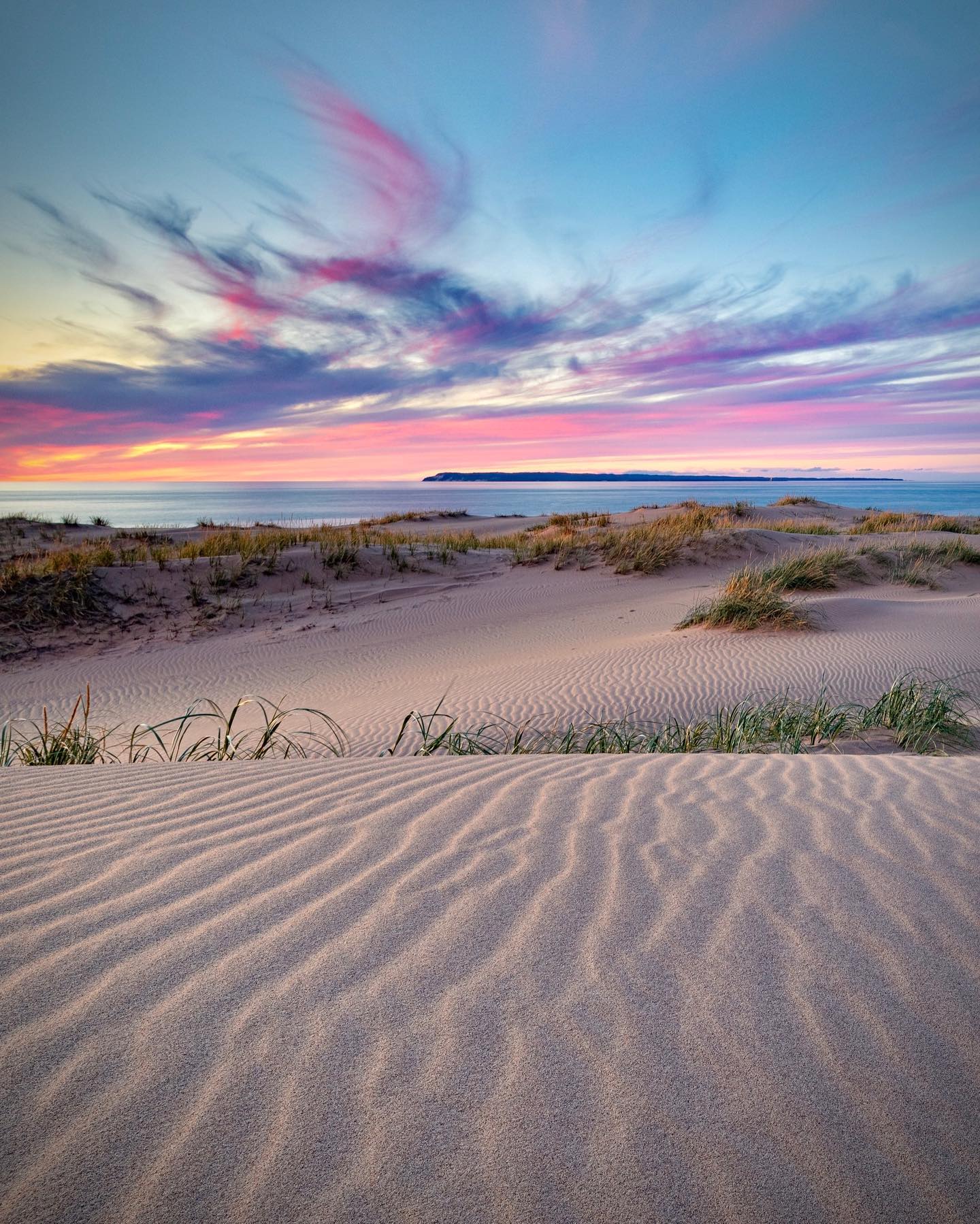 Take in the views at Sleeping Bear Dunes National Lakeshore, home to the tallest system of freshwater sand dunes in the world, some towering as tall as 400 feet. Take a swim in the cool, clear water, and hike the dunes, and you'll see why this park is a favorite of locals and tourists alike. There's even a scenic drive, the Pierce Stocking Scenic Drive, and the 18-mile Glen Lake Gallop bike trail, and you can tube down the Platte River or explore the Port Oneida Rural Historic District's farmsteads. Make a day of the park by camping out!
If hiking is more your speed, then Sleeping Bear Dunes' Pyramid Point is one of the best trails in the region. It's a quick loop, under three miles, that ends with a sweeping overlook out to the lake from the top of a dune.
A cherry farm turned vineyard, Laurentide Winery is the perfect place to spend an afternoon relaxing outside of Traverse City. They make many light, sweet wines, and specialize in whites and other cool-climate varietals. Add in a cozy, secluded tasting room with excellent service, and you know a visit here will be a treat.
For insight into the past here, stop by the Fishtown Preservation in Leland. It's a former commercial fishing camp that's in the process of being saved and restored. Check out the weathered shacks, docks, and boats that were once home to a bustling community, and learn about the fishing industry in Michigan. If you're an avid biker, the 15-mile Leland Ramble takes you right out to Fishtown.
At the tip of the Leelanau Peninsula, you'll find the Grand Traverse Lighthouse. Explore the keeper's cottage, which has been decorated to appear as it did in the 1920s and 1930s, and climb the tower to the top of the light for views of Lake Michigan and Leelanau State Park. The lighthouse also offers various programs and hosts different exhibits so it's worth a trip back even if you have been before.
Fruit and Michigan go together like pie and ice cream, and the state is especially proud of its cherries. Celebrate all things cherry at Cherry Republic, a local chain dedicated to showcasing the fruit. The Traverse City location has a gift shop loaded with Michigan-made goodies, as well as a play area for kids and an excellent Grande Cafe. Taste the local flavor with dishes such as feta dip made with dried Montmorency cherries, green cherry salsa queso, cherry BBQ sauce, cherry sausage, cherry mustard, cherry fig jam, and more. Oh, and save room for dessert... their cherry pie and cherry ice cream are to die for!
Traverse City is also home to the Dennos Museum Center. This art museum features one of the largest collections of Inuit art, sculptures, traveling exhibitions, interactive art galleries, performances, and loads more.
There's also the Interlochen Center for the Arts, concerts, classes, and more make this campus an exciting place to visit and get inspired and it attracts some of the top performers in the world across a diverse genre of music and performance.
Jolly Pumpkin is a renowned craft brewery, and their Traverse City Taproom on Old Mission Peninsula is a great stop for craft-brew fans and beer newbies alike. They have a menu of delicious elevated pub fare, other local brews on tap, and even wine that they make as well. Plus, the historic building offers views of the lake and relaxing, off-the-beaten-path vibes.
Old Mission Peninsula, right near Traverse City, is a special place in Michigan because it has the perfect climate for growing the grapes that are used to make Chardonnay, Riesling, Pinot Grigio, Pinot Noir, Merlot, Gewürztraminer, and ice wines. There are nine wineries here to explore, each with its own distinct flavors and strengths. Travel the Traverse City Wine Trail and taste them all!
Between the orchards, beaches, and historic sites, the Old Mission Peninsula Park is the perfect spot for a nice, long bike ride. The Old Mission Peninsula Cruise is 40 miles of pure bliss. It's mostly right along the coast, with the Old Mission Lighthouse serving as the perfect midpoint stop... and feel free to stop for a beer or ice cream at one of the restaurants along the way.
If that sounds appealing, then you'll also like the Leelanau North Cruise, another picture-perfect bike trail (this one is 35 miles) that features orchards, lighthouses, and lakeshore views.
Cruise through scenic cherry orchards and rolling vineyards to reach the lovely Mission Point Lighthouse. Once here, you can tour the building, soak in the views from the top of the tower, check out the gift shop, explore the trails, and peer back in time at the historic log cabin. There's also a stretch of beach here that's quite scenic... and it features one of the best sunset views in the state!
Traverse City is a bustling city, but in the middle of it all is a scenic and quiet oasis: the Traverse City State Park. There are shady and secluded campsites, and the park also has a nice stretch of beach for swimming and sunning. Plus, it's still very close to all of the exciting activities that Traverse City has to offer, so you get the best of both worlds!
 
The Grand Traverse region has more than just vineyards, it has a rich history and culture too. Case in point: The Music House Museum. It features a massive collection of beautiful old instruments, music boxes, Victrolas, phonographs, and more, with a truly unique focus on turn-of-the-century inventions that play by themselves. Many artifacts here are rare, incredibly beautiful in their detail, and (mostly) in incredible condition, meaning you can actually hear them playing!
For even more Grand Traverse history, head to the Grand Traverse Commons, which is a nineteenth century asylum complex that's been converted into a shopping and dining destination, complete with an arboretum and hiking trails. You can take a historical tour of the grounds, or just get in some shopping or wine tasting here.
16. Hiking and Water Trails
Another fun hike in the area is Good Harbor Bay Trail on the Sleeping Bear Dunes. It's a nice, flat, forested path and it's pretty short, at only 2.8 miles round-trip. Or, check out the Empire Bluff Trail. All in all, it's only 1.5 miles and features forests, fields, and dunes. For a hike that's a little longer, try the Platte Plains Trail. Various loops let you spend as little or as much time on this trail as you want, but if you tackle the whole thing, it's about 15 miles. You can also try the Old Indian Trails: There are two 2.5-mile loops, one for beginner hikers, and one for more advanced trailblazers.
If you like to canoe, explore the area on the Leelanau Water Trail, which follows the peninsula's coast, offering the chance to view the stunning landscape from the lake.
From the Leelanau Scenic Heritage Route to the Old Mission Point Park Trail, the Grand Traverse Bay is one of Michigan's most magical landscapes. Between sipping wine on a scenic farm and hiking the breezy dunes of Sleeping Bear, you're sure to leave with many special memories.
 
---