Support Local this Ramadan in Michigan
Ramadan is celebrated by more than 1 billion people around the world every year, including Michigan's vibrant and diverse Muslim communities. Prepare for the holiday by supporting local businesses and visiting the Michigan Ramadan Market.
The metro Detroit area is home to the nation's oldest, largest and most diverse Muslim American communities—beginning with Syrian and Lebanese immigrants, followed by people from Palestine, Iraq, Yemen, India, Pakistan, Bangladesh and more. Now, Dearborn has the largest Muslim population in the United States and is home to the largest mosque in the country, the Islamic Center of America.
With spring just around the corner, Michigan's Muslim communities are counting down the days until the month-long celebration of Ramadan. The holiday is between 29 and 30 days long, or from one crescent moon to the next. Since Ramadan is based on the Muslim lunar calendar—which is shorter than the Gregorian calendar—the holiday begins on different days each year. 
The end of Ramadan is marked by the holiday Eid al-Fitr, a day of feasting, gathering with loved ones, gift giving and charity. For the first time in 2019, Detroit closed its schools for Eid al-Fitr, following other school districts in the region. Since 2018, Dearborn has been home to the springtime Ramadan Suhoor Festival—the largest of its kind in North America.
Learn how you can prepare for Ramadan in Michigan and show your support of local businesses that are owned and operated by Muslim women throughout the community.
Founded by Fatima Siddiqui—a Detroit-based Arabic and English calligrapher of Flowing Script Calligraphy—the Michigan Ramadan Market brings together vendors that offer hand-crafted decorations and art to celebrate the holiday, as well as clothing and activities for families and children. The market also features delicious eats from local, Muslim-owned restaurants and bakeries. Reserve your tickets in advance to get everything you need to celebrate the holiday while supporting Michigan artists and businesses.
If you're in need of decorations, check out Fatima Siddiqui's beautiful hand-crafted signage at Flowing Script Calligraphy. You can find more artistry in the crafts of Salam Wood Works of Ypsilanti. They offer everything from 3D wall hangings and serving trays to a Ramadan wooden block calendar to count down the days until the celebration begins.
If you're in need of new attire to celebrate the holiday, visit Barakah Boutique, an Islamic lifestyle boutique based in Canton. This eclectic shop offers not only beautiful clothes but also Ramadan décor, art, and children's toys and books. Barakah Boutique also creates an annual "Giant Ramadan Coloring Poster" for children celebrating the holiday.
After sundown, it's time to share a meal with family and friends. If you're looking for a delicious halal option, Sheeba offers authentic Yemeni cuisine with two locations in Dearborn and another in Canton. Sheeba's signature dishes include lamb haneeth, fahsha and mekhbaza salmon that are served in a sleek, welcoming atmosphere.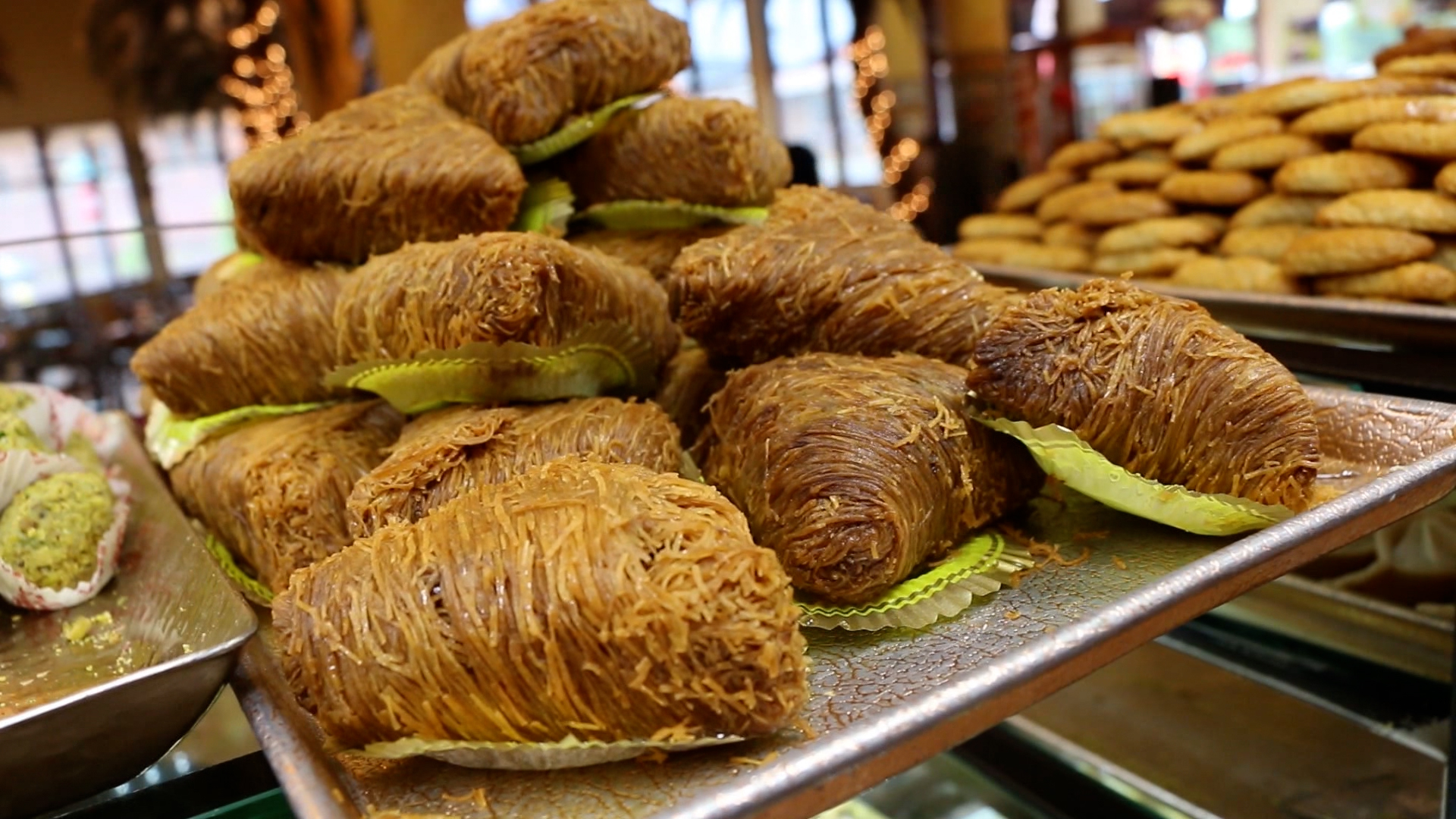 For sweet treats and traditional pastries, a must-visit stop is Shatila Bakery in Dearborn. Crafting traditional Mediterranean pastries for over 40 years, their baklava was voted best in the nation by The Wall Street Journal in 2018. Whether you're looking for traditional desserts like knafeh and mamoul or custom cakes designed and decorated by the chefs, there's a showstopper for every family gathering here.
From Detroit's top halal restaurants to international festivals, you can shop for local crafts and cuisine while supporting a vibrant, diverse community all season long.