The Best Burgers in Michigan
Gabriel Aikins of The Awesome Mitten toured the state to find the best burgers in Michigan.
Ah, the humble hamburger. Nothing says "Americana" more than a grilled, 100% pure beef patty, between a soft bun, simply dressed with mustard and ketchup, or gussied up with all the fixins. Is your mouth watering yet?
As is the case for many bastions of the American cultural experience, Michigan can hold its own against the best of them when it comes to burgers. To start with I'm going to tell you about two of my personal favorite burgers in the Great Lakes State, then I'll give you some suggestions from around the state so you can find a burger for you no matter where you go.
1. Personal Favorite #1: Cheeseburger Basket, Everything on It, Kate's Diner – Marshall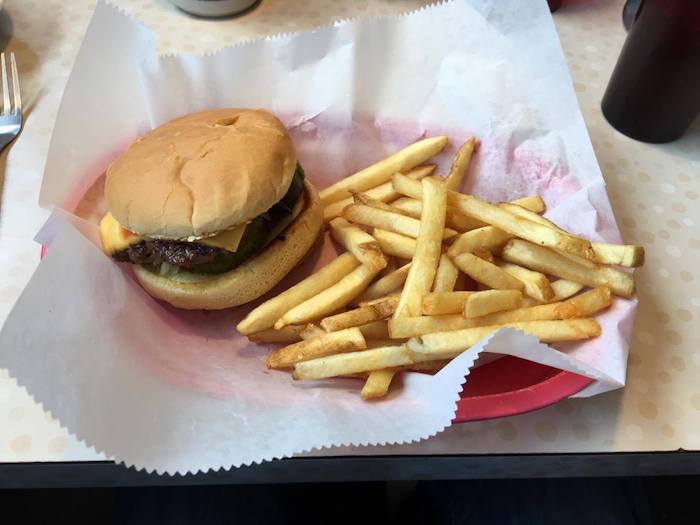 This is a cheeseburger. It's not just a cheeseburger, it's the cheeseburger. Decades of cheeseburger-making have manifested themselves in this burger. Everything about it is the ideal of what you want when you think "cheeseburger." The diner itself only holds a few dozen people, making the atmosphere cozy and inviting before you even get your food. Starting at presentation, it comes in a little red basket with a paper liner.
The burger itself is cooked on a flat-top grill, which is the way that all cheeseburgers should be made from now until eternity. The cheese gets just melty enough to cling to the burger without getting burnt at the edges. Pickles and onion go under the burger, while ketchup and mustard get slathered over it. We're not talking small little pickles that you can't even taste, we're talking big chips that give you the contrast you need from everything else. Your ketchup/mustard mix drip off the burger? No big deal, use those fries to clean that up.
Biting into the burger is the highlight of your week. It's compact enough you get all the flavors at once, and the patty is a good thickness, thin enough to not be overwhelming while still thick enough to have the juiciness all that great burgers have. I'm not a pop drinker, but even I have to enjoy it with a soft drink in order to capture that perfect vibe of Americana. If you want the ideal cheeseburger, no frills, Kate's Diner is the place for you to go.
 
A lot of burgers are pretty vegetarian-friendly. Just swap out the patty with a veggie one and you're good to go. This is not the case for this cheeseburger, sorry vegetarians. This burger spoke to me on a personal level because the only food I love as much as I love a good cheeseburger is a nice buffalo wing. This mammoth of a burger managed to combine my two favorite things. You start with two patties, plus cheese and bacon. It might clog the arteries a little bit, but that's pretty standard.
What puts it over the top is the buffalo chicken tender between the patties, plus the buffalo mayo put into it. Now we're cooking with fire. You might not think everything would work together, but you'd be sorely mistaken. The buffalo sauce isn't insanely hot, instead of containing that great tanginess that pairs surprisingly well with the rest of the burger.
It also holds together better than you might expect, an important aspect of any burger. What I love about this burger is that it's innovative. What is cooking if not experimentation? I am the least picky eater of all time. Let's get weird when it comes to food. That's what this burger does, and that's what makes it one of my favorites.
As promised, here's some of the best that Michigan has to offer from all around the state (in no particular order!):
 
Any Ferris State University graduate will be familiar with this establishment. Big, juicy burgers with any toppings you could possibly imagine. I'm not joking when I say Schuberg's carried me through my four years of college in Big Rapids.
 
Made with a ton of Angus beef, this burger is for those who want a challenge to go with their flavor. The Lamplight also offers burgers of the day, so there's always the possibility of having something new.
 
Hear me out, because I know this one sounds weird. The jalapeno jelly gives the burger a nice little spice, and there's just enough peanut butter to give you the taste and the smoothness without overwhelming any of the other flavors. If you don't mind the unusual, this one is for you.
 
Besides being an excellent bar, Ashley's also makes some of the best burgers around. The Badger is a burger with few frills: cheese, onion stack, bacon. We all know a burger doesn't need frills to be great, though. This burger is mammoth, so don't be ashamed to ask for a box!
 
Putting food inside of other food is a sure way to grab attention and make something even more delicious. The Juicy takes a normal cheeseburger and puts some more cheese inside the patty. Biting into it is a trip to cheese heaven.
 
What better way to craft a burger than to model it after another one of Michigan's famous foods? This is a Coney Dog in burger form, which should be any Michigan food lover's dream meal. I'm hungry just typing that sentence.
 
While every burger at Crunchy's is amazing, the Atomic is great if you want a little extra heat to your meal. With chili and jalapenos on top, you're going to want a napkin or ten. Be sure to get the tater tots while you're here as well!
 
Whoever decided to first put a fried egg on top of a burger is a genius, and the All Day Brunch Burger is a perfect example of why. The roasted garlic and onion jam that goes with it is just as mouthwatering as it sounds, and combining it with that delicious egg puts this burger near the top of the list.
 
This is another fantastic no-frills burger. You can go for the Olive or Bacon burger, but sometimes all you need is meat and a bun and you're good to go. The Dag Burger is a testament to this truth.
 
Pineapple belongs on pizza no matter what you say to the contrary, and it also belongs on this burger. With BBQ sauce and a Hawaiian bun to round this burger out, you'll feel like you're on vacation just from eating this burger.
 
13. TC Cherry Burger, Slabtown Burgers – Traverse City
You can't visit Traverse City without having something involving cherries, so why not make it your burger? Cherries and bleu cheese go together on top of this burger, and you can enjoy it outside and enjoy that cool breeze coming in off the lake.
 
With arugula, onion marmalade, and garlic aioli, this is a burger for those looking for something with bold flavor. Get it with muenster cheese for the full experience, and enjoy it with the variety of Michigan craft brews they have on tap.
 
We couldn't go through this whole list without including a drive-in, and it's hard to beat Clyde's. Eating a burger is only enhanced by doing it in your car, and once again classic cannot be beaten. This burger alone is worth the drive over the bridge.
As you can see, you never have to look far in Michigan to find a burger worth enjoying. From simple to gourmet, from unique to giant, the Mitten holds something on a bun that you will want to eat. And this is just a small sampling of what our state has to offer. You can't turn a corner or cross a bridge without finding a new and exciting burger to try, so get out there and chow down!
 
About the Author: Gabriel Aikins is a proud Michigan resident and freelance writer with bylines at The Awesome Mitten and Substream Magazine. Gabriel enjoys exploring both the cities and countrysides of Michigan, attending concerts at many of Michigan's best venues, and drinking down the best craft beer the state has to offer.