8 Cool Things to Do in the Eastern Upper Peninsula
 
With hidden lakes, one of the largest waterfalls east of the Mississippi, fresh local fare and trails galore, Michigan's Eastern Upper Peninsula is a traveler's ultimate and yet still accessible escape, any time of the year.
 
The 36 islands within this Lake Huron chain east of the Mackinac Bridge provide sheltered channels and bays and an historic harbor area for boaters and explorers. The base towns for an island trip, Cedarville and Hessel, are historic port towns that boast amenities like the Les Cheneaux Culinary School Restaurant, a boat building school with drop-in classes, art galleries, guide services and more.
The name "Les Cheneaux" is French and translates to "the channels," and Woods and Water Ecotours offers several ways to explore them, all seasons. Guides lead paddle trips by day or at sunset, when senses on full alert can hear the wildlife night light as the moon rises over the waters, often passing through marshes, over rock formations and near shallow water shipwrecks. Winter trips combine snowshoeing with other traditional regional fun.
 
Sometimes it's the simple things you remember the most, and that's especially true in a stunning natural region like Les Cheneaux. Pick up a perfect picnic lunch, perhaps a pizza slice or sandwich at traditional Italian restaurant: Ang-Gio's Restaurant, then head to the Hessel marina to watch antique wooden boats from a beach. Bring a camera; photographers love this scenic spot.
 
3. Sample Fish, as Fresh as it Comes
If you like fresh fish, the Brown Fisheries Fish House in Paradise should top your Upper Peninsula itinerary. Put the lake trout basket on your must-order list, but there also is smoked whitefish, fish and chips and fish chowder. Google the restaurant, and you'll find five-star ratings from sites like Urbanspoon, Yelp and TripAdvisor. They've also been written up in The New York Times, The Detroit Free Press and various other national publications. And no wonder. The fish is as fresh as it comes in this third-generation commercial fishing operation. Boats head out each morning, bring in the fresh catch and closes once they run out of fish. Tip: bring cash. Credit and debit cards are not accepted.
 
4. Tour Tahquamenon Country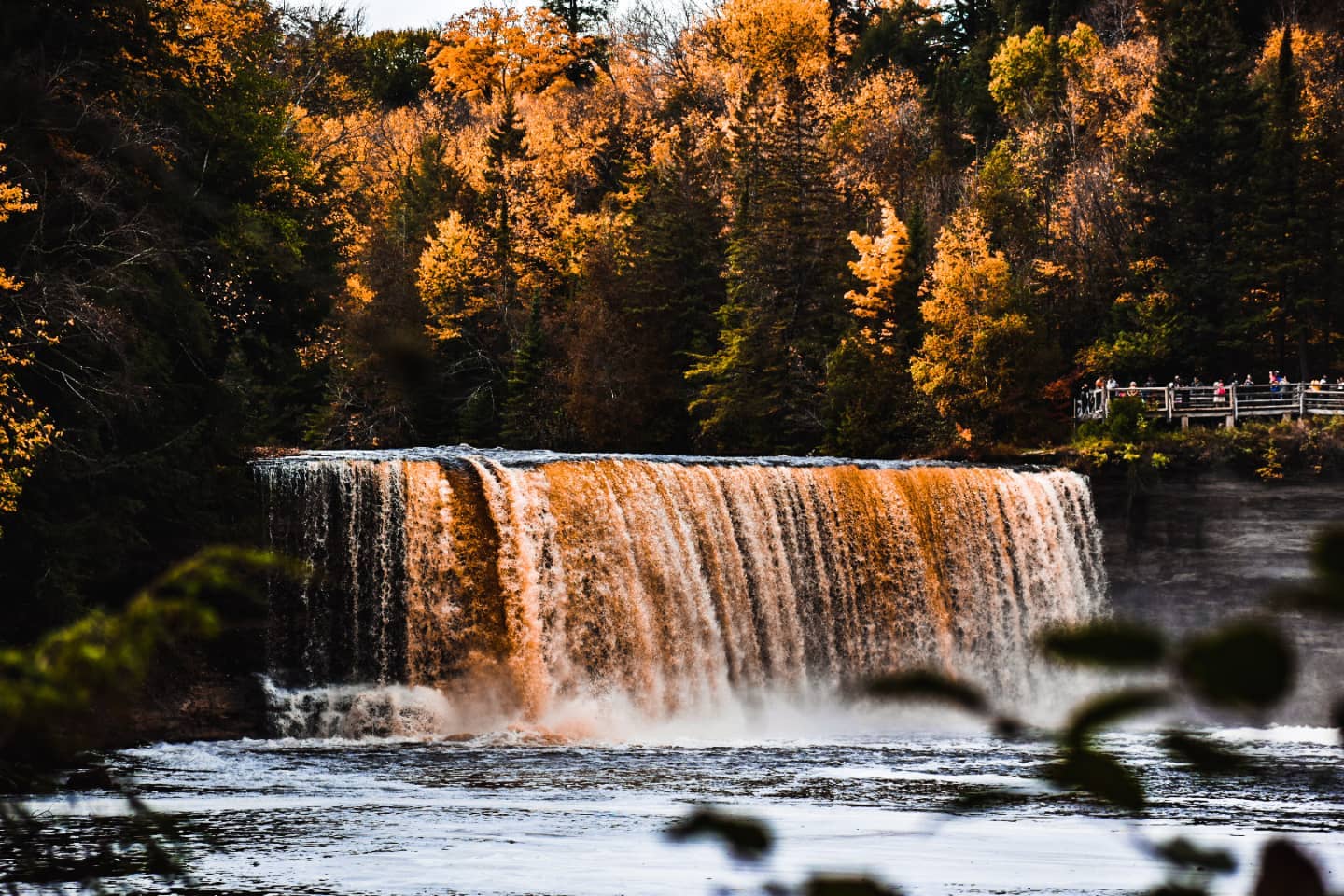 No trip to the eastern U.P. is complete without a stop at the largest falls east of the Mississippi River. Within Michigan's second largest state park, the 90-mile long Tahquamenon River rushes over a 50 foot drop at the magnificent Upper Tahquamenon Falls. In winter, the water freezes, the power is preserved in crystalized columns. Four miles downstream, a series of five smaller drops make up the majestic Lower Tahquamenon Falls.
If it's rare to visit a state park with its own on-site brew pub, the story behind it is even rarer. Lark Ludlow, co-owner and brewer at Tahquamenon Falls Brewery & Pub, knows the history of the place since his grandfather gifted much of the land that's now the park to the state of Michigan. Toast his prescience with a Porcupine Pale Ale or blueberry beer, either of which pairs perfectly with pasties or fruits of the forest pie.
 
If the green-tinted tin ceiling doesn't draw you into Moloney's Alley, an Irish Pub, the happening vibe will. This is the place to head for a large Michigan craft beer selection and great food, too. Specialties include the burgers, house-made Guinness stew and even jumbo pretzels served with a signature beer cheese dip laced with locally-brewed Pick Axe Blond Ale.
 
There are many lures to this island, including boating, golf and resorts. But exploring Drummond Island's ORV and ATV trails is an experience into itself. Book with Beaver's ATV Rentals and Repair to explore with someone who knows the island as well as anyone. There are more than 100 miles of ORV and ATV trails adjacent to the shop, and the trip can range from easy exploring to an exceptionally technical drive.
The Soo Brewing Company has that sit down, stay and tell me your life story vibe. Board games, couches and friendly locals are a hallmark; it's also downtown and an easy walk to other restaurants and activities. The building was restored, down to the original wood floors, and it also offers in its décor nods to the original Soo Brewing Company, which opened in 1901 as Arnold Brewing.
 
Crisp Point Lighthouse was once best known by the number of ships that crashed there, that is until Congress in 1904 approved construction of this remote lighthouse. It was decommissioned in 1884, and after some years of deterioration, purchased by a private owner who reinforced the tower base, planted trees and built walkways, and cleaned and painted the tower to its historic beauty. The view from the top can't be beat, nor can the scenery en route.  
 
---