Discover Road Biking in Michigan's Upper Peninsula
 
Of all the amazing reasons to be in Michigan's Upper Peninsula, here's one undiscovered gem you probably haven't thought of: pavement. I know, not what comes to mind when you think "Upper Peninsula." But with endless miles of road surrounded by a tunnel of trees, bikers don't have to hit the trails for an unforgettable ride in the UP.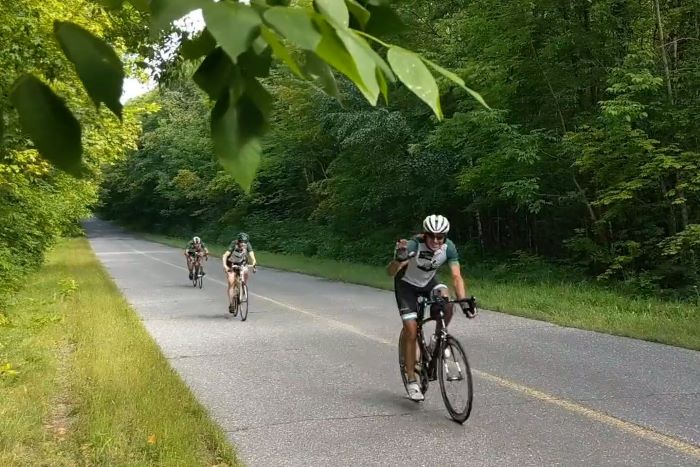 Exploring Less-Traveled Roads
I grew up in Manistique, a picturesque city on the shores of Lake Michigan in the UP. It's my favorite destination spot for bike training because I know the backroads that are seldom traveled by cars. This is where I found that if you're a biker and venture off the main highways of the UP, your eyes will be opened to a dream come true—thousands of miles of virtually vehicle-free pavement (and even more gravel, if you so choose).
It's incredible—imagine riding your bike for two hours and maybe seeing ten cars. In fact, on most days I saw far more Michigan wildlife than I did cars, and the extraordinary, natural scenery along the way is unbeatable. In the UP you can take one of these serene routes to Grand Marais or Munising and spend the night on Lake Superior. Then, grab a delicious local coffee in the morning before heading back down to Manistique for dinner. The possibilities are seemingly endless to choose from in the UP to create the perfect biking trip.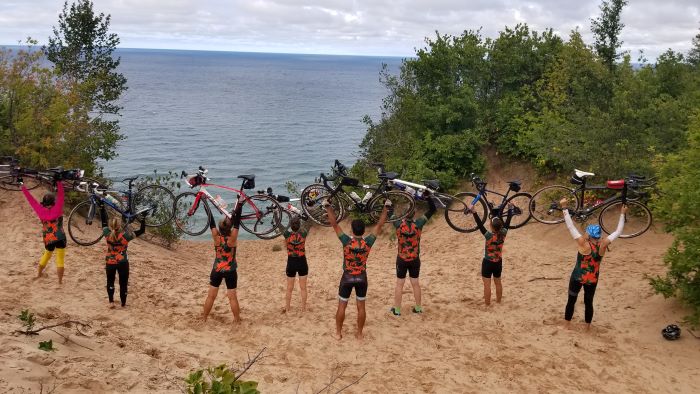 This untapped potential is what inspired me to embark on a ten-day, 1,200-mile journey around the perimeter of the Upper Peninsula to discover these less-traveled roads. My goal was to connect the main UP towns almost entirely with quiet backroads by bike, as well as raise awareness to the UP's unprecedented road biking safety.
This 1,200-mile loop became "Tour Da Yoop, Eh" (which translates to "Come ride around the UP with me, okay?" for those not from the UP), along with a variety of shorter routes and loops throughout the UP.
I had high expectations last year when I rode the full, 1,200-mile route with a group of other ambitious bikers. The ride experience, people I rode with and other bikers we met along the way blew those expectations away. It was a magical adventure that is tough to put into words.
 
Biking the UP with Tour Da Yoop, Eh
The official 2019 Tour Da Yoop, Eh begins August 15 and ends August 24, and this is the first year open to the public so they are limiting the numbers. There are a variety of ways to participate in the Tour Da Yoop, Eh as well—ride for all ten days, join in for just a few and more.
This Michigan bucket-list adventure is truly a biker's dream come to life. If you would like to join us on our journey, be sure to sign up with your best biking friends. You can find all the route, hotel and food information, along with training and nutrition tips, on tourdayoopeh.com.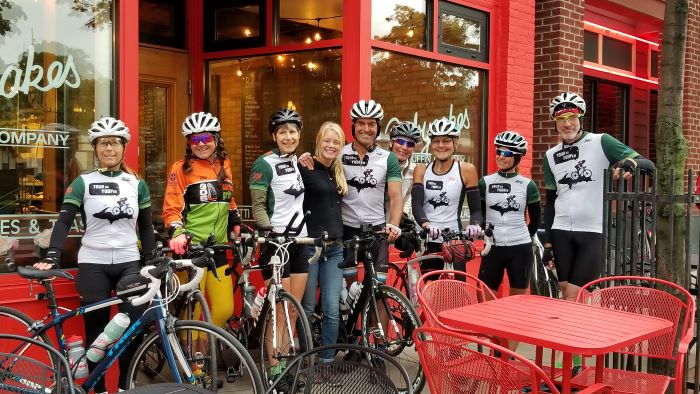 For those who complete the entire 1,200 miles—whether it takes you ten days or ten years—you are entitled to get our official Plaid Jersey. It's definitely a coveted prize as more bikers embark on this milestone ride, and the accomplishment of finishing such an incredible journey through majestic scenery around the Upper Peninsula is like nothing else.
Most people drive through the busy Upper Peninsula roads bound for a destination. Now, the backroads have become the destination and you have access to thousands of miles of amazing biking routes. Just go to calloftheyooper.com/tour-da-yoop-eh, scroll down to the maps to download it to your phone or Garmin and get riding!
 
About the Author: James Studinger owns a financial planning office and lives in Bloomfield with his wife Kris and sons Eller and Owen. But he grew up in the U.P. (Manistique) and that's where his passion stays. He's the founder of Call of the Yooper and Tour Da Yoop, Eh.
 
---