15 Fantastic Disc Golf Courses in Michigan
Disc Golf (also called Frisbee golf) is one variation on golf that is an absolute blast and can be played in Michigan. The sport uses the same general rules and terms of golf, but it's held on its own distinct courses on which players throw flying discs into standardized targets.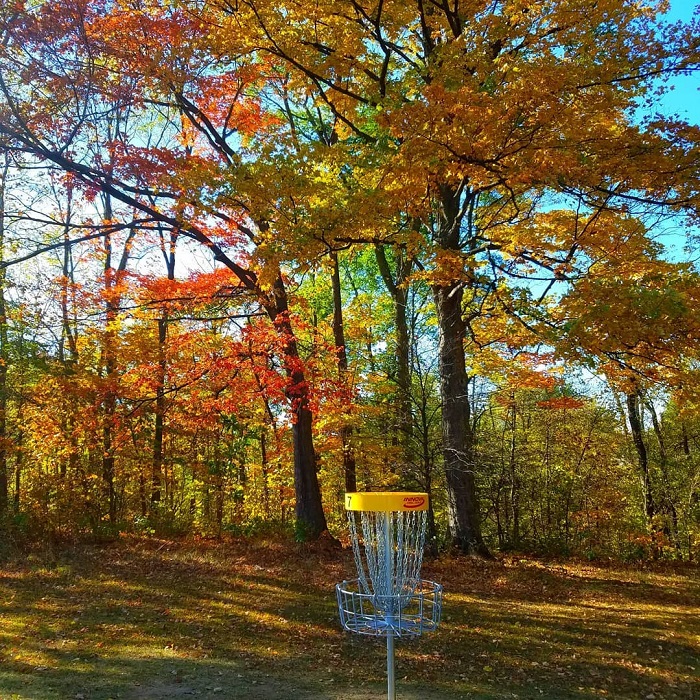 Just like with the best courses of regular golf, disc golf courses are laid out on diverse terrains with natural obstacles (often trees), with the object of reaching the target with as few moves as possible. Like the way the best golfers carry multiple clubs, serious disc golfers carry a bag of 10-15 discs with different flight characteristics. Beginners, though, can have fun with one, and many courses around Pure Michigan, including these, are great places to start:
Upper Peninsula

1. Silver Creek Disc Golf Park – Harvey
This 18-hole course uses almost entirely wooded areas of Chocolay. Many describe the course as especially challenging and technical. It's also conveniently near the Bayou and Chocolay River Brewery for when you've worked up a thirst.
The Tailings is a challenging 18-hole course set out atop a former mining area. The course plays along the Iron River with beautiful and extreme hills and is near paved trails, campgrounds and Iron County waterfalls.
 
Northern Michigan
Hickory Hills is a popular 24-hole course tucked into the woods on the west side of town. It's on property that serves as a ski area in winter, those dramatic hills offering a great hike and even better views. Hole 18 offers the pinnacle view of West Grand Traverse Bay. 
 
Log Lake Park is a heavily wooded 18-hole course, nestled beside Log Lake to the east. Many people describe this course as technical and great for mid-range discs.
 
This is an 18-hole course played mostly on open fields with rolling hills. It's very scenic and situated atop one of the highest points in Michigan.
 
This spot is a city-owned 19-hole course that's played around a ski hill with beautiful views of Charlevoix and winding paths that lead to the sandy Lake Michigan beach.
 
This course offers nine holes of disc golf. The course is unique in that it serves on-site wine tastings, craft beer and mead. The course offers the feel of play in a forest with several doglegs and plenty of variety. The on-site tasting room offers tours, tastings and live music.
 
West Michigan
8. Flip City Disc Golf Park – Shelby
This course bills itself the top rated disc golf course in Michigan, and it's an undeniable favorite. There are 24 holes and extreme elevation changes. It's very popular so make sure you call ahead!
 
This course boasts 36 holes, and it's just one of several courses in Grand Rapids. The south course has a championship course for the more advanced players. Expect rolling hills and some well-kept wooded areas.
 
10. Whitehall Township Disc Golf Course – Whitehall
This spot is a highly technical 27-hole course in a mixed pine and oak forest on rolling terrain. It's in one of the state's favorite vacation areas and near Michigan's Adventure amusement and water park.
 
Central/Lower Michigan

11. Tittabawassee Trails – Freeland
Tittabawassee trails is a 24-hole course near the northern banks of the Tittabawassee River. Most of the course is wooded, but there are a few holes that have open fields for long drives.
 
This course is an 18-hole course, compact in design. Many avid players describe the course as challenging but also beautiful due to its scenic views of the Tittabawassee River to the north.
 
Located in the popular Bavarian-themed town of Frankenmuth is this 18-hole course played mainly out in the open less than 1.5 miles northeast of downtown. The course makes good use of elevation changes, but be mindful of the wind!
 
Sage Creek is a 24-hole course with great views plus elevation changes and is played on both sides of Sage Creek. It's located near the Ed Musial Memorial Park, which locals describe as a hidden gem where people gather for post-golf live music and picnics.
 
This course offers two separate 18-hole courses, both with a mixture of open fairways and trees, plus it is situated on a regular golf course. The South Course is said to be the challenging course. The North Course co-exists with a ball golf course at the back of Hole 9. Swing by Boondocks Saloon and Grill for Happy Hour and live music after.
 
---