12 Places to Go Ziplining in Michigan
Ziplining offers adventure seekers the opportunity to take in the sights and sounds of Pure Michigan from the air as they glide through Michigan's forests. Haven't tried zip lining? Fly over the trees and through the woods at these thrilling spots that offer zip lining in Michigan.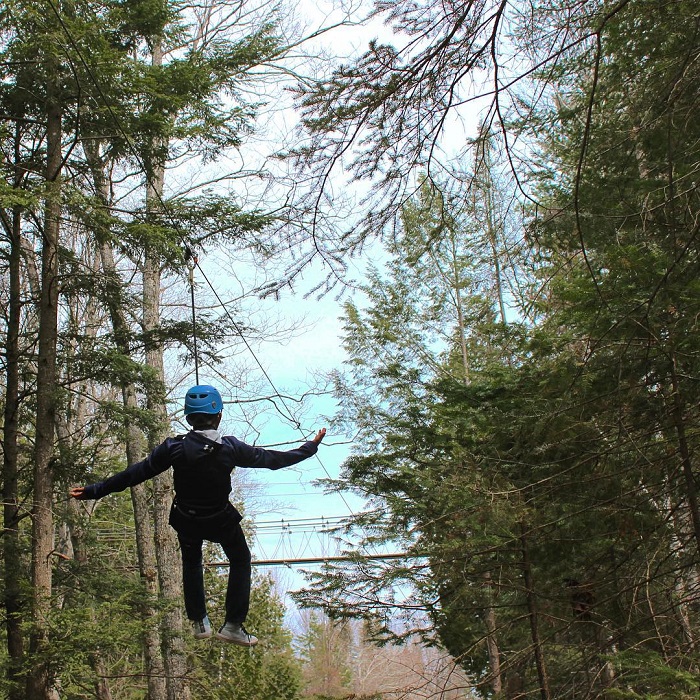 History and the outdoors come together as you trek through the treetops on the Historic Mill Creek Adventure Tour! This special, guided nature experience takes visitors over the Forest Canopy Bridge, down the 425-foot Eagle's Flight Zip Line, and up the five-story Treetop Discovery Climbing Wall. The park is open May 3 through September 33 and requires a separate ticket and signed waiver.
Mt. Holiday's Zip Line Adventure is for thrill seekers of all ages. Complete with 8 unique zip lines, this high-speed adventure will let you experience scenic views of Northern Michigan like never before! Fly through the trees and across the hills of Mt. Holiday at speeds of 25 to 30 miles per hour. With ten lines of over 4,000 feet of cable to choose from, you're sure to get thrills and chills. Walk-ins are welcome on a space-available basis, but reservations are the only way to guarantee your space. Mt. Holiday Zipline Adventure is closed during the winter months.
Soar among the trees at Snow Snake Zip Line Tour in Harrison. The tour consists of ten unique and exciting zip lines that run through thick woods and over deep valleys. At the beginning of each line, guests will climb an artfully created platform and end using the gravity-breaking system on unique natural terrain landings. The longest line is over 820 feet long and the highest is 75 feet high. Tours are open from April through October and reservations are required to guarantee your spot.
Much more than just zip-lines, Wildwood Rush is an exciting eco-adventure that takes guests on a 2-1/2-hour journey through the forest canopy. Fly through the trees on over 7,000 feet of zip lines, cross five suspended sky bridges, and enjoy the amazing views of Lake Charlevoix from our six tree-top platforms. Experience a new perspective on the same hills and valleys that provided Ernest Hemingway with the inspiration for the "Nick Adams" stories nearly 100 years ago. For those not interested in the full canopy tour, try racing your friends on the 1,200-foot triple racing zip line. With three parallel lines and speeds of over 40 miles per hour, it's the only one of its kind in the Midwest. The park is open May through October and reservations are highly recommended.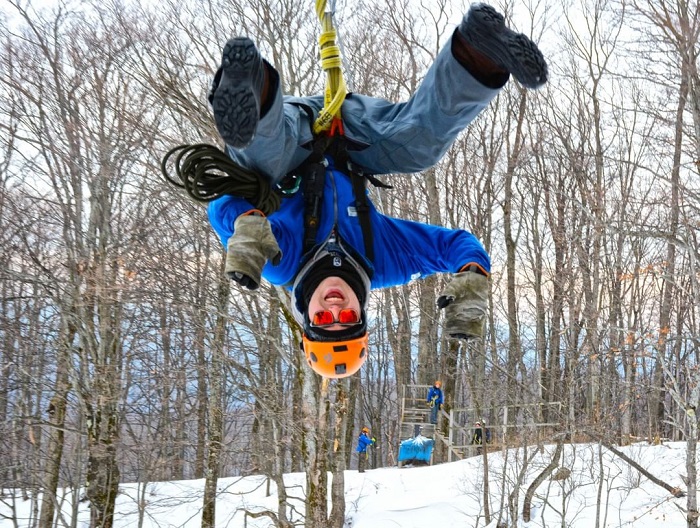 Michigan's second-longest zip line experience, at 1,350 feet in length, the Zipline Adventure at Boyne Highlands is made for adrenaline junkies! The adventure begins at the top of the mountain, followed by a descent of over 50 stories as guests are routed through trees and across the slopes on the way back to the base area. This thrilling adventure is open year-round.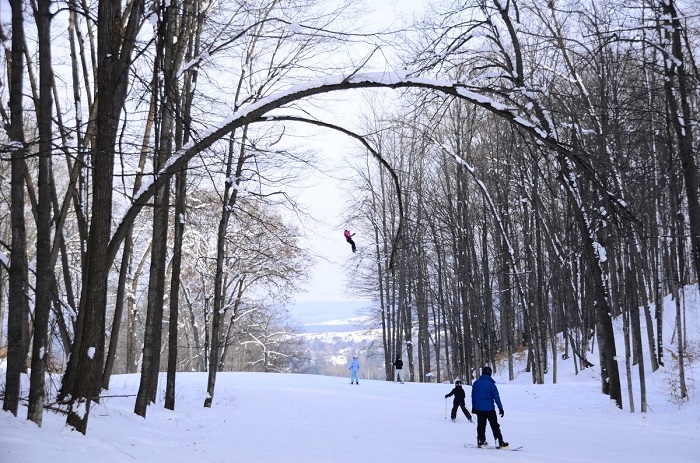 The Boyne Mountain Zipline Adventure encompasses almost 4,300 feet of lines and drops over 50 stories! The adventure begins at the top of the mountain and routes guests through trees and across the slopes of Boyne Mountain. Feel what it's like to fly at speeds of 20-25 miles per hour on lines up to 50 feet in the air and 780 feet in length. Open year-round, the adventure has nine zip lines in winter and ten zip lines in summer.
West Michigan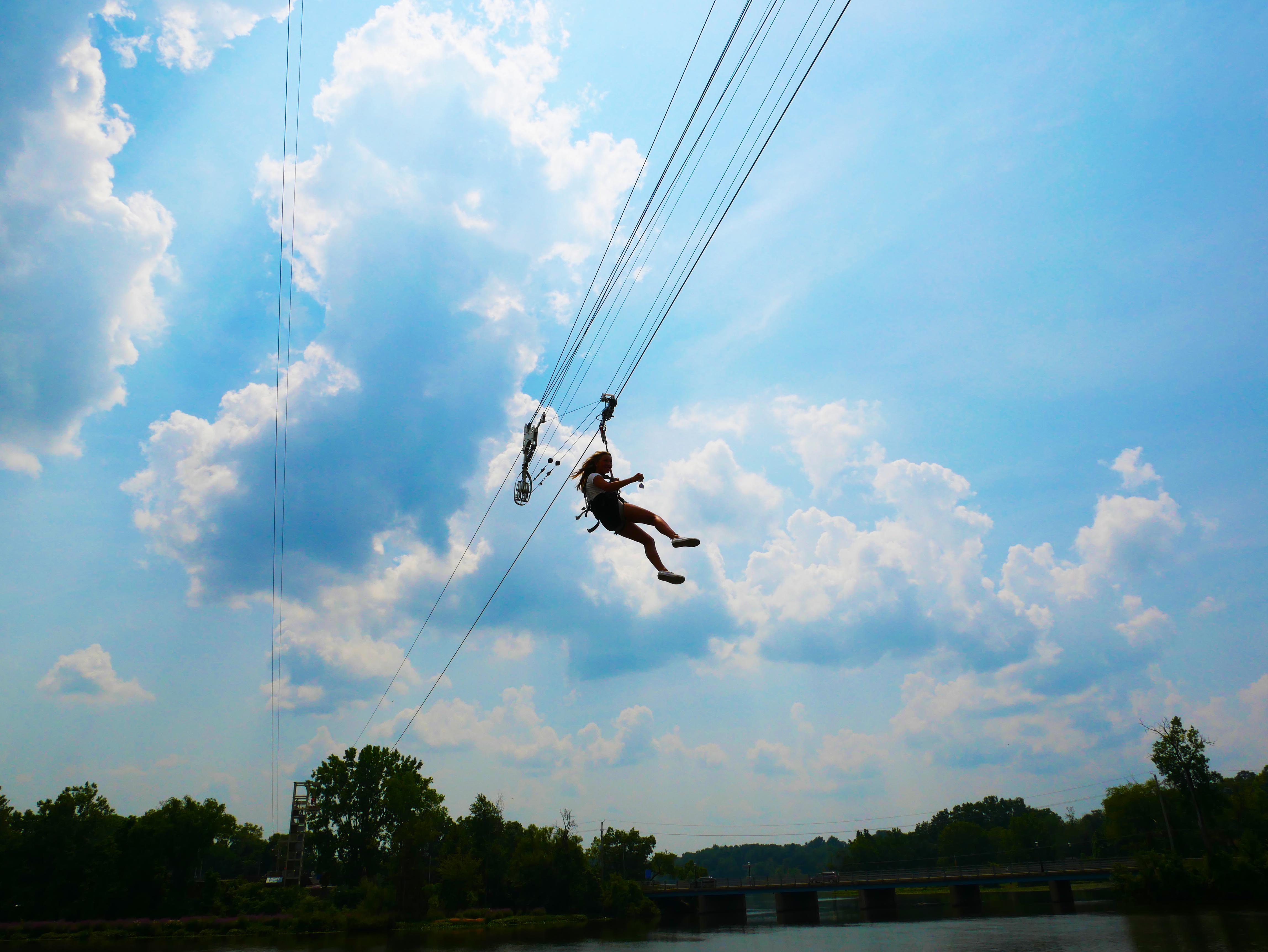 Fly over the Kalamazoo River on two zip lines, each spanning 600 feet. Ascending the north tower on the Allegan Riverfront Plaza guests will soar over the river and back for an exciting round-trip experience that lasts around 20 minutes. Not enough of an adventure for one day? Scale the Riverfront Clip 'n Climb® Speed Climb rockwall as fast as you can on your own or against an opponent. This outdoor zipline experience is only open during warm-weather months.
Add some extra excitement to a trip to the John Ball Zoo in Grand Rapids! This four-story, 600-foot zipline is the real thing. Riders are securely harnessed before they step off the platform and fly over the zoo petting corral to another ridge. To complete the experience, purchase a combo ticket and ride the zip line and climb the ropes course. Though the zoo is open year-round, the zip line and ropes course are only open seasonally.
Camp Dearborn is home to Michigan's longest side-by-side zip line at 1,450 feet! As if that wasn't enough, guests fly through the air over water. Take off on their ride from the top of a six-story tower on Elm Circle, over Lake #1 then soar down to the Main Beach. The zip line is Camp Dearborn's newest amenity and is open to the public during the summer months.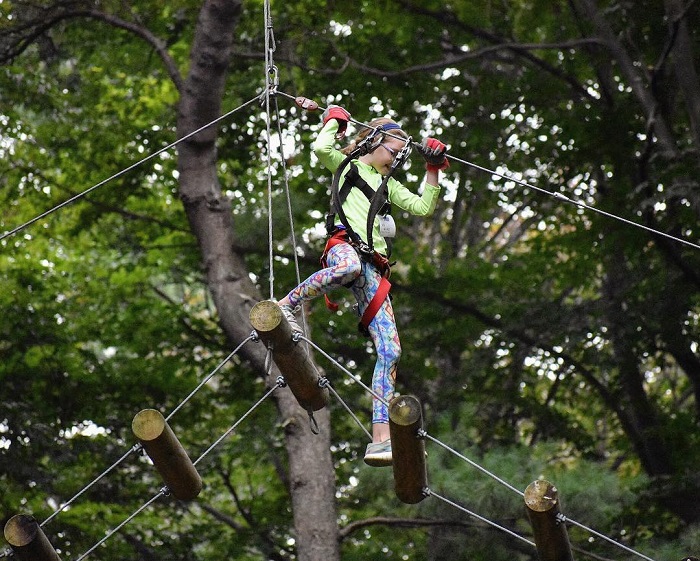 Frankenmuth's Aerial Park is more than just a zip line park; it's an aerial forest adventure with five separate trails of varying levels of difficulty. Each trail has zip lines but primarily consists of "bridges" between tree platforms made of rope, cable and wood configurations creating over 60 unique challenges. Guests are challenged to develop skills, endurance, and confidence during their time in the park. The park is open from late April through October and is recommended for ages seven and up.
If you're ready for a totally unique outdoor experience, it's time to Go Ape! Featuring more than just zip lines, Go Ape is a 2-3-hour journey through the forest canopy. Tackle suspended obstacles, Tarzan swings and breathtaking zip lines – all with an incredible view of Stony Creek Metro Park. Go Ape is typically open March through December, based on Stony Creek Metro Park's seasonal schedule.
Located in the trees of West Bloomfield is an amazing aerial forest park. With over 130 exciting obstacles and zip lines, three difficulty levels, and seven different courses, there is plenty to explore! There is even a Junior Park designed for ages four to seven. Climb, swing and zip with confidence as quests are encouraged to go at their own pace and enjoy the natural scenery around them. The Park is open from late April through mid-November, all ages are welcome.