6 Fascinating Prison Stories from Jackson's Past
Jackson's history is closely tied to prison history. The prison made Jackson a wealthy industrial town during the Industrial Revolution by providing valuable, cheap labor in the factories. Prison history is not just important to Jackson, it's important to Michigan and the United States. Michigan's most notable criminals, from Kevorkian to the infamous Purple Gang, have passed through those walls. In the 1880s, prison reformers of Europe looked to the reports of American reformers.
The appeal of a prison story is nothing new. Whether it's Shawshank Redemption or Orange is the New Black, stories of crime and redemption have always fascinated us. Rebecca Calkins from Experience Jackson shares six fascinating stories from the city's past. 
 
1. Jackson Robber Gang
The first mass break out in 1840 freed ten convicts from the prison walls, then made of wood. They fled to Spring Arbor where they terrorized the area for two years until all but two of them were caught.  
 
2. Prisoner Sarah Havilland
Female prisoners were at the Michigan State Prison with the men up until 1882. Sarah Havilland poisoned her own children because she couldn't feed them. Yet inside the prison she became the much beloved caregiver to the warden's children, who at the time lived onsite.
 
3. Night Keeper John H. Purves 
Civil War hero, Night Keeper John H. Purves was one of the first true prison reformers. Although firm with punishments, he also believed in rewards to incentivize good behavior. He kept a journal published in 1882 "The Nightkeeper's Reports" which provided the country inspiration for prison reform. The book is sold in The Original Jackson Historic Prison Tour Gift Shop.
 
4. The Purple Gang, Jackson Prison and State Sen. Warren G. Hooper Murder 
About to testify before a grand jury, State Sen. Warren G. Hooper was shot on Jan. 11, 1945 on his way home to Albion, Mich. It was believed to be a professional hit by Detroit's infamous Purple Gang, who at the time virtually had their way in the Jackson prison. Attorney General John R. Dethmers, theorized that Hooper's murderer had been slipped out of the prison to commit the crime and returned to rest easy with a perfect alibi. 
 
5. Prison Handicraft: From Wedding Dresses to Leather Purses 
At Michigan's First State Prison women bought their wedding dresses from the prison tailor shop. At the new Southern Michigan Correctional Facility, the Hobbycraft Sales shop was filled with finely crafted leather and woodworking items. Some of their handiwork can be seen at the Cell Block 7 Prison Museum.
 
6. Filming of the movie Stone with Robert DeNiro 
In 2009, the newest guests of the prison were Edward Norton, Milla Jovovich and Robert DeNiro. After 2007 when the Southern Michigan Correctional Facility was finally closed, several film crews used the old cell blocks including Stone, Conviction (starring Hilary Swank), and Street Boss.
 
Take a Tour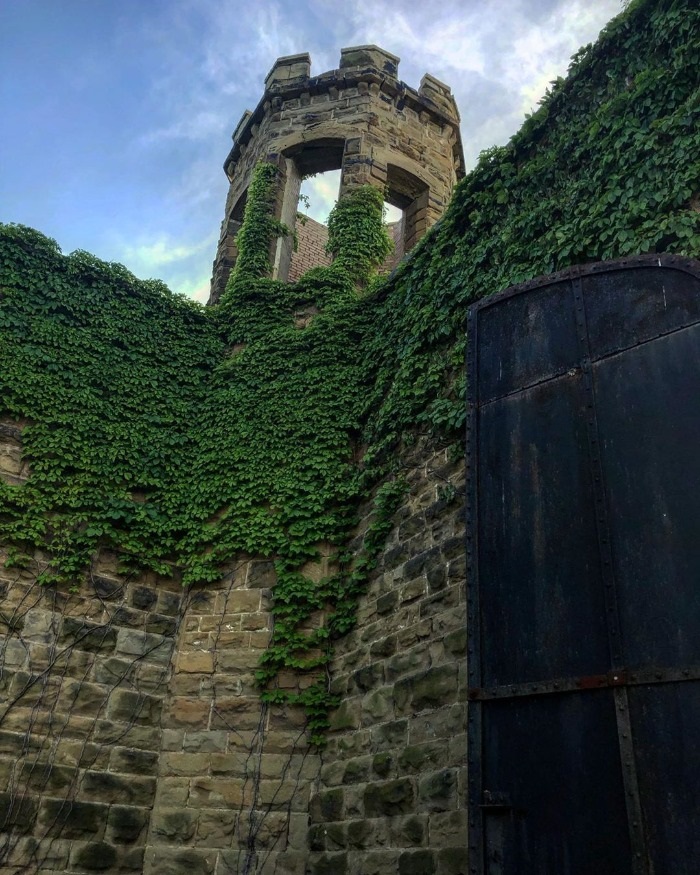 Jackson has two opportunities to experience prison history. Spend time visiting the one-time largest walled prisons in the world. Jackson Historic Prison Tours takes you through Michigan's First State Prison, now Armory Arts Village, and covers Jackson's prison history from 1839 through present-day.
On a Jackson Historic Prison Tours, you'll start where it all began: within the imposing, castle-like walls of the original downtown prison. Your story telling guides will take you on a historical journey of tales of crime punishment, corruption, colorful characters, bungled escapes, Prohibition, and humane reforms. You will hear stories that make you cringe, sign, think, even laugh, and overall, will make you particularly glad you weren't sporting a black-and-white striped suit back then.
The only prison exhibit within the walls of an operating penitentiary, Cell Block 7 Prison Museum is not just a replica; it's a real prison, where thousands of convicts have done hard time. You'll inhabit the same cells, walk the same corridors and pass by the same gun towers as some of the most hardened criminals in Michigan's history. The difference is, when you're ready, you can just walk out the door.
Located on active prison grounds, Cell Block 7 offers visitors a unique museum experience. At Cell Block 7 you can learn about Jackson's prison history and see what it's like to spend time on the inside. 
About the Author: Rebecca Calkins is the Communications Director for Experience Jackson. She grew up in Jackson and returned after attending college at Ball State University in Muncie, Ind. When not working, Rebecca enjoys cooking and traveling, always looking for the next culinary or cultural adventure.
 
---