A Guide to Dining When Tailgating in Michigan
Michigan loves a good party, and sports! Put the two together, and you have tailgating. It's one of the many reasons we love our college and professional sports in Michigan.
In the spirit of a good tailgater, we have compiled a list of awesome bars, restaurants and places to visit around the state pre- or post-game. Granted, nothing beats a good old-fashioned tailgater with friends in a parking lot.
Detroit – Professional Sports
Fun fact: Detroit is the only city in the U.S. whose NBA, NHL, MLB and NFL teams all play within the downtown city limits. For those attending Lions, Tigers, Red Wings and Pistons games in the heart of downtown Detroit, your party is not complete without exploring Eastern Market.
On game days, especially for the Lions, this historic district comes alive with fans flocking to visit the many food vendors and bars, or a parking spot in their designated tailgating areas. Grab a Bloody Mary of your choice at the beloved Vivio's Food & Spirits. Take a bite of one of the best burgers in the Motor City at Cutter's Bar & Grill. And wash it all down with one of the many tasty beers on tap at Eastern Market Brewing Co. We recommend their signature New England IPA Elephant Juice.
Other top spots include The Old Miami, a classic dive bar with a spacious outdoor patio and not a far walk from the stadiums. The Old Shillelagh because who doesn't love a party with an Irish flair? You can also visit Corktown, the original home neighborhood of the Tigers at Tiger Stadium before their move to Comerica Park in 2000. Nemo's Bar offers classic burgers and a treasure trove of sports memorabilia. Nearby Bobcat Bonnie's is known for an eclectic menu, as well as Brunch on the weekends and fries that are to die for! Oh, and stop by Batch Brewery for an elevated, BBQ-inspired menu!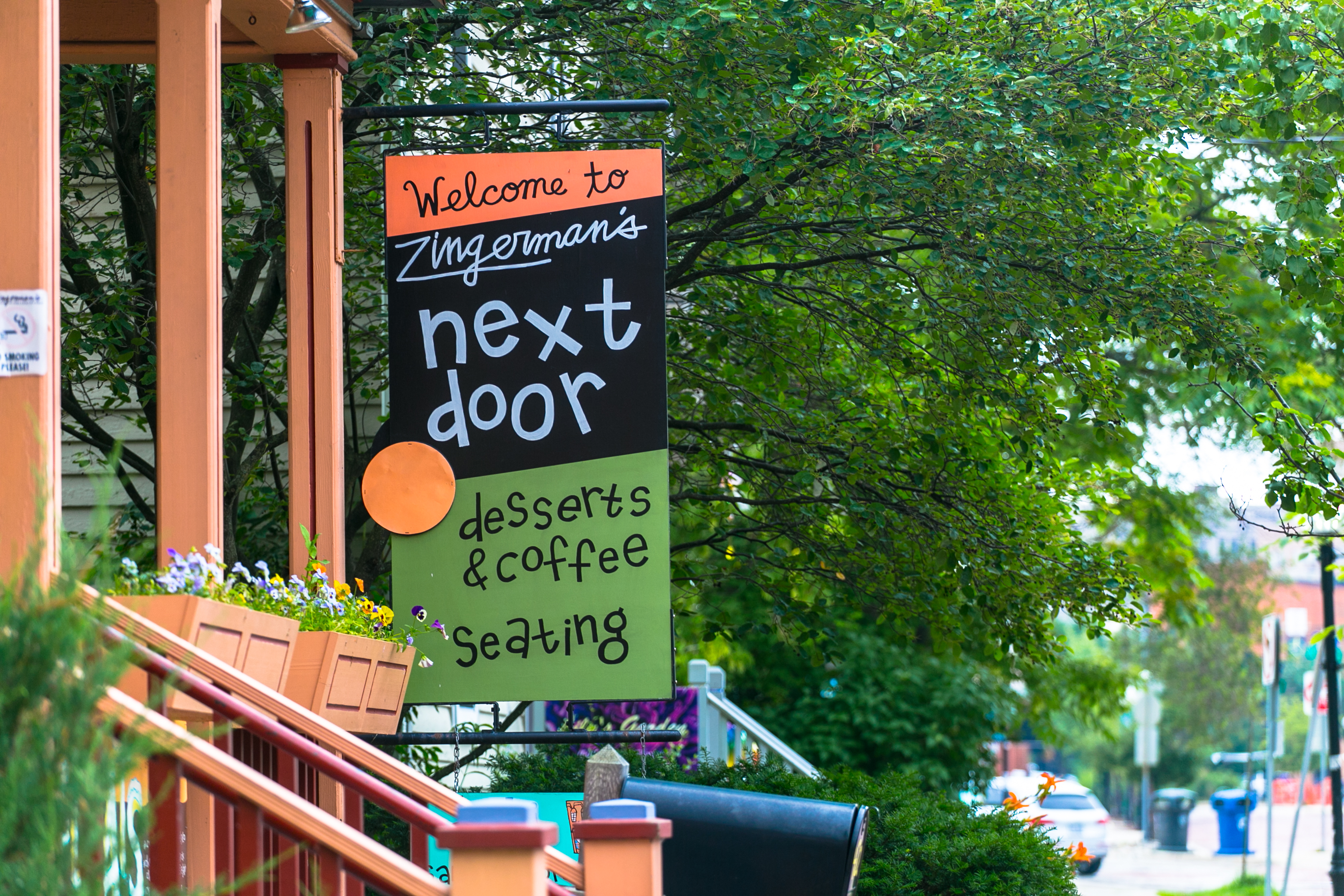 Ann Arbor – University of Michigan
It's a foodie town that attracts University of Michigan alumni on any given weekend – but with classic places that everyone loves to visit, it's one of the best college town experiences in the country. Where to start? A Bloody Mary at Fraser's Pub. That's a must. A Philly cheesesteak at Mister Spots. Your mouth should be watering by now. The tried-and-true Krazy Jim's Blimpy Burger is a throwback. The Heidelberg is home to authentic German cuisine. Plus, you can't beat the atmosphere. BONUS: Don't forget the sandwiches at Zingerman's Delicatessen. They are a staple of the Ann Arbor area and a great choice any day of the year!
East Lansing – Michigan State University
East Lansing, home to the Michigan State Spartans, is sometimes overlooked when it comes to college town eats, but there are several fan favorites all within walking distance of each other. Not to be missed is "El Az," as in El Azteco. The longtime favorite with alumni is known for several items, including some of the best salsas you will have anywhere. But the topper is the "Topopo Salad" at El Azteco. It's a layer of homemade chips, topped with refried beans, melted cheese and chicken, then loaded with lettuce, tomatoes and peas. It's more of a meal than an appetizer.
Crunchy's is known for a curated craft beer list and scrumptious burgers, and the Peanut Barrel is home to the famous Olive Burger and the strongest Long Island Ice teas you will ever enjoy. Better yet, downtown East Lansing is the northern border of MSU's campus, so it is a short, enjoyable walk to the stadiums through one of the nation's most beautiful campuses.
Kalamazoo – Western Michigan University
Everyone loves the "mixed grilled" wings at Waldo's Campus Tavern, which come with a tangy BBQ sauce and a little heat. But Western Michigan University alumni can't get enough of the Pickle Shots. These are jalapeno-infused Vodka shots that are made in house and topped with a dill pickle. In addition, you will also love the pizza at Bilbo's, the chicken tenders at University Roadhouse and oh, pick up a dozen doughnuts from Sweetwater's Donut Mill, just because!
Mt. Pleasant – Central Michigan University
This college town may be a little underrated compared to others, but the moon bread at The Bird Bar & Grill is worth a road trip. The herb dough is stuffed with cheese, pizza sauce and garlic spice, and it's folded in half to come out of the oven as a half-moon. You will thank us later. Other spots include Stan's for a great breakfast, Marty's Bar for a burger, Dog Central for coney dogs and O'Kelly's Sports Bar & Grille for the college atmosphere and incredible wings. Fire Up Chips!
Grand Valley State University has two vibrant locations, one in downtown Grand Rapids and the main campus about 20 minutes down the road in Allendale. If you're in GR, you have to check out Bridge Street with several breweries (Jolly Pumpkin, New Holland's Knickerbocker, Broad Leaf and Küsterer Brauhaus) and top restaurants (Butcher's Union, One Bourbon, O'Toole's Public House and Maru Sushi). As you head to Allendale, Shots and Uccello's are always a must try. But make sure to check out Trail Point Brewery for tasty beers with creative names like CITRApotamus and Dr. Peelgood.
About the Author: John Gonzalez is a Michigan journalist with more than 30 years of experience. He is a member of the Central Michigan University Journalism Hall of Fame. He is originally from Capac and based in Grand Rapids.