A Guide to Pickleball in Michigan
You may have heard of Pickleball before, but without an explanation it can be quite mysterious.
 
The creators of Pickleball invented the sport to entertain their kids using what equipment they had from three other sports—tennis, badminton and ping pong—and ended up starting a phenomenon. With over 3 million players nation-wide, Pickleball is one of the fastest-growing sports in the United States.
 
Whether you are looking for a new hobby, a game to play with the kids or a competitive sport for all ages, Pickleball is the perfect way to get active and have fun.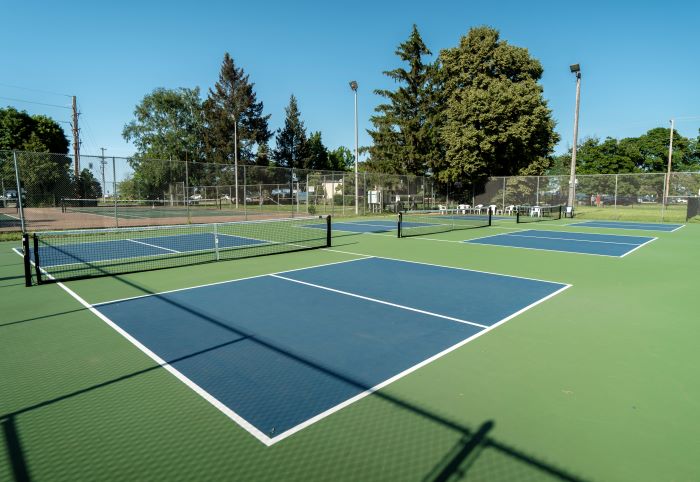 How the Game Works
What sets Pickleball apart from its predecessors is the ball itself, which closely resembles a Wiffle ball, as well as the smaller size of the court. These differences make for a more accessible and enjoyable sport for new players of all ages and is fun for the entire family to learn.
 
You can play Pickleball against a single opponent or as teams of two, and every player is equipped with a paddle. Like the sports that inspired Pickleball, one player serves the ball to the opposing team, who then returns the ball back over the net. The goal is then to score a point by making the ball bounce twice on your opponent's side or hit the ball in a tricky way to so they are unable to return the ball in play.
 
Pickleball does have a few different rules. The middle area on the court closest to the net, known as the "Kitchen," is out-of-bounds to players if they are trying to "volley" the ball—or return it without letting it bounce first. If a player breaks a rule, the opposing team is awarded a point.
Pickleball is fast-paced, fun and easy to learn. The game can also be played on both indoor and outdoor courts, so Pickleball can easily be added into the itinerary of any Michigan trip – no matter the weather.  
 
Here are a few awesome Michigan locations open to the public where you can test your skills, or try Pickleball for the first time:
 
Moran Park has eight Pickleball courts and offers Monday-evening leagues and open play. You can visit and play with friends or challenge yourself and join the league to play against skilled competitors.
 
Located in Ann Arbor, Leslie Park has six Pickleball courts. After a community survey took place, they decided to convert some of the tennis courts into Pickleball courts to meet the rising demand for places to play the sport.
 
Bicentennial Park contains two courts that function as both Pickleball and tennis courts. They are on a first-come-first-served basis so make sure you arrive early to be able to play.
 
Belknap Park is the go-to place for playing Pickleball, with fourteen courts open to the public. They routinely hold Pickleball tournaments for people from all areas to participate in.
 
Drake Sports Park is home to four Pickleball courts and offers clinics to help you get started if you're a beginner. For experienced players, they have a Pickleball league that is a fun, friendly way to test your skills against other Michigan Pickleball enthusiasts!
 
Before you hit the courts, make sure you know the rules by visiting usapa.org/learning-to-play. If you're curious about theories of how the game may have earned its name and the history of Pickleball, visit usapa.org/what-is-pickleball-brief-history.
About The Author: Mike Wilson is an avid pickleball player that's been traveling across the United States for the past three years. Having grown up playing tennis, pickleball came quite natural to him and he's grown fond of it ever since. He currently works as a freelance writer and runs his blog Indoored.com where he documents his adventure guides.
---