The Perfect Grand Rapids Travel Guide for a First Time Visitor
Grand Rapids has a ton of culture, art, breweries and fun things that make it the perfect destination for a quick weekend getaway. Want to know more? Check out this Grand Rapids travel guide, from "Lake Shore Lady" Lauren Nolan, full of her favorite things to do in Grand Rapids.
Where to Stay
As first-timers in Grand Rapids, it was especially fun to stay in the historic Amway Grand Plaza Hotel. Right off the bat, it is decorated absolutely beautifully, especially the lobby area when you first walk in. I personally loved that our room had a view of Grand River; It was so nice to wake up to each day, and a great way to get our bearings in a new city. And last but not least, the Amway Grand Plaza is located right in the heart of everything, so you can walk to a lot of attractions and activities easily.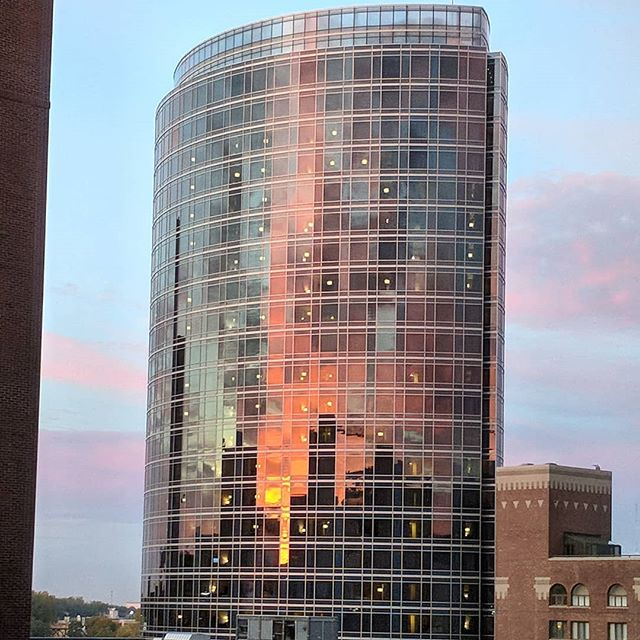 Before I chat about our meals, I just have to say that the food scene in Grand Rapids is impressive. I asked for recommendations from locals and people who used to live there and that certainly paid off for us. I'm still dreaming about some of the things we ate!
1. Butcher's Union
Our first night in town, we decided to treat ourselves to a nice Old Fashioned, which we heard the best place to do that is Butcher's Union! The whole vibe of this place is inviting. It's a little modern meets Mad Men, with its stellar cocktails, gorgeous bar and red leather booths. Not only were the drinks up to par, but the food was outstanding. I had the Butter Roasted Salmon and it literally melted in my mouth. Highly recommend.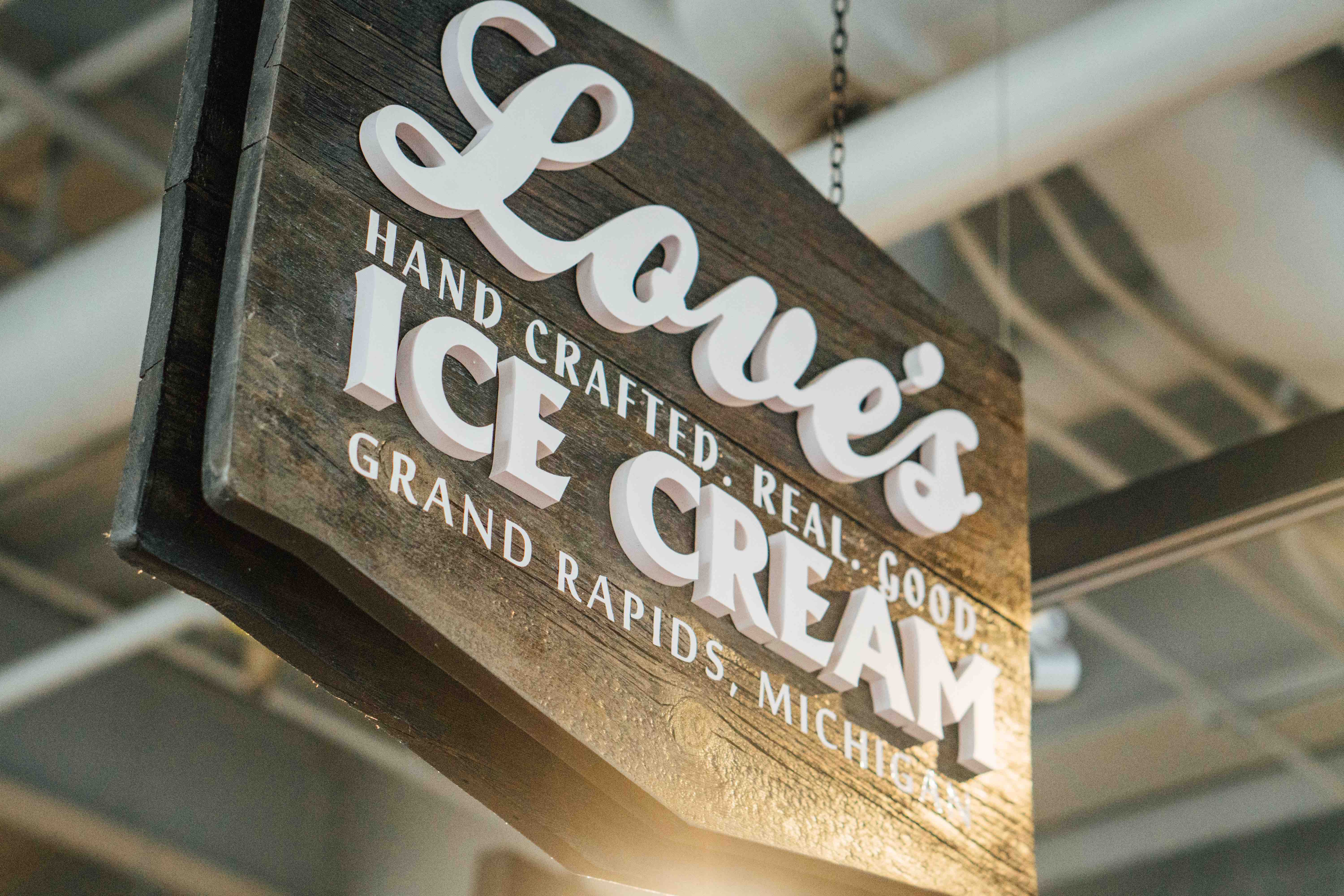 If you love ice cream, you should definitely try Love's. If you are vegan or lactose-intolerant, this is an absolute MUST. All you really need to know is that Love's is located right inside Downtown Market and they have an amazing lineup of flavors. But beyond that, all of their ice creams are made from grass-fed organic milk and all of their gelatos are dairy-free. I'm a huge fan of coconut milk, so the Amaretto Cherry Gelato was literally heaven for me. So creamy and flavorful, I wish I could have taken a pint home!
 
This was recommended over and over again with rave reviews, and now I understand why. The decor inside is fun and vibrant, and the patio is begging for groups of friends and rounds of margaritas! We particularly loved their Guava Margarita, Queso, Chicken Tacos Ceviche and Churros.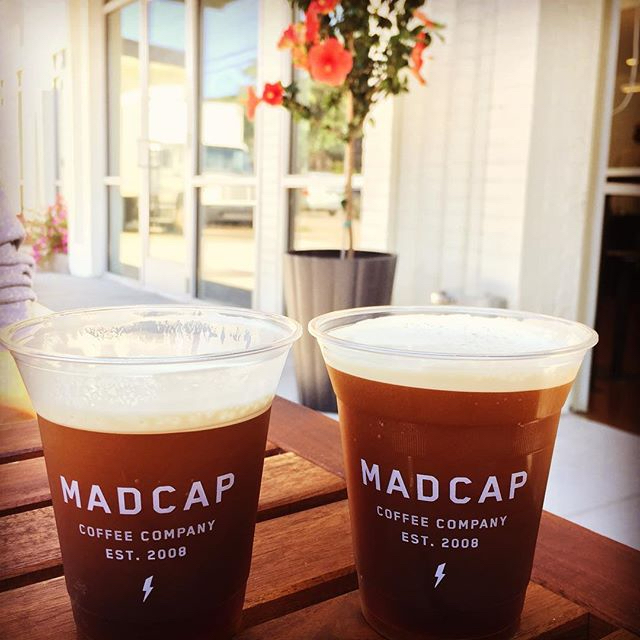 4. Madcap Coffee
This coffee shop is sleek and minimalist. Who needs bells and whistles when you have tons of natural light, exposed brick walls and amazing coffee? I happily got myself an iced latte and it did not disappoint.
 
What to Do
1. Robinette's Apple Haus & Winery
Once we decided to go on this trip in the fall, I knew we had to go apple picking! Luckily, Robinette's is super close to downtown Grand Rapids and is the perfect place to get that quintessential fall experience. After picking some Michigan apples yourself, you can also go inside for fresh apple cider, apple butter, apple pastries… they've got it all!

2. Gerald R. Ford Presidential Museum
Whether you're a history buff or not, this museum is a great place to explore when you're in town. They have a replica of the Oval Office, inspiring quotes and tons of memorabilia from Ford's presidency. Plus, it's located right along Grand  River, so the walk to and from is lovely on a nice day.
 
3. Founders Brewing Co.
Everyone in Grand Rapids is incredibly proud of their breweries, especially Founders. This brewery has outdoor patio seating, as well as a lively interior, even in the middle of the day! If you love craft beer, don't miss this one.
 
4. ArtPrize
If you have the opportunity to visit Grand Rapids during ArtPrize, do it! ArtPrize is an International Art Competition that takes place every fall in Grand Rapids. Any artist from anywhere in the world can submit their work to be exhibited throughout downtown Grand Rapids. We're talking inside museums, parks, storefronts, bridges and more. Once all of the artwork is displayed, the community and visitors to the city can not only view the submissions but vote for their favorite. It's a really neat way to not only get people into the city but also get them excited about art!
 
5. Downtown Market
Downtown Market is basically a cool food hall mixed with a farmer's market. Inside, you'll find grocery items like bread, wine, spices, fresh seafood and more, etc. You'll also find mini restaurants, places to grab lunch, and that ice cream spot I just gushed about! If you visit in fall during ArtPrize, don't miss the outdoor section - they have tons of crafts, succulents, and apparel from local artists and vendors. It's a really unique place to walk around and do a little shopping!
 
About the Author: Lauren Nolan is a lifestyle blogger in Chicago. Lauren loves health & wellness, creating new recipes, and all things girly. In addition to trying new things in the Windy City, she loves to travel and explore other destinations.
 
---