4 Scenic Places to Visit in the Northern Lower Peninsula
Join photographer, Dan Price, on his northern Michigan road trip as he tours the pristine and picturesque vistas and attractions of up north Michigan.
The northern part of Michigan's lower peninsula has just about everything you could ask for in a fall getaway. The area is surrounded by the Great Lakes, bodies of freshwater that stretch beyond the horizon and are a perfect pallet for sunrises, sunsets, fishing or any sort of water sport imaginable. The coastal towns boast a myriad of restaurants, from casual mom and pop shops to the best of fine dining. This part of Michigan has a surprising amount of trails that are great for day hikes and back country exploration. I recently made a northern Michigan road trip where I visited four spots that you should definitely add to your list to visit this fall.
 
Manistee County is home to one of the most picturesque spots in all of Michigan—the Arcadia Overlook, also known as Inspiration Point, was where I made my first official stop in Manistee County. To get there head north out of Manistee on M-22 just past the town of Arcadia and you'll be on your way to Michigan's most famous bluff. It's one hundred and twenty steps to the top, but well worth the eighty foot climb for this view of Lake Michigan. Get there a good half hour before sunset to enjoy the full color change as the sun dips down beyond the horizon.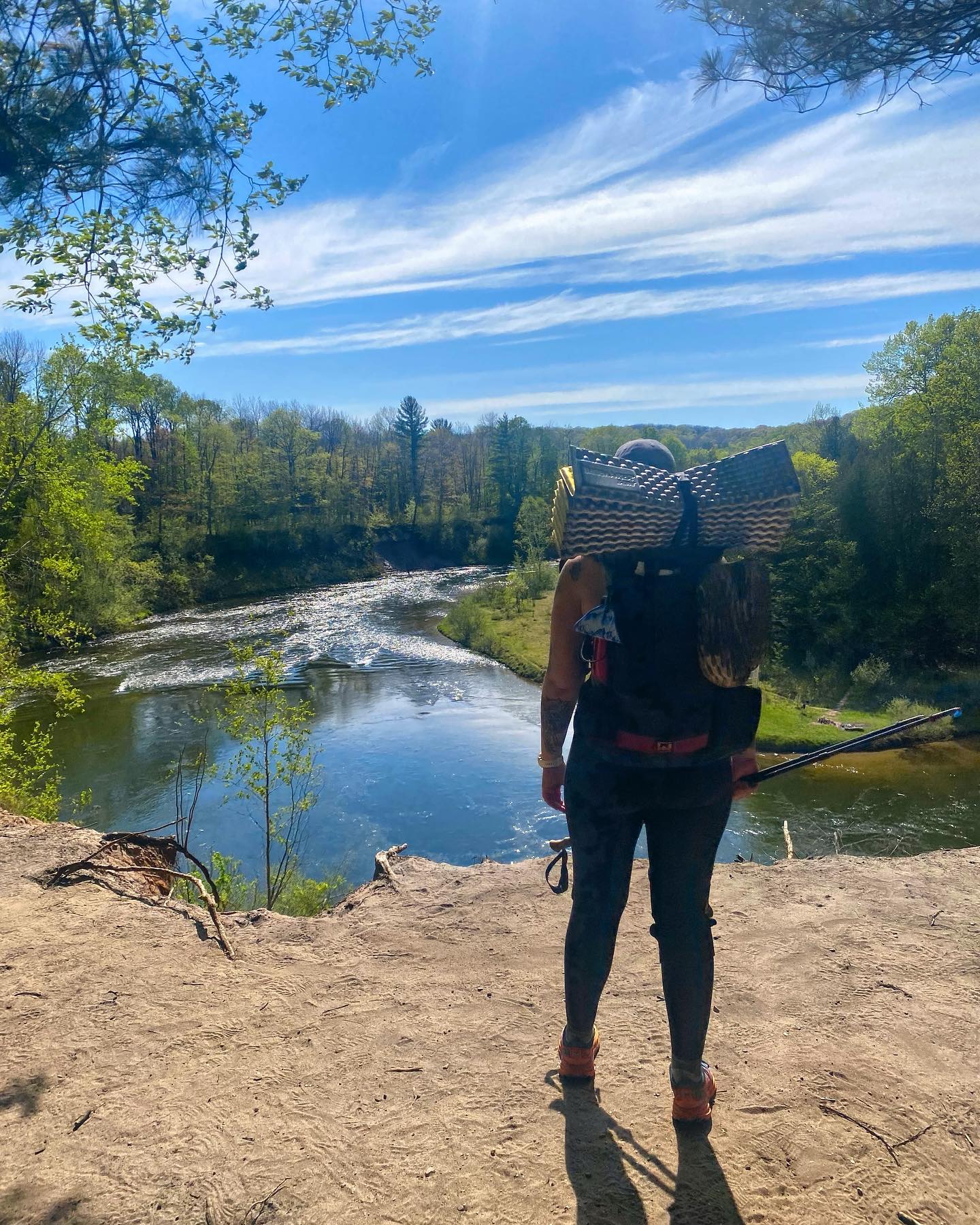 The area is also home to seven historic bridges. Two of my favorites were the "Little Mac" suspension bridge and the Stronach Rail Bridge. The Little Mac suspension bridge is part of the North Country trail, but it's near a parking lot and just takes a short hike to get to. The Stronach Rail Bridge was constructed in 1887 and is one of the oldest bridges still in use today.
Manistee's downtown is full of boutiques, eateries and one very special theater. The art deco styled Vogue Theater sits like the crown jewel of Manistee's River Street. My favorite stop for both breakfast and brews at night was the Fillmore with its micro brews (both beer and coffee), locally sourced food and modern atmosphere.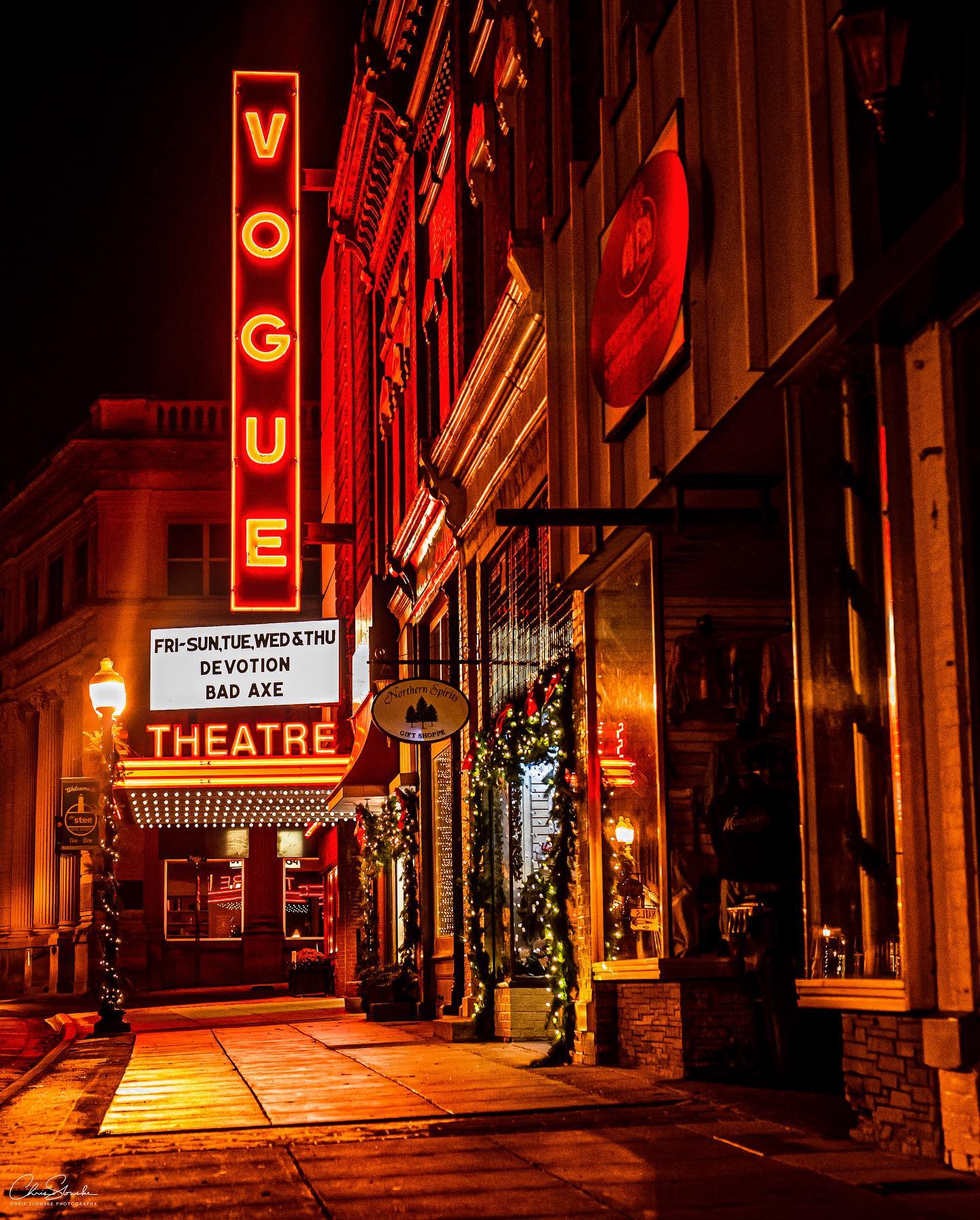 To top it all off, the Manistee River is what this area is built around and its surrounded by the Manistee National Forest, home to miles and miles of hiking trails and two-tracks.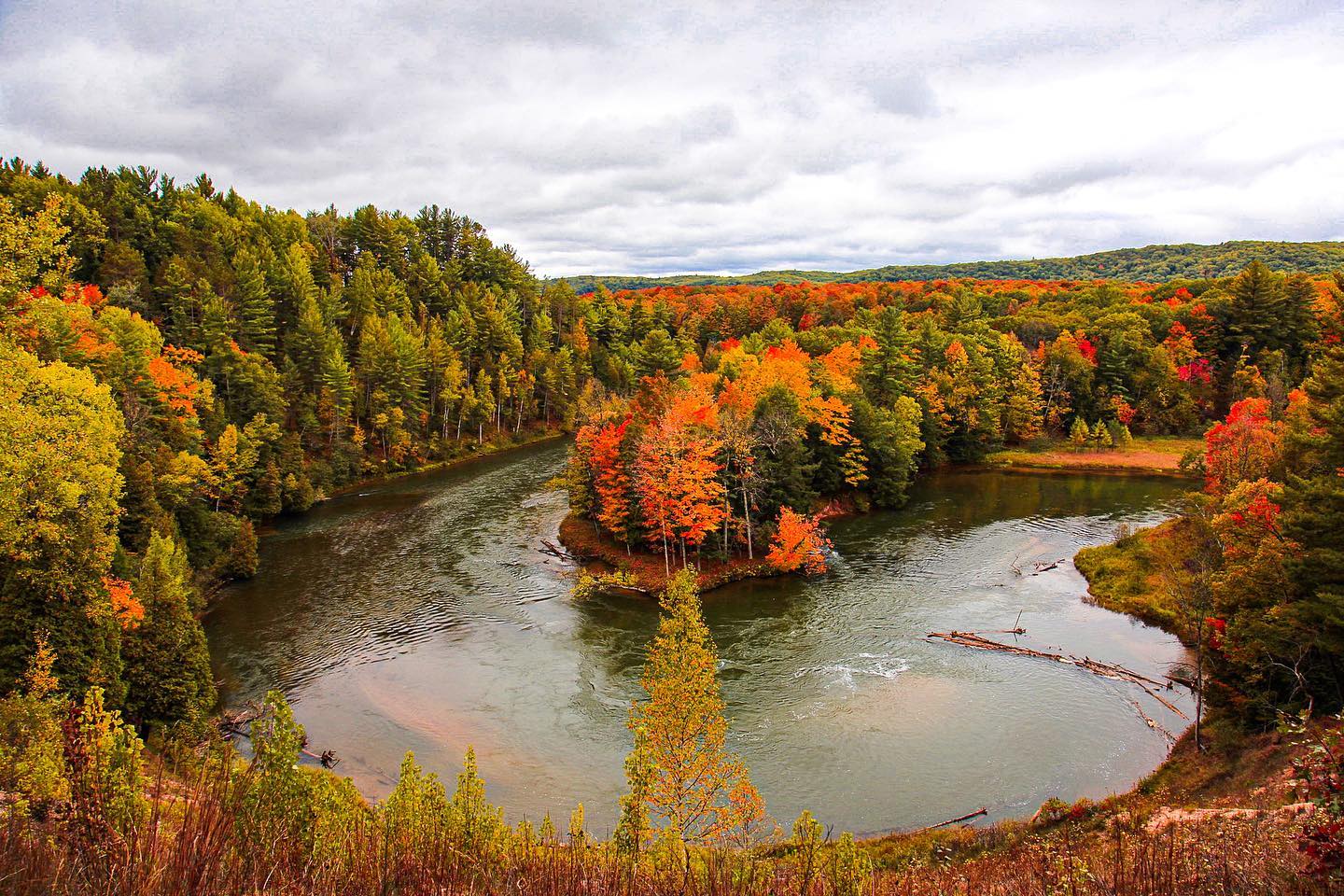 The Traverse City area is a must see place for any traveler and for all seasons. Home of two Lake Michigan bays, a vibrant downtown and in proximity to charming coastal getaways, Traverse City is within minutes of everything I look for when choosing a vacation spot.
I'm a coffee snob. I roast my own beans and do pour-overs at home, so I'm always on the lookout for places that will impress me. BLK/MRKT in the Warehouse District of Traverse City did just that. The simple menu means their focus is on quality and their fresh made baked goods were perfect for a light breakfast.
Another place for great drinks, of a different kind, and that was new for me was a visit to Brys Estate Winery on Old Mission Peninsula. They are known for their dry red wines, which are unique to the area. I especially enjoyed their Pinot Noir. The views of the vineyard were breathtaking and combined with a glass of wine and a cheese-plate, it was everything that a relaxing afternoon called for.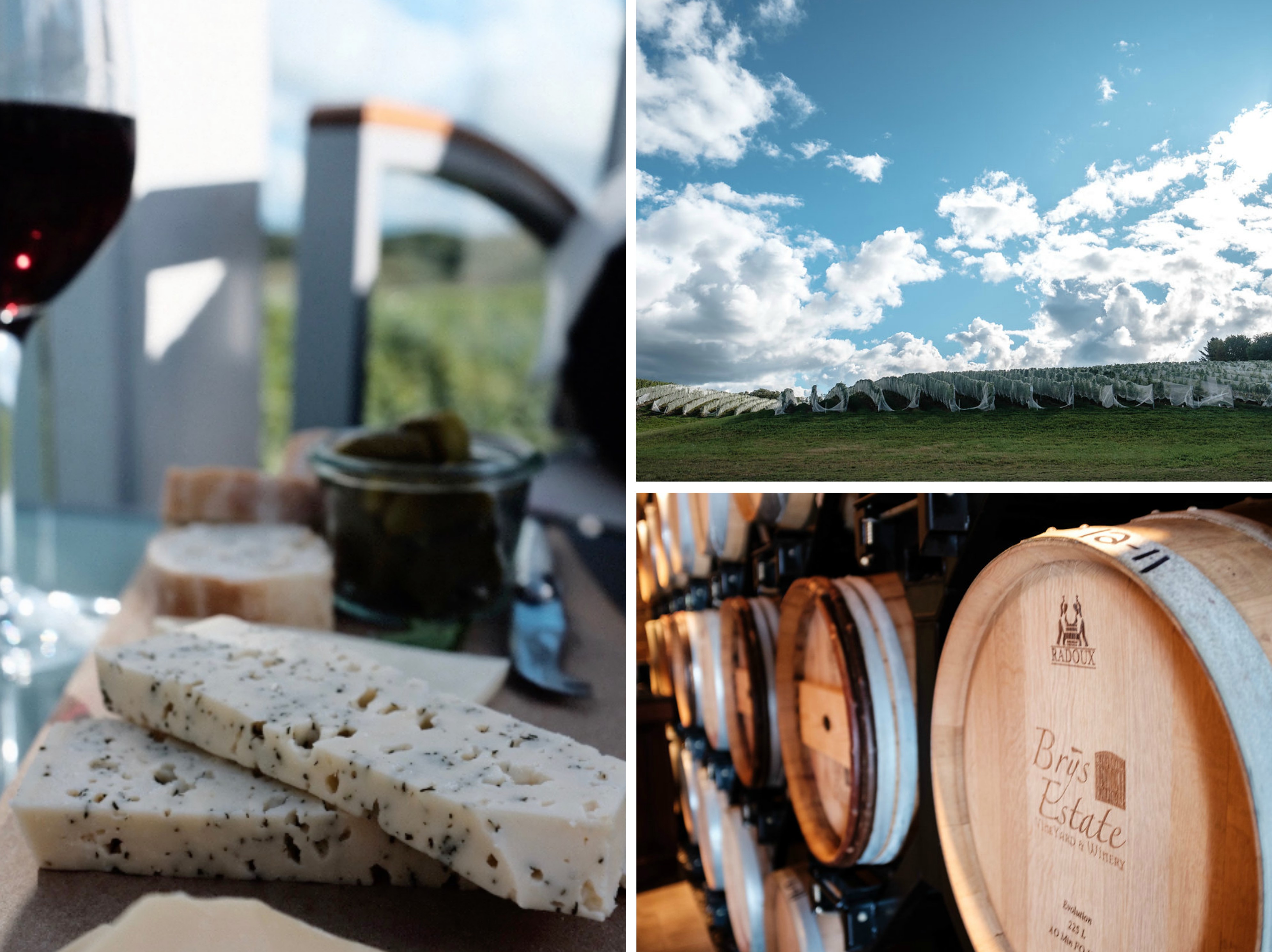 Leland is only about a half hour drive up the Leelanau Peninsula from Traverse City proper. This is the first time I had made the short trek and I'm really glad I did. Although I got there just as the sun was setting and I missed out on some of the local restaurants and boutiques, I was able to catch it in prime light as it reflected off the eastern side of the canal. Seeing the fishing shanties, built in the 1800s, the fishing boats, and reflecting on the decades and decades of use they have gotten was pretty neat.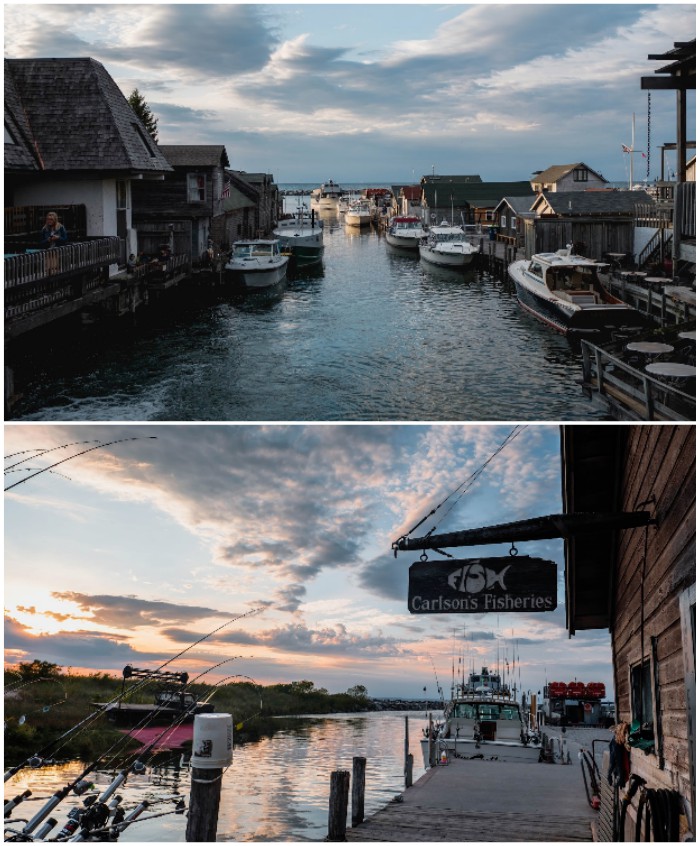 There are so many places that are must-sees and must-dos in the area that you may just need to plan your next couple vacations there. Sleeping Bear Dunes, Glen Arbor, Glen Haven, Sutton's Bay and Northport are all stops that I made while in the area and each one is worth a visit!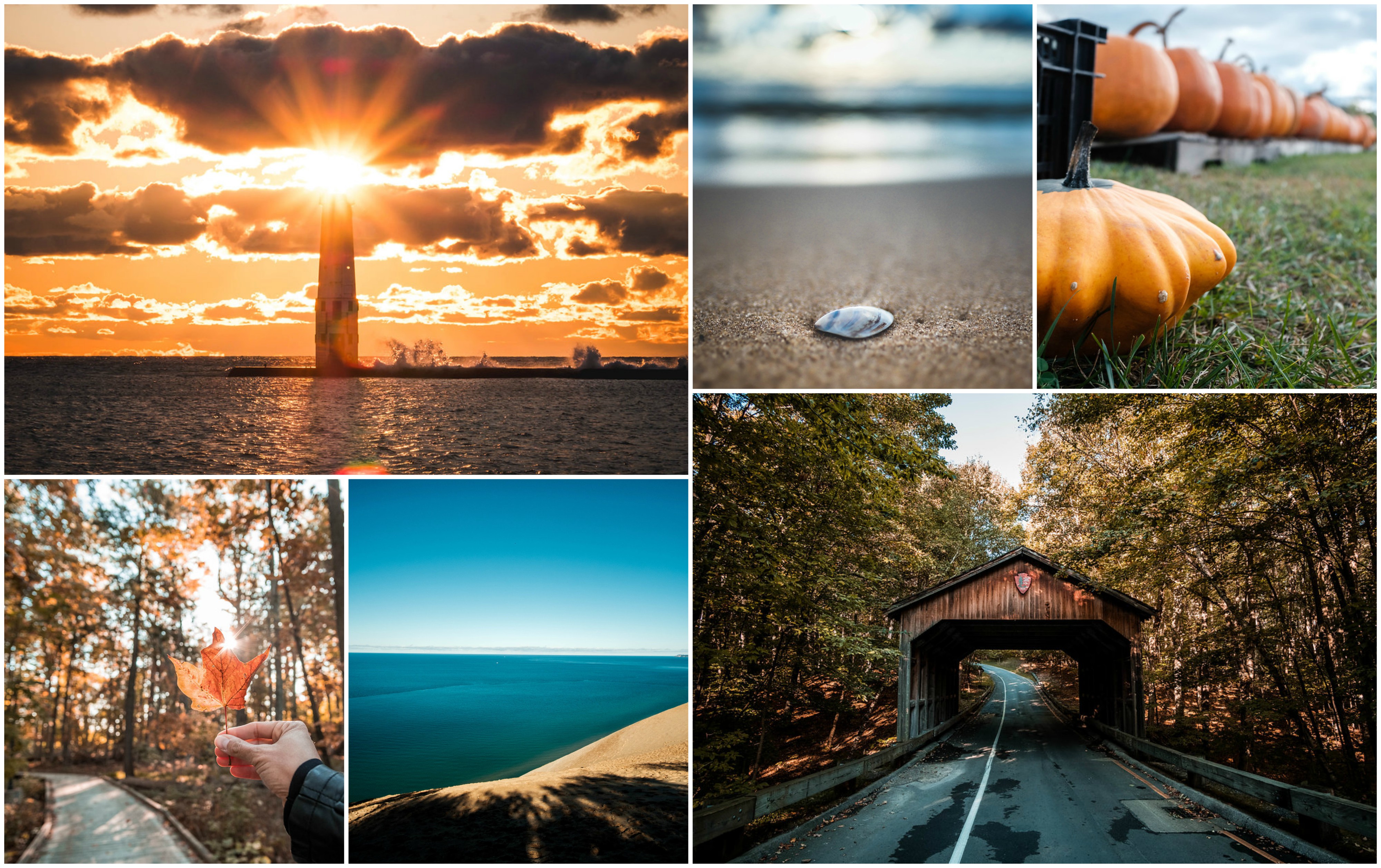 The drive from Traverse City up to Petoskey is a beautiful one and it will be tempting to stop at Elk Rapids, Torch Lake and Charlevoix, as they are all primo vacation spots, but I was anxious to get to my destination. It was really amazing to drive in through the area highlands and see the town on a hill as it overlooked the picturesque Little Traverse Bay.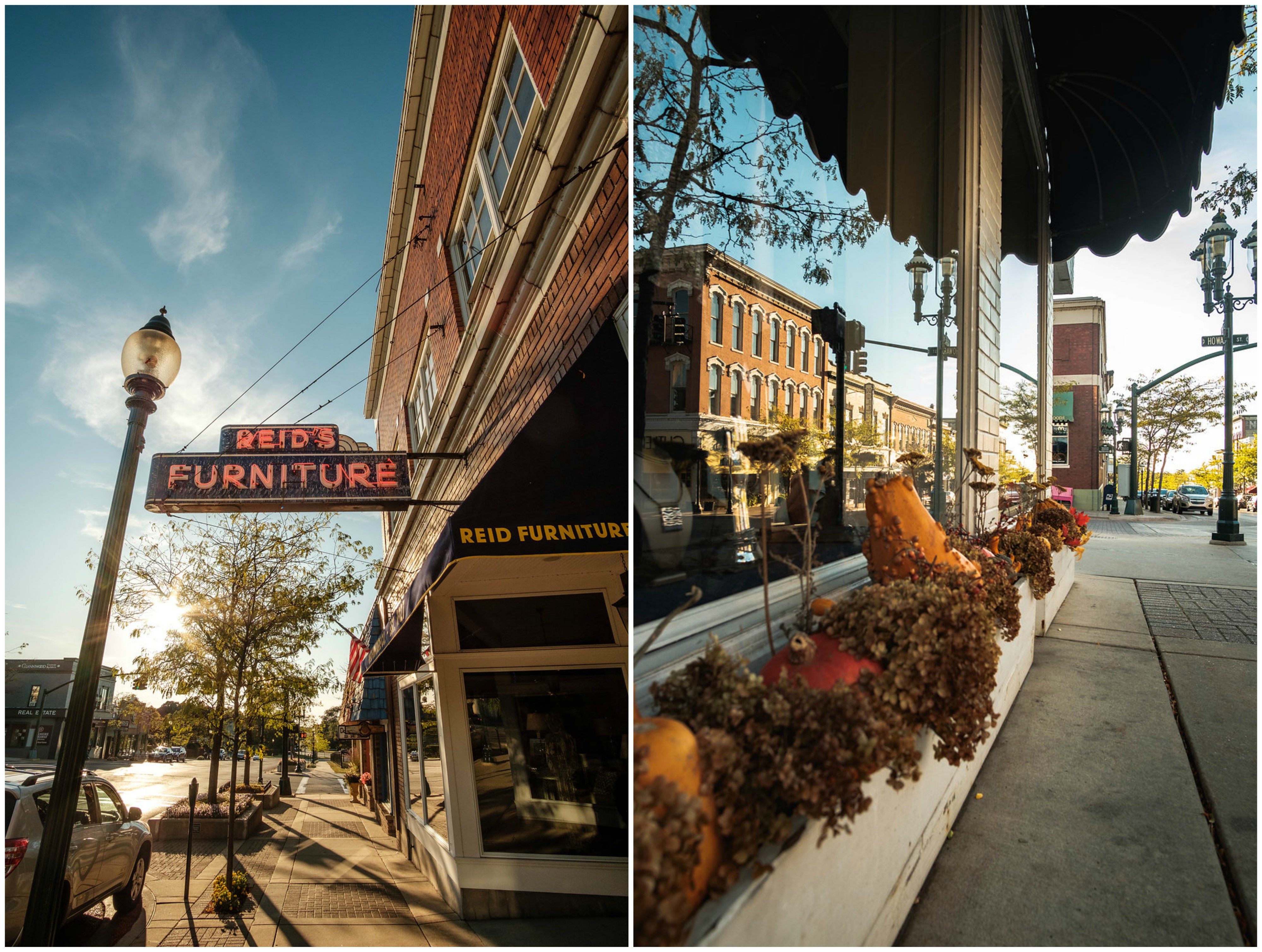 The downtown gaslight district is hilly, lined with trees, full of shops that were all decorated for the fall, and as charming as a town can be. The food in Petoskey's downtown district is simply amazing! Simply Sweet is a must stop for their cake in a jar and homemade vanilla ice cream. Tap 30 Pourhouse had a great assortment of micro brews and was definitely a lively spot for locals to gather. I ate breakfast one morning at the Twisted Olive, an authentic Mediterranean restaurant with full windowed walls and views of the bay.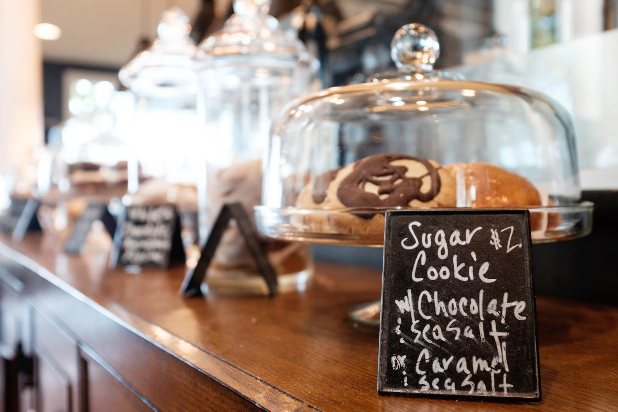 Make sure you check the time for sunset each night as Sunset Park, Bayfront Park  and  Petoskey State Park are all great places to see the last lights of the day.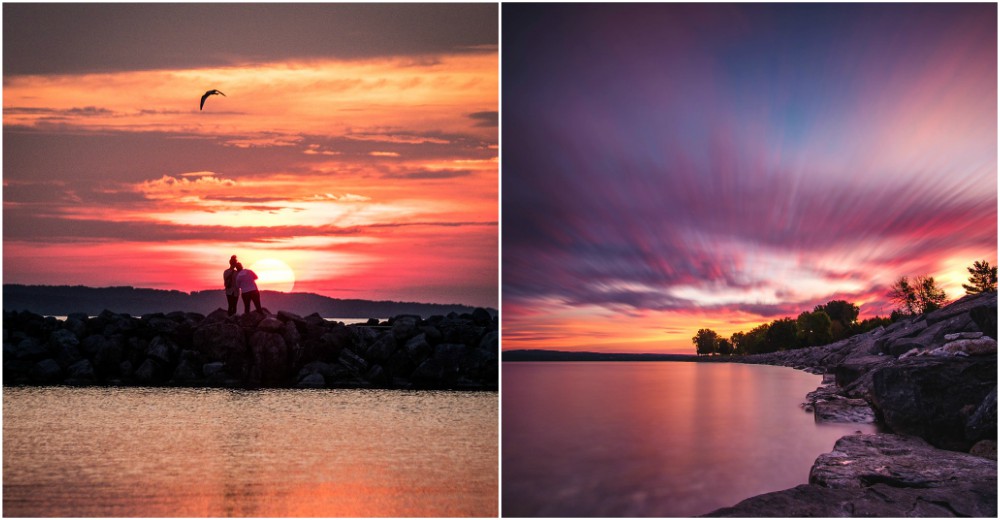 Just north of Petoskey is one of the most beautiful drives in Michigan, the M-119, otherwise known as the Tunnel Of Trees. From Harbor Springs to Cross Village, this narrow road of twists and turns gives you an idyllic view of the northern lower peninsula.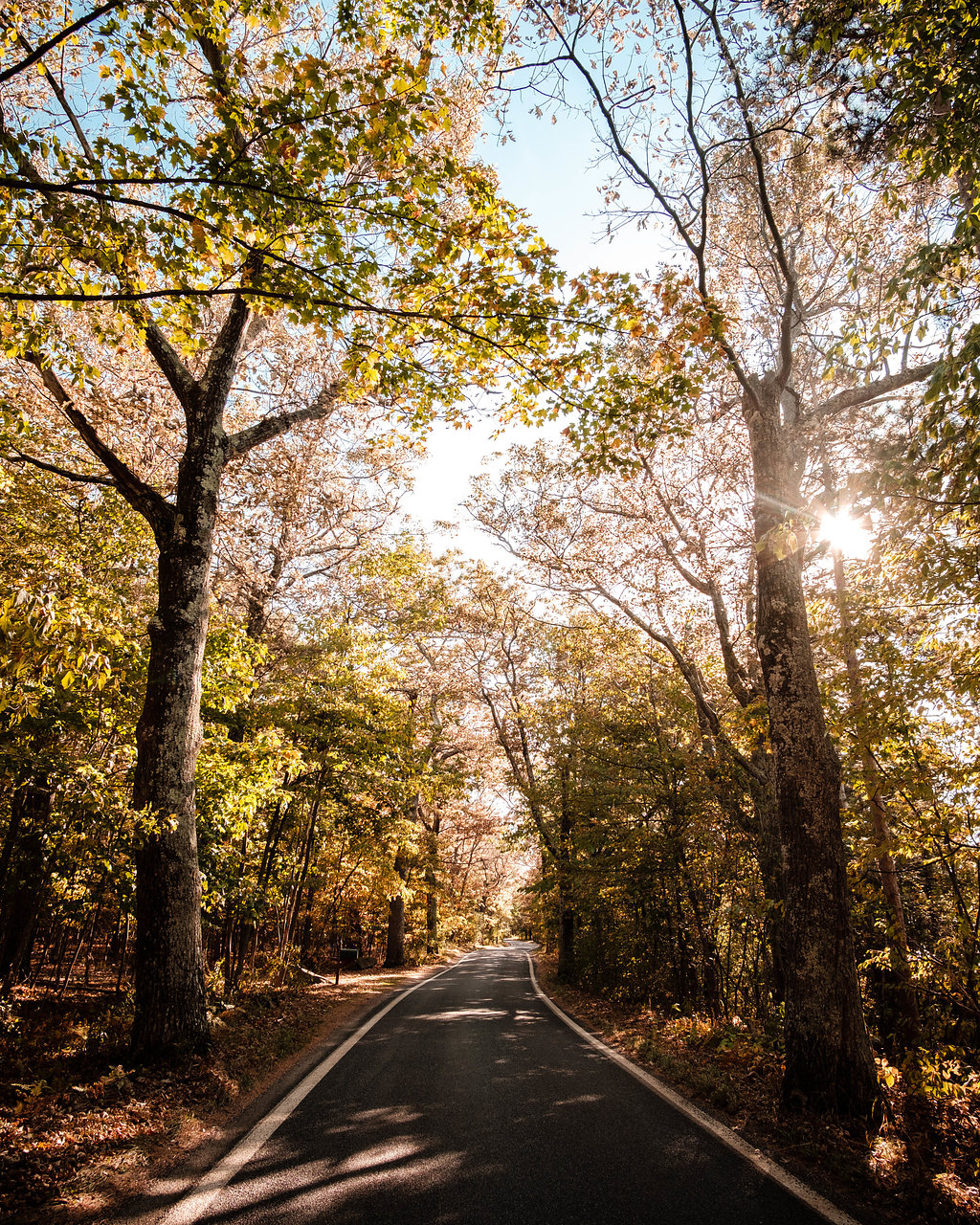 Alpena is on the sunrise coast at the heart of Thunder Bay. Formerly a logging town, the area still employs a good number of manufacturing jobs in the concrete and hard woods  industries,  but has been growing in tourism as people are starting to discover it's a great place to plan a trip.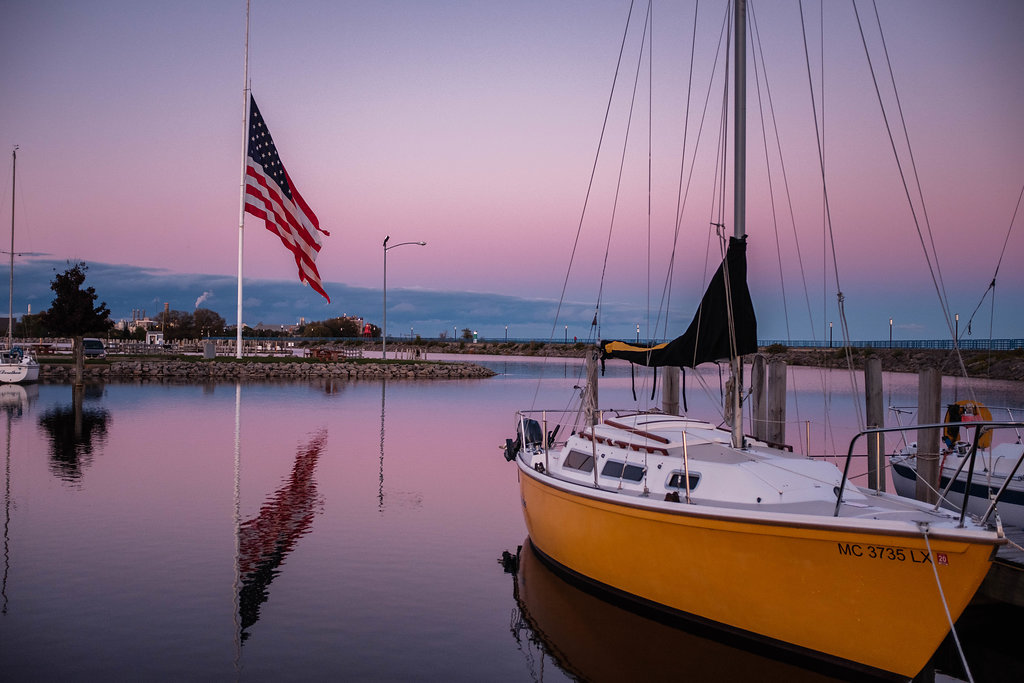 My first surprise? The beaches were sandy. I had only been to a couple of spots on the Lake Huron coast, but it's reputation for rocky beaches doesn't fit the description of Alpena's beaches — sandy, quiet, and beautiful as they are.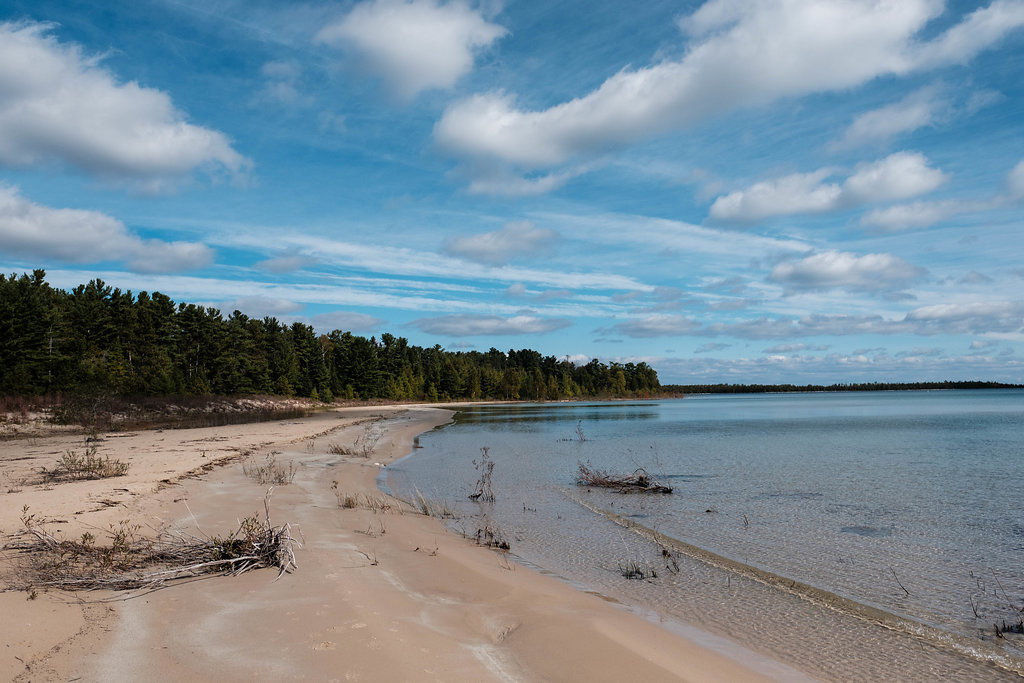 The city of Alpena has nineteen parks within its limits. These parks have miles of hiking and biking trails, not to mention a wildlife sanctuary and island park, a veteran's memorial park, and beach parks as well. There's plenty to do and see at each of these spots. My favorite stop was sunrise at the Blair Street Pier. I'll let the picture speak for itself.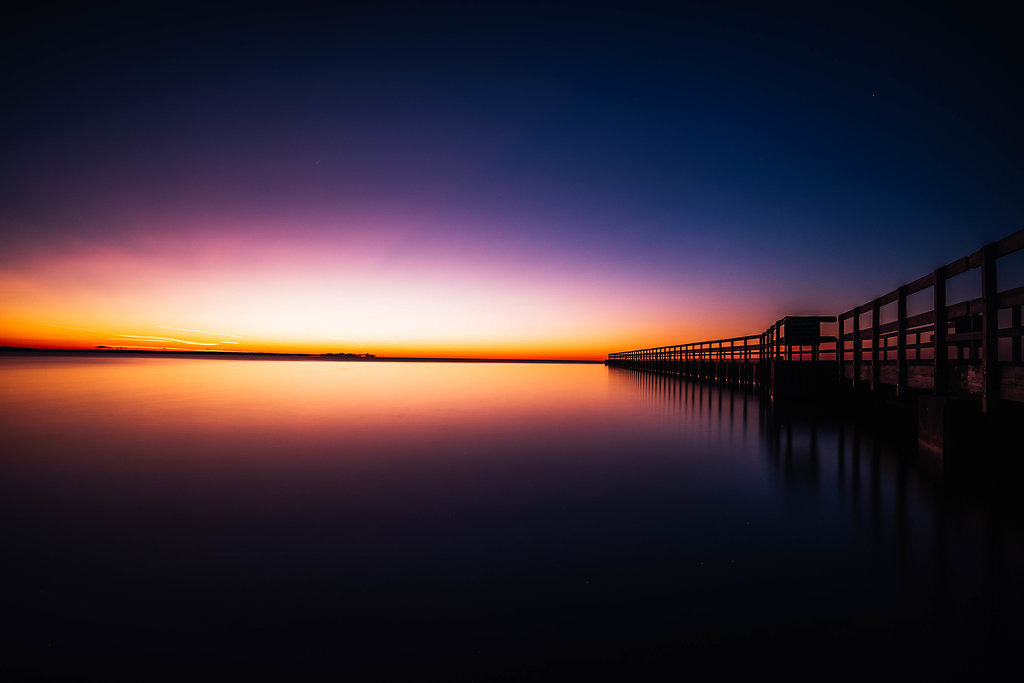 Beyond the city parks, the area is home to Rockport State Park. It's a limestone quarry that has a really unique ecosystem of pine trees, ghost town remnants and fossils. In fact there are so many fossils, that you are allowed to take up to 25 pounds worth home per year! I stopped to collect some fossils and before I knew it I had been digging through the same area for 45 minutes, discovering hundreds of fossils as I searched.
 
Lighthouses are also a  must see  stop in the area. Alpena Light, also known as "Little Red" is such an iconic one that sits along the Alpena Marina. I saw two eagles and caught them in the same frame as Little Red, all within my first hour of visiting the town. The New Presque Isle and Old Presque Isle lighthouses are only minutes away and are visited by thousands of lighthouse lovers throughout the year.
 
There are also several shipwrecks, and glass bottom boat tours, lots of diving and the city  is  rapidly becoming a hub for fishing as well.
My recommendations for restaurants are Austin Brothers Beer Company for burgers with pretzel buns and suds, Olde Owl Tavern & Grille for an authentic English pub feel, and Fresh Palate for New American lunch and dinners.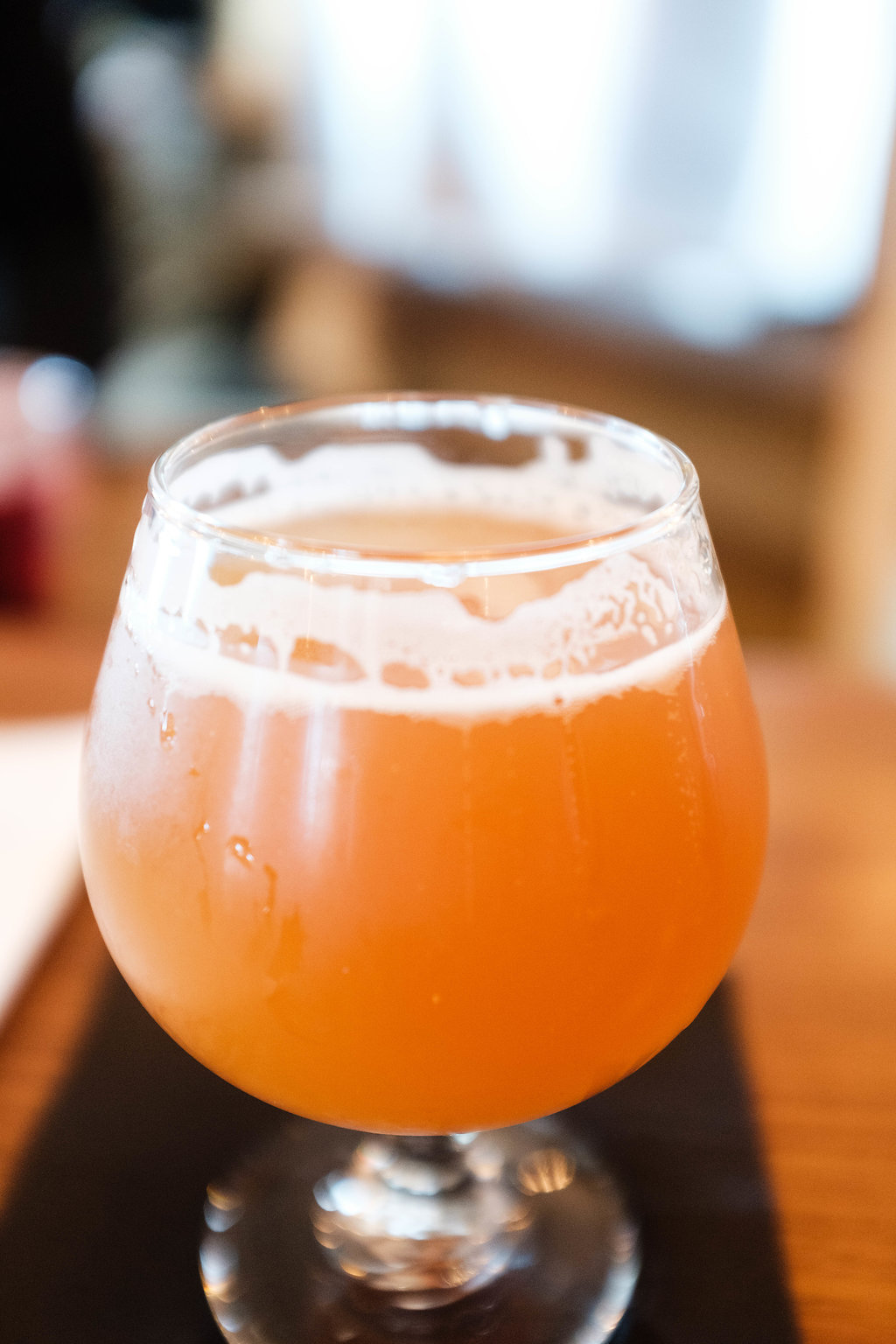 These four stops hold so many of my favorite places in Michigan, I'd recommend visiting as many as you're able to! What's so great about Michigan is that a road trip here is perfect for a full vacation or just a weekend away.
About the Author: A daily walker as prescribed by a doctor for Lyme disease three years ago, Dan Price has a unique way of capturing the mood of any given moment. And it shows with his remarkable storytelling through a lens. Find Dan's journeys on www.danpricephoto.com. Dan traveled across the lower northern peninsula for two weeks during Pure Michigan's 2017 Fall & Seek campaign to discover scenic spots crowd-sourced from social media.
 
---