7 Things to Know About Ice Sailing in Michigan
Skiing, snowboarding and sledding are all well-known winter activities, but why not try something new, like ice sailing? Michigan winters make the Great Lakes State an ideal destination for ice sailing. Below, Dan Hill of Action Sports Enterprises answers some questions about this unique sport.
Learn more about ice sailing in Ice Sailing | A Pure Michigan Winter, from the Pure Michigan winter video series.
What is ice sailing?  
Ice sailing is essentially powering sports that you already enjoy either by the environment or by wind. That includes sailing, skating, skiing and snowboarding. You take the winter sports that you know and love, but now you are doing them either directly on ice or on ice that has been covered with snow. 
I was introduced to wind sailing when I was selected as a Gate Judge for the Vancouver Winter Olympics and have had a passion for the sport ever since. Ice sailing is a blast for many reasons. You can do it anywhere there is wind and snow or ice, and it incorporates sports that I already enjoy.  The sport is also very green and a form of free power. The idea of powering sports that people already enjoy with wind is exciting!  For those who have yet to try it, it is truly wind dancing.
 
Who might like to try ice sailing?
I think anyone who enjoys the outdoors - especially kite surfers, sailors, ice skaters, windsurfers, skiers and snowboarders should try the sport. It is really unlike anything else and great time especially if you already love outdoor winter sports. 
 
Do you have any advice for ice sailing beginners?
First of all, I recommend taking a lesson or doing a demonstration of some equipment at one of our events. Adding wind power to activities like skiing and snowboarding requires a lot of balance. 
 
What equipment or skills do you need to start ice sailing?  
There are four different kinds of devices used for ice sailing:
Wing: The wing is almost like a mini hang-glider. You're not harnessed in and really feel the wind.
Kite: The kite is like a parachute that is attached to you. For the kite, you'll need an instructor to harness you in.
Sled: If you've ever seen wind surfing, you know what the sled is like. You hold onto the sail and have either skis or blades on to navigate over the snow and ice.
Sail: The sail allows you to sail on the ice with an Ice Boat.
 
Why is Michigan such a great place for ice sailing?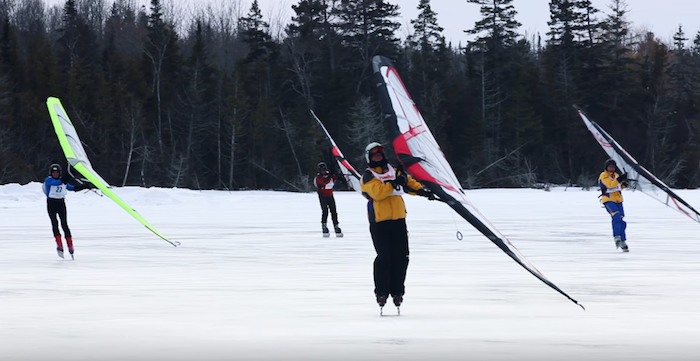 Michigan is a great state for the sport because it has so many frozen lakes. The Great Lakes are especially great with the unobstructed wind.  Michigan also has a lot of open space with snow which can also be great places to snow sail. We've had rave reviews from event participants across the globe that Michigan is ideal for ice sailing, and we have to agree. 
 
Where are some of the best places in Michigan to go ice sailing?  
One of the best places is Saint Ignace right near the Mackinac Bridge, and it really a great setting. But any frozen lake is great place to go.
 
What is your favorite thing to do after a long day of ice sailing?   
If you're staying at a hotel or resort, I recommend going in the traditional sauna or enjoying a hot beverage. When you're done sailing for the day, it feels great to warm up with something cozy. 
 
About the Author: Dan Hill is president of Action Sports Enterprises and is hopeful to make Michigan the next "World Cup" for wind sailing.