15 Trails for a Relaxing Fall Day
With thousands of miles of trails offering a wide range of outdoor recreation activities, including hiking, biking ORV and more, Michigan is also home to a variety of trails where visitors can take it easy and enjoy the state's stunning fall color. 
From stairs leading up mountains and sand dunes to accessible, paved paths and observation platforms, Michigan has a trail for everyone to enjoy the state's most colorful season.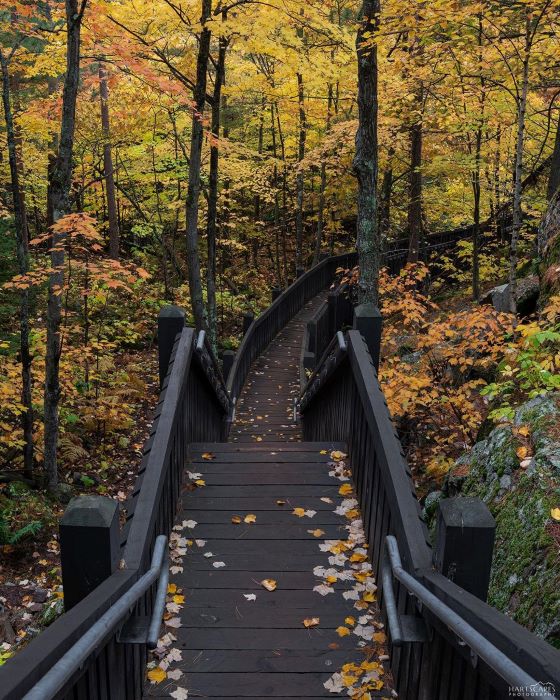 Michigan's fall colors descend upon the Upper Peninsula first, and the perfect view can be found atop Sugarloaf Mountain. There are two trail routes to the observation decks at the top of Sugarloaf Mountain. Whether you take the shorter, steeper route or the longer, more level path, the panoramic views from the top of the natural landscape and Lake Superior will take your breath away. Look out over vast expanses of fall foliage and discover sights like the Superior Dome, Presque Isle Park and Hogback Mountain.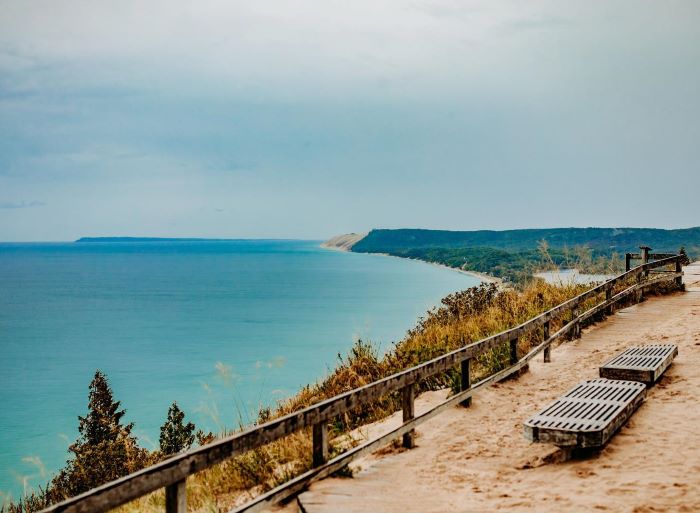 Take in beautiful views of sloping sand dunes, and the watery horizon of Lake Michigan as far as the eye can see. A walk along te Empire Bluff Trail promises tunnels of fall color foliage, a gentle incline and a bird's-eye view of Lake Michigan you won't want to miss. Additionally, check out the accessible, hard-surfaced Sleeping Bear Heritage Trail, which has trailhead access at multiple locations within the park. Learn more about accessibility features at Sleeping Bear Dunes here.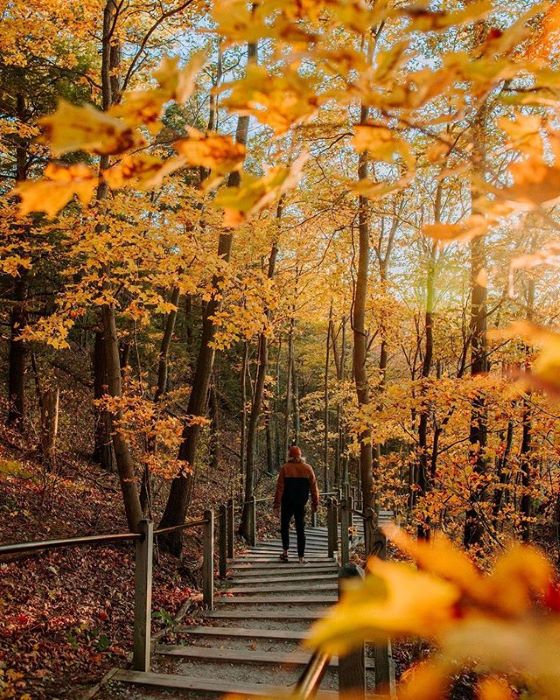 Rosy Mound Natural Area has a variety of trails, namely the well-groomed nature trail that leads to the beach shore of Lake Michigan. This trail, about 2 miles long, takes you through beautiful Michigan forestry amid sand bluffs and open fields—which provides a great chance for bird watching and nature discovery. While quite a few sets of stairs to help visitors climb the bluffs, Rosy Mound is also home to a few great barrier-free trails.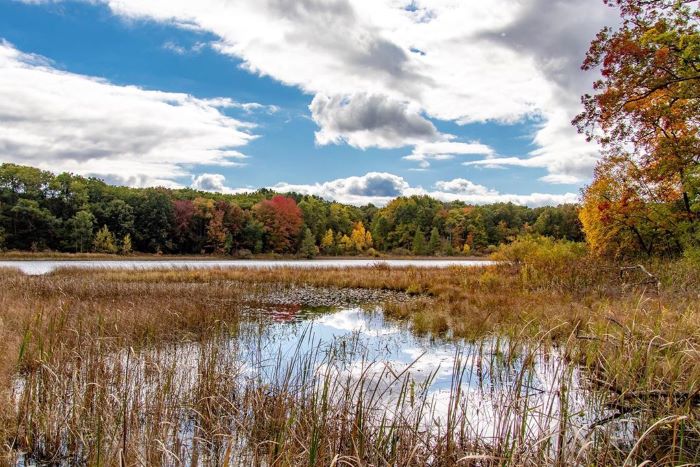 The Pinckney Recreation Area is the ideal spot for hiking enthusiasts, with over 40 miles of multi-use trails throughout the park, you can't go wrong in choosing a trail. Be sure to check out the 5-mile Crooked Lake Trail where you can find picturesque views of fall colors around Crooked and Pickerel Lakes. Pinckney's untouched terrain is perfect for a stroll amid spectacular fall foliage.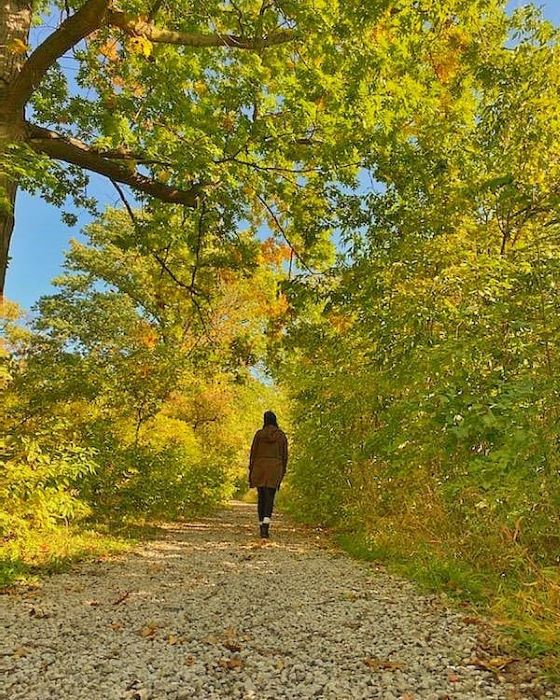 Belle Isle is the perfect place to combine urban views with miles of greenery. Hike through tunnels of trees on the island, or walk the perimeter with views of downtown Detroit and Ontario, Canada. Be sure to stop in the Anna Scripps Whitcomb Conservatory, or the Dossin Great Lakes Museum.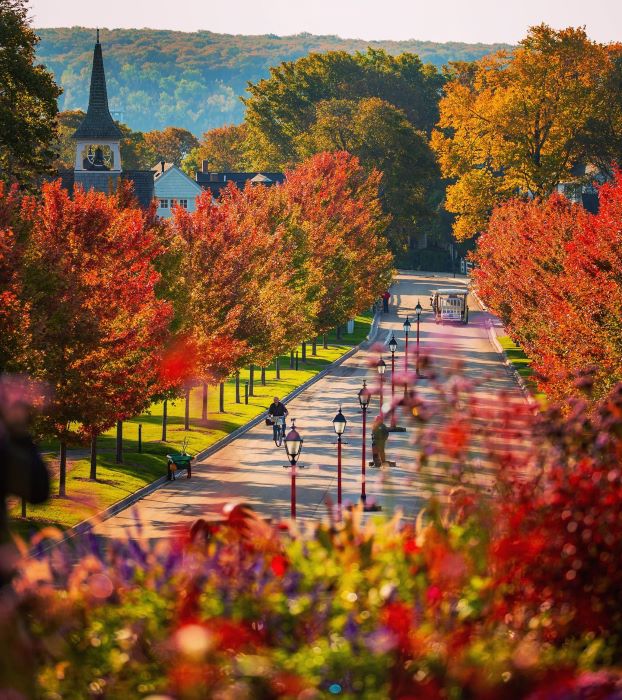 There are so many things to do on Mackinac Island, and a fall hike is the perfect way to take in all that the island has to offer. Walk the 8-mile perimeter of the island along the shores of Lake Huron, or rent a bike to pedal this paved, accessible path. For more of a challenge, hike the steeper climb on the Tranquil Bluff Trail for a better vantage point high above the island to look out over Lake Huron and the fall color foliage.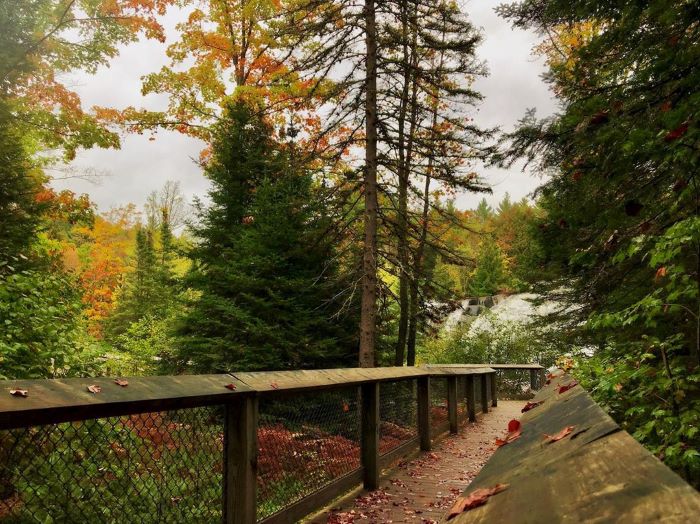 The 1-mile loop trail to Bond Falls is a popular choice for an easy nature hike. The total drop of the Bond Falls cascades is about 50 feet, as the Ontonagon River spills over the rocky terrain. Hiking the loop will take you through tunnels of fall foliage, and a boardwalk to the Bond Falls accessible observation deck extends to the parking lot.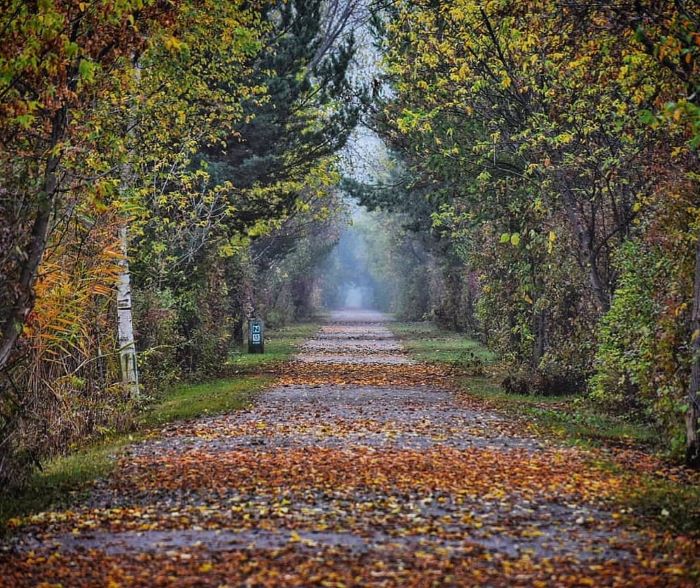 The Wadhams to Avoca Trail is nearly 20 miles long, with its centerpiece being the 640-foot long Mill Creek Trestle built in the 1800s. Check out the views from 60-feet above the Mill Creek Valley, and fall in love with the vibrant colors that paint the valley every fall season. This trail is great for all types of activities, from walking to rollerblading and biking to horseback riding.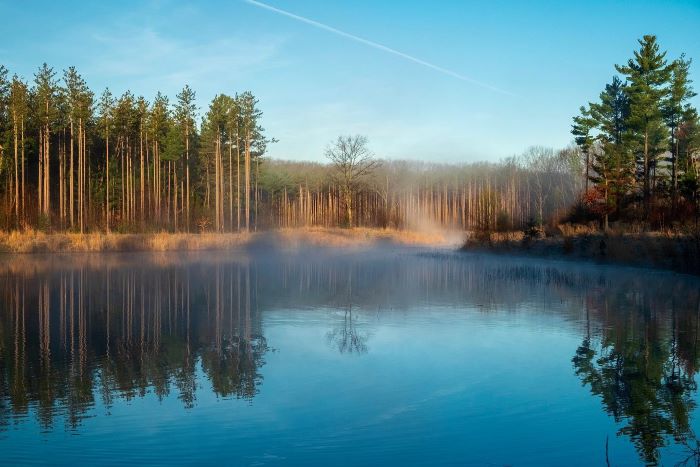 Riley Trail is home to nearly 300 acres of beautiful, natural terrain. With trails perfect for hiking and mountain biking, as well as few paved trails, the fall colors are sure to exceed expectations as you explore the forests and rolling hills that the area has to offer.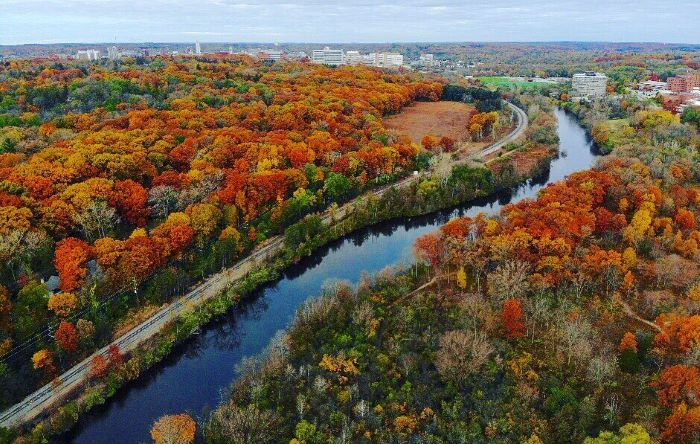 Gallup Park is the most popular park in Ann Arbor—and for good reason. With nearly 70 acres of land, some along the Huron River and around Geddes Pond, a walk through Gallup Park will fulfill your craving for fall-color viewing. The asphalt trails are perfect for a walk on a crisp fall day, and the picnic spots can help to extend your day enjoying Michigan's most colorful season.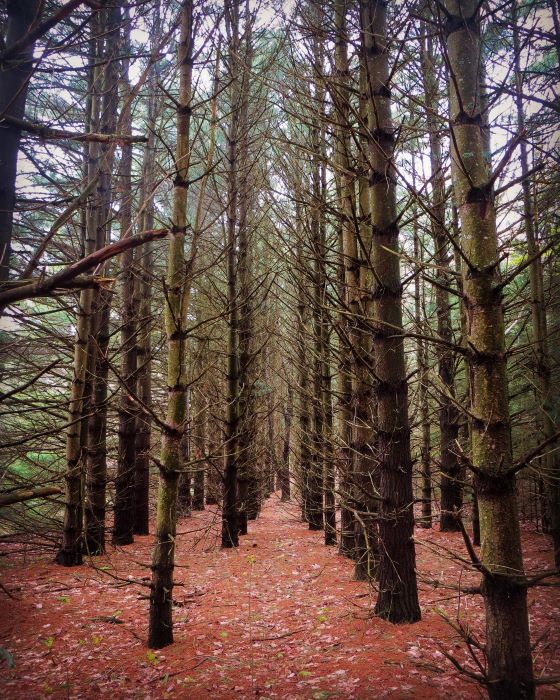 The C.S. Mott Nature Preserve has 3600 acres of protected wildlife and over 15 miles of trails to explore this incredible terrain. The Baldy Trails are particularly beautiful, combining walks through the woods with colorful wildflowers and views from atop sand dunes overlooking Lake Michigan. Plus, the Universally Accessible Overlook Trail makes these views available to everyone, which are spectacular when combined with Michigan's stunning fall colors.  
Take a walk around Pickerel Lake, where lake views are combined with dense forestry and open wetlands. Opportunities for wildlife viewing are endless with 80 acres of natural, untouched wilderness. Whether you follow the Lake Trail, the Larch Swamp Trail, the Sandy Knoll Trail or any of the others in the park, you will surely find yourself surrounded by unrivaled fall colors.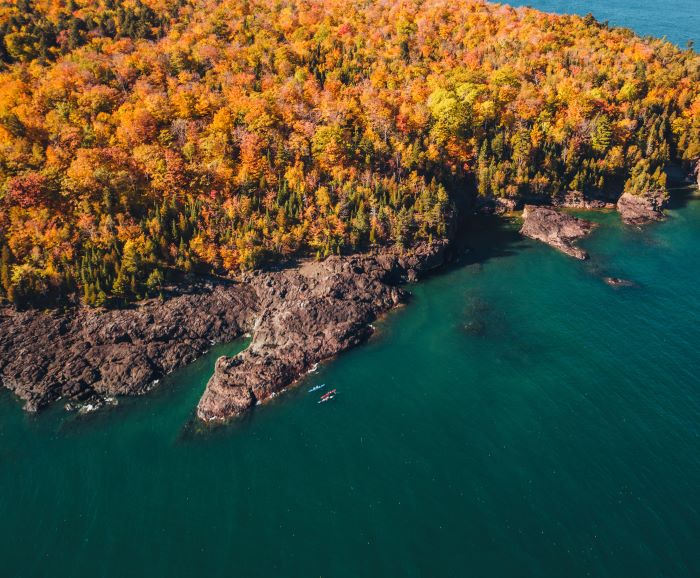 Home to the iconic Blackrocks and towering sandstone cliffs, Presque Isle Park combines dense forest hikes with Lake Superior overlooks and is one of the best sunset-viewing destinations. Walk along the miles of trails that carve their way through Presque Isle's central forest, and search for a wide variety of rare wildlife that frequents the park, like whitetail deer or snowy owls.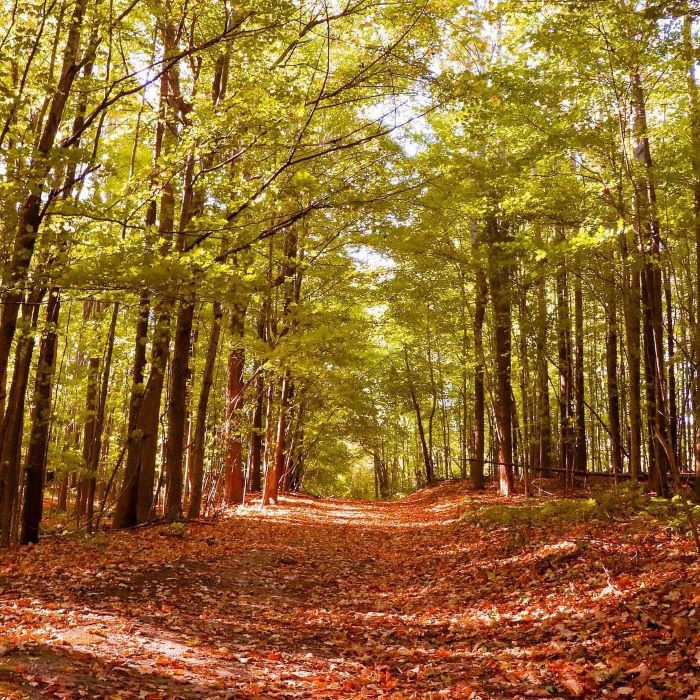 Maybury's gentle, rolling terrain makes it the ideal spot for an easy walk amid fall foliage. With meadows, forests and a working farm, Maybury has a little bit of everything. Whether you are looking for an accessible, paved trail or a tried-and-true hiking trail, this State Park is the perfect destination, and it lights up in color every autumn.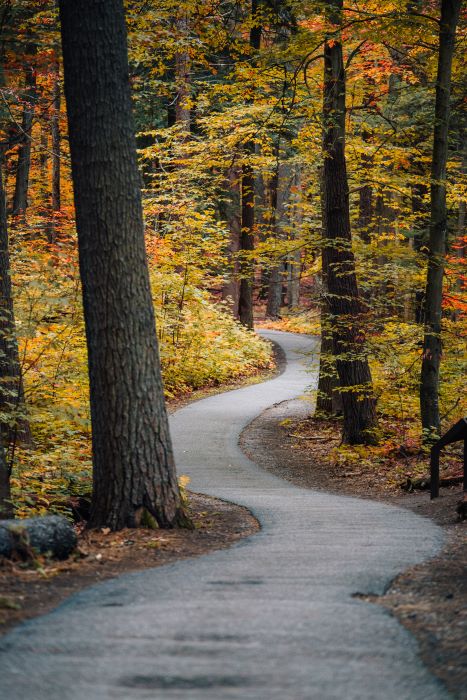 As one of the largest state parks in the Lower Peninsula, Hartwick Pines has the ideal terrain for hiking and biking. With rolling hills that overlook the AuSable River and 49-acres of old-growth pine forest, the wilderness here is unlike any other. Stop by the Hartwick Pines Logging Museum, located on the Old Growth Forest Foot Trail, which commemorates the state's 19th-century logging era.