Pure Michigan Hiking Trails to See Brilliant Fall Colors
To help you plan your fall travels, here's a round-up of the best trails around the state for spectacular views of the changing colors of autumn. Listed from easier to harder routes, there's something for everyone. With a variety of overlooks, hills and mountains, there are a multitude of ways to soak in Pure Michigan's beauty. And check here for any other trails that might be near you!

Port Crescent State Park Trails - Port Austin
Difficulty: Easy
If you're looking for a great family trip, head to Michigan's "Thumb" for a fantastic day trip along Lake Huron's Saginaw Bay shoreline. The park offers fishing, canoeing, birding and more! It is also a great place to view the stars, so you might want to consider staying overnight. There are seven miles of trails including a loop and a nature trail.

It's easy to customize your own route, depending on your interests. The Camper's Trail is one of the most scenic and, at 2.3 miles, is not difficult. You can even shorten the trek by using the 0.3-mile cutoff spur, but might miss out on some scenic views. October is one of the best times to visit as there are less campers and the fall colors reach their brilliant peak. It is also dog-friendly! While you're hanging out in the area, take the time to kayak by Turnip Rock, one of the most famous spots in the state!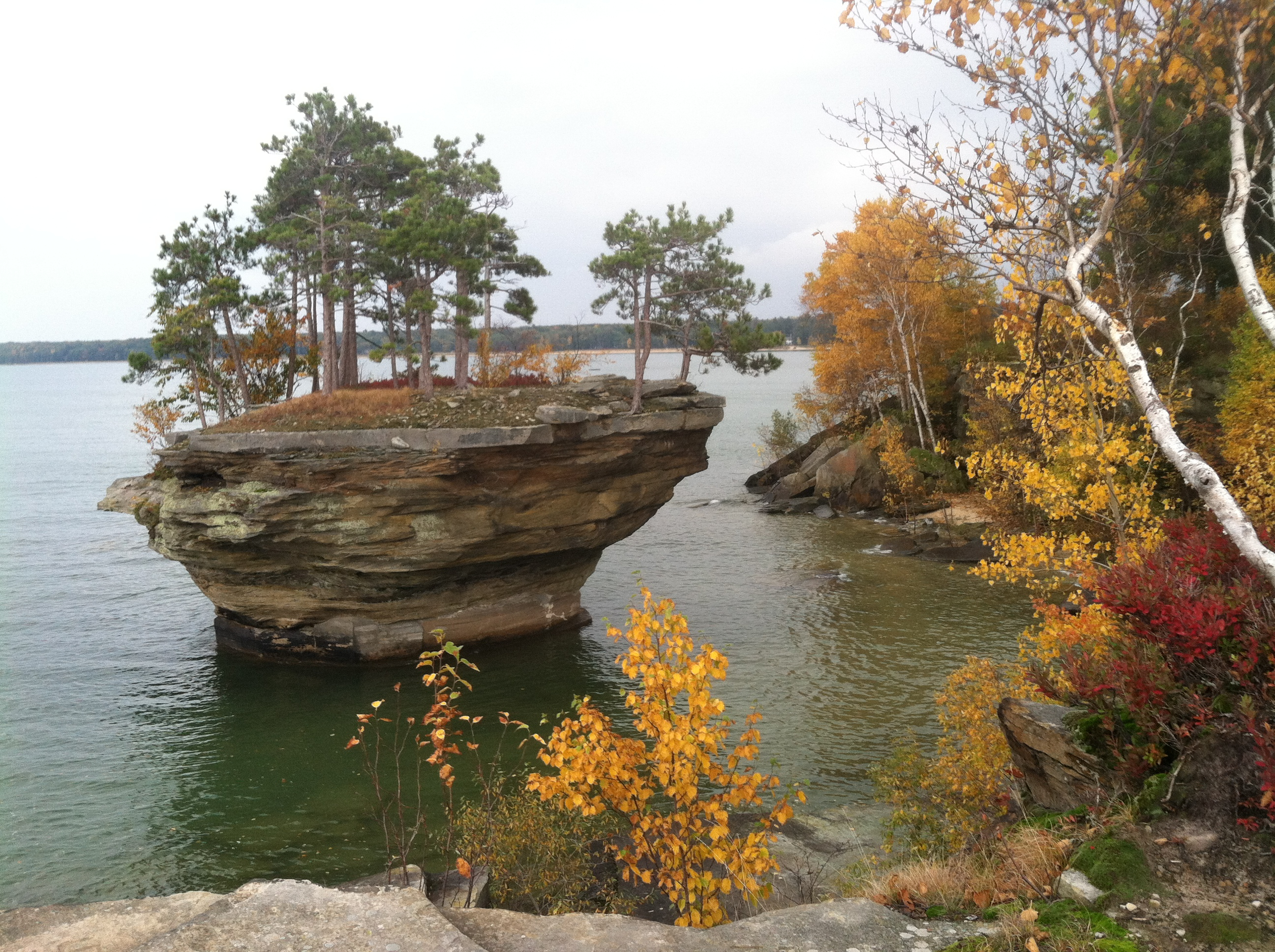 Mackinac Island Trails - Mackinac Island
Difficulty: Easy to Moderate

There are over 140 miles of trails and roads leading to great views on Mackinac Island. Stop by the Visitor's Center to buy a map of the trails, significant points of interest and self-tours. Or visit a rental bike shop for a map, (though these have less detail). One of the most popular trails is the 8.2 mile road along the island's perimeter. Typically there are bikers along this trail, but plenty of pedestrians also use it to see the beautiful shorelines. The road is not very hilly but it is long, so take your time to enjoy the views and be sure to stop occasionally to read about the history of the island. If you'd like to get deeper inland, there are several trails that lead to great views of the changing reds, yellows and oranges as well as vantage points to see the beautiful shorelines. Stay aware of bikers and horses and be sure to stop at Sugar Loaf, Fort Mackinac, Skull Cave or Arch Rock for amazing views.


Sugarloaf Mountain Trail - Marquette
Difficulty: Easy to Moderate

Sugarloaf Mountain Trail in the Upper Peninsula is a fantastic hike for great views. There are two different ways to reach the viewing area: an easy route and a difficult route. The difficult route is faster than the easier route, but is steeper. If bringing the family, we suggest the easy route as it's easier on young children. You'll also be able to spend more time leisurely strolling and admiring the color change on the trees.

Be aware there are intermittent stairs on the route once you get closer to summit to help with the elevation change and the trail also has many rocks and roots sticking out of the ground. Once you get to the top, there are three different vantage points for views of Lake Superior, the Superior Dome and miles of colorful trees. Take this trail on your next visit to Marquette and you won't be disappointed!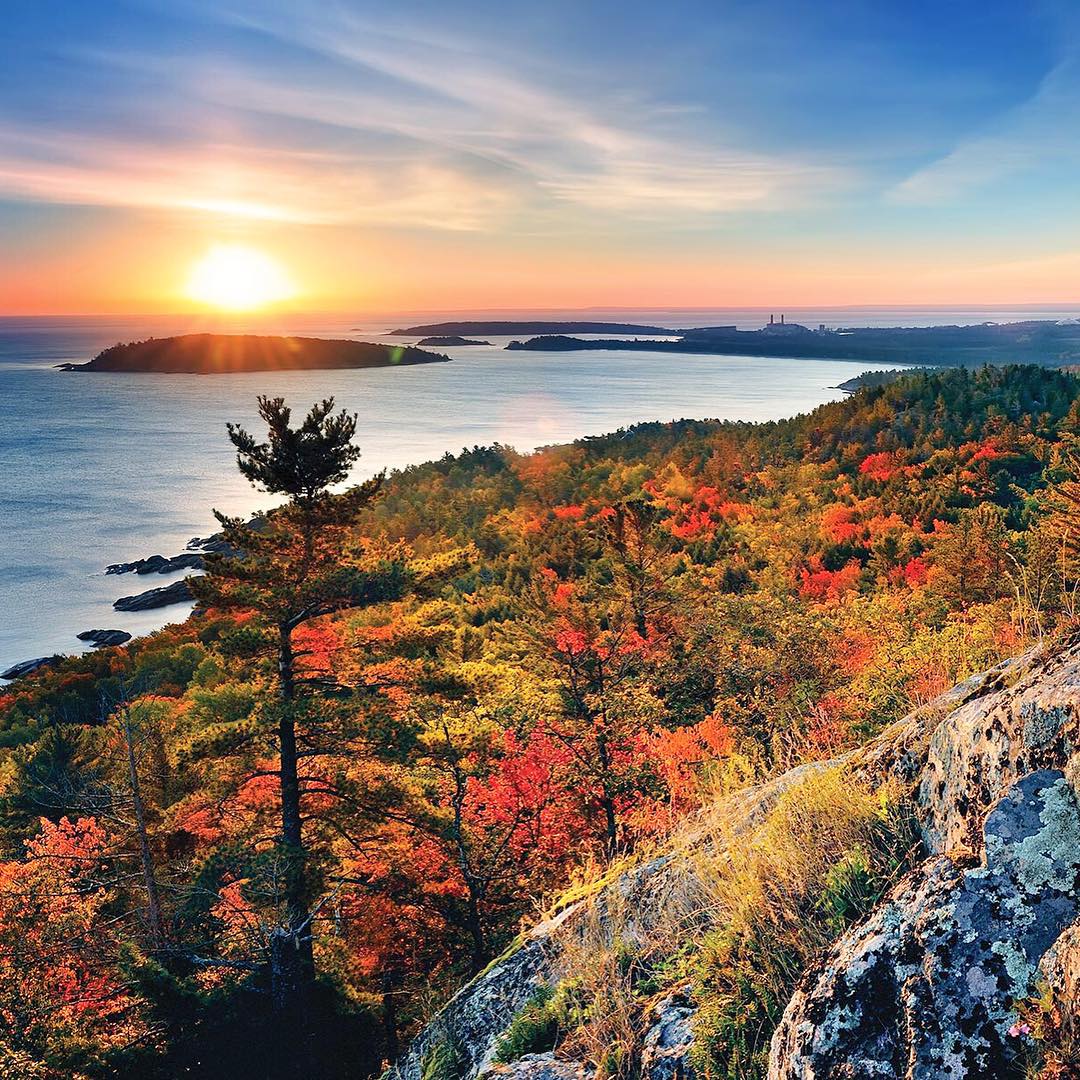 Ludington State Park Trails - Ludington
Difficulty: Easy to Moderate

Ludington State Park has a fantastic array of sand dunes, marshlands and forests. There are three modern campgrounds if you want to stay overnight. With a multitude of trails, there is a hike for everyone! One of the best and most scenic is the Lighthouse Trail that leads to the Big Sable Point Lighthouse. It is 3 miles long and winds over open and wooded sand dunes. Take your family to tour the lighthouse and climb the tower through October. If that seems too difficult, take the Lighthouse Road that travels from the main entrance to the lighthouse via a 1.8-mile hard-packed sand and gravel road.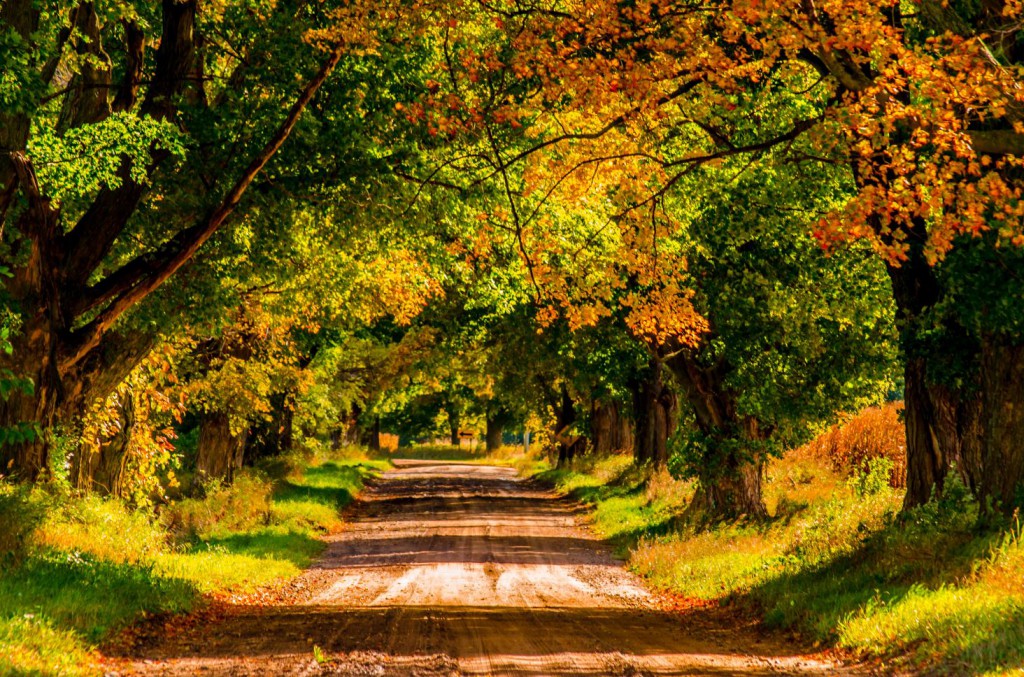 Stony Creek Metropark Trails - Shelby Township
Difficulty: Easy to Moderate

Get that "up north" feeling without leaving the suburbs! There are a few rustic and nature trails in the park ranging in distance. There is also a paved trail perfect for bikers, rollerbladers or hikers, but still provides great views of the surrounding trees and foliage. Visit the Nature Center for more information and to see where you want to start your trip.From lounging on the beach to playing disc golf, there are a ton of activities to do at Stony Creek Metropark, making it a great place to take your family for a day trip.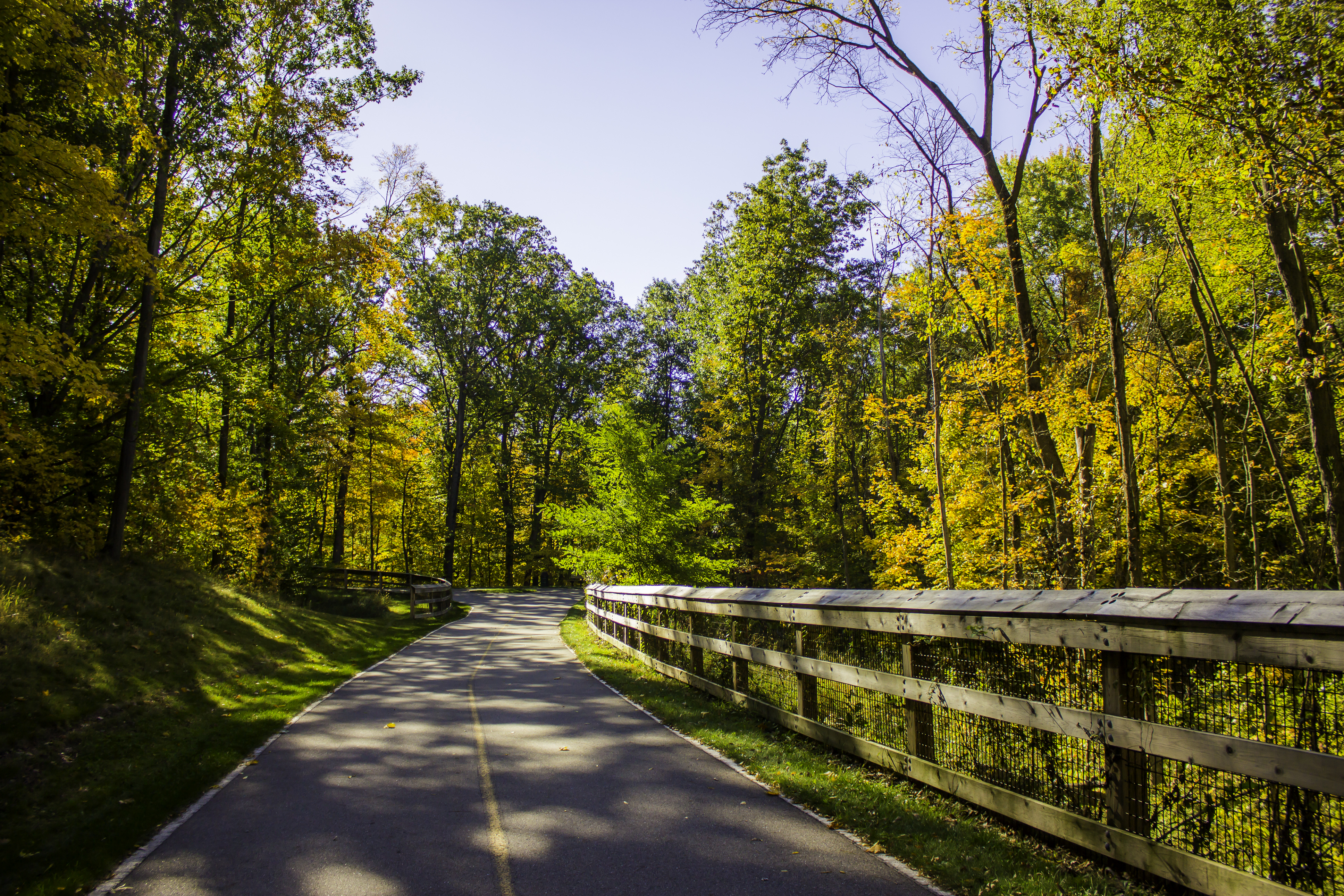 Chapel Loop at Pictured Rocks National Lakeshore - Munising
Difficulty: Easy to Moderate

The 9-mile Chapel Loop is one of the most scenic hikes in Michigan. Take in the view of Lake Superior, Chapel Falls, Chapel Rock and Grand Portal Point. Try and take a weekend trip to tackle this hike as it can take most of the day and you'll want to view the rocks from the water as well! Take your bug spray, water and camera too, as the views will be amazing.


Empire Bluff Trail at Sleeping Bear Dunes - Empire
Difficulty: Moderate

The Empire Bluff Trail at Sleeping Bear Dunes is a 1.5 mile roundtrip hike perfect for views of the water and foliage. On a clear day, you can even see South Manitou Island! Be sure to pick up a map of the trail at the trailhead. There are also numbered posts along the way for more information. For your own safety, don't climb down the bluff as it is more than 400 feet above the sandy shoreline! This trek is a must-do for those looking for spectacular views of the lakeshore.


Tahquamenon Falls State Park River Trail - Paradise
Difficulty: Moderate to Hard

One of the most popular hiking trails in this park is the River Trail. Linking the Upper Falls and Lower Falls, this nearly 5 mile hike leads along the Tahquamenon River and is very scenic. It is a moderate to hard trail to tackle due to the hilly terrain and exposed roots, but is well worth the effort. Be sure to bring plenty of water and bug spray for the trip. After your hike, stop by the shops and pub near the Upper Falls for a great meal, drink or souvenir.


Porcupine Mountains State Park Escarpment Trail - Ontonagon
Difficulty: Moderate

Despite it only being 4 miles long, the changes in elevation along the Escarpment Trail make this hike more of a challenge. However, viewing Lake of the Clouds, Lake Superior and the Carp River Valley in one trip will leave you in awe of Michigan's unimagined beauty. Take a weekend to stay in the area and take advantage of the many restaurants and entertainment centers, like Black Bear Lanes for bowling!


Jordan River Pathway Trail - Mancelona
Difficulty: Moderate

The Jordan River Pathway is one of the most popular hiking trips in the Lower Peninsula. Stay at the walk-in campground for a weekend and bask in the rustic nature of the area. It is an 18-mile loop perfect for hikers looking for scenic views of streams, colorful foliage or the valley below. If you're an angler, fishing in the Jordan River might allow you to catch dinner at the end of a long hike! Definitely bring bug spray, as horse flies and mosquitoes may greet you along the way. Be sure to capture pictures of the views from Deadman's Hill and Landslide Overlook.


Greenstone Ridge Trail - Isle Royale
Difficulty: Hard

Greenstone Ridge Trail is a trail for experienced hikers. The 40-mile long trail is the backbone of Isle Royale, an island only accessible by boat or plane. Every backpacker should try this trail at least once, as it is an incredibly fulfilling multi-day trip. The Greenstone Ridge Trail provides panoramic views of the gorgeous and rustic landscape, crossing through exposed bedrock and dense forest. Take a few days to truly experience the wilderness of Isle Royale where moose and wolves roam free.