Why Smallmouth Bass Fishing is Perfect in Traverse City
The Traverse City area is a perfect location to drop in a line while enjoying the beautiful changing colors and cool, crisp weather. I'm Captain Chris Noffsinger, a Professional-Guide Fisherman specializing in smallmouth bass fishing, and I believe the Traverse City area to be the home of the world's best smallmouth fishing. Not only is fishing in Traverse City world class, but the opportunities for recreation, dining, wineries and craft beer nearby are almost endless. 
Start off the day with a beautiful sunrise overlooking the calm waters of East or West Grand Traverse Bay, it's a breathtaking experience in itself. But the thought of a trophy smallmouth breaking the calm by leaping into the air and back into the water is what every smallmouth fisherman dreams of. I have been fortunate to experience this firsthand on Grand Traverse Bay and on the surrounding inland lakes.
Traverse City is uniquely intriguing to any angler in search of trophy smallmouth. We have caught smallmouth in the 4-7 pound class every year in the Traverse City region. They are plentiful and very willing to bite.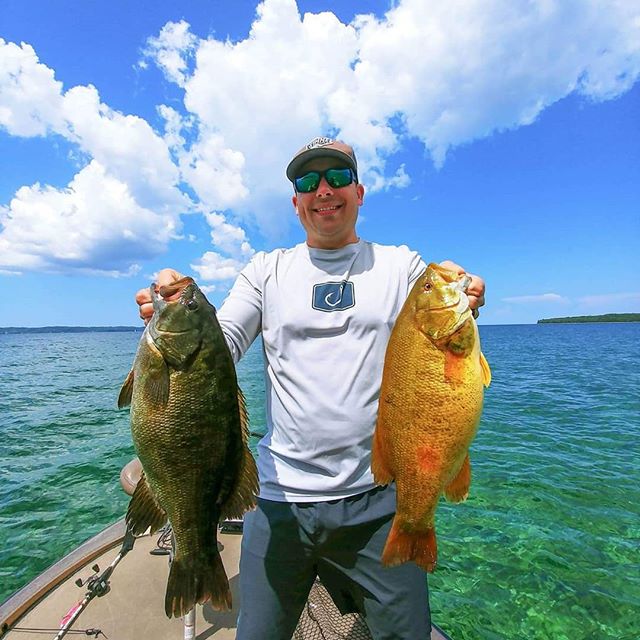 The waters here are extremely clear, with visibility reaching depths of 30 feet in some locations. Smallmouth live in most of the inland lakes that surround Traverse City, and the clarity of that water gives you an unparalleled ability and opportunity to sight these trophy bronzebacks. Watching a 4-7 pound smallmouth swim from over 100 feet away to strike is amazing to say the least. This happens every spring and fall, and it never gets old.
When fall approaches, some of the best bass fishing of the season takes place. Fall colors begin to transform the lush green forest that stood tall all summer long. The reflections of colors on a calm lake in the fall are an unforgettable sight, and as the leaves fall from the trees, the smallmouth sense that winter is coming. This triggers a feeding frenzy that smallmouth fisherman like me look forward to every year.
 
About the author: Captain Chris Noffsinger has more than 20 years of experience on the water. His knowledge of both inland and Great Lakes fishing is extensive and is used daily to charter tours for Northern Adventures Fishing.
 
---