Taste, Savor and Explore the Flavors of Pure Michigan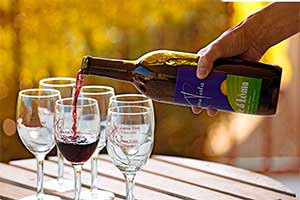 Enjoy Michigan's culinary tourism exploits this fall with a variety of events celebrating wine, beer, cider, all of autumn's bountiful harvest products at taste festivals across Michigan. As summer fades and fall takes center stage, Michigan's agriculture and food scene boasts the season's best in a number of enticing ways to toast Michigan's culinary pride. From Kent Harvest Trails to Brighton's Farm-to-Table Experience, there's a great festival taking place in your corner of the mitten.
Michigan offers some of the richest food experiences anywhere. This fall, there are a variety of events that showcase the best food from the state. With the high diversity of Michigan agricultural crops, there are many opportunities to partake in culinary tourism experiences that celebrate the "Flavors of Pure Michigan."
For more information and a list of tantalizing and spirited events, visit Flavors of Michigan. 
For a trip that will delight your palate, we encourage you to consider some destinations on the Foodie Tours of Michigan. Or, travel along one of Michigan's beer, wine and spirits trails.
This fall, travel and experience more in Michigan. It's time to enjoy the Flavors of Pure Michigan and other Michigan wine trail happenings and festivities.