Platte River State Fish Hatchery
15210 US 31
,
Beulah
,
MI
49617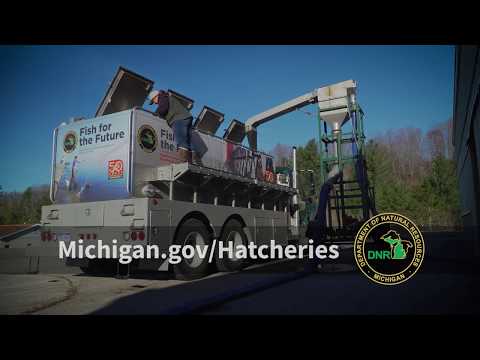 Contact
Body
This facility was established in 1928 and was converted to the state's main salmon hatchery in 1972. Platte River rears Atlantic, Chinook and coho salmon and is the main egg-take location for coho in the Upper Great Lakes. Walleye fry are also hatched here.
The hatchery complex includes interpretative facilities and trails, lower weir harvest facility and the upper weir egg-take station. The best times to see returning adult salmon in the Platte River are from mid-September to late October at the lower weir (located off Lake Michigan Road 2 miles northwest of M-22) and late September to mid-October at the upper weir located at the hatchery. The public is welcome to watch the egg take operations. Egg take operations generally happen the third week of October, but please call ahead to find out when egg takes will be conducted for sure.
The hatchery grounds are open to the public at no charge from dawn to dusk. The hatchery is open to the public from 8 a.m. to 4 p.m. every day. A DNR Stamp & Go Guide location.
Map
Amenities
Amenities

Features

Family-friendly
Open Year-round

Season(s) of Operation

Spring
Summer
Fall
Winter