Pet-Friendly Trails to Explore
Michigan has endless trails just waiting to be explored—but hiking is much more fun when you can bring your four-legged friend along. Some of Michigan's pet-fluencers are here to recommend their favorite spots across the state. So leash-up your pet, lace up your hiking boots and hit the trail. 
 
During your visit, make sure you abide by all laws and regulations regarding traveling with your pet, including having the proper permits and always cleaning up after your pet. Check out these six trails for your next pet-friendly adventure:
1. Wetmore Landing – Marquette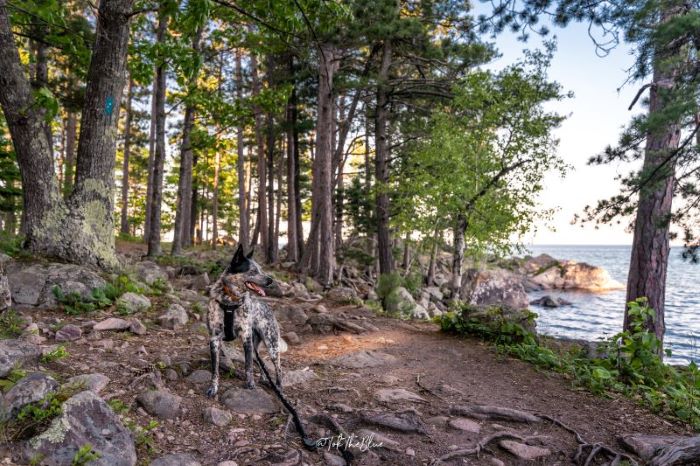 Take a windy drive up Marquette's scenic 550 to arrive at Wetmore Landing. Before you head down the trail, grab your bug spray, water, good hiking shoes, doggo leash and camera! Follow the trail (marked with blue rectangles on the trees) to the water and take a left before you hit the beach. If it's a gorgeous day, take a dip at the beach on the way out! Keep following those blue rectangles and prepare for exciting and ever-changing terrain: roots, rocks, boulders, bridges, rolling hills and very steep steps. If you need a rest, there's a sitting area part of the way up the trail. Then you'll discover amazing clifftop views and the one-and-only Lake Superior stretching as far as your eyes can see until the water kisses the sky. 
 
Wetmore Landing is a junction for the North Country Trail. The NCT travels more than 1,100 miles in Michigan. One of our favorite slices of this incredible trail is the small section between Wetmore Landing and Little Presque Isle. You can hike it with a partner and park a car at each entrance, or plan for a 7.2-mile roundtrip. Or, hike what you can and turn around when you must--there's no wrong way to enjoy it. Stop at Phil's 550 on your way out and grab a sweet treat, you deserve it! 
 
Brooke Shepard & Tok (@TokTheBlue)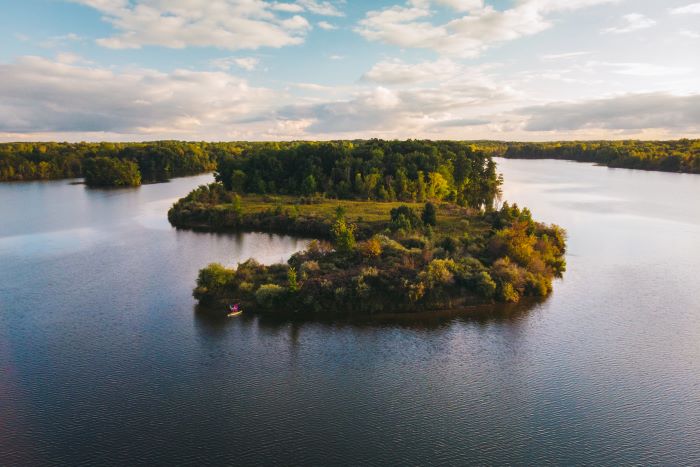 In Mid-Michigan, we like to hike at places that have wooded trails and water access, and Sleepy Hollow State Park has a great mix of both! There are 16 miles of hiking trails to explore, including an area on the west side of Lake Ovid that crosses a small footbridge to an island. When we're not hiking the trails, we like to launch our kayaks from the southwest parking area and paddle around the islands—and sometimes Mason swims next to us. Sleepy Hollow is also home to popular equine trails that occasionally cross and share paths with the hiking trails, so it's important to stay aware of the kind of trail you're on. It also helps if your dog has had some exposure to horses before visiting, just in case!
 
Drew Mason & Mason the Mitten Mutt (@themittenmutt)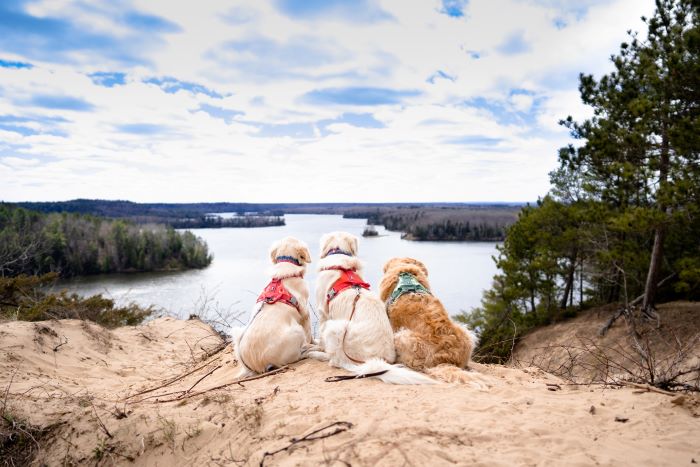 If you enjoy great views while hiking, Lumberman's Monument Trail has just that! Located in Hale and not far from Mid-Michigan, it is easily accessible with true up-north vibes. This trail has a great mix of stunning overlooks of the Au Sable River and gorgeous pine forests to trek through for the majority of the 3.8-mile trail. We usually end our hike by dashing down the towering sand dune at full speed and getting a quick swim in the clear water of the Au Sable. This is one of our favorite spots in Michigan and we hope you love it as much as we do! 
 
Rachel Jezowski & Barley, Moe, and Cassie (@wildgoldens)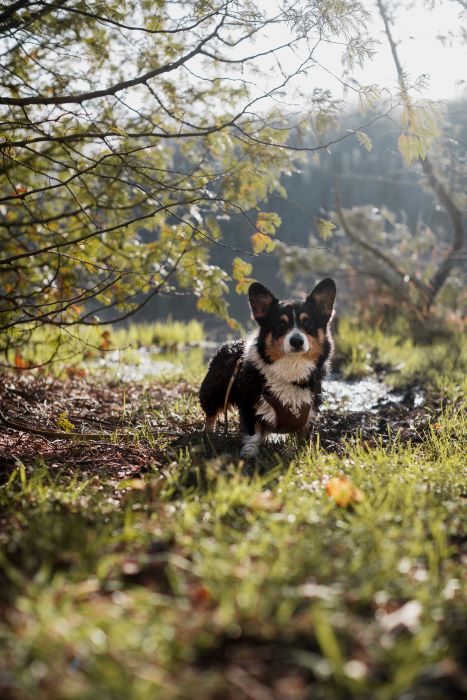 Traverse City is a top travel destination, so it's nice to find hidden gems in the area to enjoy during your visit. Located on Long Lake, just a short drive from downtown, you find Timbers Recreation Area. On this two-mile trail you encounter two lakes and a swamp while walking through pine and deciduous forests. Both lakes have entry points for you and your dog if you visit in the summer for a quick dip! In the fall you will get a show of vibrant colors and crunch on fallen leaves. On a peaceful winter day, trees will be pulled down with freshly fallen snow and you can search for tracks left by the forest's inhabitants. In spring you can see trilliums pushing their way through the earth decorating the forest floor. This recreation is a great escape from the lively downtown of Traverse City.
 
Taylor Featherstone & Darwin (@ourevolvingadventure)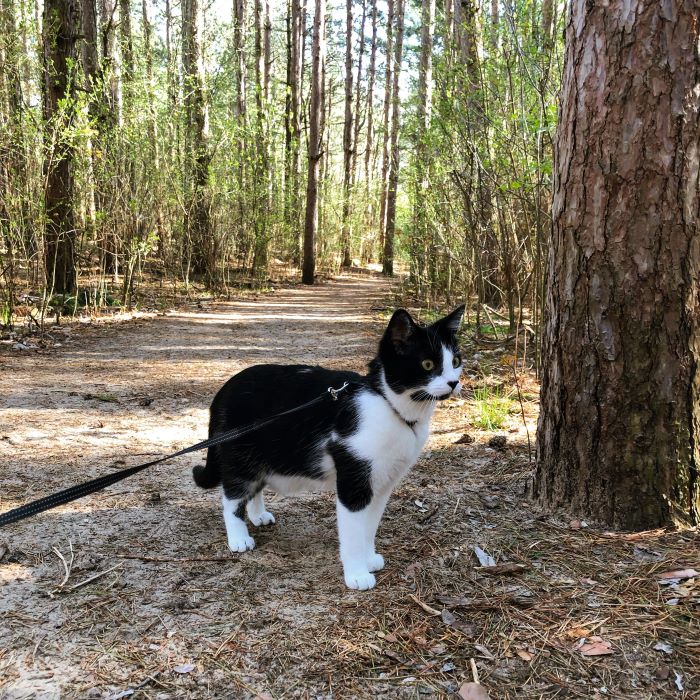 Located just outside of Grand Rapids is Provin Trails, one of our favorite places to explore! Being only 10 to 15 minutes from downtown, the deep forest feel provides a great escape from the city. Ace usually likes to hike the perimeter trail, which is about a mile long and has some good hills to climb, and he is always sure to lead the way! It is common for us to do several laps around the park, but there are also plenty of side trails to explore as well. In addition, the center of the park contains a secret sand dune, and Ace loves the chance to climb and explore the unique natural feature. The top of this hidden gem is easily accessible from the entrance to the trails, and it is the perfect place to relax and watch the beautiful Michigan sunset.
 
Joseph Fifer & Ace (@theaceadventurer)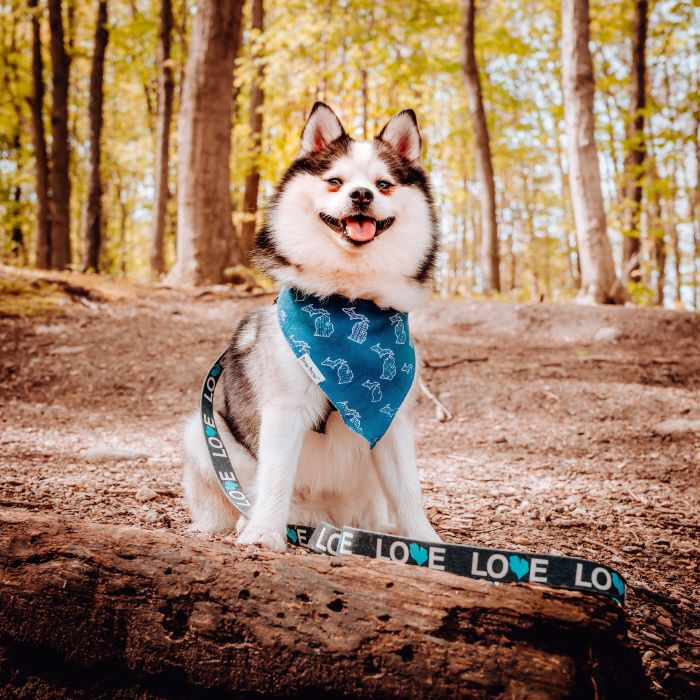 We discovered Maybury State Park when we got our puppy because we were looking for a place to hike and run together. Since then, we have visited this amazing park during all seasons and each one has a great experience to offer. You can go cross-skiing during wintertime do some fishing during spring; run, bike and have a BBQ in summer; and enjoy the amazing hikes and all the colors of the leaves during fall. There's even an equestrian trail and a designated mountain bike area trail. 
 
There's more to do than trekking trails at Maybury State Park, too. Every year they host a pet-friendly movie night during summer. Last year Winter loved the movie and started to howl in the middle of it with all the kids. Also, May 2020 marks the park's 45th birthday!
 
Martha Hernandez & Winter (@winterpomsky)
 
To learn more about how to enjoy the outdoors with your pet in Michigan, visit
michigan.gov/dnr
.
---