20 Stops for a Fall Color Tour through West Michigan
There's something special about fall foliage drives. The air seems crisper, the colors appear more vibrant, and there's a sweet smell in the air that lures you to pumpkin patches and apple orchards. The 185-mile loop between Manistee, Cadillac, and Ludington is perfect for an amazing autumn adventure.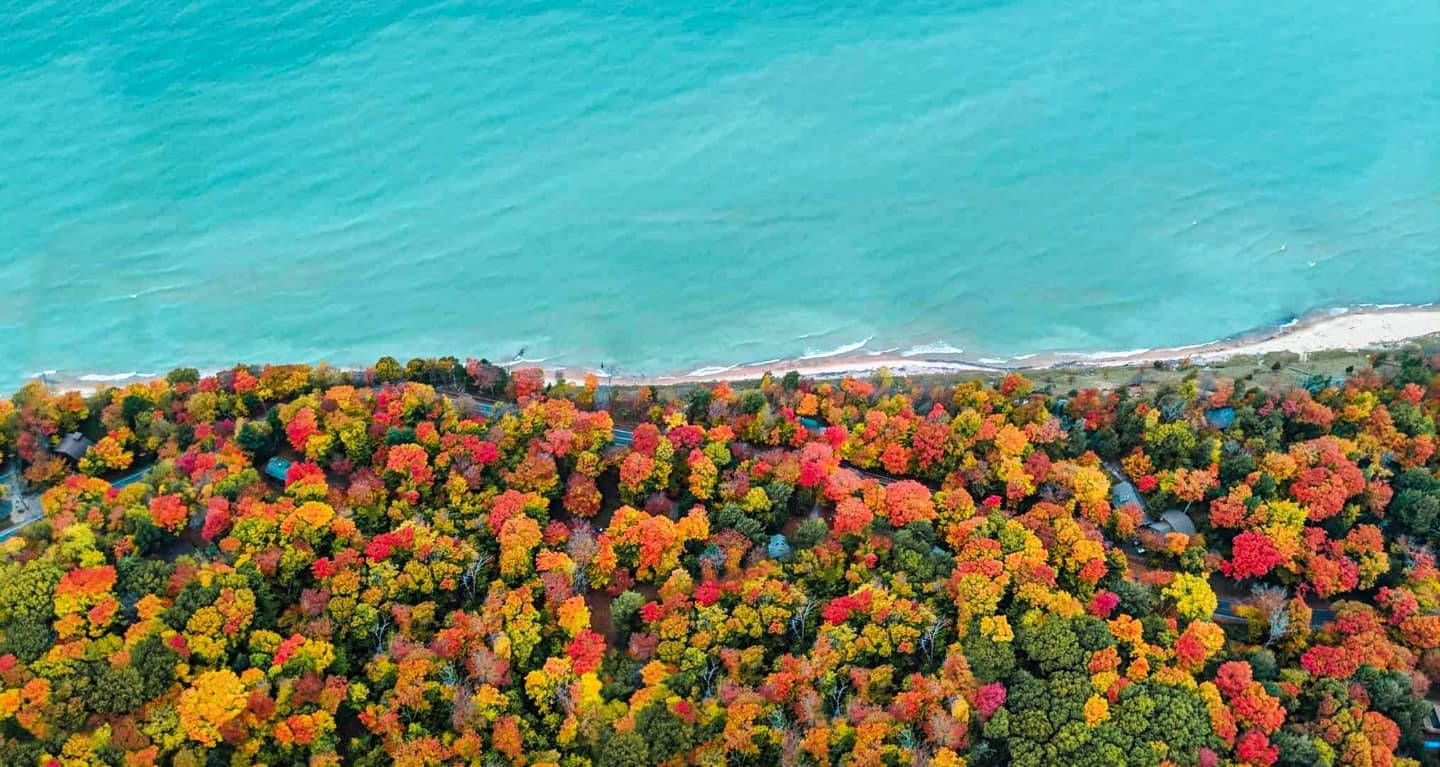 Manistee is the first city along the route. With historical sites, farms, the Riverwalk, festivals, natural beauty along the coast, fishing, and more, Manistee is great to visit all year round, but it really comes alive in the fall. Watch boats go by, do some fishing, or simply find a place to eat on the Riverwalk. You can also enjoy the excitement to be had (or unwind with a visit to the spa) at the Little River Casino Resort, and enjoy the charm of the turn-of-the-century Ramsdell Theatre, which still hosts plays today!

Plus, if you're looking for a long detour, M-22, one of Michigan's most beloved scenic byways, starts in Manistee and follows the coast up north to the Leelanau Peninsula. You have the lake on one side of the road and the forest-lined Michigan landscape on the other, making it one of the country's most awesome autumn leaf-peeping drives! 
 
Whether you just want to spend a day at the beach, or you're hoping to camp out right on the shores of the lake, the Lake Michigan Recreation Area near Manistee is a great first stop along the route. There's plenty of hiking, especially because the recreation area is within the Huron-Manistee National Forest, and there are many sites where you can set up a tent.

 
You won't find a more perfect photo op than the Manistee North Pierhead Lighthouse. Take in views from the land, and then stroll along the pier out to the light. It's a great place for jogging and fishing. It's not open to the public right now, but it did just get a makeover, so it's ready for its close-up. The beach here is lovely for a stroll as well.
Even though tours end in the fall, you should still stop by the National Historic Landmark S.S. City of Milwaukee, a steamship that ferried railroad cars, and the U.S. Coast Guard Cutter Acacia, a WWII-era buoy tender that serves as a B&B on summer weekends. Pro tip: The S.S. City of Milwaukee turns into a floating haunted house during the month of October! 
 
Manistee has a few great vineyards worth visiting. Douglas Valley is an orchard/farm-turned vineyard that makes great fruit wines, some sweeter reds and whites, and hard cider in a quaint setting. Ironfish Distillery, St. Ambrose Cellars, and Northern National Cider and Winery are other great places to relax with a drink as well!
Located on a bluff providing stunning views of Lake Michigan, Orchard Beach State Park is the perfect place to spend an afternoon on the lake. Hike the trails, or simply take the stairs down the hill to the breezy stretch of Lake Michigan beach to swim in the water. You can even camp here, too!
 
7. Huron-Manistee National Forest
If you're visiting in the fall and want to see some foliage, make your way into Huron-Manistee National Forest. Part of the epic North Country National Scenic Trail, which stretches from New York state into North Dakota, passes through here, and the Manistee River Trail & North Country Trail is the perfect leaf-peeping hike. The Bowman Lake Trail is another trail in the National Forest, and at 2.5 miles, it's a lot more manageable. Admire the rolling hills and the Pere Marquette National Scenic River along the way!
 
For a different view of the beauty of Michigan, charter and aerial tour of the coast from Orchard Beach Aviation. On a clear day, you can spot shipwrecks from above as your soar over the lake.
From a distance, the Kaleva Bottle House Museum might look like, well... an ordinary house, but as you get closer, you'll see that there's something very special about it: It was built from 60,000 glass bottles from a local factory. Today it's owned by the Kaleva Historical Society and displays all artifacts from the late nineteenth and early twentieth centuries. Plus, you'll learn about the origins of Midwesterners calling soda "pop."
 
Cadillac is a nature lover's paradise. Three rivers, three lakes, 500,000 acres of dense protected forests, and 300 miles of trails mark the Cadillac region. Kayak, camp, hike, fish, and hunt in the surrounding wilderness, and then come back into the warm, welcoming town to get cozy!
Whether you want to enjoy the fall colors from a tent, a trail, or a boat, Mitchell State Park is a great park for viewing autumn foliage. There are lots of secluded, shaded campsites, and the lake is great for boating; plus there's a beach where you can take a nice stroll. The 
Carl T. Johnson Hunting and Fish Center
 in the park offers some info and displays on the wildlife in the park, as well as some really fun family- and kid-oriented programs.
Reed City's claim to fame, historically, was that it was where the North-South and East-West railroads across Michigan converged; but even to this day, it still has a reputation as Michigan's Crossroads. It's located at the junction of U.S. 131 and US 10 and boasts vintage charm as well as natural beauty. Old buildings, museums, covered bridges, and more ooze small-town allure!

 
The Reed City Covered Bridge was built for the Fred Meijer White Pine Trail State Park, replacing an older railroad bridge. Only pedestrians, bikers, and snowmobilers are permitted on it, so it's a nice little hike out and back to enjoy Reed City's iconic covered bridge.

 
The Shrine of the Pines is the epitome of rustic, woodland charm. It's a popular attraction within a retro, woodsy hunting lodge, featuring works from the late Raymond W. Overholzer, a master woodworker who crafted furniture and other works entirely from found branches and stumps of white pine. There's a rocking chair made of tree roots and a table carved from a single 700-pound root, among hundreds of other pieces, as well as some taxidermy. It's a great way to keep the outdoorsy autumn vibes going if you want to head indoors.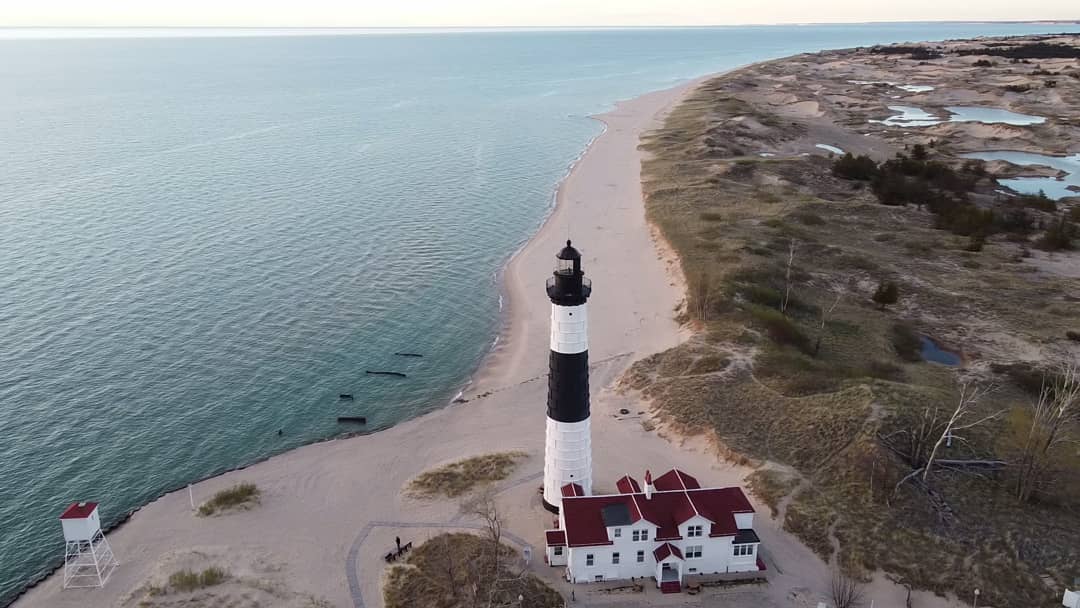 For some of the best hiking in the area, you'll want to stop by Ludington State Park. It covers 5,300 acres and features dunes, beaches, marshes, and forests, which light up with fall colors each autumn. Camp out or rent a cabin, swim in Lake Michigan or Hamlin Lake, and hike out to 
Big Sable Point Lighthouse
, which is open to the public from early May until the end of October. 
16. Steans Park Beach - Ludington
Nearby Ludington State Park, you'll find Steans Park Beach, which is unique for its free parking and views of Ludington North Breakwater Light.

 
Vacation calls for treating yourself as often as possible, and so a scoop of ice cream from Ludington's House of Flavors is a must. They focus on simple diner classics, like wraps and sandwiches, as well as an almost-overwhelming number of ice cream flavors. If you get here only to find a long line, don't worry: it moves fast. Plus, you'll know that it's approved by locals and tourists alike!

 
Fascinating history and natural beauty make White Pine Village well worth a visit. Re-enactors populate the village, which features an impressive 30 restored buildings, including a general store, a courthouse, a trapper's cabin, and a farmstead, among others. They have demonstrations, events (like old-timey baseball games) and other fun happenings going on all the time, so every time you visit here is bound to be a new experience!

 
19. Nordhouse Dunes – Free Soil
Who can resist a leaf-peeping hike during the fall, especially when you're in Western Michigan, surrounded by forest beauty? Nordhouse Dunes has a 2.4-mile trail that features some unique landscapes, with pine, hemlock, and juniper spread out over breezy, lakeshore dunes. The Cadillac Pathway is another option for experiencing the foliage, especially on a mountain bike (or for experiencing the beauty of a snow-covered Michigan on cross-country skis.)

 
20. Water Trails
Or, if you want to get out on the water, the West Michigan Coastal Water Trail Northern and the Lake Michigan Water Trail West Northern (they're similar but not the same) both offer a way to explore the lakeshore and rivers by boat.


As you explore the loop around Northwest Michigan, you won't find any lack of natural beauty, rustic coziness, and lakeshore wonder. If you're lucky enough to be road-tripping the route in the autumn, roll the windows down and soak up the cool fall breezes and special colors!
 
---