Craft Beer Countdown: 14 Can't-Miss Lansing Area Hangouts
Today, guest blogger Ryan Ranspach from "I'm a Beer Hound" counts down 14 can't-miss craft beer hot spots in the Greater Lansing area. 
Michigan's craft beer culture has expanded dramatically over the last decade. While the Capitol area has only two full time brewing operations in Eagle Monk on the west side of Lansing and Bad Brewery in downtown Mason, there are an abundance of tremendous craft beer bars. Here's our list of 15 fantastic places to enjoy a beer when you're in the greater Lansing area.
14. Nuthouse Sports Grill
Rounding out our list is the catch-all sports bar located across the street from Cooley Law School Stadium, home of Lansing's minor league baseball team, the Lugnuts. The Nuthouse has a fairly large, solid menu of bar food and plenty of space to watch a game. While still offering great game day specials on domestics, they have considerably expanded their commitment to having a variety of craft beers on tap from Michigan and beyond.
13. The Draft House
Located outside Dewitt on Old US 27, this quaint and dimly lit bar is a hidden gem of the area. The decor is that of an old barn complete with a grain trading board (used now as a way to track who has drinks bought for them from friends), old farming implements, and a cow's head blithely mounted above the kitchen entrance. They have fantastic food with daily specials and a good selection of rotating craft taps.
12. The State Room
The restaurant inside the Kellogg Center on MSU's campus has a surprisingly expansive craft beer list to go with their Encyclopedic wine list. They offer daily and weekly draft specials along with a wide selection of bottles, and their menu is outstanding and imaginative. Often forgotten being inside a hotel, this is one the area's premier dining locations and also a perfect place to enjoy a relaxing pint after work.
11. Dusty's Cellar
Seeing the growing popularity in the craft beer culture, Okemos' iconic Dusty's Tap Room and Wine Bar built a relaxing, up-scale pub adjoining their restaurant. With a solid draft & cocktail menu and food options to suit all appetites large and small, the Tap Room is a welcomed escape from the chain restaurants in and around the mall. Dusty's has always been successful, and it's no surprise that Tap Room has thrived over the last several years.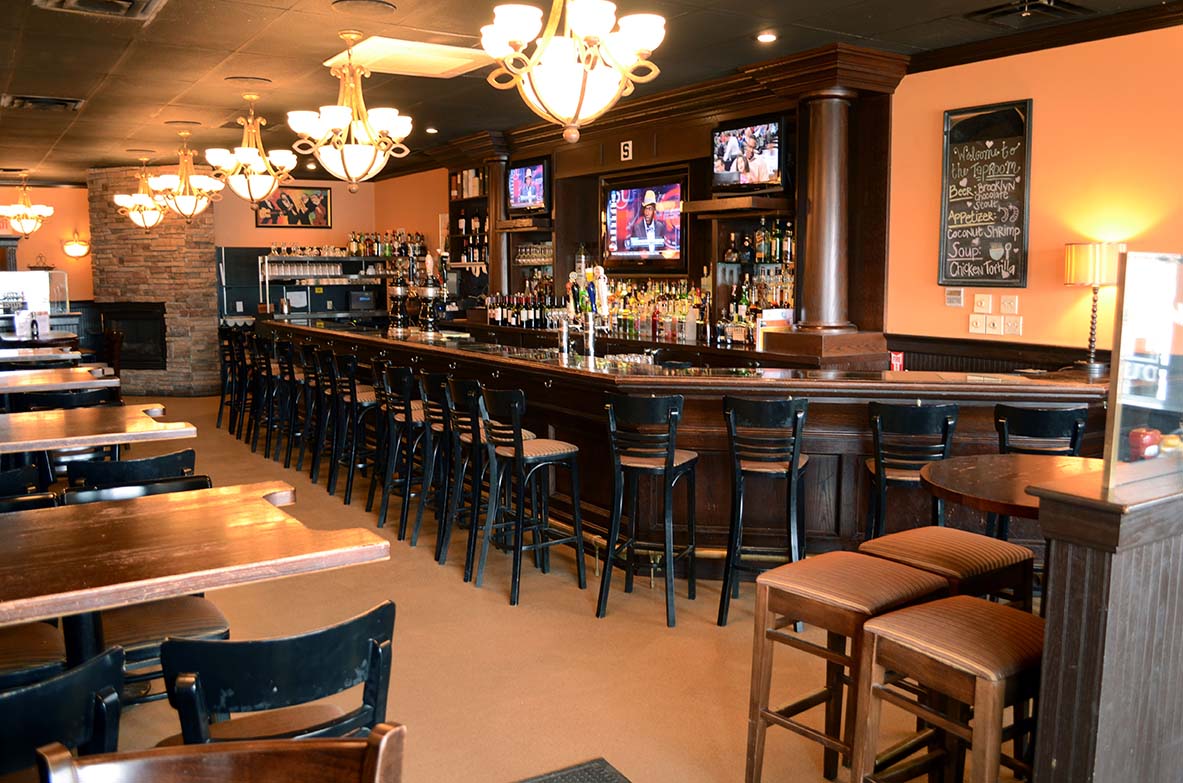 10. Midtown Beer Company
Holding the torch as downtown Lansing's only true brewery, MBC has done a good job of re-branding themselves over the last couple years. It is a friendly pub with good bar food and a drink list devoted to Michigan beers and spirits, and they always one or two of their own beers on rotating taps. They have a great burger special on Mondays and other deals throughout the week.
9. Zoobie's Old Town Tavern
Zoobie's in Lansing's Old Town district was the first bar in town to get a liquor license after the 21st Amendment ended prohibition. After being vacant for several years, it just recently reopened with a cool, retro atmosphere that aims to capture the old neighborhood bar days of the 1950's. Though the food menu is limited to bar snacks, the beer and cocktail list is outstanding and makes this a great spot to grab a drink before or after dinner.
8. Taps 25
Taps 25 is a small and friendly bar located across from the Lansing Center and just down the street from the State Capitol. They have exactly 25 beers on tap which are listed on a large and well-organized TV monitor at the back corner of the bar. Situated next to a carry-out taco joint and nearby all that downtown has to offer, this is another spot to grab a beer at for happy hour or after dinner.
7. REO Town Pub
The neighborhood pub on South Washington near downtown Lansing wears a lot of hats. While having a diverse and loyal group of regulars, they also hold a delicious grilled steak special each Wednesday and frequently partner with the I'm a Beer Hound project to hold exclusive beer tasting events and area festivals. The Pub's friendly atmosphere and commitment to helping spur growth in the area makes it a local favorite to enjoy after-work drinks at.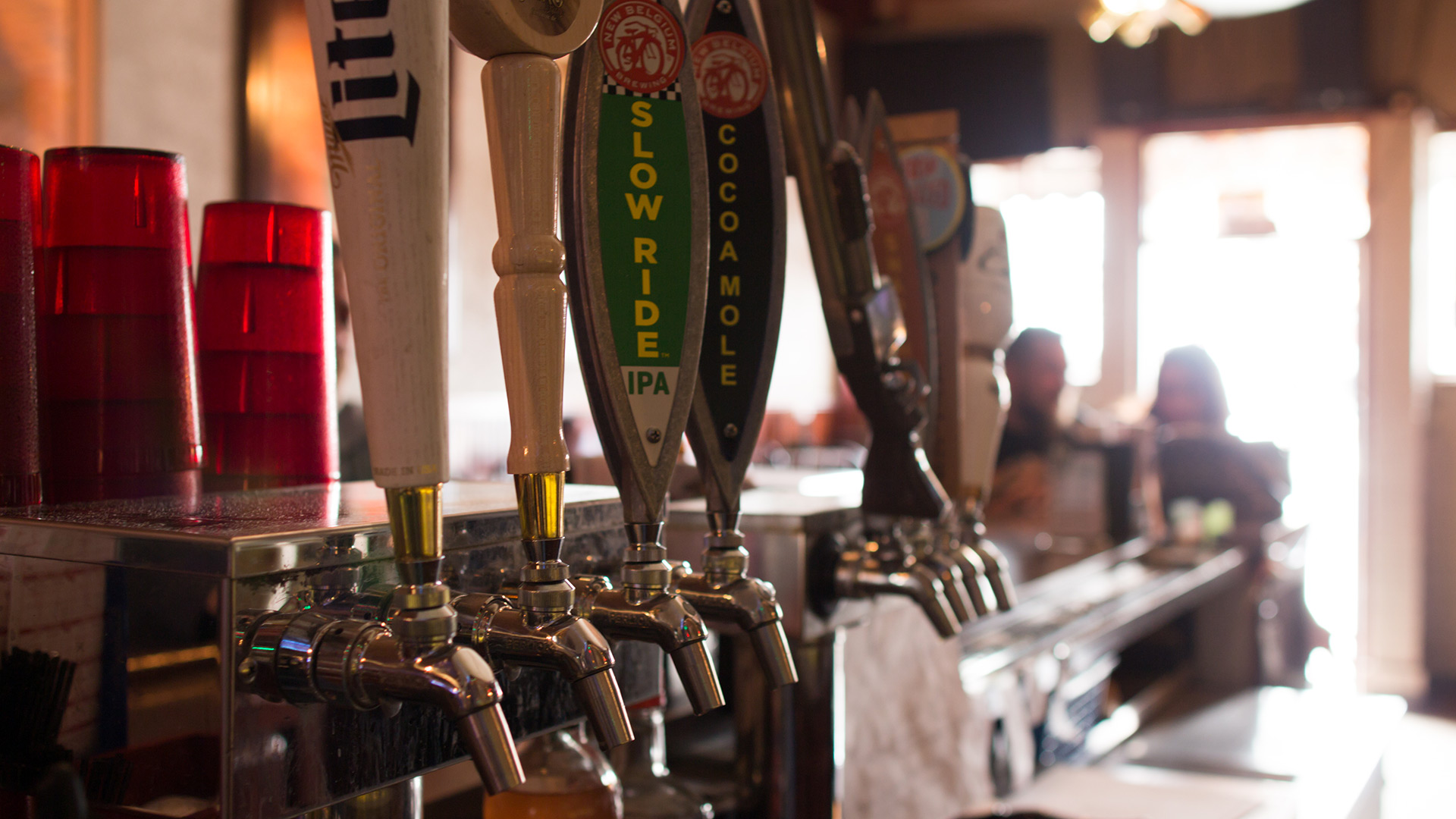 6. Harrison Roadhouse
The Roadhouse sits on Michigan Avenue in the shadow of MSU's campus and all its major sports stadiums. Being a quick (though brisk in the winter) walk to just about any Spartan event, it has long been a favorite gathering place for fans, students, and alumni. A few years ago they vastly expanded their draft system allowing them to offer almost 30 beers on tap, the majority of them being Michigan and other craft beers. They also have great drink specials every day and a cozy patio for the summer months.
5. Reno's Sports Bars (East & West)
With locations on both ends of town, the Reno's Sports Bars have two of the largest draft beer systems in the entire area. They both feature huge food & drink menus, dozens of TV's, and video game rooms. In terms of being customer-oriented, the Reno's franchise has really stuck the landing on meshing a successful sports bar theme with an enthusiastic support for craft beer, and it has them near the top of the list for beer enjoyment in the area.
4. Beggar's Banquet
Now in their 44th of year of business, Beggar's Banquet remains in the pantheon of East Lansing dining and watering holes. They have endured changing times by continuing to serve fantastic food and drink at fair prices without pretenses or snobbery. Like many other places in the area, they have remodeled their bar and expanded their draft list substantially in the last few years. This redux has given the iconic restaurant a whole new dimension in terms of enjoyment and has made them one of the best places area for pints, snacks, and dinner. "Gimme Eat!"
3. Crunchy's
Open since 1982 (originally serving only Stroh's on tap), Crunchy's is one of the premier beer bars in the area. They have 27 taps that rotate frequently and include some of the best micro brews from around the country. Their commitment to beer is matched by their commitment to keeping their bar as a hole-in-the-wall, come-as-you-are kind of place. In addition to serving solid and cheap bar food, when a limited release beer comes to the market, Crunchy's is always among the first to serve it. This charming dive bar is a must-visit when you are in East Lansing.
 

2. HopCat East Lansing
Opened in 2013, HopCat East Lansing has stormed the gates of the Lansing area beer scene. Their original location, a smaller and quainter version of this one in Grand Rapids, has long been voted by beer enthusiasts and Beer Advocate as one of the best beer bars in the world. The new East Lansing property features a gaudy 100 beer taps as well as an extensive bottle list. Their menu is concise yet well-rounded and the space, while quite large, is still comfortable. This was an outstanding addition for Lansing beer enthusiasts and should be for many years to come.
1. Soup Spoon Cafe
No drumroll needed here. This is one of the best places to eat delicious, locally sourced food and drink hand-crafted beer in the area. Located near Sparrow Hospital on Michigan Avenue in Lansing, Soup Spoon has gone from a greasy spoon breakfast joint to one of the premier dining establishments in town. Their menu features dishes for all appetites and budgets, and they serve only Michigan beer on tap. If you love craft beer, and there is only one place you visit to eat and drink at in Lansing, definitely try Soup Spoon.
About the Author: Ryan Ranspach writes for several websites including I'm a Beer Hound. Originally from the Detroit area, he now lives with his wife in Lansing. Having a wide range of interests, both work and recreation give him the opportunity to travel extensively throughout Michigan experiencing all the great things the state has to offer. His blog is available here.