Discover Art and History Along Mason County's Cultural Trails
 
While many think of Lake Michigan towns as relaxing, coastal getaways, Ludington is also a top cultural destination for visitors to discover local art and history. As the "big city" in this small-town county filled with hidden gems, Ludington's history and culture bind the area's communities together.
 
Ludington has crafted six cultural trails in Mason County with more than 90 fantastic stops that interpret the area's rich heritage. These trails utilize the OnCell app, which allows visitors to use their mobile devices to hear all of the area's stories. 
 
Which trail will you explore first?
 
Sculpture Trail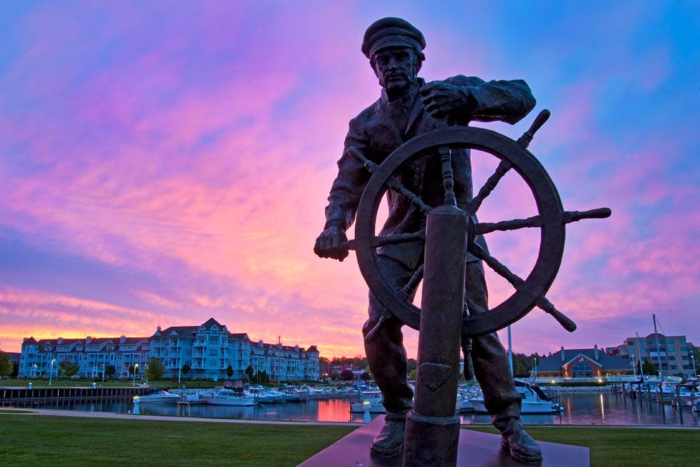 Frederick Meijer Gardens & Sculpture Park helped in the creation of Ludington's Sculpture Trail, weaving natural surroundings and art together. For example, the agricultural sculpture has young cherry trees planted around it, inspired by Lake Michigan's shoreline creating a perfect climate for delicious fruit farming. The "Hooked on Hamlin" sculpture features indigenous trees and grasses with a small, bronze turtle sticking her head out. There are also sculptures waiting to be discovered in Ludington State Park, the Mason County Fairgrounds and the small village of Fountain. 
 
Currently there are 20 sculptures along this trail, and more will be dedicated in 2021. The sculptures represent the area's maritime, lumbering and agricultural histories.
 
Lumbering Trail
 
Learn about one of Michigan's iconic and historical industries at the Historic White Pine Village. Here you can explore the Mason Lumber Museum situated in two authentic lumber camp buildings, which is filled with exhibits displaying artifacts from an original Mason County lumber camp sited in 1905. Nearby you can also find the authentic sawmill that had been used in the Upper Peninsula during the lumbering era.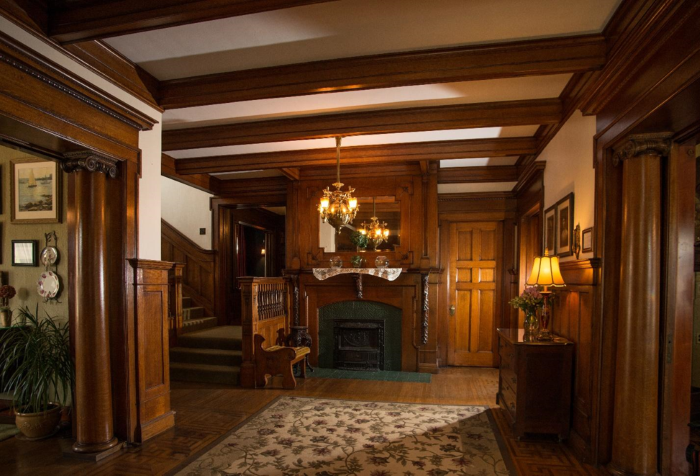 Continue the adventure in downtown Ludington, as the lumber barons became wealthy residents and built historic houses on East Ludington Avenue—many of which are now used as bed and breakfasts. There is also a magnificent sculpture portraying Ludington's lumber heritage at Waterfront Park.
  
If you're interested in the spookier side of history, try a cemetery walk through the two cemeteries where many of the lumber barons are interred. Sometimes, local actors dressed in period attire play the lumber barons for an entertaining and immersive experience. 
  
Agriculture Trail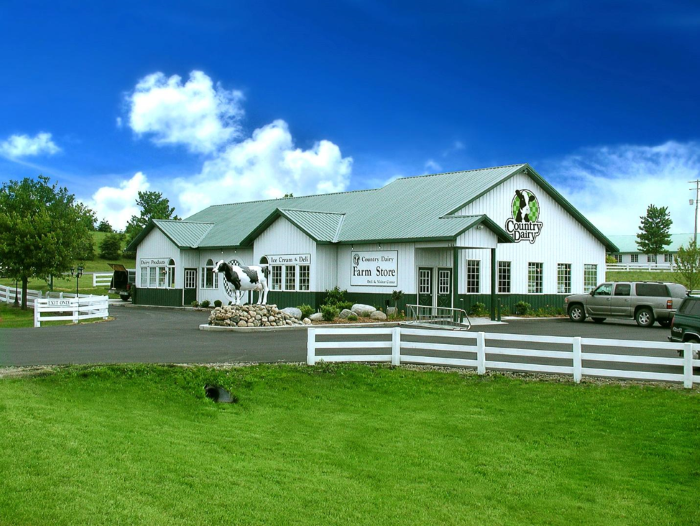 Agriculture is important in Oceana County, located south of Ludington. Together, the region developed the joint county Agricultural Trail that showcases three strong agri-tourism businesses along the trail: Country Dairy, Lewis Adventure Farm & Zoo, and the Fox Barn Marketplace & Winery.
 
Since health guidelines place important sanitation restrictions on visitor experiences, it has been made possible for you to go on your own video tour of these agriculturally based operations. There are several virtual experiences including ice cream manufacturing at House of Flavors in Ludington, Michigan's largest manufacturer of ice cream. When warm weather arrives, a hand-dipped ice cream cone is the perfect treat on a summer day—and while you're waiting you can swipe a QR code and watch the manufacturing of the ice cream you're about to enjoy. Other video tours include getting a behind-the-scenes look into harvesting hay fields, milking cows and cheese production.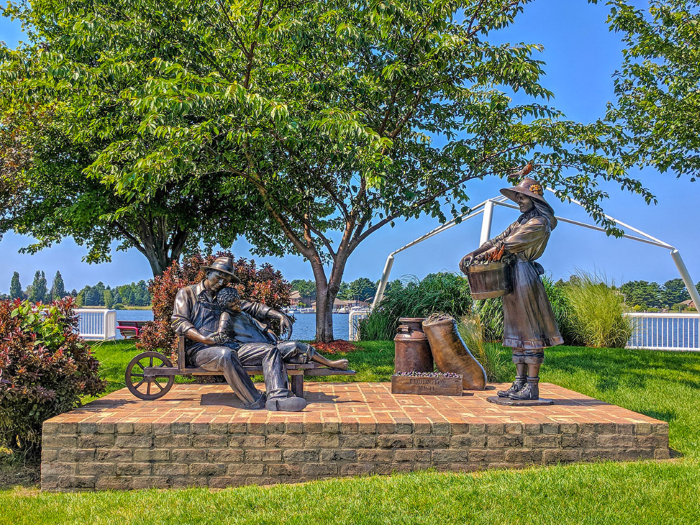 Finally, visit Waterfront Park to see a wonderful bronze sculpture of a father who is dozing off with a sleeping child on his lap while sitting on a flatbed cart, the mother holding a basket of vegetables. This sculpture honors the area's rich agricultural heritage, showcasing the diverse farming in dairy, fruit, grain and vegetable production.
  
Barn Quilt Trail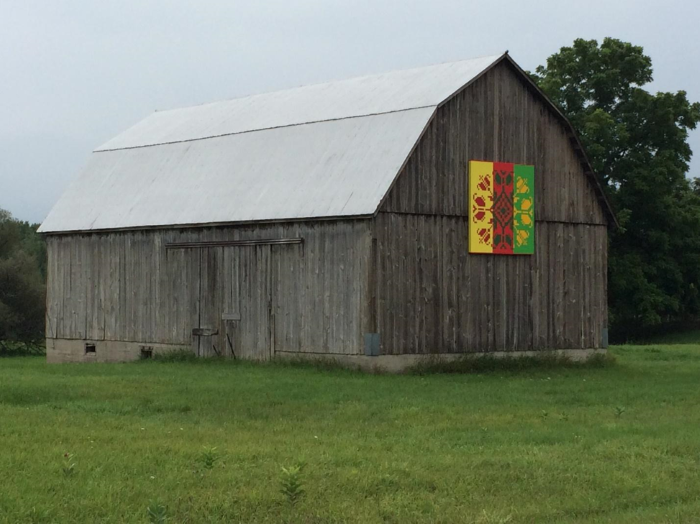 Discover an art gallery in Ludington's countryside with more than ten Barn Quilt stops, each embracing a remembrance of a farm family with beautiful colors and symbolism. Each artwork has a unique history, like a woman wanting to honor her late husband had selected the design "A Carpenter's Wheel." The Historic White Pine Village, also home to a historic barn, named their colorful quilt square "Pine." You can also see the area's multicultural past along the Barn Quilt Trail, which includes a quilt square (pictured above) that presents the colors of the Lithuanian flag in representation of the area's immigrant community.
 
Each is created and painted by a local artist, becoming a micro-one-person art show that remains for all to enjoy after a passage of time.
 
Maritime Heritage Trail
With the major impact of Ludington's maritime heritage, five sculptures commemorate that history and a sixth is to be added in 2021. The S.S. Badger, a National Historical Landmark, and the Port of Ludington Maritime Museum are the must-visit centerpieces of this trail.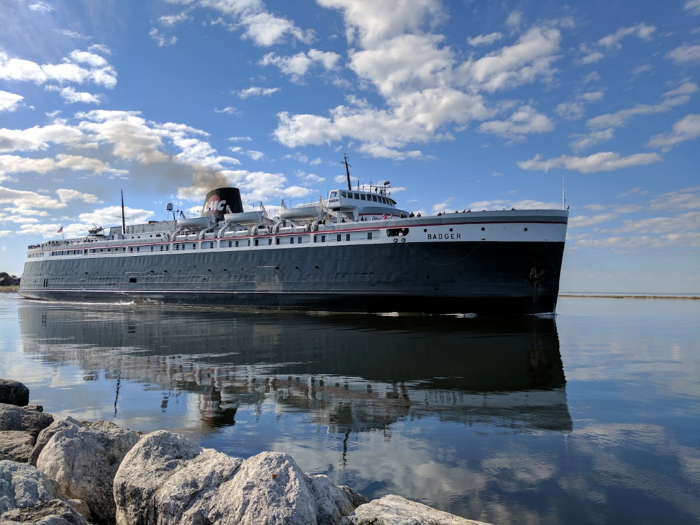 This trail also celebrates Michigan's phenomenal commitment to preserving its lighthouse heritage. The Sable Points Lighthouse Keepers Association is headquartered in Ludington and showcases lighthouses along Lake Michigan, including the White River Light Station, Little Sable Point Lighthouse, and the Big Sable Point and North Breakwater lighthouses. Recently, a national website Authentic America has been created and in populating its first tier of examples, Ludington's maritime museum was selected!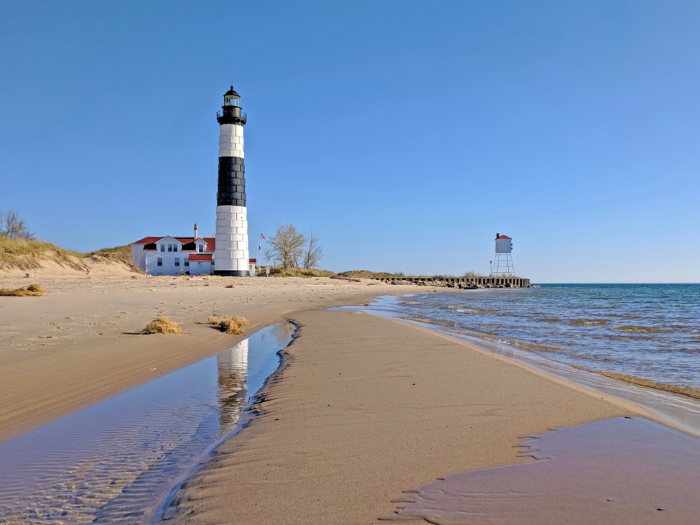 There are 15 interpretive signs around the Lake Michigan waterfront to help you learn along your journey—all while taking in some spectacular coastal views. Ludington has reserved and dedicated a piece of waterfront property adjacent to the museum and the operating U.S. Coast Guard Station for the future Maritime Heritage Park. This park will include another museum commemorating the area's Coast Guard and sportfishing history.
 
Music Trail
Ludington's newest cultural trail takes visitors through two counties, with Idlewild being the eastern trailhead and Ludington the western extension. Idlewild in Lake County has an amazing musical and African American history, but what is not so well-known is its historical connection to Ludington.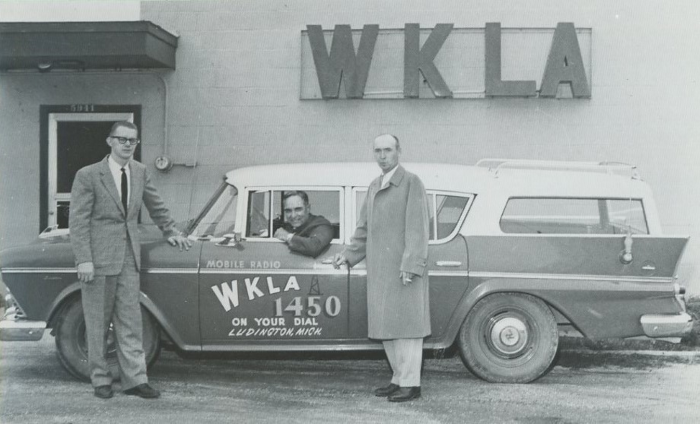 Famous African American musicians performed at several venues in Idlewild, and the spotlight shined most brightly on the Paradise Club. Arthur Braggs, a prominent promoter from Detroit moved his show from Detroit to the resort community of Idlewild. Seeking to gain national exposure, he approached Ray Plank of WKLA Radio in Ludington to provide the transmission feed to ABC Radio. Tommy Roy then became the voice and host of the Paradise Club's Saturday night national music broadcasts, and took a bus and the "Idlewild Revue" musicians on a tour where they performed in many major venues in the U.S. (including the Apollo Club in Harlem), Montreal and Toronto. 
 
Music venues include OnCell stops in Idlewild, Baldwin, Custer, Scottville, West Shore Community College and Ludington, all generally along US-10. Both the small towns of Scottville and the Village of Custer have artists creating music-inspired sculptures that will enrich the Music Trail.
 
Ready to explore the Mason County Cultural Trails for a new adventure? Learn more at pureludington.com/Mason-County-Cultural-Trails.
 
 
About the Author:
Dr. Bill Anderson chairs the Ludington/Mason County Cultural Economic Development Task Force and was the founding director of the Michigan Department of History, Arts and Libraries.
---